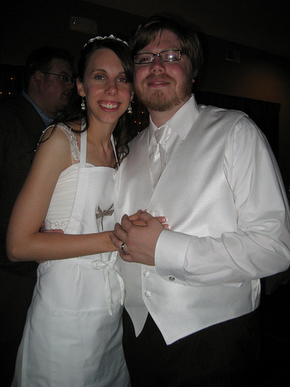 I purchased several aprons which I had personalized with our dragonfly stamp and the date. These I gave to our moms and sisters as well as all the kitchen help. I also kept one for myself... pasta with a white dress seemed like a disaster waiting to happen and they were too cute to resist. I bought them at inktastic.com when they were on sale for father's day.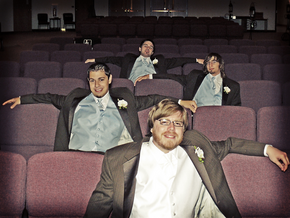 The groomsmen wore brown pinstripe tuxedos with a blue vest. The groom wore both a white vest and tie to set him apart.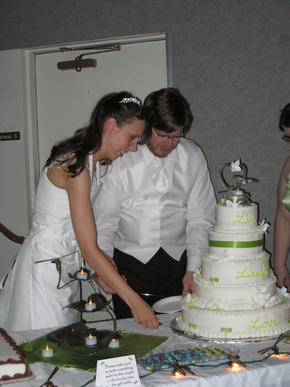 Our cake was made by one of the bridesmaids and her mother. It was 5 tiered, incorporating chocolates in the shape of dragonflies and sugar orchids. A ribbon was placed at the base of each layer. The cake-topper was made from LED dragonfly lights purchased at the Dollar Tree. We removed the LED base and glued them to a clear plastic heart. Considering the entire cake, decorations and all only cost us $75, we were happy. In addition, my father is a metal sculptor and he agreed to make 20 metal dragonflies which were placed around the ceremony hall and one on the cake table which also had leaves to hold the mints and candies.

For the backdrop of the head table we used the stand another friend had used at their wedding made of 2x4's and curtain rods and holders. We purchased the curtains at Dollar General and the lights behind it are netting lights which we bought on sale after Christmas. As for our dinner, it consisted of a pasta bar, some rolls, and a salad. One of the groomsmen's mothers agreed to cook for us. Delicious and only cost us $500 to feed 200 people. Most of the food was purchased at Sam's Club.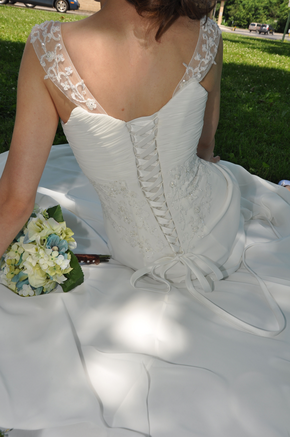 The lace-up back to my relatively inexpensive dress purchased on weddingdressonlinestore.com. It was a gamble buying online, but with the lace-up back, I could adjust it to fit me with only having to alter the hem.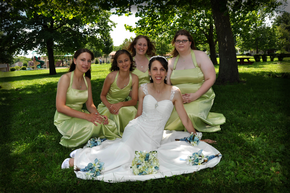 My now-husband and I chose colors that we commonly saw on dragonflies--brown, lemongrass green, and slate blue. My bridesmaids wore green dresses from CocoMyles.com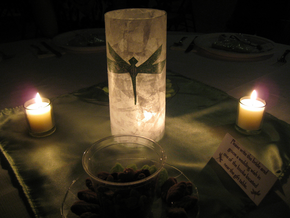 The Centerpieces were vases from the Dollar Store that my now-husband helped me decoupage with white tissue paper. We printed the dragonfly design in our wedding colors (green, brown, and blue) on regular computer paper and decoupaged it on later. Inside we placed tea lights. The fabric underneath was purchased for $4/yard and hemmed. The candles on either side were leftovers from another friend's wedding. Barely visible are our favors. We made wildflower packets and my mom made dragonfly cookies for every guest. On the packet was a thank you. On the cookies a note requesting photos to be uploaded to the Internet and our new address.