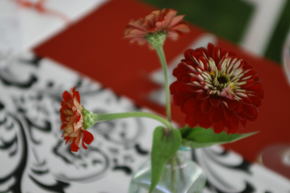 The flowers were probably my favorite part of the whole wedding. Two days before the big day, I went to a "pick your own" flower farm outside of Philadelphia. Armed with just a bucket, a pair of scissors, and my iPod, I picked over 100 red and white zinnias to use as table centerpieces. We put them in small bottles that we had been collecting over the last 6 months. My total cost for flowers was $10.
Photographer:
Mhari Scott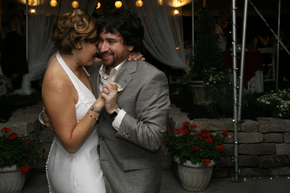 After dinner, we danced the night away. It was truly magical -- with the help of our families, we turned a backyard into the fairytale wedding of my dreams!
Photographer:
Mhari Scott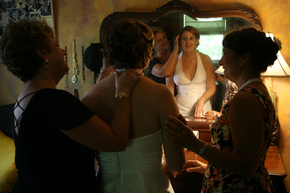 When my mom got married, she had a picture of herself getting ready in the mirror, with her mother looking on. I wanted to try and repeat that scene, with both my mom and mother in law to-be in the photo. I think the photographer did a great job with the lighting in this one.
Tags:
Photographer:
Mhari Scott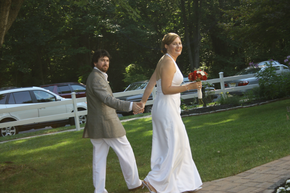 My new husband and I share a moment alone just after the ceremony.
Photographer:
Mhari Scott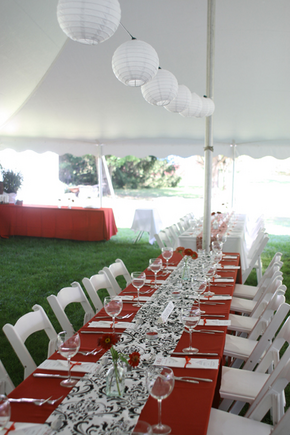 Our September 2nd wedding in Lansdale was a dream come true. My husband and I designed and planned everything ourselves, from the invitations, to the menu, and even the table runners. The banquet-style tables looked beautiful under the tent, both before and after the sun went down.
Photographer:
Mhari Scott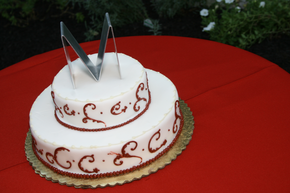 We even had our cake designed to match. Night Kitchen Bakery in Philadelphia did an amazing job with our tiny cake. (Instead of one big cake we had a whole table with an assortment of delicious cakes and tarts.)
Photographer:
Mhari Scott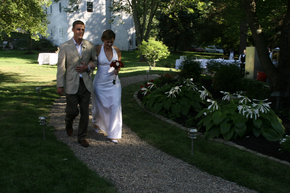 Since my father passed away when I was young, I asked my little brother to walk me down the aisle. Or in this case, down the garden path.
Photographer:
Mhari Scott