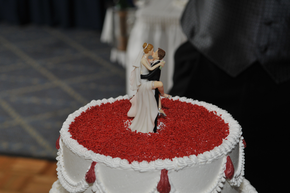 What can we say? We were definitely sending a message that this was not a traditional wedding and that we are all about having fun, loving each other, and not taking anything too seriously ;)
Photographer:
Ricky Restiano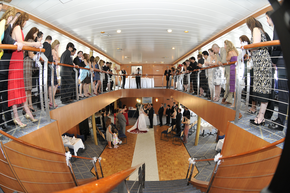 This was such a cool way to have a ceremony - having a second floor where people could watch us getting married by the person who was responsible for us being together (she made me leave my number on his car!) and also getting married on a dance floor - not too common!
Photographer:
Ricky Restiano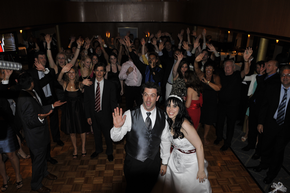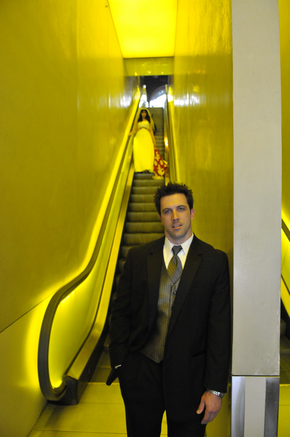 Colin and I had to see each other before our ceremony in order to get the majority of our pictures taken since our ceremony and reception was all in one place - the middle of the Hudson River! Our photographer, Ricky, set up such an intimate and amazing way for us to see each other for the first time...on an escalator leading into the lobby of the Hudson Hotel in NYC.
Photographer:
Ricky Restiano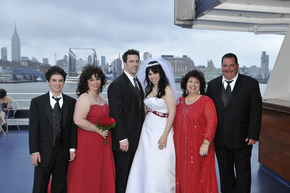 I was so lucky to have my family there with me that day. My father passed away 7 years before but I felt so honored and blessed to have the rest of my family to celebrate with. And celebrating on the top deck of a beautiful yacht on the Hudson River with NYC in the background didn't hurt either! :)
Photographer:
Ricky Restiano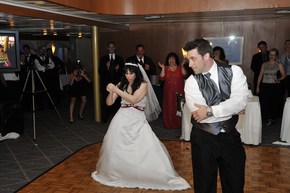 I have to admit that my favorite part of our wedding was our first dance. We decided to fake out our guests by dancing to "Endless Love" until the song skipped and then "I'm Too Sexy" started playing. It was so important to the both of us to show our family and friends that while we love each other deeply, we also have more fun with each other than we have with anyone else in the world. And that's me doing my signature dance move - churning the butter LOL
Photographer:
Ricky Restiano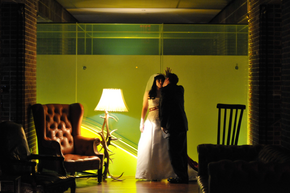 I love how unique some of our locations were for our wedding. Ricky, again, did an amazing job of capturing such a beautiful and serene moment before the partying began.
Photographer:
Ricky Restiano