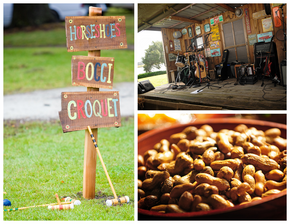 We wanted our wedding to be fun, casual, and a true Southern experience for my friends and family from up north so we set up lawn games for guests to enjoy...the rain held off just long enough for a few rounds of bocce ball, horseshoes, and croquet! (the game sign was hand painted by Chris's mom) Boiled peanuts, one of our Southern favorites were served as an appetizer while guests enjoyed the bluegrass/zydeco sounds of Henry's Attic, a local Charleston band.
Tags: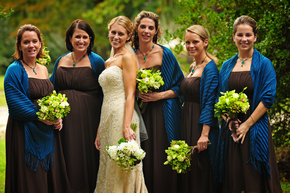 The bridesmaids wore chocolate brown tea length dresses and carried bouquets of vibrant green orchids, spider mums, roses, and berries. As a gift, Rhea made each of her bridesmaids a matching necklace and earings from antique beads along with a teal wrap to compliment the peacock feather inspired color scheme.
The peacock feather inspired theme lent itself to a vibrant display of blues and greens. To save money, the bridesmaids bouquets were reused as centerpieces. A close friend of Chris and Rhea made the wedding cake and used a wooden stump as a cake stand to go coordinate with the outdoor country wedding theme. The programs were designed and handmade by the bride and her family. Three pages were tied together in the corner with an assortment of ribbons with a peacock feather at the top of each page to tie in with the theme. Wedding planners, Leigh Douglas and Melissa Barton of A Charleston Bride, and florist Jonie LaRosse created the perfect setting and even had hay bails covered with linens lining the dance floor for guests to rest their feet!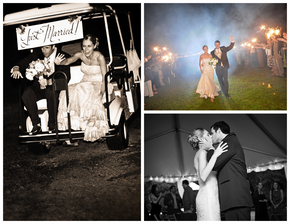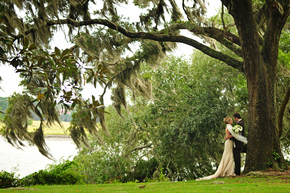 Wideawake Plantation was less than 10 miles south of Charleston, SC and provided the perfect setting for a Southern country wedding with beautiful views of the Intracoastal Waterway. We were so blessed to find such a perfect place for our wedding! Majestic live oaks lined the riverfront field where the plantation house once stood.
The reception fare was perfect for a casual Sunday afternoon wedding, catered by Charleston Bay Gourmet, and included Southern favorites like barbeque pulled pork, shrimp and grits, corn bread, biscuits, mac-n-cheese, and squash casserole. Silverwear was wrapped in teal napkins with jute ribbon. Umbrellas were displayed in a large bucket for guests to use due to the rainy weather.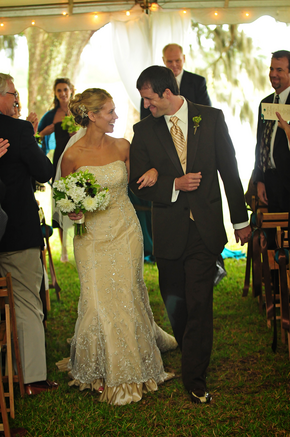 It rained all morning long and cleared up right in time for the ceremony...It was a very calm and serene moment with the wind blowing gently and the sun shining through! Rhea wore a champaign colored taffeta Mori Lee dress with ruffle hem draped in a delicate overlay of swarovski crystals. Chris wore a chocolate brown tux, champaign colored vest and tie, and chocolate brown/ivory shoes to compliment the color scheme. Pomander balls covered in peacock feathers hung with chocolate brown ribbon from the aisles to add pops of blue and green to the color pallet!