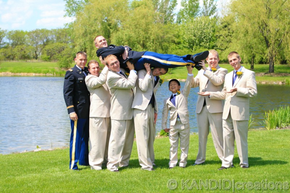 The men of the wedding party. My husband was commissioned as a 2LT one week prior and so we wanted to have a military wedding. THis made it difficult to match the military groomsmen with the non military groomsmen.
Photographer:
Kristi Hasenstein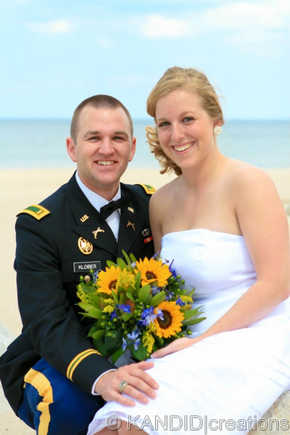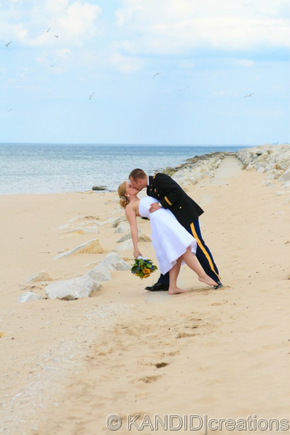 I LOVED my wedding dress. For an outdoor wedding I didn't have to worry about the bottom of the dress getting dirty, being too warm, or dealing with a bustle! I'm a plain, simple girl and I wanted a classic dress with a little twist. I wish I could wear it again!
Photographer:
Kristi Hasenstein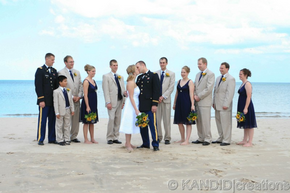 We wanted everyone to "go" but not be incredibly matchy matchy. We chose a neutral, yet summery tux for the guys and matched their ties and vests to the ladies dresses.
Photographer:
Kristi Hasenstein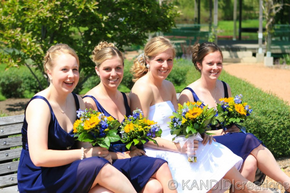 The beautiful bridesmaids and I. Their dresses were purchased at the Boston Store on their yellow dot clearance rack. Their entire outfit (shoes and dress) was under $40 bucks!
Photographer:
Kristi Hasenstein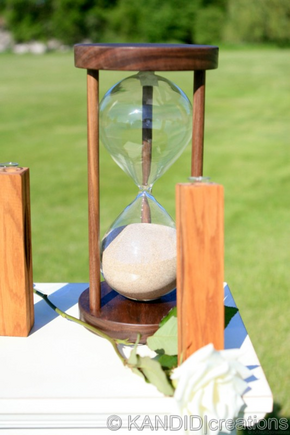 My husband and are going to be moving often since he is in the military- so as to not ruin our sand ceremony vases- we placed the sand in an hour glass. We assembled the hourglass at the time of our ceremony while my Grandma (who gave it to us) read the meaning and significance of what the hourglass meant to us.
Photographer:
Kristi Hasenstein