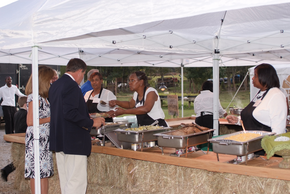 The guests were served in a buffet line on wooden buffet tables decorated on hay bales in keeping with the farm theme.
Tags: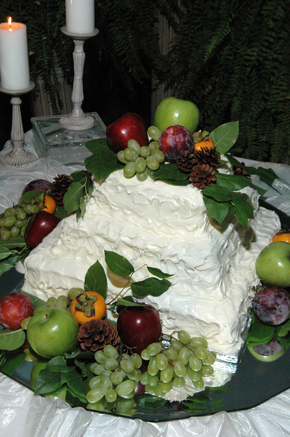 The wedding cake was made by the couple's cousin at their home the week of the wedding, in true classic southern style! It was a red velvet cake with waves of white icing and decorated with both real and sugar farm fruits (taken from the bride's farm), and pine cones from the bride's family business.
Tags:
Handmade wooden signs welcomed the guests to each area of the wedding.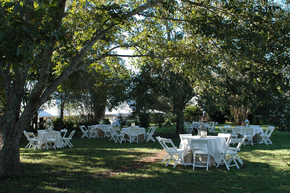 The guests were seated under a canopy of trees in the bride's back yard. The tables were covered in burlap and an overlay of white lace. Each table was adorned with a white candle in a glass lantern, in keeping with the classic southern wedding motif.
Tags: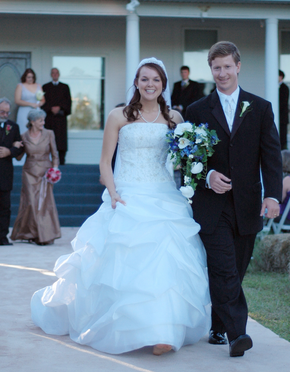 The couple leaves the ceremony area, after being united in marriage in an evening ceremony on the bride's front porch. They are immediately followed by both sets of parents, symbolizing support of the marriage. The bride wore a white organza gown with a pick up skirt and went barefoot like her bridesmaids. To complete this look of elegance was a cathedral veil and tiara of Swarovski crystals and pearls. She wore a pearl necklace and earrings (a wedding gift from her father) and diamond earring jackets (a wedding gift from Cliff). She carried a cascading bouquet of ivy, orchids, cornflowers, and white and blue wild flowers. The groom wore a boutonniere of a mini white calla lily.
Tags: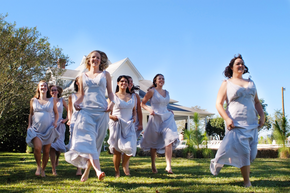 The bridesmaids show their excitement on the day of the wedding. They wore floor length grecian dresses in platinum. They asked to be barefoot during the ceremony and not only did the bride agree, she went barefoot herself! The wedding took place on the front porch of the bride's family home (which has been in the family almost 100 years) and the ceremony area was decorated with pine trees from bride's family farm.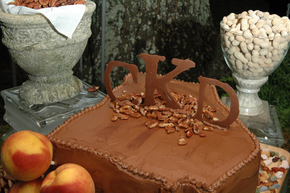 The groom's cake was the center of the groom's tent. A triple chocolate mousse cake, in the shape of the groom's native state of Georgia, sat upon a moss covered table. The table was completed by peaches, urns of pecans and pistachios, and chocolate rocks. It took center stage in the groom's tent under a chandelier of candles.
Tags: