10 Registry Items That Do Double Duty
by Rachel Wilkerson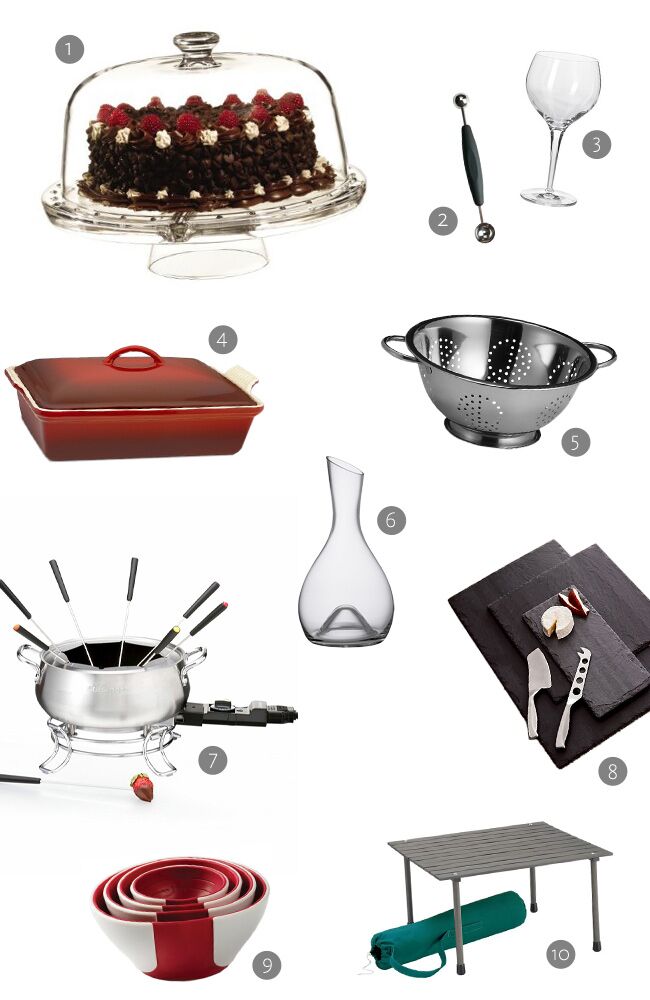 Here's a good rule to follow when you're registering for gifts: Find items that can serve more than one purpose. There are exceptions to the rule, but in general, this is a great way to ensure you don't end up with a lot of registry items that end up just cluttering your kitchen. Here, 10 items to get you started on the right track.
1. Cake Stand (And A Punch Bowl)
A domed stand is the prettiest way to present (and preserve!) a cake, and many could double as a punch bowl at parties too. This one actually goes above and beyond. It can also work to serve chips and dip and really any hors d'oeuvres as well!
$29.99, Amazon.com
2. Melon Baller (And A Kitchen Multitasker)
There are so many other uses for this tool besides creating the perfect melon salad. Scoop cupcakes to make room for fillings, de-seed cucumbers, and make sliced avocados look perfect for parties.
$9.29, Target
3. Wine Glass (And A Modern Candelabra)
When you aren't busy sipping from your stem glass, turn it over and top the base with a votive candle to create a modern and romantic centerpiece.
$21.99, Target
4. Casserole Dish (And A Serving Dish)
An oven-to-table casserole dish in a color you can use year-round means you won't have to try to transfer hot items to pretty serveware right before mealtime (also it means less dishes at the end of the night)!
$95, Williams Sonoma
5. Metal Colander (And A Vegetable Steamer)
After you've rinsed your veggies, set the colander in a pot with a few inches of boiling water, cover with a lid, and steam them to crisp-tender perfection. That, or you can drain your pasta during Italian night, then serve!
$8.99, Bed, Bath & Beyond
6. Carafe (And A Flower Vase)
Fill this modern glass carafe with orange juice at your next brunch, or with a modern arrangement of calla lilies.
$29.95, Crate & Barrel
7. Fondue Set (And A Mini Crock Pot)
An electric fondue set will keep things like spinach and artichoke dip or mini meatballs warm on the buffet at parties, or melt cheese and chocolate for sharing.
$59.99, Macy's
9. Mixing Bowls (And Measuring Cups)
The insides of these mixing bowls are marked with measurements, so you can easily measure ingredients as you add them to the bowl. They (obviously) also work as mixing bowls.
$16.49, Casa.com
9. Serving Board (And A Chalkboard)
Write the names of different gourmet cheeses or appetizers right on this slate serving board. When it's not in use, hang it up in your kitchen for storage…or leave a love note (or grocery list) on it!
$19.95, Crate & Barrel
10. Patio Table (And A Tailgating Table)
Leave this set up on your patio, then break it down and take it along to outdoor concerts or tailgating. Portable and practical.
$49.95, Crate & Barrel
> See more genius registry ideas for your kitchen
> Start your registry checklist now!
> Check out TheNest.com's couple's guide to living together