10 Things Every Bride Should Have According To Carolina Herrera
by Heather Hall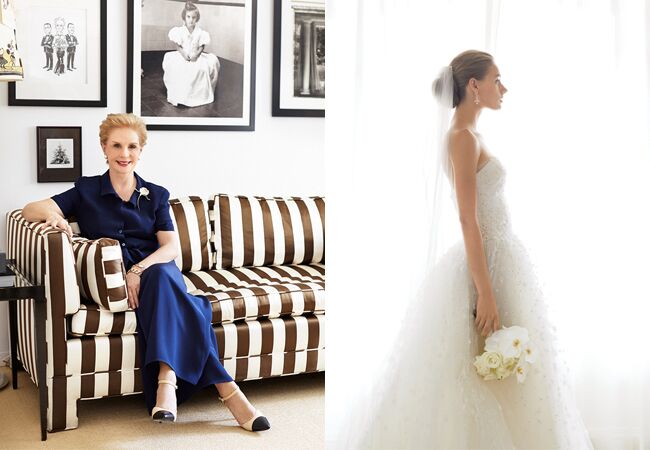 In the latest issue of The Knot magazine, we sat down with style icon Carolina Herrera for the ultimate list of wedding must-haves. Here are her tips for any bride-to-be (you're going to want to bookmark this one — or better yet, pick up a copy of the Spring 2014 issue for yourself!).
1. A dress with personality
Wear a dress that makes you feel confident, beautiful and — most of all — like you. (Psst…this dress was on the cover of our Winter 2013 magazine!)
Dress by Carolina Herrera
2. A touch of fantasy
Add an unexpected detail (like this whimsical Cheryl King veil or BCBG moto jacket) for that extra something special.
3. The perfect shoe
I love a heel that elongates your legs. Choose one that's comfortable enough that you can dance the night away, like this strappy nude sandal.
Shoes by CH Carolina Herrera
4. Natural beauty
Don't try something new, or completely not you, on your wedding day. Just keep looking natural and you'll be radiating beauty.
Dress by Carolina Herrera
5. Something borrowed and something blue
I like keeping up with tradition — find a "something blue" and a "something borrowed" that are meaningful to you.
Bracelet by Kwiat
6. Fun!
Don't stress every little thing. Sometimes the least planned detail makes for the best memories.
7. Jewelry
Your best accessory is your groom, but if you need a runner-up, crystal or diamond earrings come in at a close second.
Earrings by CH Carolina Herrera
8. Flowers you love
My favorite bouquets are bunches of sweet peas, lilies of the valley, peonies and garden roses.
9. Time to relax before the wedding
Slip into slinky pajamas and get lots of beauty sleep.
Silk pajamas by Carolina Herrera
10. Thank-you cards
Send out thank-yous to all your guests — this will be the first personalized stationary you have together.
Note cards by Sugar Paper
Want more expert advise?
> How To Look Best In Your Wedding Photos
> 6 Gorgeous Gowns for Every Bride From Carolina Herrera