10 Wedding Centerpiece Trends
Trend #1: The It Flower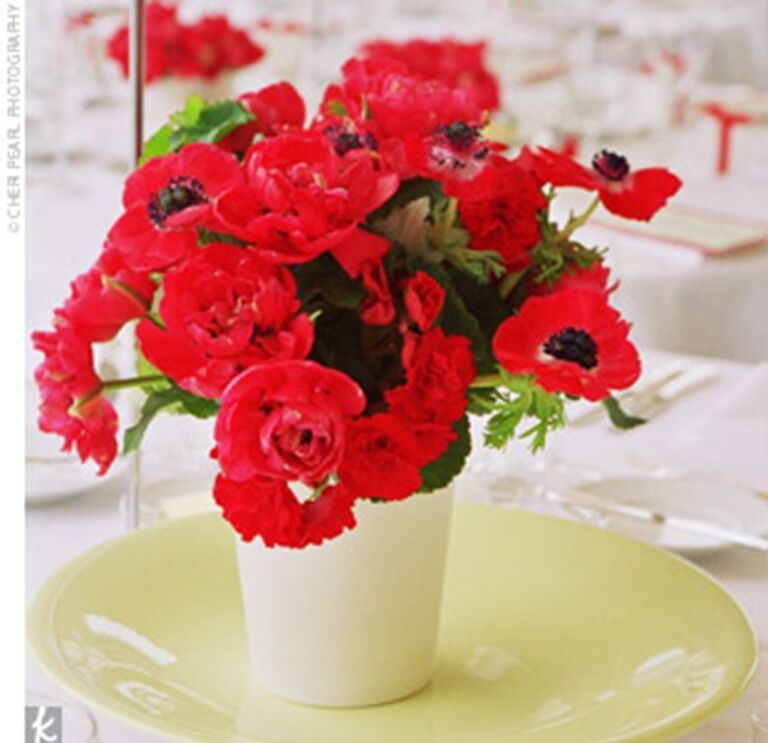 ​The hottest wedding bloom right now? Anemones. These scentless flowers come in a wide range of jewel-toned colors. Though they've long been prized by brides for their bright petals, the most popular ones right now are those that are white with a black center. They give centerpieces an ultra-bridal look yet are very modern at the same time. If they're out of season -- or out of your budget -- opt for cream-colored gerbera daisies with dark centers. ​
Trend #2: Mixing It Up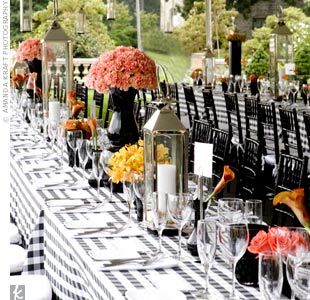 ​Trend #2: Mixing It Up
Though monochromatic looks are still popular, style-conscious couples have been switching things up a bit. Going with three hues is a big trend. One of the best ways to do it? Have half of the reception tables feature large centerpieces showcasing flowers in all three colors, while the other half can hold trios of mini arrangements -- one in each color. It looks luxe but is actually easy on your budget. The smaller arrangements will cost less than if you had the same large arrangement on every table. Even if you prefer one color, mixing the heights of centerpieces remains a major trend; it helps add to the wow factor of your reception. Drawing the eye to different levels creates a flow throughout the room, which gives your reception lots of visual interest.​
Trend #3: Classic Twist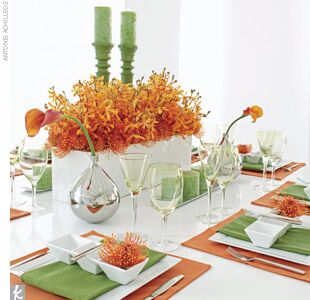 ​Instead of traditional red roses, unique variations on classic flowers are now popping up on reception tables. Though phalaenopsis orchids are always popular, Mokara orchids are now on the bridal radar. These orange and pink flowers are especially desirable because, unlike phalaenopsis orchids, which grow in a slender line along their stem, Mokaras grow in all different directions. This creates a fuller stalk of blooms, meaning you need fewer to fill out your centerpieces -- saving money on your flower budget. Carnations are also making a comeback. New varieties in beiges and grays (one of the hottest wedding colors for 2009) are a far cry from the prom corsage-style blooms you might remember. As a filler flower, they'll help make brighter-colored blooms stand out, or they can add texture to your tables as part of a grouping of small arrangements.​
Trend #4: Bold Color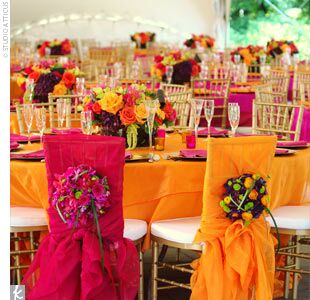 ​Brightly colored napkins and table linens are being used to play up even brighter floral arrangements. Though you might think that fuchsia flowers wouldn't need any help at all standing out against a white tablecloth, this daring combination of bright-on-bright creates a stunning, eye-catching contrast. Hot jewel tones -- think magenta, persimmon, peacock blue or royal purple -- will give you a rich, luxurious look, especially when teamed with bold blooms like orange dahlias, yellow gerbera daisies and purple orchids.​
Trend #5: Natural Shapes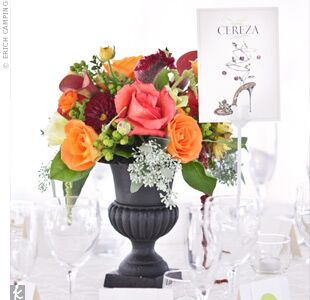 ​More and more brides are forgoing ultra-compact arrangements and opting for a less polished look. Whether it's a wildflower type of arrangement or simply less symmetrical, this trend comes down to one thing: loosening up! The best news is that this trend can work for any wedding style. For a contemporary wedding, you can request vases filled with asymmetrical bundles of French tulips or gladiolus. Is your theme country chic? Consider a mix of flowers cut to different lengths but in a more subdued palette, like a gorgeous combo of light pink ranunculus and spray roses teamed with white hyacinths and lisianthus.​
Trend #6: In the Clear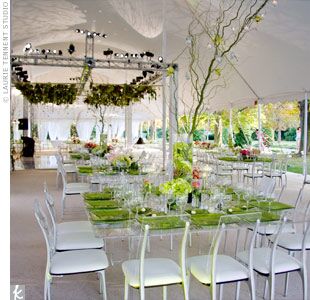 ​A new element that many floral designers are excited to work with is Plexiglas and Lucite. Shelving or cubes made with these modern materials can be used to create levels within each centerpiece. Each level can be filled with a different material, like sea glass, river rocks and hydrangeas. This type of centerpiece is great for a wedding in a contemporary loft space or a modern art gallery. Or give guests something unexpected and draw their eyes upward. Suspend Plexiglas pieces from the ceiling for a dramatic display: You can hang clear, tray-like containers filled with flowers so it appears like they're floating. Or hang glass chandelier-inspired shapes draped with strings of orchids (hello, wow factor!).​
Trend #7: Standout Vases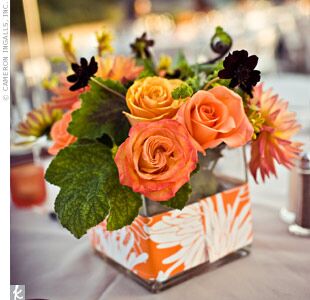 ​In addition to the flowers, the actual containers are getting the star treatment. One DIY idea we love is wrapping plain containers in pretty fabric to match your wedding colors. For a fun twist, choose different patterns in the same colors, or go with similar patterns (say, all stripes) in a range of hues. Want to see stems? Another trend is the "sexy vase." Yes, you read that right. Instead of a plain square or round glass vase, some couples are opting for unusual, sexier shapes, often with more curves.​
Trend #8: Hot Lamps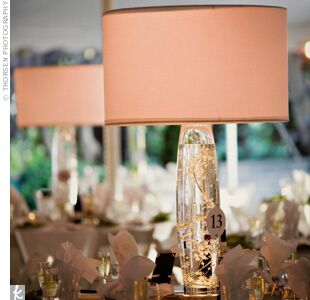 ​Instead of candles, lamps are front-and-center as the ultimate centerpiece lighting. Some lamps seem to grow out of the flowers at the center of the table, while others can hang from above to give the room a romantic glow. Either way, you can have fun choosing shades that suit your wedding colors and style. If you don't want to do lamps, use pinspot lights to get the same look. Particularly if the lighting in the room is dimmed, a pinspot light in a slightly warm hue can really help bring out the color and beauty of your centerpieces.​
Trend #9: Saving a Tree
​Tree-like topiaries and potted plants are popular because they give receptions a warm, garden-y feel and add height to the room. Baby spruce or tree-like topiaries can serve as centerpieces, while larger ones -- birch trees or lemon trees are favorites -- can decorate your entrance or the edges of the dance floor. This trend can be combined with flowers in lots of ways too. Ask your florist to scatter your favorite petals around the base of each plant or attach petals to the branches of taller trees.​
Trend #10: Napkin Treatments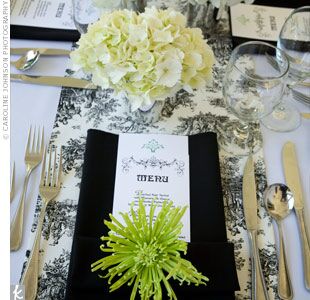 ​Add visual oomph to every guest's place setting by dressing up each napkin with its own floral treatment. If you decide to go with a single bloom, make sure that you pick something with a bit of staying power, like an orchid, dahlia or gerbera daisy. Another way to go is to combine a flower with a favor or place card: Put a tiny bud vase with a single bloom in it in front of each charger (if you need to save money, do one per couple). Either way, it adds another layer of style to your table.​