Our Parent-Approved List of the Best Wedding Activities for Kids
We have no doubt these are the best ways to keep even your little guests entertained.
Photos: Bonnie Sen Photography
We have included third party products to help you navigate and enjoy life's biggest moments. Purchases made through links on this page may earn us a commission.
When hosting a child-friendly wedding, it is critical to gather a few wedding activities for kids to help their caretakers keep them entertained. While many young guests will jump in on the fun already taking place, such as busting a move on the dance floor or catching up with cousins, having activities, games and crafts set aside for their enjoyment will make everyone's day go more smoothly. So, check out our list of kids' wedding activities to see what will fit your theme and vibe.
In this story:
Ideas for Wedding Activities for Kids
Whether you have a whole kid area at the wedding reception or you want a little something to entertain them while they're mixed in with the adults, we've rounded up both fun and unique activities for kids at weddings. Hopefully, with just one or two of these kids' wedding activities, your festivities will be remembered for how fun they were for guests of all ages.
1. Oversized Yard Games
While bigger is not necessarily always better, we think that rule does hold true when it comes to yard games. An oversized game is not only a unique treat, but choosing an option like this large Jenga works for both indoor and outdoor weddings as kids compete to see who can stack it the tallest. As a bonus, when the children are done playing, they can use their imagination to build whatever they like out of the wooden blocks.
2. Magical Petting Zoo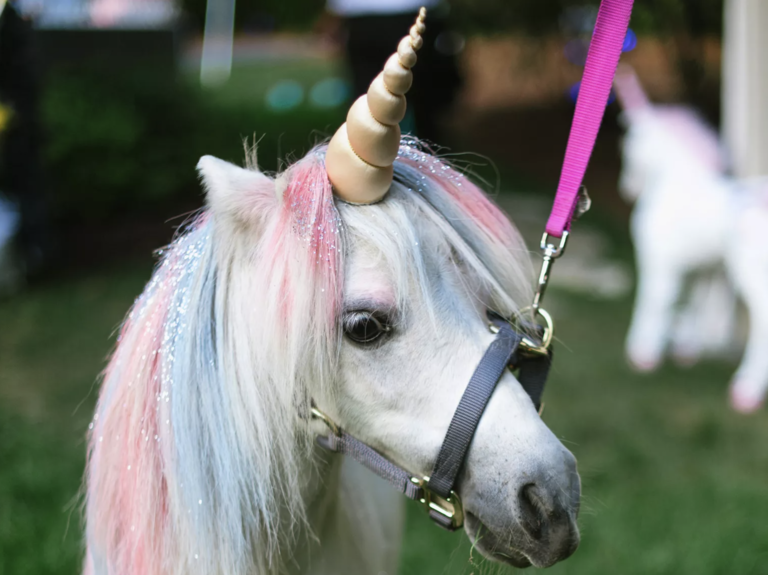 Few people would argue that there's something magical about a wedding. If you'd like to take this theme a bit further for kids, set up a unicorn petting zoo at your reception! Many companies will handle all the logistics of this, including bringing the sparkling mystical creature, so all you need to do is watch the kids scream with excitement.
3. Activity Kits for the Children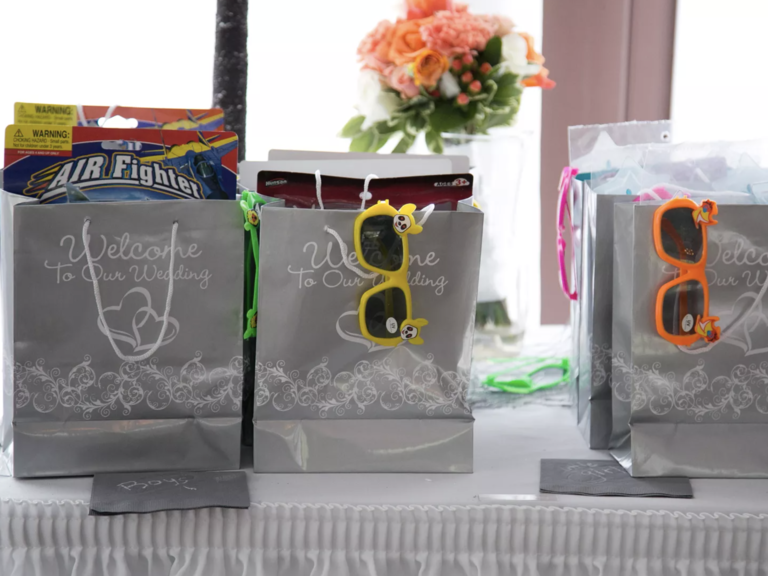 There are few kids who don't like getting gifts, which is exactly why this kids' wedding activity pack is a huge hit. With small gifts like toy planes and cars, sunglasses, coloring books and playdough, these bags will keep even the busiest kid focused for quite a while. They are also great for carrying toys from the wedding ceremony to the reception for entertainment all day long.
4. Chalk Drawing on a Table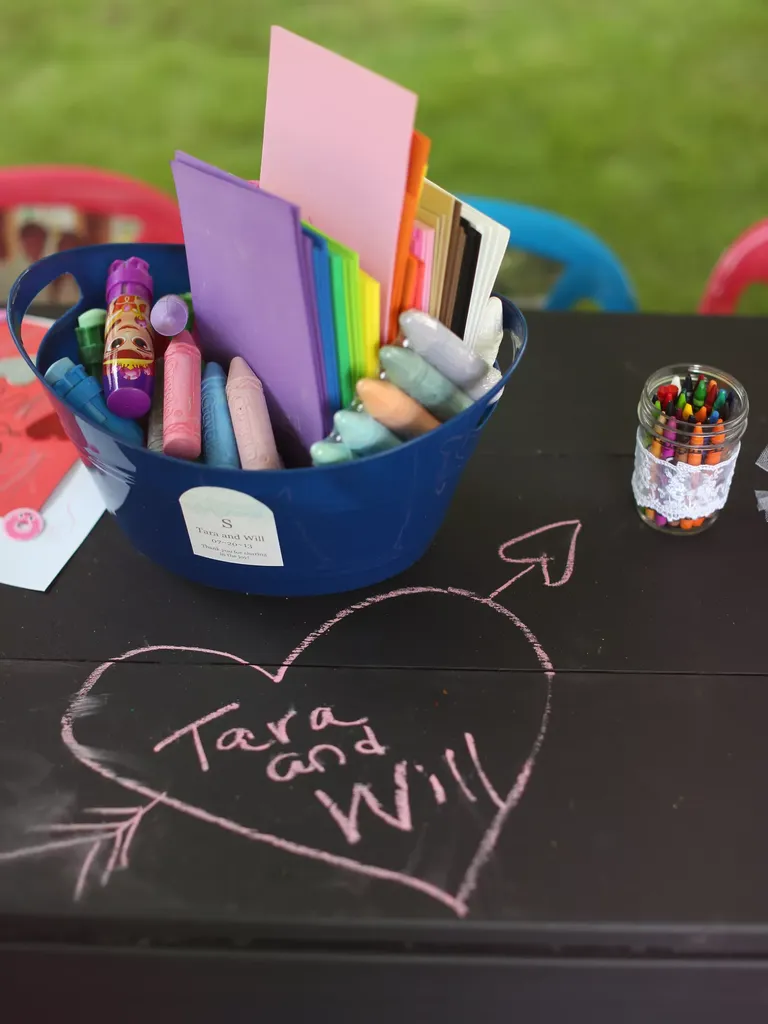 While most kids have drawn on a driveway or sidewalk with chalk, you can make this classic kids' activity new again by covering a table or other surface with chalkboard paint to give the littlest guests a special place to scribble. With a bucket of fresh chalk, even the adults may want to head on over to this exciting area at the wedding reception.
5. Whimsical Bubble Blowers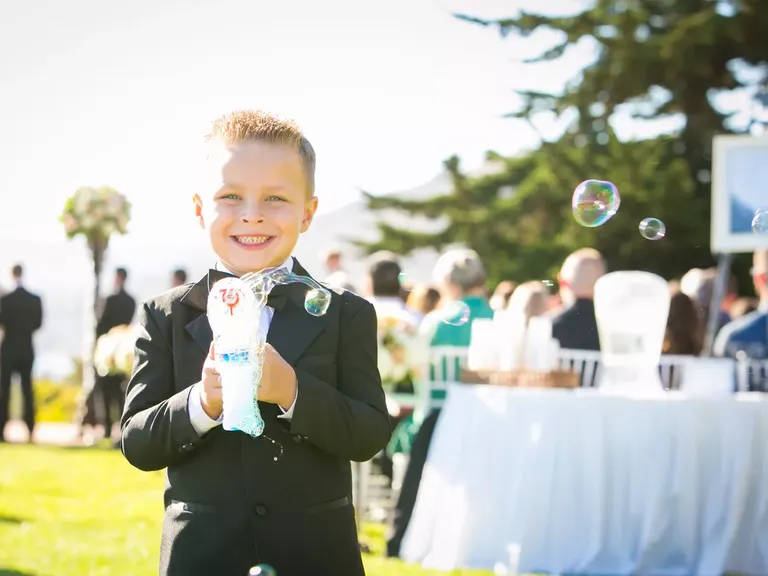 Not everyone is ready and willing to sit for an hour supervising kids' wedding activities, which is why we are all for hand-held bubble machines. By providing a small bubble machine for the kids, adults won't be tied down puffing out bubbles and even the littlest kid can participate in the bubble-popping fun.
6. Customized Coloring Place Mats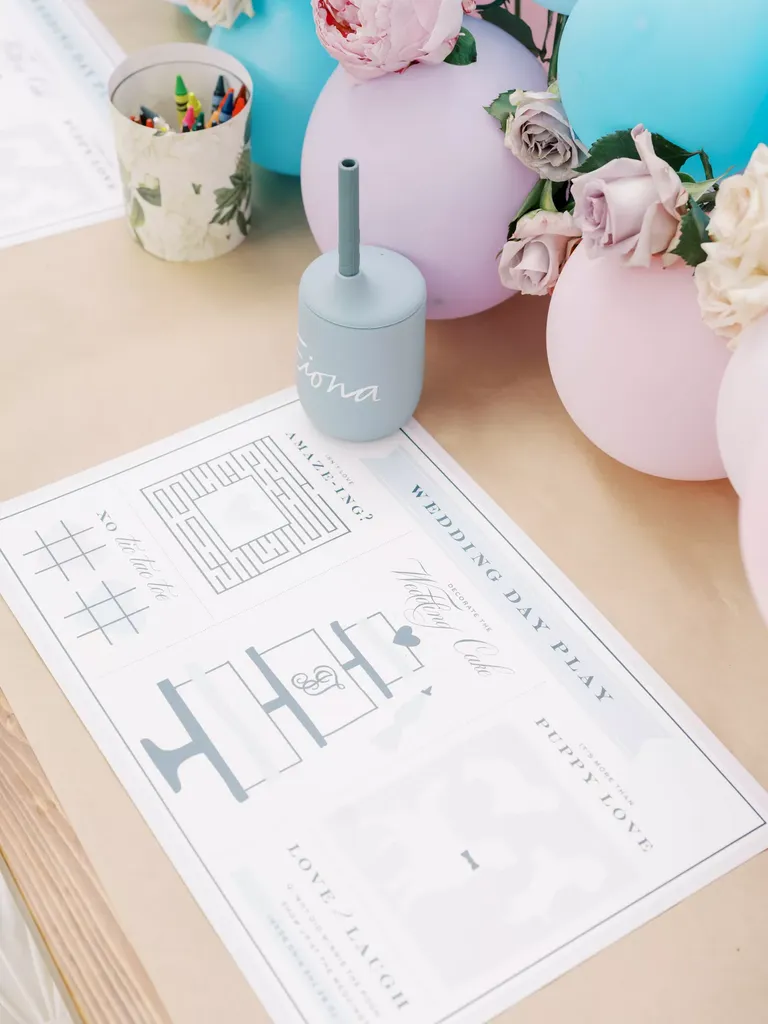 Waiting for food is hard, especially if you are a little one who sat patiently through a wedding ceremony already! That is why we love seeing customized placemats for kids. From coloring the wedding cake to doing mazes and taking on a friend in tic-tac-toe, this is a budget-friendly way to keep kids (and some adults, too) entertained while waiting to chow down.
7. Build the Couple a Dream House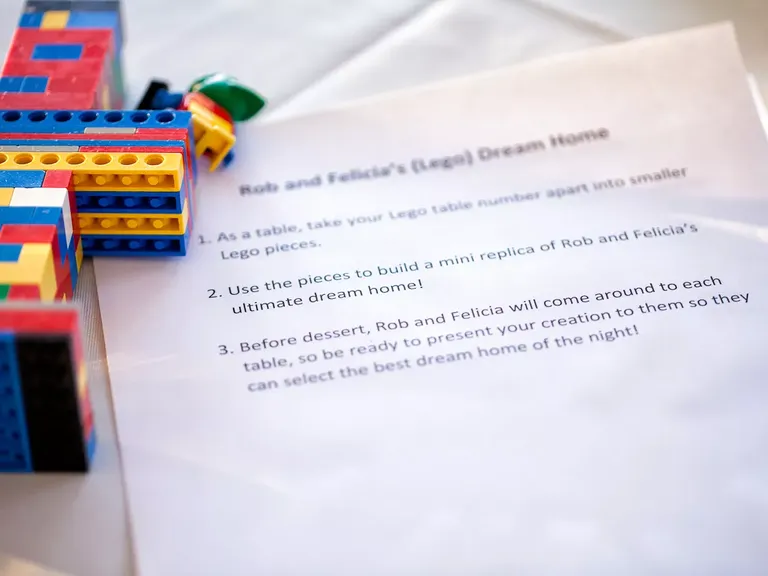 Legos are some of the best activity toys for kids during a wedding or reception. Hosts can have the building blocks at reception tables with a note asking kids to build the couple a dream house. For extra motivation, have the newlyweds judge the best creation at the end of the night.
8. Reception or Ceremony Scavenger Hunt
The game of eye-spy has gotten parents through many long stretches of driving, and there's no reason to limit the adored game to just the car. Create custom "I-Spy" cards to easily have one of our favorite wedding games for kids at your ceremony or reception.
9. Stuffed Animal Dance Party
To help coax kids onto the dance floor, host a stuffed animal dance party. Start by picking some kid-friendly tunes and bringing all your favorite stuffed animals to the reception. Then, invite kids to toss them back and forth with the wedding party as the dancing gets underway. This is one of our favorite kid activities for wedding receptions, as it's pretty entertaining for both young and old. Plus, these stuffed animals make great favors for the littlest guests at the wedding.
10. Children's Parade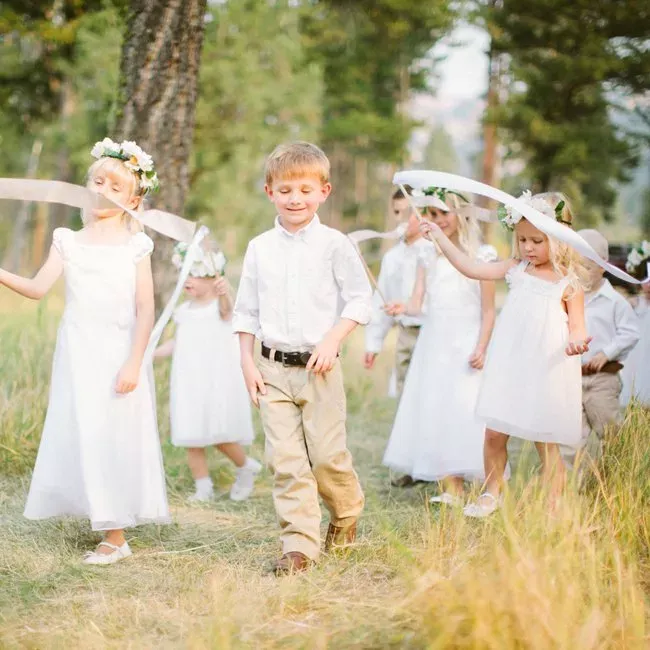 During the wedding, everyone's attention is on the couple as they exchange vows. For kids who love to be the star of the show, that can be a little hard. So, make sure to get them involved at the reception. When you introduce the bridal party or when you're ready to open the dance floor, consider having a children's parade, complete with ribbon streamers, balloons or whatever else you like to let the tiny guests share in the spotlight for a few minutes.
11. Take Them for a Hayride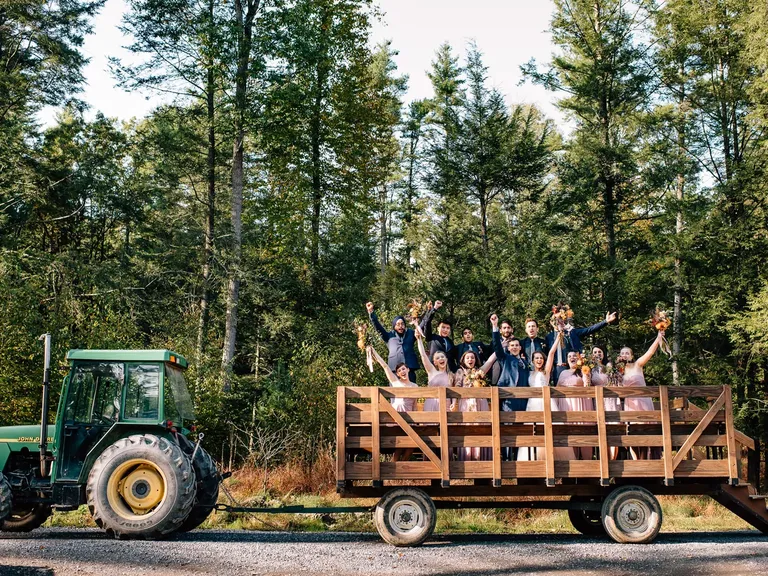 A hayride is one of the best activities for kids at an outdoor wedding if you can pull it off. This is an especially great option to keep the kids contained during cocktail hour as everyone waits to party at the reception.
12. Let Kids Decorate the Table Numbers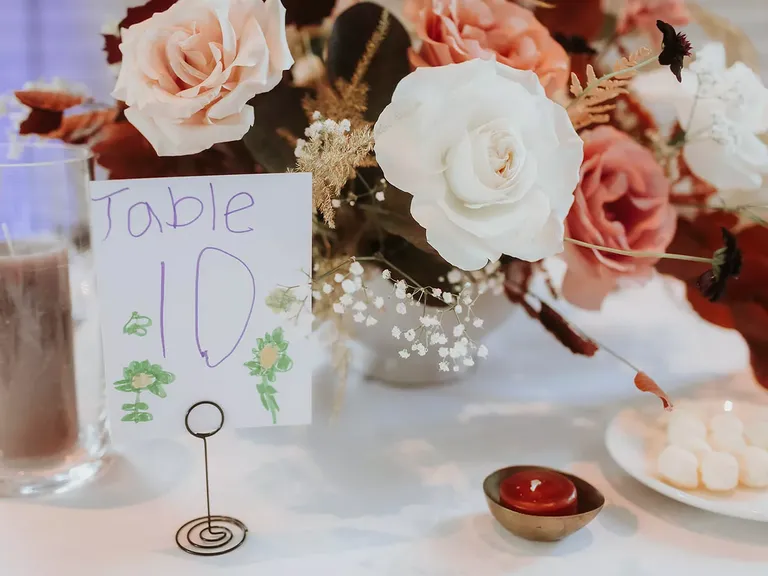 While there are plenty of activities for kids during a wedding or reception that will keep them occupied, allowing them to create something that will last can be meaningful to everyone. If there are just one or two kids at each reception table, try letting the little guests color the table number. Not only will they be having fun, but the couple will then have pictures from all the kids at the wedding to treasure forever.
Editor's Picks: Kid's Activities You Need
Every kid is different, and often, a variety of activities and toys are best to ensure each little person at a wedding has something they are comfortable doing or playing with. So, we've rounded up 10 of our favorite wedding activities for kids that are super simple to purchase and will bring lasting joy to those in attendance.
13. Personalized Kids Coloring Table Cloth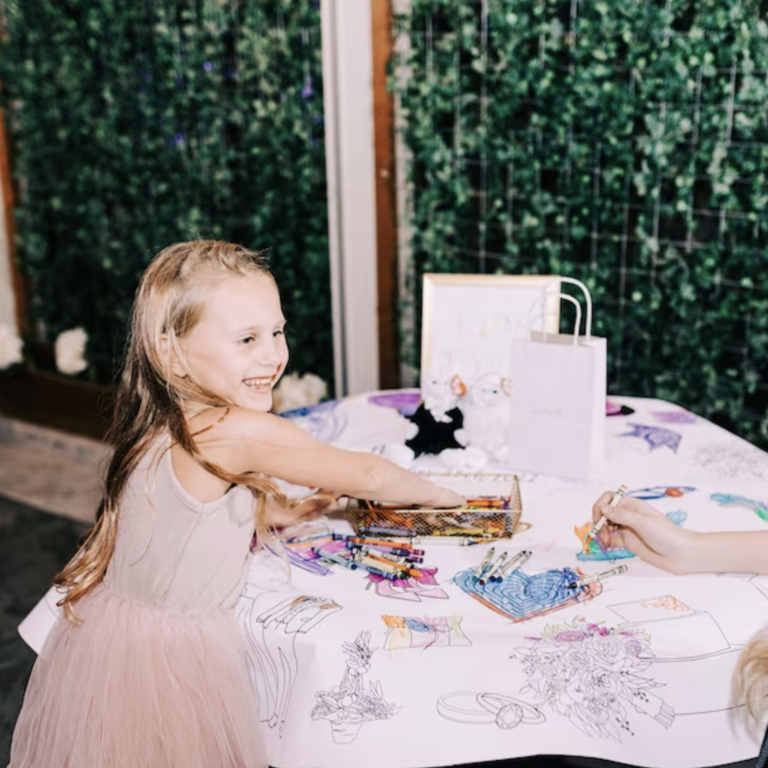 This customizable paper coloring tablecloth not only helps you keep your linens clean but gives little hands limitless opportunities to color. With cakes to decorate, rings to color and even a maze to do, this wedding-themed tablecloth is an easy win and one of our favorite activities for kids at an indoor wedding. For more fun, add some stickers or tissue paper and glue so the children can get extra crafty.
14. Picasso Tiles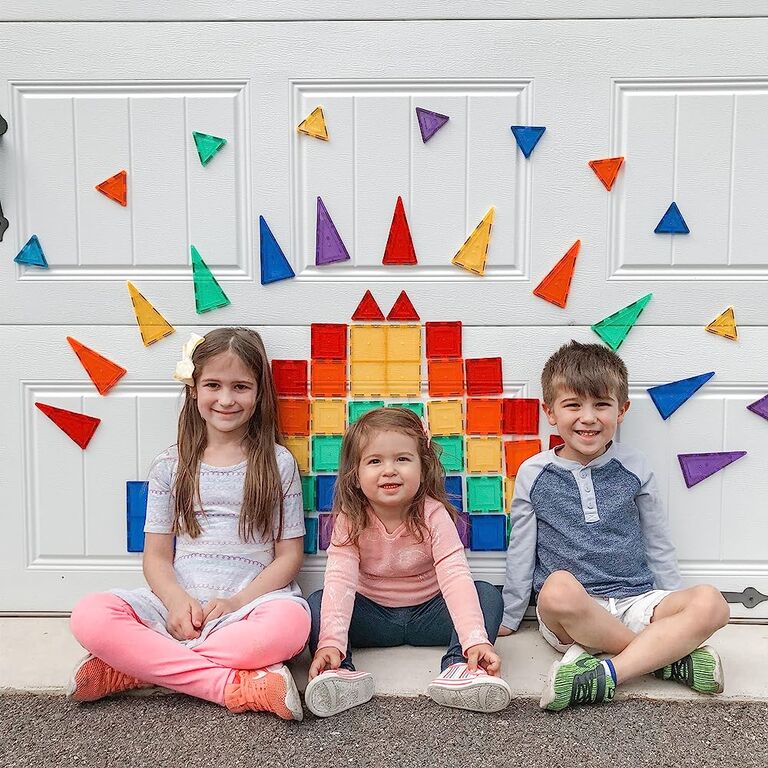 Open-ended toys allow kids to use their imagination for hours, providing more entertainment than many one-and-done toys. This is why we love magnetic tiles, which are easy to build for even the smallest guest. Challenge the kids to build a house or replicate the wedding cake with these fun building blocks.
15. The OG Wedding Busy Kit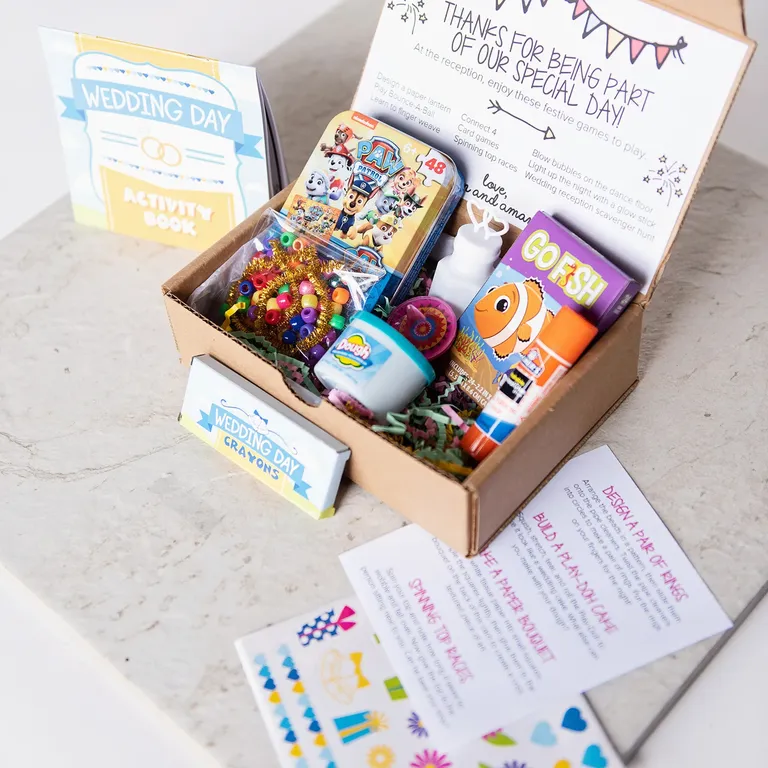 Curated by experts for kids aged 1 through 17, the original wedding busy box kit comes personalized for every guest. Complete with bubbles, games, puzzles, play-doh and many other activities that won't stain their nice clothes, these gifts make the receivers feel extra special while ensuring they always have something to do.
16. Big Bubble Wands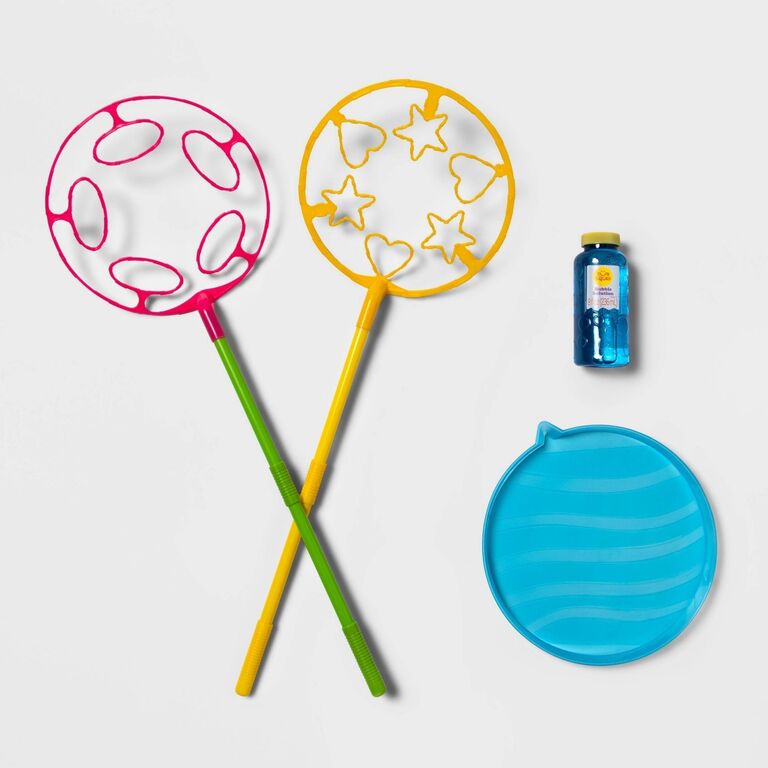 Bigger is often better, and these massive bubble wands are no exception. With two wands in this budget-friendly pack, these huge toys are a great way to let the kids run and get some energy out without knocking heads or ruining their dress clothes.
17. Oversized Four-in-a-Row
This oversized four-in-a-row game is big without being overwhelming. Just under two feet tall, even the smallest guests can plunk the game's coins into the slots. Once the kids are tired out, we are sure adults will join in on the fun too.
18. Cardboard Castle to Color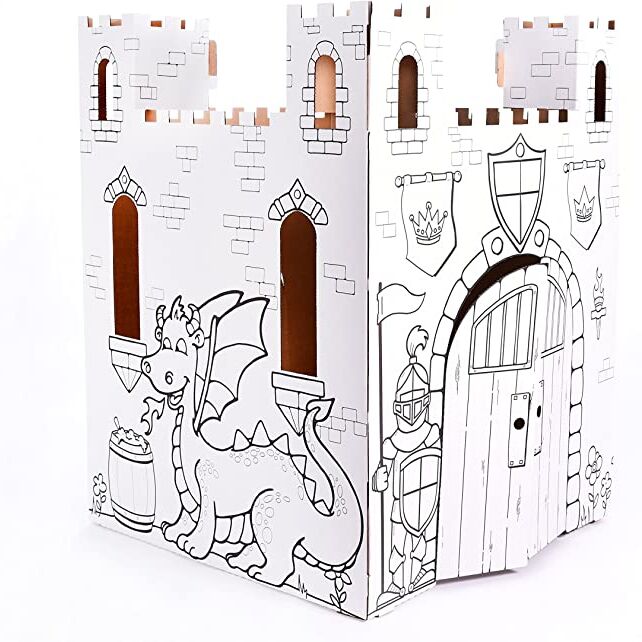 Many people describe their wedding day as a fairytale, and there's no reason not to extend that theme into the kids' activities. This cardboard castle is perfect for kids to run in and out of all night long while they color it with markers.
19. Wedding Activity Book for Kids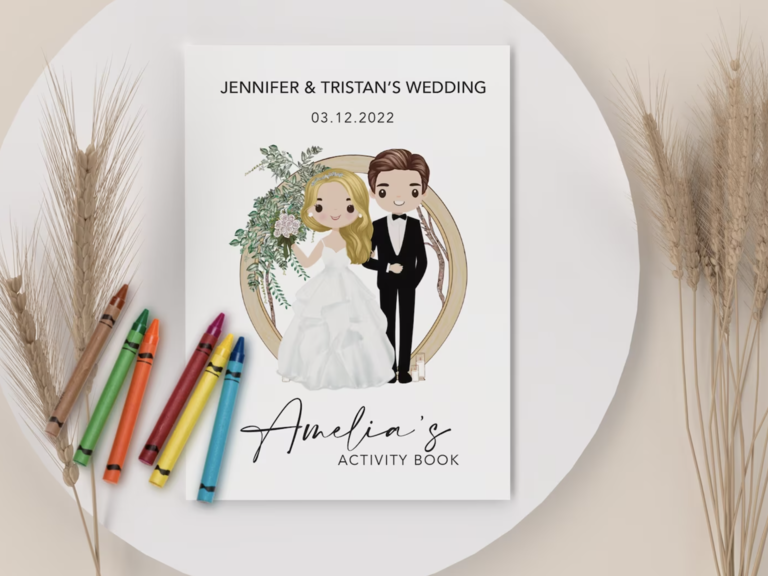 For a custom wedding activity book, look no further than these adorable creations. The maker is able to change the couple's outfits, colors and hairstyles on the cover to make the figures look just like they will on their wedding day, all delivered to you in a high-quality book or digital copy to print and prepare yourself. This simple and quiet activity is one of the best activities for kids during wedding ceremonies.
20. Lawn Bowling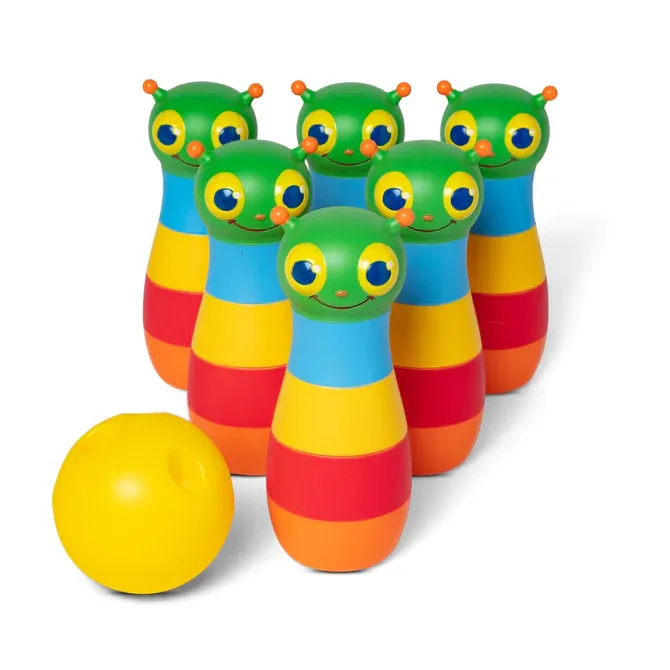 This indoor/outdoor bowling game helps kids practice their hand-eye coordination and motor skills. The game is excellent for children of all ages as long as there is some parental supervision to make sure it doesn't get out of hand.
21. Make-A-Face Sticker Book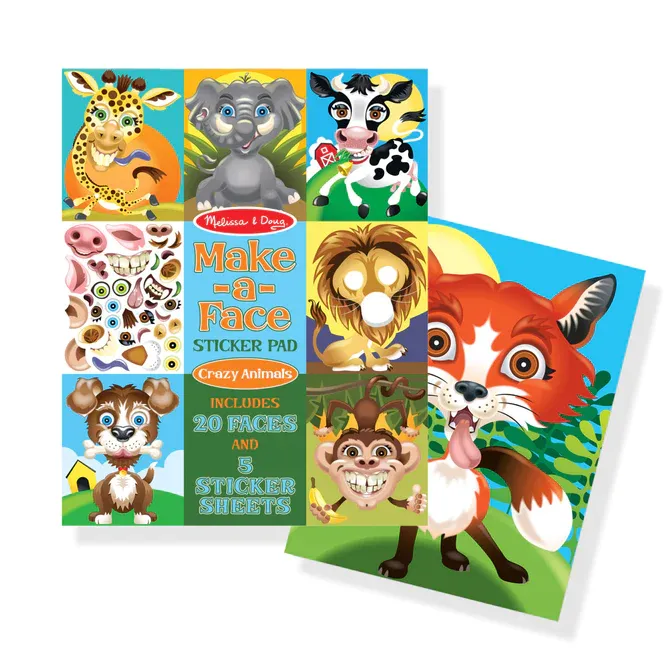 Most kids love a chance to be silly and to show off their creativity, and this Make-a-Face animal sticker pad does both. With over 170 different stickers to give animals hilarious faces, kids can have limitless fun making faces and trading stickers.
22. Kid-Proof Digital Camera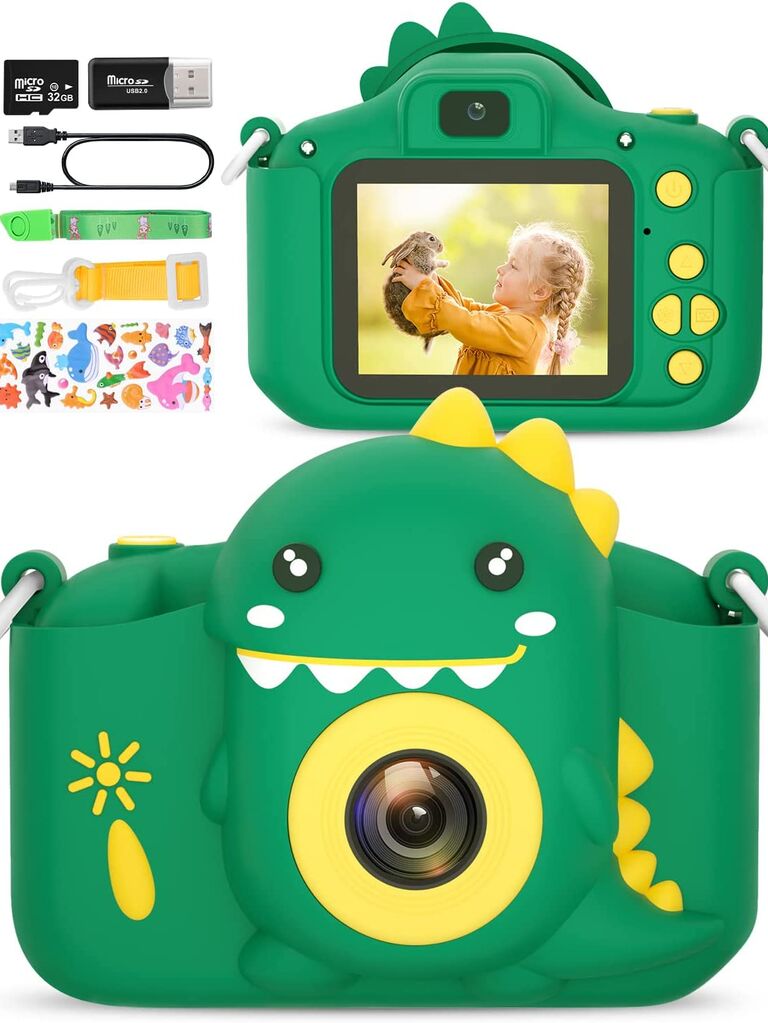 If you have wondered what a wedding is like through the eyes of a child, try handing them a camera to help them share their experience. These kid-friendly digital cameras take high-quality photos, including selfies, so this is definitely one of our favorite activities for kids at weddings because you often end up with some wonderful snapshots at the end of the day.