27 Custom Wedding Dance Floor Ideas to Inspire Dancing All Night Long
Make a custom dance floor the focal point of your wedding reception.
Set the stage for your first dance and an evening of celebration with one of these magical wedding dance floor ideas. Custom dance floor decals, overhead decor, lighting effects and wedding dance floor rentals make it possible to create a custom dance floor that fits your wedding style and decor. Whether you're customizing the dance floor at a wedding venue or looking for an outdoor wedding dance floor solution, we've rounded up lots of ways you can make your dance floor an exciting focal point of your event space.
In this article:
Ideas for Wedding Dance Floor Rentals
If your wedding reception space requires you to have a dance floor installed, don't worry. Wedding dance floor rentals have come a long way this past decade, so you have lots of looks to choose from.
1. Checkered Black and White Dance Floor for Wedding
Here's a unique boho-chic decor look. A classic black and white checkerboard dance floor paired with black furnishings and natural-colored decorations, including wicker and grasses and suspended fixtures over the dance floor.
2. Graphic Black and White Design
Mix up the traditional black and white checked dance floor with a crisp geometric design. Concentric squares draw your guests' eyes to the center of the dance floor and put you and your partner in the spotlight.
3. Custom Black and White Monogram
At this glamorous wedding, the grooms wanted to personalize every part of their celebration. They used their monogram on everything from their champagne glasses to their wedding dance floor.
4. Preppy Patterned Dance Floor
This couple wanted to incorporate their preppy wedding theme into all their decorations. This vibrant and playful pattern on the custom dance floor goes perfectly with the couple's vibe.
5. White Dance Floor With Rose Motifs
We love this romantic wedding dance floor with rose designs. It complements the couple's wedding flowers throughout the reception venue.
Outdoor Wedding Dance Floor Ideas
Outdoor weddings are certainly popular these days, and the good news, there are lots of ways to integrate an outdoor dance floor. Consider one of these five creative ideas for your wedding dance floor.
6. Rug Dance Floor for Wedding
For an eclectic wedding style, scatter area rugs over the ground for a beautiful outdoor wedding dance floor that's soft under the feet. Want the boho look? Pick out mismatched rugs as this couple did.
7. Dark Wood Dance Floor Tiles on Grass
This large dark wood tile dance floor for an outdoor wedding looks amazing laid on top of grass. The wood element complements the environment of the reception.
8. Draped String Lights
The grooms decided a dance floor wasn't needed for their beach destination wedding. The newlyweds and the guests danced the night away in the sand with beautiful string lights decorations hanging over them.
Find your kind of venue
From barns to ballrooms, discover reception venues that feel like you.
9. Purple Acrylic Dance Floor With Vines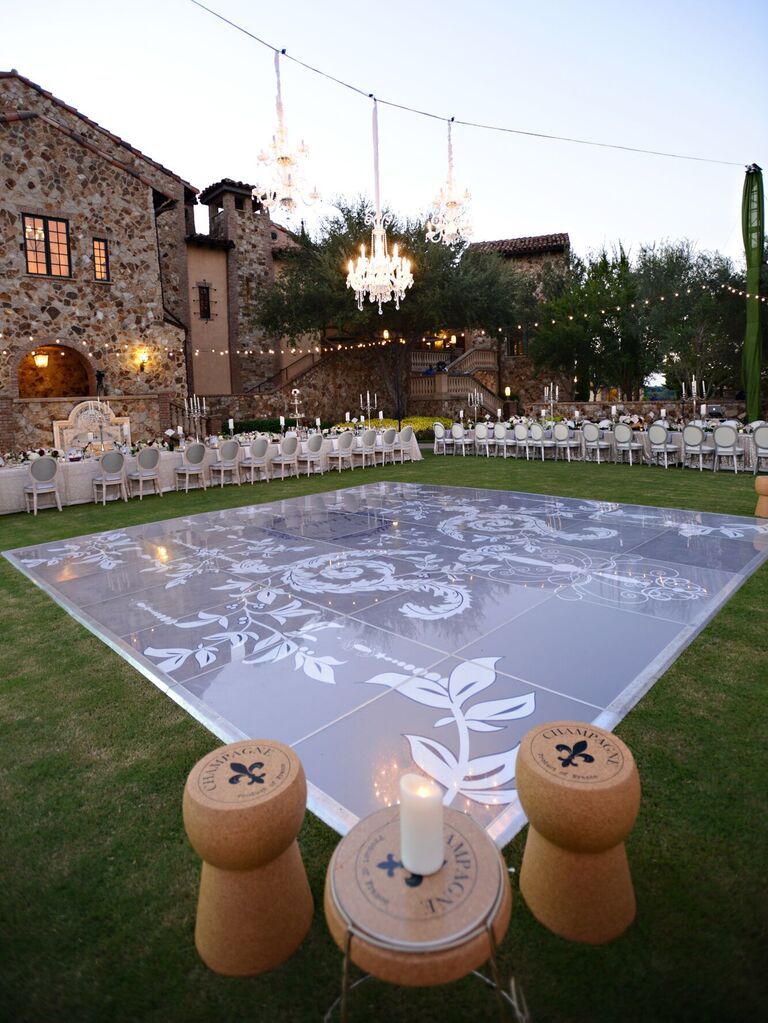 This elegant reception had a romantic outdoor wedding dance floor. The purple acrylic dance floor also had the couple's monogram on it.
10. White Wedding Dance Floor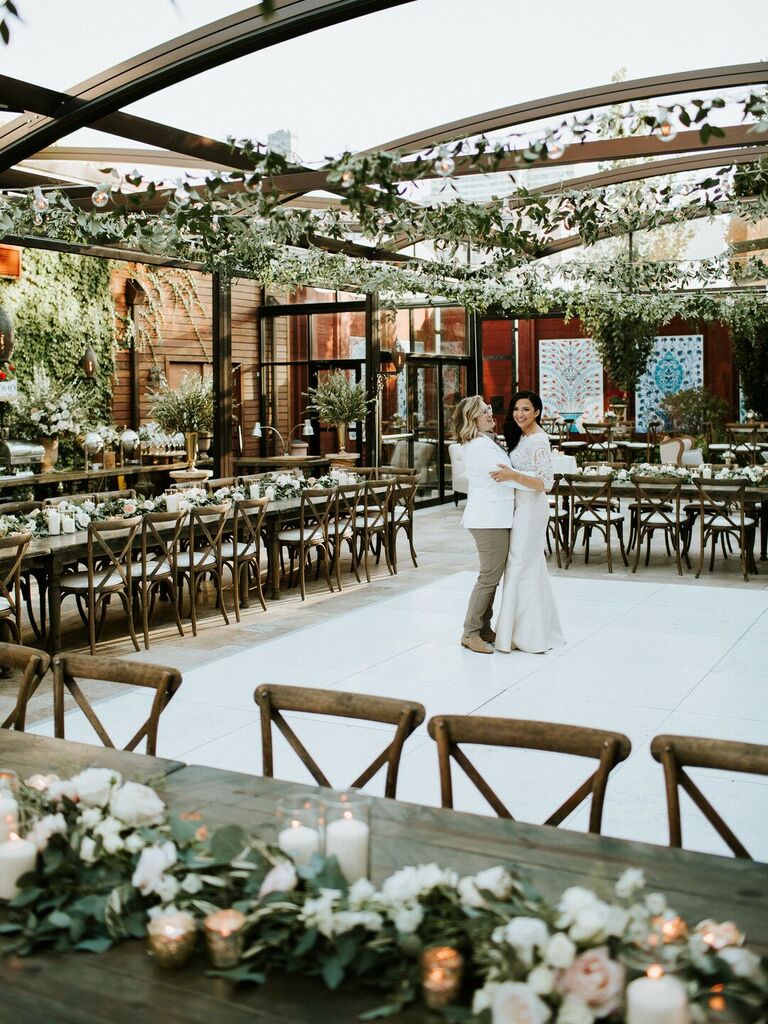 Don't want to add designs to your wedding dance floor but want it to stand out? Steal this happy couple's idea by having a classic white dance floor with beautiful hanging greenery above it.
Creative Wedding Dance Floor Ideas
The following decorations (and dance floor) are a great way to put a cool focus on where you and your guests will be dancing. Here are a few of our favorite ideas.
11. Multiple Disco Balls
Nothing says dance party more than a disco ball! Hang several disco balls in different sizes and colors for a dazzling effect.
12. Neon Signage and Globe Lights
Use custom neon signs and globe lights to highlight your wedding dance floor. This decoration goes well with a graphic patterned dance floor design and creates a fun party vibe.
13. Multicolored Paper Lanterns
Another easy and impactful dance floor decoration is to hang paper lanterns in your wedding colors overhead. For more flair, add battery-operated tea light candles to each lantern.
14. Papel Picado
Set the scene for celebration with papel picado strung over the dance floor. Papel picado, which means "punched paper" in Spanish, is a traditional Mexican decoration made of colorful paper with intricate designs.
15. Cold Sparkler Machines
Add some extra sparkle to your first dance with indoor fireworks along the edge of your dance floor. P.S. The suspended greenery arrangement adds another stunning decorative element.
16. Starbust Chandeliers
We love these starburst chandeliers used at this luxe black and white wedding. The chandeliers are a unique addition above the dance floor monogram.
17. Monarch Butterfly Dance Floor Installation
The bride and groom decided to have a butterfly-themed wedding. From the escort cards to the dance floor decorations, whimsical butterfly details were incorporated everywhere.
18. Glowing Wedding Dance Floor
The effect of these tiles with glowing edges will make your wedding dance floor memorable. Take advantage of this dynamic decoration and play plenty of '70s hits for you and your guests to get down to.
Rustic Wedding Dance Floor Ideas
For to-be-weds planning a rustic-themed wedding, there are options for your style. Check out these special ideas to inspire your rustic union.
19. Rustic Checkerboard Dance Floor
Another more subtle variation on the classic checkered dance floor is to make a pattern with light wood and white tiles. Perfect for a rustic chic wedding style.
20. Woodland Wedding Dance Floor
To show their love for the outdoors, the grooms decided to throw a woodland wedding. This wooden dance floor idea was one of the many elements they included to nod to the nature around them.
21. Orange and Greenery Hanging Flower Arrangements
We love this rustic arrangement of wildflowers, roses, branches and greenery suspended over the dance floor. The light-colored wooden dance floor complements the theme as well.
Wedding Dance Floor Decal Ideas
If you don't need to establish a dance floor area with a vinyl wrap but would like a custom element, decorate it with a graphic decal. There are lots of ways you can go about it, so we've listed our favorites below.
22. "Peter Pan" Dance Floor Decal
Think about the possibilities. Choose some meaningful words, like this "Peter Pan" quote, and have a vinyl decal made to decorate your dance floor.
23. Projection Wedding Dance Floor Lighting
Projection lighting doesn't have to be cheesy—especially if it's lighting projected on a wooden floor. Create a decorative pattern along with your names for an interesting effect.
24. Gold Monogrammed Dance Floor
At this ballroom wedding reception, the happy couple requested a wedding dance floor decal of their monogram. We like how the gold decal matches the gold accents in the other reception decorations.
Custom Dance Floor Wrap Ideas
Vinyl dance floor wraps have become a popular way to create a custom dance floor. From designating your dance floor area with plain vinyl applied to the floor to a custom printed design, the possibilities are endless.
25. Floral Dance Floor Wrap
Here's a gorgeous wedding dance floor wrap design. A floral graphic on a white dance floor with a rose gold border complements the fresh wedding flowers on the stage.
26. Eucalyptus Wedding Dance Floor Design
To connect with the rest of their lush green decor, the bride and groom decided to on this creative wedding dance floor design. The dance floor was the center for lots of love, laughter and traditional Guamanian dancing.
27. Family Crest on a Wedding Dance Floor
Your wedding reception dance floor doesn't have to only be about you and your partner. You can honor your or your partner's family as well as this couple did.