15 Minutes With The Founders Of Sugar Paper
The stationery experts talk thank-you notes, wedding correspondence trends and their new Target collaboration.
by Lauren Kay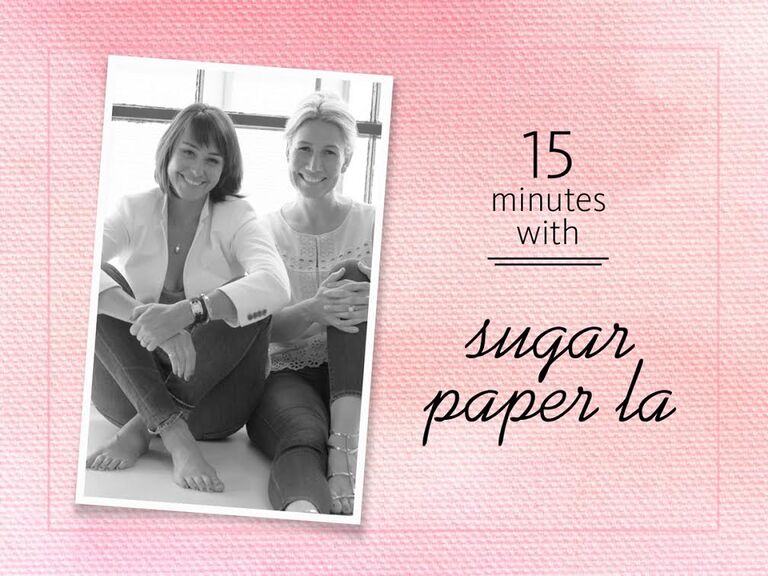 Sugar Paper founders Chelsea Shukov and Jamie Grobecker have been creating the chicest social stationery around since they founded their company in 2003. This California-based brand believes that personal stationery makes a deep and lasting impression—and we do, too! From custom wedding invitations and planners to "will you be my bridesmaid?" cards, these ladies have you covered for all your wedding stationery needs. We sat down with this duo to get the scoop on their first furniture design, what to look for when shopping for wedding invites and why you should always have thank-you cards on hand.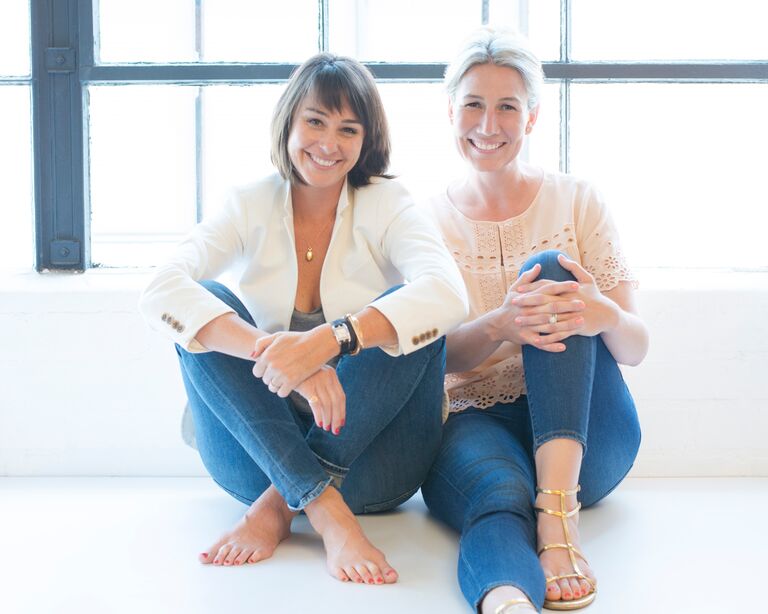 If you weren't doing this, what would you be doing?
Jamie and I both love what we do, but there are days when we come in after a great weekend or cozy morning with our kids and think about how nice it would be to stay home with them.
How did you come up with the name Sugar Paper?
We think the name Sugar Paper perfectly describes what we do. We make paper so pretty that it feels like candy. We also love that children in England call construction paper 'sugar paper,' so we certainly drew inspiration from that as well.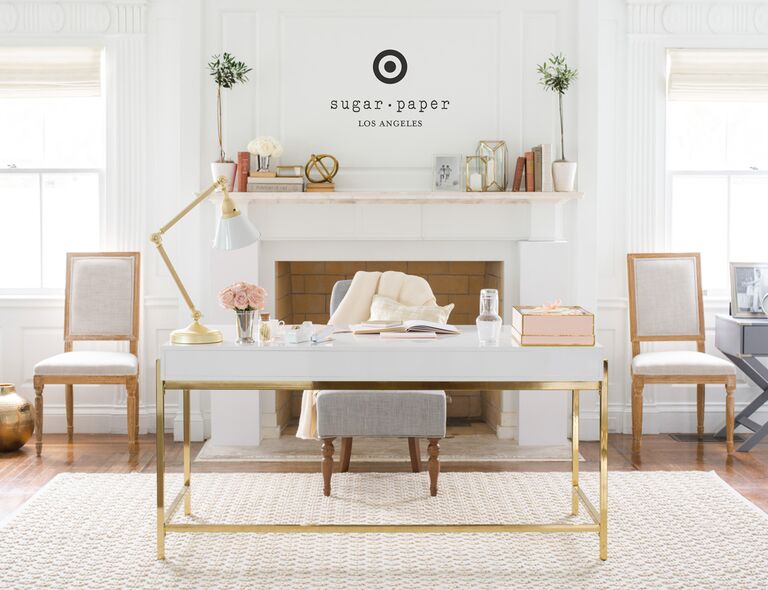 And partnerships galore–what's next for you and Target?
We're launching our desk collection with Target in July, and the design process has been a really wonderful experience for us. The core of the line is upscale office basics, and we were also able to design furniture for the very first time, which is a perfect example of the freedom we have to experiment when working with a big box retailer. The Target line is only available for a short time, so it has been a treat to design something that's so limited and exclusive.
Your business is rooted in letterpress printing, but now foil is all the rage. Do you play favorites? Is one better for a certain kind of wedding/style?
Foil was not popular when we started using it ten years ago. We had quite a few clients coming to us asking for gold on their wedding invites and stationery, but gold letterpress doesn't achieve a metallic finish, so we experimented with outdated methods and then foil certainly caught on in the industry. We are partial to letterpress because we feel you can really see and appreciate the art–foil doesn't have quite the same tactile quality, but when done well, it serves as a beautiful pop of shine on paper.
Favorite wedding invites you've ever seen/designed?
Our favorite designs have all come from people in the Sugar Paper family who are getting married. To put it simply, we know what we're doing–we get an insider look at all of the best techniques and various options, and we can see what does and doesn't work. We're also big Cheree Berry fans. Her wedding suites are gorgeous.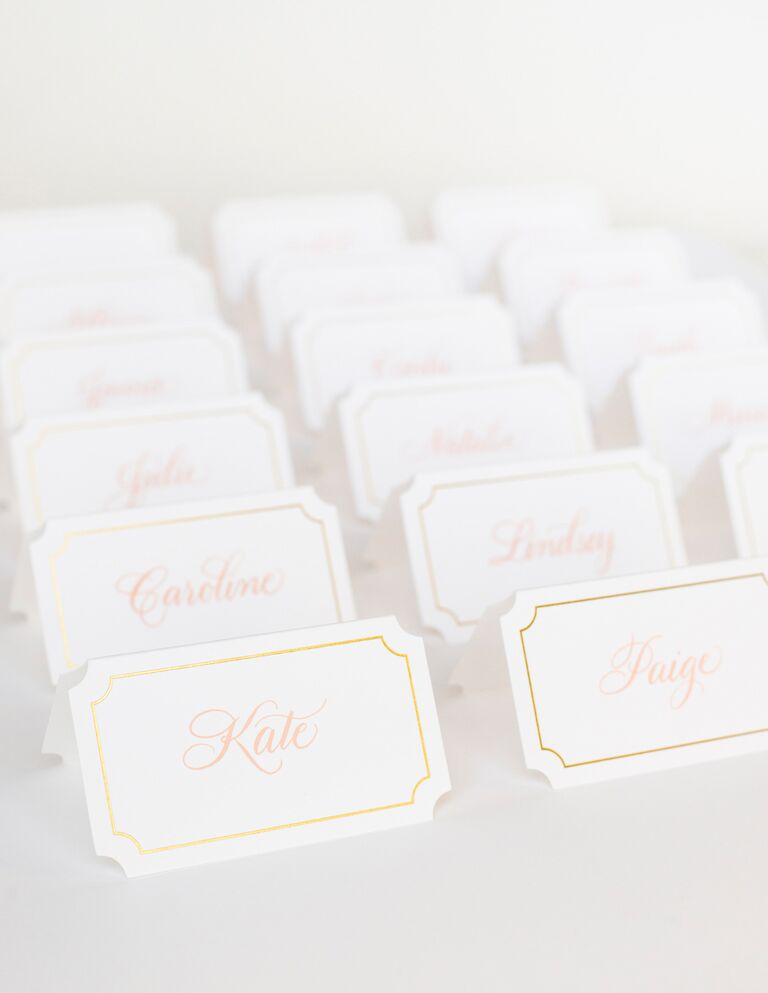 What is the one piece of advice you'd give couples shopping for wedding invites?
It's hard to window-shop for wedding invites. The style elements for your ceremony and reception play a big role in your wedding suite, not to mention all of the various details like the location and the date. We suggest getting a feel for various styles that you're inspired by as a starting point, but a stationer is very limited in what they can do until they receive all of the final details from you.
What are some of your favorite ways to personalize wedding correspondence?
We believe it should all be personal. Details like calligraphy on envelopes, welcome tags, and escort cards all stand out. Handwritten thank you notes during and after the big day show that you took the time to sit down and put pen to paper. For your wedding invite and thank you notes, a custom monogram also serves as a nice way to make your invite feel more personal and less cookie cutter.
What kind of paper wardrobe should every engaged couple have?
Thank you notes. So many people do so many wonderful things for you during this time, and it's always appropriate to send a handwritten thank you.
What are the best ways to ask/thank your wedding party for their role in your day?
We believe this is a perfect opportunity to write a heartfelt note, both before and after the big day. Let them know why you're asking them to be by your side during one of the most important days of your life–it's a great opportunity to tell someone how much they mean to you and why.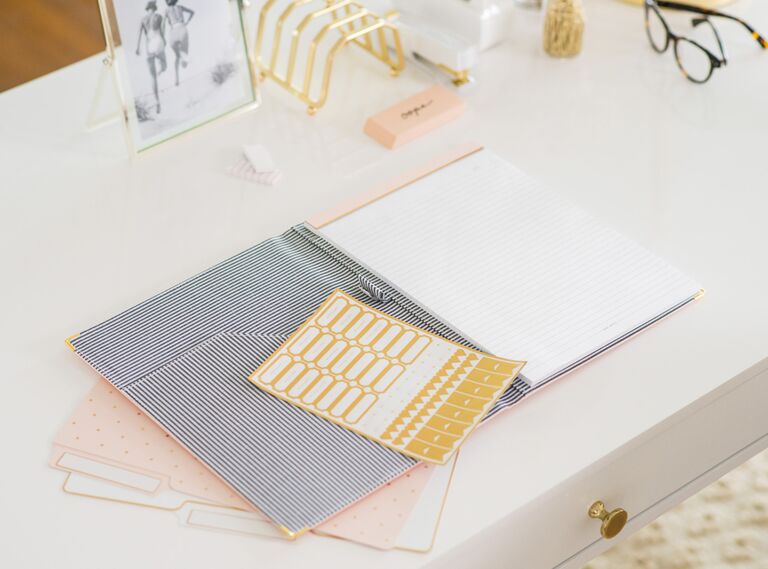 Any tips for penning all of those thank you notes?
If you can, write the notes as the gifts come in. Even if you don't want to send them until after the wedding, penning a note as each gift comes in will cut down an otherwise daunting list after the event. If you're not able to write thank you notes as the gifts arrive (or if you don't want to open the gifts until after you get married), we suggest keeping a list of who gave you what, and then making a place to mark whether or not you've sent them a note to make sure you don't miss anyone. Set a goal to write five a day, and as long as you stick to the goal, the task will seem a lot less intimidating. Just as a reminder, proper etiquette says you have a year to pen thank you notes, but we suggest getting them out as soon as possible.
Do or don't: writing letters to your spouse-to-be on the wedding day? For the guests… what's the sure way to give a gift that's remembered?
Do–always! Letters from my husband are my most saved item. To capture all of your feelings and emotions on the big day and put them on paper is so special, and that letter will undoubtedly become a keepsake for most. For guests, while it might feel impersonal to order something off of a registry, just remember that it's actually exactly what the bride/groom want most.