16 Wedding Details That Involve Bunnies
by Bridget Clegg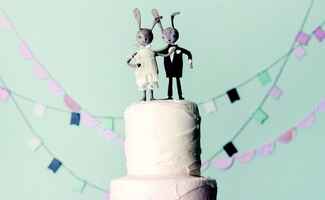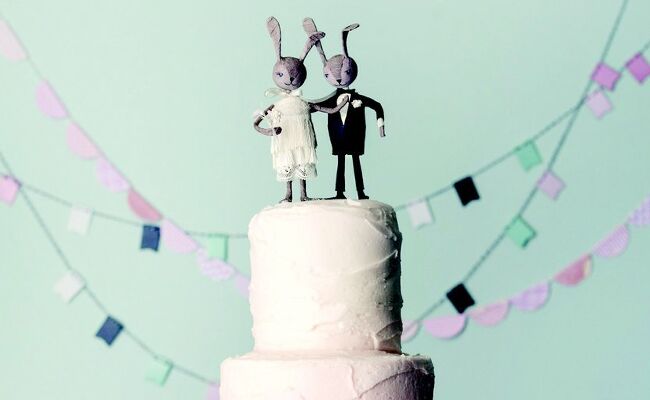 We've got three invitees to add to your guest list: Thumper, Peter Rabbit and Mr. Cottontail. With woodland weddings on the rise, it's only natural that the cutest woodland creatures make an appearance too. Here's how to make the bunny motif work as a wedding day accessory, a nature-inspired centerpiece or the best cocktail hour entertainment ever!
1. Silver Rabbit Cuff Links
2. Delicate Gold Bunny Ring
3. Topiary Bunnies Ceremony Decor


4. Ceramic Bunny Directional Signs
5. Petting Zoo Bunnies For The Kids
6. Real Bunnies To Cuddle At The Cocktail Hour



7. Gold-Tipped Bunny Place Cards
8. Painterly Bunny Table Signs
From the album: A Rustic Watercolor Wedding in Charlottesville, VA
9. Peter Rabbit Table Signs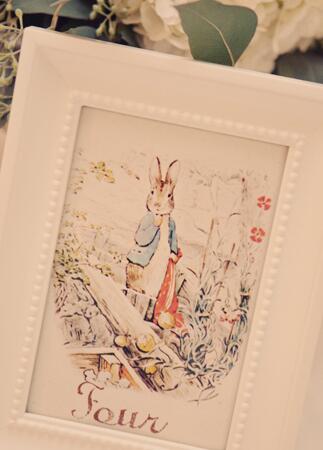 From the album: A Quirky Retro Wedding in Toronto, ON
10. Mini Bunny Topiary Centerpiece
11. Whimsical Bunny Cake Topper
From the album: Romantic Buttercream Cakes by Magnolia Bakery
12. Ceramic Bunny Couple Cake Topper
From the album: A Cheery Estate Wedding in Hollywood, SC
13. Gold Woodland Bunnies Cake Topper


14. Stamped Bunny Favor Bags
15. Outrageous Bunny Mask Bridal Party Photos
From the album: A Classic Formal Wedding in Louisville, KY
16. Bunnies In Love Ginger Cookies
See More!
> Put a bird on it! Pretty bird wedding decor
> The hottest spring wedding colors are…