42 Creative Wedding Send-Off Ideas So You Can Exit in Style
Time to make your ceremony and reception exit epic.
Amazing photo ops aside, the celebratory wedding exit is an age-old tradition that dates back to Roman times. Romans threw wheat and oats at their weddings, which became the rice-toss wedding tradition we know today. But if grains aren't your thing, there are tons of wedding send-off ideas that involve your guests tossing, ringing or waving something unique and creative at you on your wedding day. If you're ready to plan the best wedding exit, check out our favorite wedding exit ideas pulled straight from real weddings and prepare to say "ta-ta" in style.
The Knot Expert Tips: First, always clear your wedding send-off idea with your venue. Second, we highly recommend coordinating with your wedding planner, so you seamlessly pull off your desired exit idea.
1. Glitter and Confetti
Combine the best of both worlds and have your guests throw glitter and confetti for your wedding send-off. Make sure you get large-size glitter versus having "normal" glitter, so it shows up better in your wedding photos. (It also helps make the clean-up process quicker and easier.) Warning: It might take you and your partner some time to get all the confetti and glitter off after this wedding exit idea since they easily stick to hair and skin.
2. Lightsabers
If you're a massive "Star Wars" fan, having this send-off idea for your wedding is an absolute must. Give your guests lightsabers at the end of the wedding ceremony or reception and have them line up on either side of you and your partner. The sabers create a colorful and dramatic tunnel for you and your partner to walk down and will make a memory you'll never forget.
3. Sparklers
A shimmering canopy of mesmerizing sparklers makes for the perfect photo op. But before you start buying sparklers, don't forget to ensure sparkler send-offs are allowed at your venue and meet all fire ordinance requirements. You want sparklers marketed as safe for weddings, long in length and long-lasting.
4. Tinsel Streamers
Nothing says "party time" quite like streamer cannons. For a more streamlined wedding send-off idea, stick to your wedding colors or a cohesive (for example, all silver, pink or blue, etc.) assortment.
5. Sky Lanterns
This send-off wedding idea is best for couples planning to end their reception as the sun sets or later at night so you can feel the magic in the experience. Paper lanterns look gorgeous in the sky and beautiful in photos too. Some people believe sky lantern ceremonies bring good luck and new beginnings since the people releasing them, traditionally attach notes of prayers, blessings or requests to the lanterns. The purpose of this ritual is for the lanterns to float to the heavens so the gods can receive the releasers' wishes and make them come true. So before releasing your paper lanterns into the night sky, consider having everyone write marriage well-wishes on them at some point during the wedding reception.
Want a more sustainable option? Put the lanterns on strings or ask your guests to hold them instead of releasing them into the air. This way the sky lanterns don't become a litter problem later.
The Knot Expert Tip: Traditionally, the sky lanterns are lit at the bottom by a match or lighter so they can float off into the sky. Since having an open flame is a fire hazard, consider having a shuttle take you and your guests to an open field to do the ritual or using lightweight battery-operated tealight candles.
6. Glow Sticks
If a sparkler exit is off-limits at your wedding venue, a glow stick wedding exit can still end the night on a bright note. The glow sticks also work as a fun transition to hype everybody up for the wedding after-party. (The classic wearable glow sticks work great for this occasion.)
7. Fireworks
Ending your wedding with a firework display is one of the best ways to make a grand and spectacular exit. You can even ask the firework staff if the show can have your and your partner's names written in it or, something a little simpler, your wedding colors. Of course, since fireworks can be a fire hazard, ask your wedding venue if it's okay to have fireworks on the property.
8. Smoke Bombs
A smoke show is a fun and creative wedding send-off idea that'll make you and your partner look like rock stars. You can give your guests portable smoke bombs or ask a professional to do the task. Pose with your wedding guests or wedding party for some epic pictures or drive through the colorful haze in your getaway car.
Things to keep in mind when using smoke bombs: First, Get your wedding venue's permission and only use smoke bombs outside. Second, smoke bombs can stain clothes, so warn your guests about this possibility before the event. Finally, tell your wedding photographer about your smoke bomb idea so they can prepare in advance.
9. Maracas
Add music to your special day with this fun send-off wedding idea. Personalize the maracas by adding your and your partner's names to them and painting them your wedding colors. Maracas can double as a unique wedding favor too.
10. Cheer Pom Poms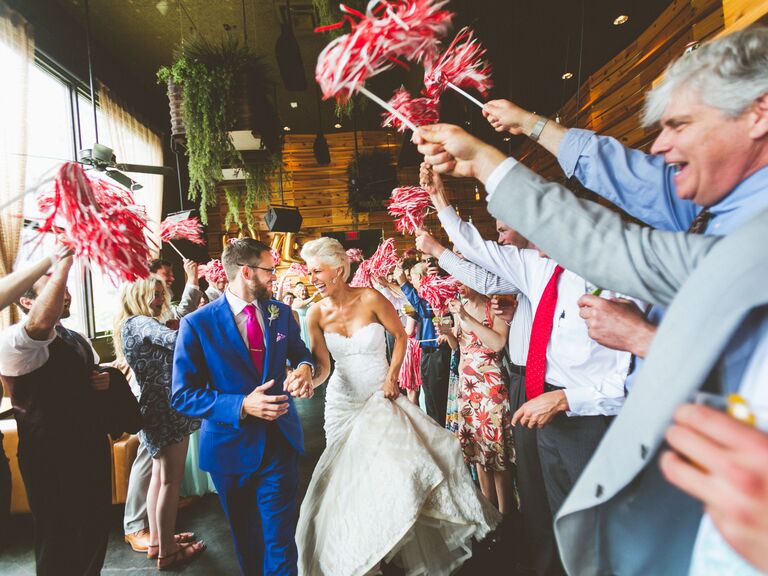 Encourage nostalgia and show your spirit by handing out cheer pom poms in your school, sports team or wedding colors. There's nothing like running down a tunnel of cheer pom poms to get you hyped up for your new life with your spouse.
11. Lavender
Delicate lavender buds not only offer a hint of fragrance (which creates a unique scentscaping experience), but they're a great choice for romantic or pastel color palettes. You can find premade lavender wedding toss tubes or prefilled sachets that double as beautiful escort card holders. Or, buy the buds in bulk, then let guests scoop them into the vessel of your choice.
12. Rose Petals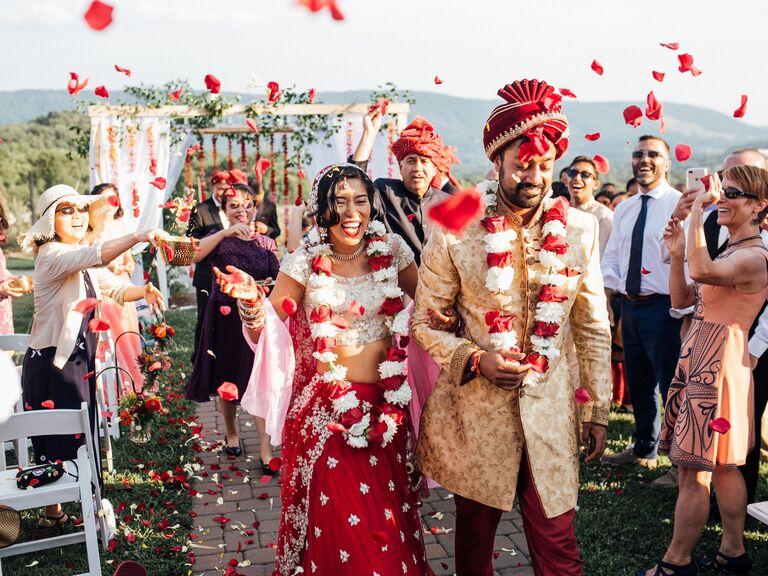 Rose petals have always been a top wedding exit toss idea. Consider adding different colored blooms to elevate the moment even more. Buy fancy prefilled sachets, a bulk supply of durable freeze-dried roses or speak with your wedding florist about getting fresh petals for the exit toss. Another option is faux flower petals, which are best for indoor ceremony exits because they can easily be swept up.
13. Mini Beach Balls
Planning a beach wedding? Then, use this wedding exit toss idea for your event. But regardless of your locale, you can get in vacation or destination wedding mode by tossing mini beach balls. You and your wedding party will have to take time inflating each beach ball, but we promise you it'll be worth it.
14. Sprinkles
One of the sweetest ideas is to give guests sprinkles to toss. (Yes, we mean your favorite ice cream topping.) Buy sprinkles in bulk by the pound and put them in personalized baggies.
15. Bubbles
Bubbles are a ceremony or reception exit idea you don't have to sweep up afterward—score! Personalized mini bubble bottles can also act as favors. Bubbles will definitely bring some childlike wonder to your wedding send-off.
16. Flags
Want to incorporate your and your partner's backgrounds in your multicultural wedding? Then, give your guests country flags representing your and your partner's origins. The flags can work as place settings before the send-off too.
17. Swords
Are you or your partner in the military? Consider doing a saber arch (or arch of sabers ceremony). A saber arch is a military wedding tradition where swords or sabers are used to salute the newlyweds during their ceremony exit.
18. Human Tunnel
Get ready to duck as you hold hands with your new spouse while running down a human tunnel. The best part about this wedding send-off idea is simple and doesn't require any supplies.
19. Feathers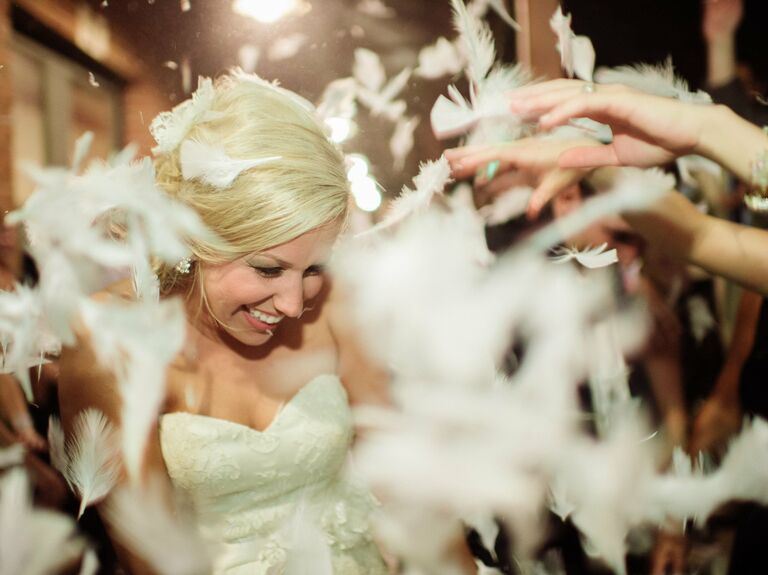 For easy cleanup, opt for feathers. They can be quickly swept off hardwood floors, and you won't be finding them in your hair for days to come (like smaller grains or confetti). But if you want an animal-friendly option and to avoid causing issues for people with feather allergies, use faux feathers instead.
20. Paper Airplanes
Get your wedding party together and start folding to create these playful well-wishes for your exit. Or outsource the work. Consider personalizable paper airplanes (with your and your partner's names or wedding colors) or paper airplane seating cards you can later repurpose for the exit.
21. Second Line
Plan a second line or New Orleans wedding parade for your wedding exit. This parade can lead you and your guests from your ceremony to your reception venue or be the last hurrah after the reception festivities.
22. Birdseed
Birds will thank you for doing this eco-friendly idea for a wedding send-off. You can put the birdseed in cones like you might for a dried lavender exit toss. We suggest doing this alternative to throwing rice earlier in the day while the birds are still out to snack, which inevitably helps with cleanup.
23. Cold Sparkler Machines
If you want to do the sparkler send-off idea but bigger, we have the perfect option for you. Rent cold sparkler machines for your ceremony or reception to make your wedding photographs epic. This wedding exit idea is a safer alternative if you're worried about giving fire to guests who've had too much to drink.
24. Confetti
If you go the confetti route, we recommend biodegradable confetti for an eco-friendly wedding exit toss idea. Avoid seed paper confetti—your venue won't be happy if lots of unexpected blooms start to sprout on their lawn. Luckily, there are lots of other options on the market, like these heart-shaped paper cutouts. Because there's no better way to close out the grand display of your love than with the ultimate symbol of romance.
25. DIY Flags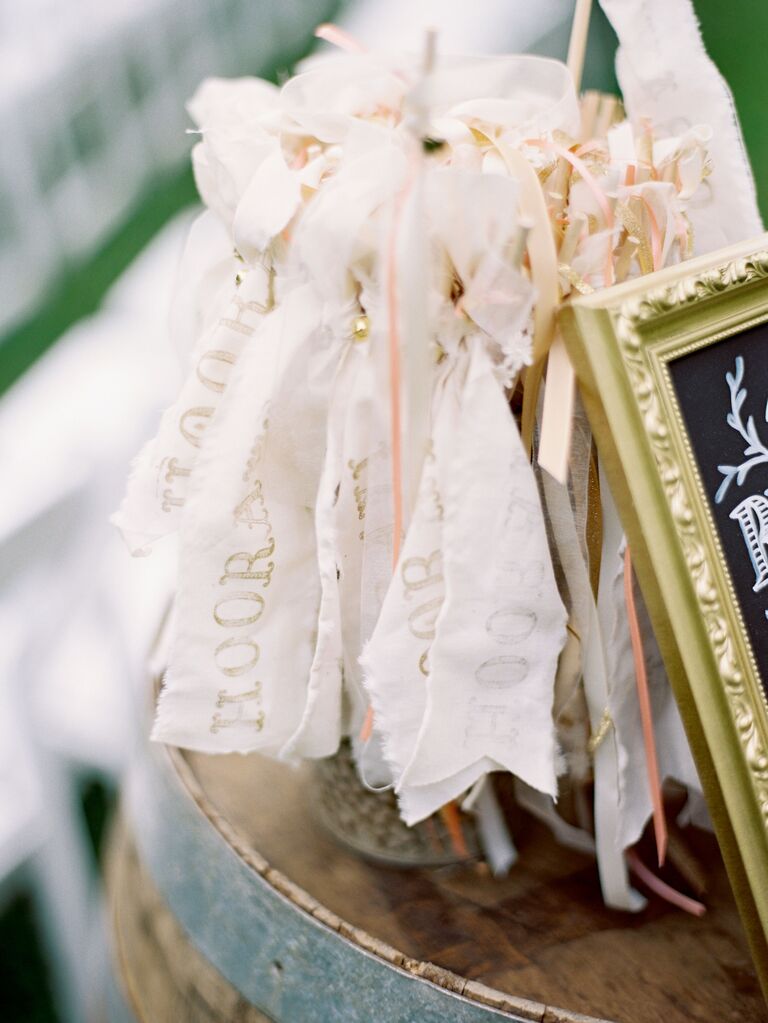 Want another flag send-off option? Give your guests small flags with celebratory statements, like "hooray," "cheers" and "congrats," to wave as you leave your ceremony and to take home after the party.
26. Balloons
A balloon toss is great for couples having indoor weddings. Have fun with this rice toss alternative by picking colors or patterns that match your wedding theme and colors.
27. Dried Jasmine
Here's another fragrant and sustainable wedding send-off idea. At this real wedding, the couple printed out scenes from Romeo and Juliet and made them into paper cones to put the dried jasmine petals in.
28. Bubble Shooters
People don't tell you this but manually blowing bubbles takes a lot out of you, so give your wedding guests' lungs a break by handing out bubble shooters before your wedding exit. Also, using bubble shooters gives you the benefit of your wedding photographer capturing you surrounded by more bubbles resulting in a better picture.
29. Foam Glow Sticks
Foam glow sticks are a creative mixture of the lightsaber and regular glow stick send-off wedding ideas. Foam glow sticks are bigger so they can show up better on camera, are customizable and many online sellers offer foam glow sticks that flash multiple colors.
30. Tambourines
Another way you can add music to your wedding exit is by giving your guests tambourines. This happy couple is using lace tambourines, so feel free to get creative as you'd like with the instrument's design.
31. Pom Pom Ball Wands
A crafty staple, pom-poms are inexpensive and colorful, plus a festive (and soft) little something for guests to throw. (Be sure to assign someone to clean up the mess after.) We like mini pom-poms that come in numerous color options so they can perfectly coordinate with your palette. But pom-pom confetti poppers are also super-cute.
32. Bells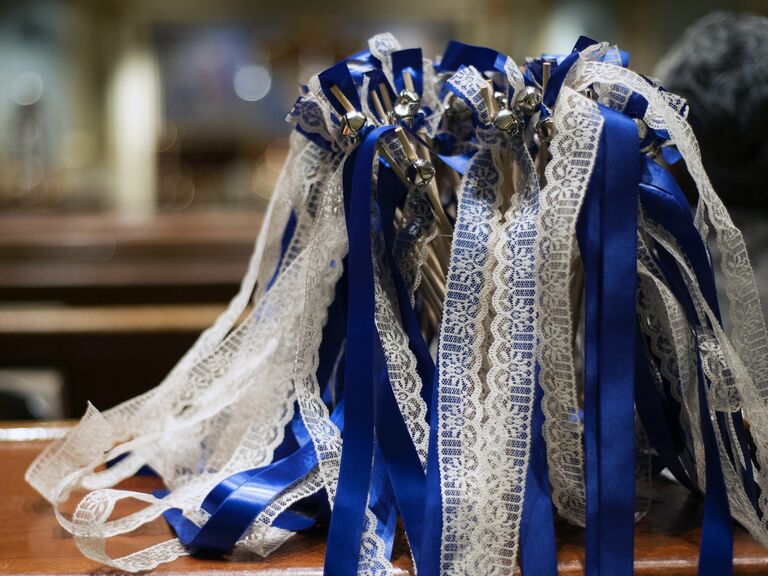 Want to skip any after-wedding exit mess altogether? Then give your guests small bells (or cowbells for rustic or country weddings) for them to ring. Decorate them or tassels, ribbons or stickers to add a personal touch.
33. Dried Eucalyptus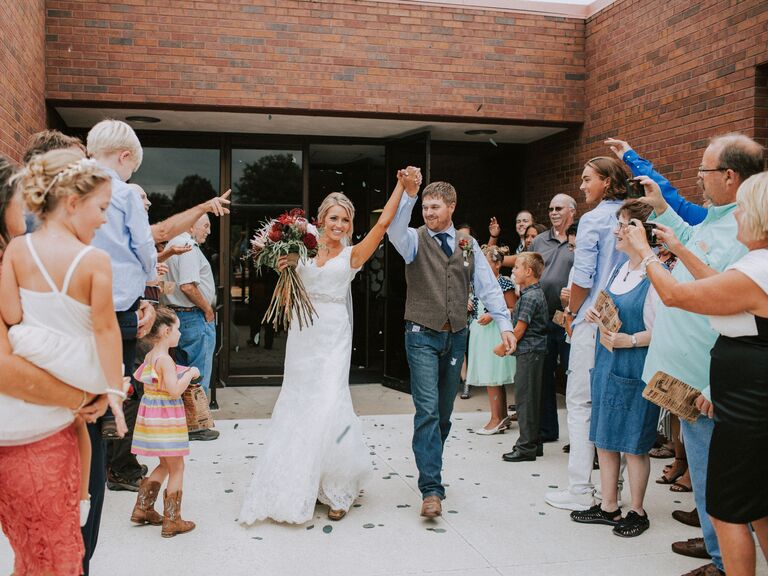 If you want to emphasize your natural wedding theme, use this creative wedding exit toss idea. Eucalyptus lends to a quicker cleaning process and is sustainable for the planet.
34. Hurley Sticks
Play into your or your partner's heritage for your wedding send-off. At this real wedding, the couple exited the ceremony under hurley sticks, used in the Irish game of hurling, to honor the groom's Irish background.
35. Dove Balloons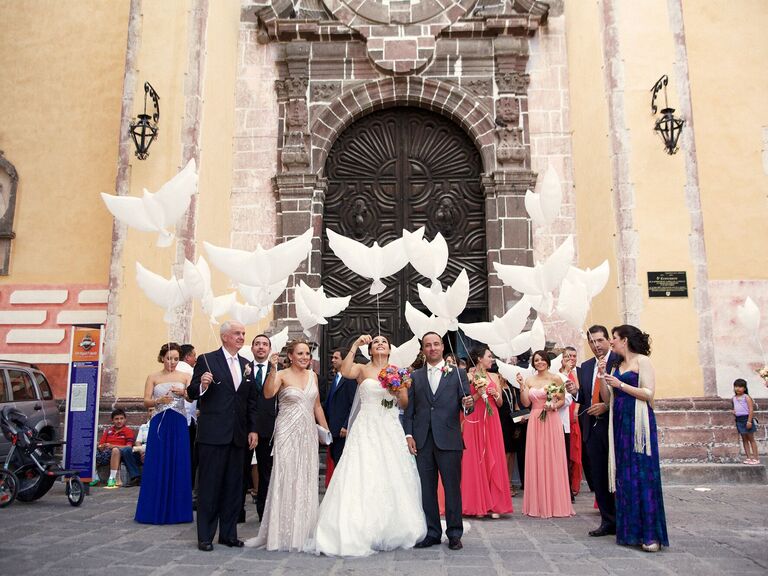 Many believe the dove release is inhumane, so that's why people have found using dove balloons as a good alternative. You get the same symbolization of love and peace without using a live flock.
36. Butterflies
Butterflies represent new beginnings, making them an obvious choice for a wedding send-off. But doing a butterfly release is up for debate since there are questions of whether or not it's humane. We suggest researching butterfly releases and finding out which companies put the safety of the butterflies first. Another option is to give your guests paper butterflies for them to toss in the air during your exit.
37. Leaves
One of the best things about the fall season is the beautiful leaves it brings. If you're having a fall wedding, gather up leaves (we love a free exit toss idea) so your guests can shower you with breathtaking fall colors. Ensure the leaves are dry, so they're easier to toss when the time comes.
38. Ribbon Wands
Playful ribbons attached to the end of dowel rods make for a celebratory exit tunnel. Try a DIY ribbon wand wedding send-off kit––some even include thematic wedding bells to adorn each stick.
39. Champagne Showers
What's one thing you'll most likely already be buying a lot of? Champagne! Use bottles of bubbly to celebrate your wedding exit, but be cautious of flying corks and slippery walkways.
40. Cell Phones
Unless you're planning an unplugged wedding, your guests will probably already have their cell phones out so they can snap pictures of your special day. So use that to your advantage. Ask your guests to take out their phones so they can light your way down the ceremony or reception exit.
41. Napkins
Monogram napkins or hankies—or ask your loved ones to bring some from your favorite establishments—and have your guests whip them around in joy at the end of your ceremony or reception. We like fabric ones because you can bring them home and reuse them, but personalized paper ones work too.
42. Rice
Last but not least, you can always fall back on the tried-and-true rice toss wedding tradition. White rice is an affordable and widely available option for any wedding—again, just make sure your venue allows it. Some online sellers even offer adorable little bags filled with flecks of colored rice, which will set you apart from the pack.