The Hottest Household Registry Items of 2013 (Scan It Saturdays)
by Jamie Miles
Each year, the Housewares Design Awards highlight the best of the best in the industry. Winning products for each of the 12 categories were JUST announced and we want to share them with you. These items are unique in either form or function and many are even eco-friendly! Keep your registry list up-to-date by adding these home essentials, or gifting them to a friend at their wedding!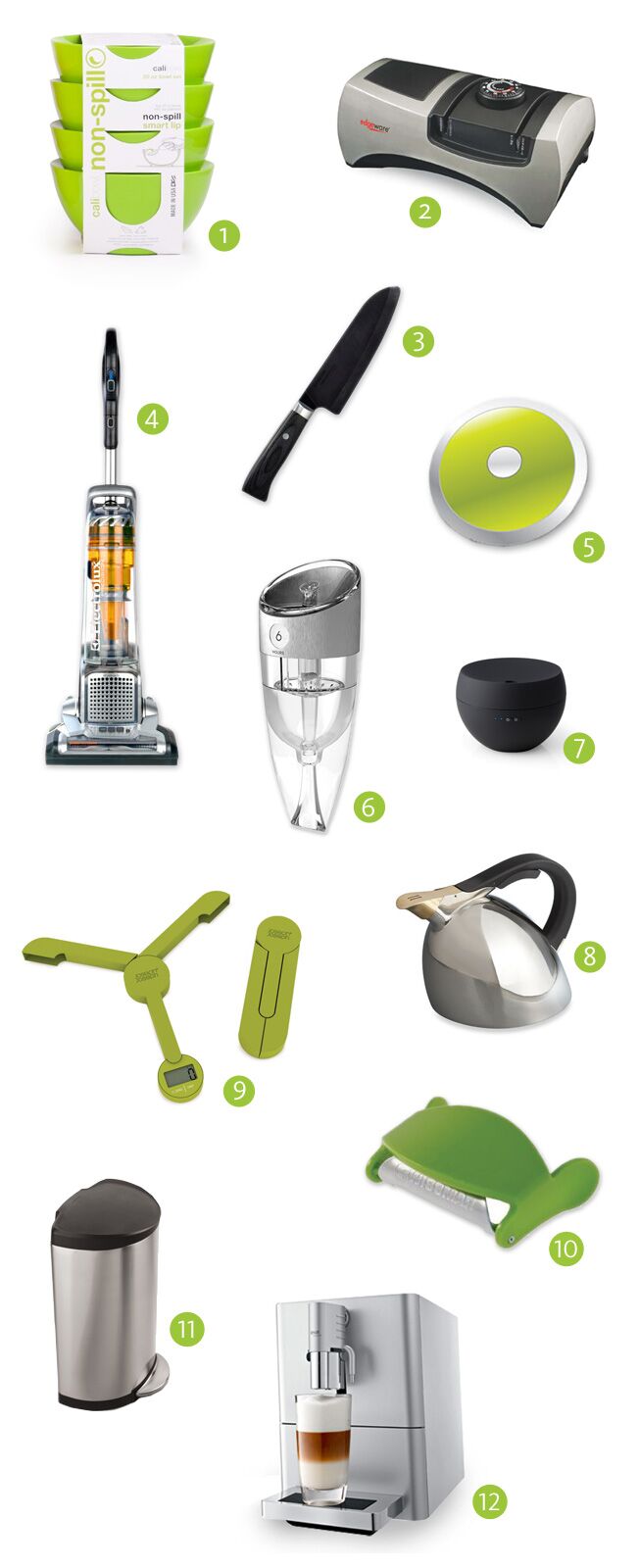 1 — Simple Wave Calibowl Iconic Mixing Bowl Set
These bowls won the "green house" award due to their non-toxic, recycled material make-up. The company also has a recycling program for returned bowls which are made into new ones.
$20, Calibowl.com
2 — Edgeware Angle Adjust Electric Knife Sharpener
The beauty of this sharpener is its angles adjust to fit most straight edge knives despite country of origin. It also shaves both sides simultaneously!
$200, BedBathandBeyond.com

3 — Kyocera Limited LTD Cutlery Series 6
With an ergonomic wood handle and black polished ceramic blade, this provides optimal cutting precision.
$120-250, KyoceraAdvancedCeramics.com
4 — Electrolux Precision Brushroll Clean
This vacuum was designed to remove tangled hair from the brushroll into the dust cap in seconds for a quick, no-mess clean.
$300, Lowes.com
5 – Handy Home Products GLOWr Wayfinding Illumination Discs
This may look a bit like an object from outer space, but it's actually a green alternative to batteries and bulbs. The glow lasts up to 48 hours with only an 8 minute charge of sunlight. The life expectancy: 25 years!
Coming soon, Skrapr.com
6 — Host Studios Twist Adjustable Aerator
Decant wine instantly from zero to six hours and it can decant anything from the lightest pinot noir to the most robust bourdeaux.
$45, MGDirect.com
7– Swiss Style Jasmine Aroma Diffuser
Interval settings allow this diffuser to alternate 10 minutes on, 20 minutes off for an entire day. Special technology mixes water with oil and disperses it as an extra fine scented mist.
$60, StadlerFormUSA.com
8 — Nambe Chirp Kettle
This kettle signals when the water is boiling with a soft harmonic chirp. Not just that, but the kettle was designed as a "sculpture for your stovetop." Chic and sturdy.
$125, Bloomingdales.com

9 — Joseph Joseph Triscale Kitchen Scale
With three arms, this is one of the most stable digital scales and folds down to a compact storage size. Plus, an "add and weigh" function allows you to measure multiple ingredients in the same prep bowl.
$30, Bloomingdales.com
10 — Swissmar Swiss Curve Peeler
This peeler's patented curved technology, steel blade and ergonomic handle make it easy for lefties and righties to use.
$4, SurlaTable.com
11 — Simplehuman Semi-Round Sensor Can
Muti-sense technology allows this can to react and adapt to the user's behavior, so it doesn't shut before you're through with your task. It's also fingerprint proof — in case you were to touch it!
$140, BedBathandBeyond.com
12 — Jura Capresso One Touch Cappuccino Machine
Just a touch of a button and you have home-brewed espresso. At 9 inches wide and 12.7 inches high, this is one of the smallest cappuccino machines retailed.
$2,500, BestBuy.com
> 5 Mod Registry Items for Decluttering
> Love to Bake? 5 Registry Must-Haves!