21 Reasons Why Getting "Cheeky" in a Bridesmaid Photo Is a Bad Idea
by Ivy Jacobson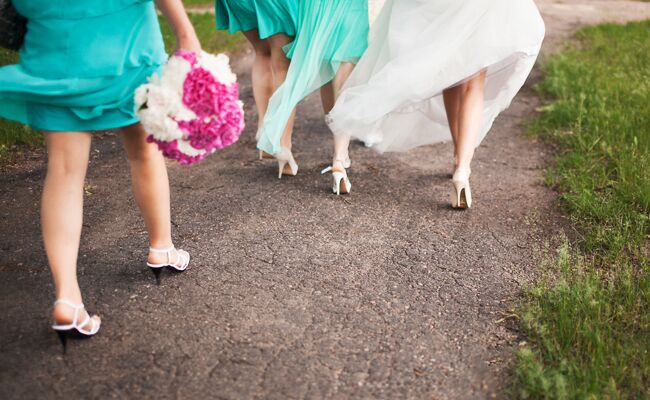 Many moons ago, someone decided that it would be funny to start a trend of brides and their bridesmaids showing off their derrieres in wedding photos. Pulling up dresses in front of your wedding photographer (who will later be snapping pics of your grandparents) just isn't a trend we can get behind, even if your bootylicious backside rivals Beyonce's.
Take it from us: Save it for the honeyMOON and read our roundup of reasons why you shouldn't expose your tush in wedding photos — no ifs, ands or butts about it:
1. Because you're not the little girl in the Coppertone sunscreen ads.
2. Do you really want your children and grandchildren to see photos of your naked behind?
3. It's not cute if everyone lifts their dress up only to expose their shapewear.
4. It doesn't take much for photos to go viral these days, so your boss may recognize you if the picture winds up on a blog.
5. This is what your bachelorette party is for, not your wedding day in broad daylight.
6. What if it makes a bridesmaid really uncomfortable?
7. What happens if one of the bridesmaids chose to go commando that day? #Awkward.
8. Your traditional grandma wanted you to wear white for a reason.
9. Your wedding hashtag is suddenly going to get a LOT more interesting, which could lead to the worst thing ever…
10. …your social media accounts getting deleted…
11. …but not before you gain a ton of creepy new followers.
12. What if you have a man of honor or bridesmen?
13. Do you really want your husband to know what your friends' butts look like?
14. And do you really want other people pinning your derriere on Pinterest? Because that's where your photo will eventually end up.
15. Just another thing you have to add to your already massive to-do list: Buy underwear that will be comfortable enough for the wedding day and cute enough to be seen all over the Internet for ever and ever.
16. Cue "rump roast" jokes.
17. It was only cool to imitate Sisqo's "Thong Song" in 1999.
18. Your honeymoon lingerie was just wasted on your mom, dad, uncle, niece, stepmom, grandparents and brother.
19. Another reason to add squats to your prewedding workout… and no one likes squats. No one.
20. "Baby Got Back" is a song, not a wedding photo suggestion.
21. Because you know the photos will resurface for #TBT, #FBF or #WCW.
Want more? Right here!
> 11 Wedding dessert ideas (That aren't cake!)