25 Most Expensive Places to Get Married in the US
You know you want to know.
by Maggie Seaver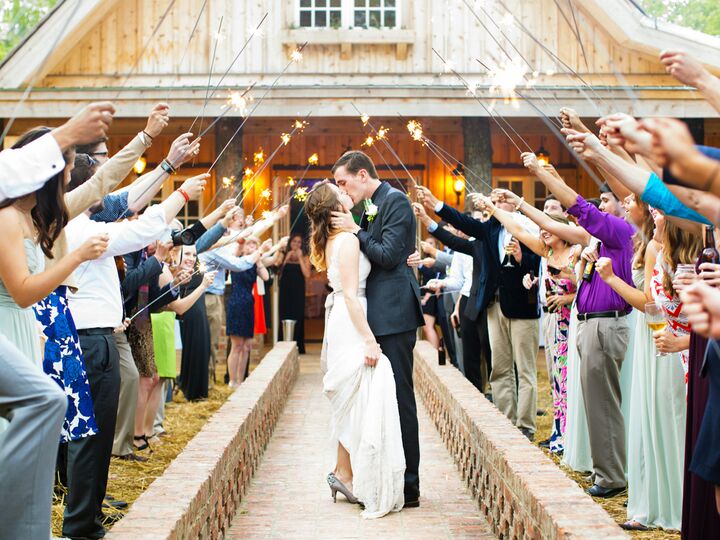 Kristin Hornberger Photography
Get ready for some serious numbers. Based on the 2016 findings from the 10th annual The Knot Real Weddings Study, the national average cost of a wedding has reached an all-time high. Today, to-be-weds are focused on personalizing their day and offering their loved ones an incredible guest experience. But, clearly, giving them something to talk about doesn't come cheap, especially in these 25 pricey—ahem, priciest—places. Take a peek below to see if your wedding locale made the list.
1.     New York – Manhattan: $78,464
2.     New York – Long Island: $67,831
3.     New Jersey – North/Central: $62,606
4.     Illinois – Chicago: $60,035
5.     New York – Outer Boroughs: $59,027
6.     Massachusetts – Cape Cod: $58,608
7.     New York – Westchester/Hudson Valley: $54,428
8.     Rhode Island: $52,328
9.     Florida – Southern: $48,596
10.  Pennsylvania – Philadelphia/Delaware: $48,093
11.  New Jersey – South: $46,486
12.  California – Santa Barbara/Ventura: $45,957
13.  California – Los Angeles: $44,062
14.  Massachusetts – Boston: $44,028
15.  California – San Francisco/Greater Bay Area: $42,716
16.  Louisiana – New Orleans: $42,628
17.  Connecticut: $42,127
18.  Texas – Houston/East TX: $40,285
19.  DC – Washington DC/Northern VA/Suburban MD: $40,176
20.  California – San Diego: $37,268
21.  Texas –Austin/San Antonio/South TX/Central TX: $36,522
22.  Maryland – Baltimore: $35,861
23.  Michigan – Detroit: $35,576
24.  California – Orange County: $35,303
25.  NY – Capital District/Upstate NY: $34,874