25 Steal-Worthy Wedding Ideas from Engage!
by Samantha Roberts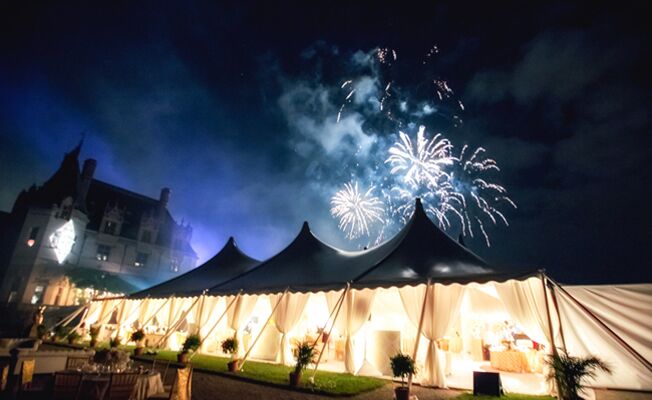 Just a few weeks ago, I had the opportunity to attend a weddings summit at The Biltmore Estate, in Asheville, North Carolina called Engage! It's a conference designed to bring together some of the most elite wedding planners and pros (we're talking trend-setters and celebrity planners like Mindy Weiss and Colin Cowie!) to collaborate and exchange ideas. The best part? You can't bring together the most creative wedding pros across the country without hosting a ton of fun activities and wedding-worthy parties! Here, a small sampling of some of our favorite details from the weekend. (Oh and if you're wondering where to find all these amazing details, all of the credits are at the bottom!)
1. Point The Way With Painted Map Chalkboard Signs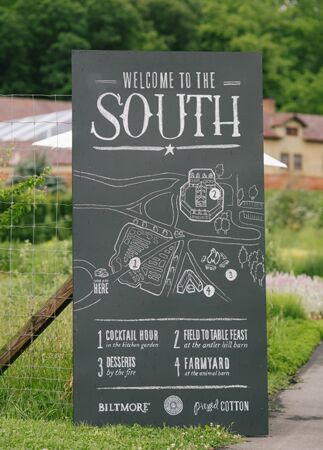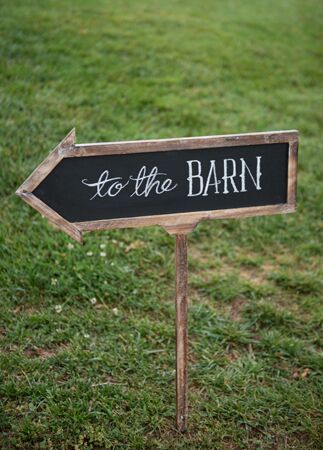 Cute wedding signage isn't the newest idea of the year, and either are stationery with maps. But put the two together and it makes for an impactful (read: helpful) wedding day detail.
2. Swap Out Chairs For Wooden Picnic-Table Benches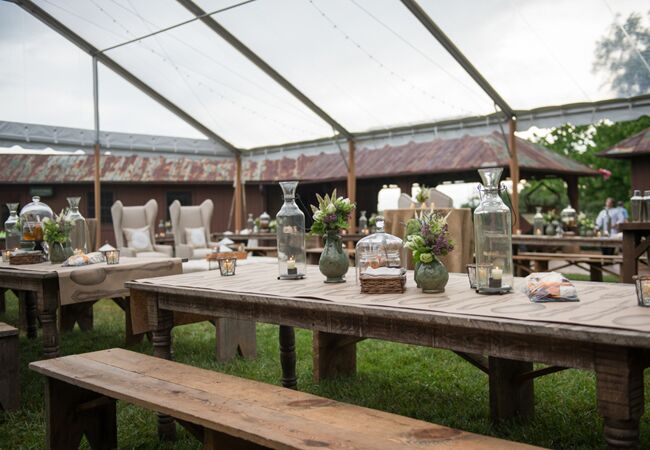 Benches like these bring a level of comfort and a homey feel to any reception or party. Not to mention that they also force guests to sit close to one another and get to know each other!
3. Play With Illustrated Kraft Paper Table Runners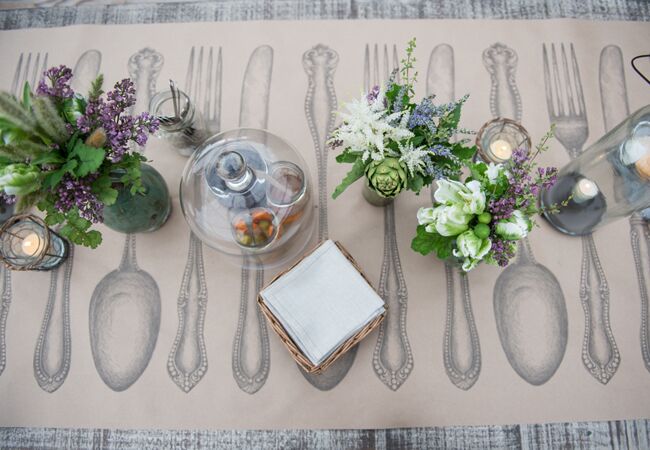 These larger-than-life flatware illustrations printed onto kraft paper help drive home the shabby chic Southern style.
4. Swap Out Mason Jars For Mismatched Flea Market Finds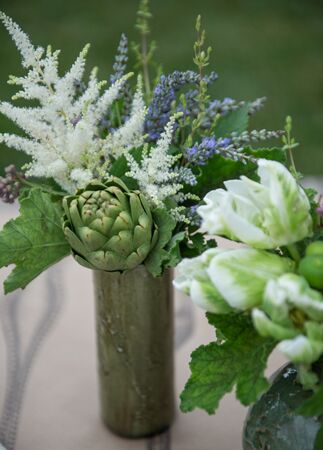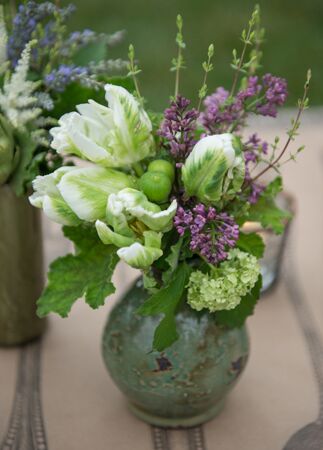 Mason jars are not the only vessel for rustic chic flowers. Take a cue from these pretty found vases. They fall within the same color family but the look is vintage elegance.
5. Get A Homegrown Look With Cloche Bell Jars, Jam & Pickled Veggies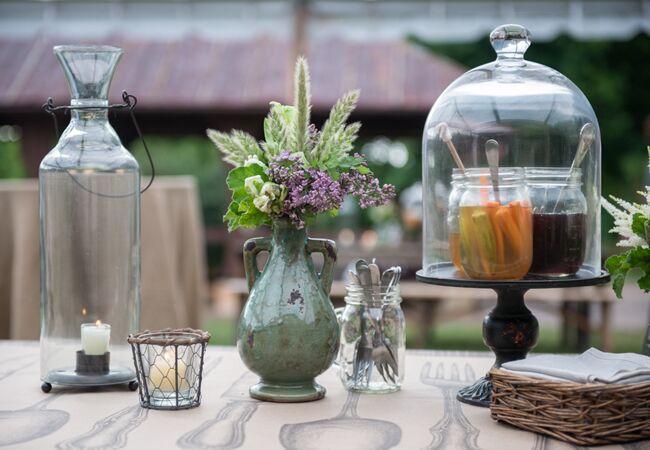 Homemade edibles like breads, jams and even pickles are incredible trendy (I'm sure you know someone with an at-home beer brewing kit). Here, a glass cloche jar and pickled veggie display just adds to the down-home country elegance.
6. Pull In A Few Wingbacks
You don't need giant couches to create an incredibly beautiful lounge area — big wingback chairs like these do the trick to break up the space.
7. Brand Your Food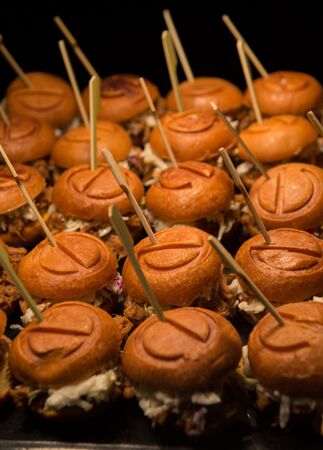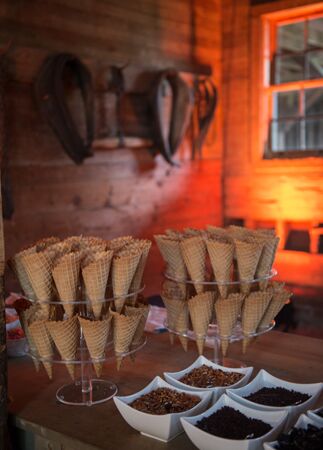 Food is important to any wedding — the branded logo of the Engage! on the pulled pork sandwich is a touch guests will always remember. Another fun food element — an ice cream bar!
8. Light The Perimeter of Your Reception (Especially If It's A Tent)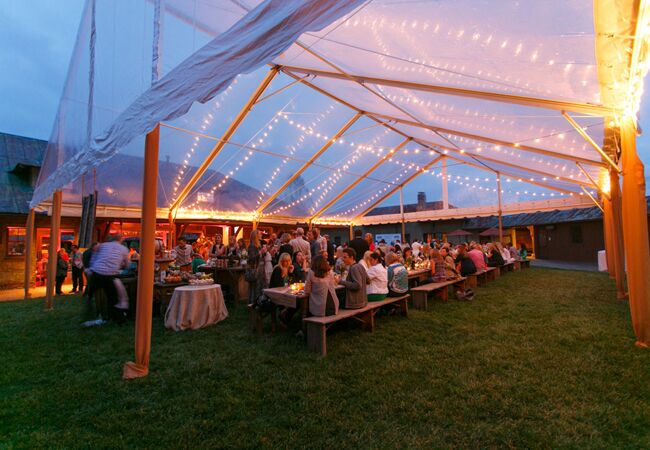 Market lights hung in a clear tent and set the stage for the stars to shine right on through. This tent also protected us from the chance of rain!
9. Send Them Away With Midnight Munchies Bags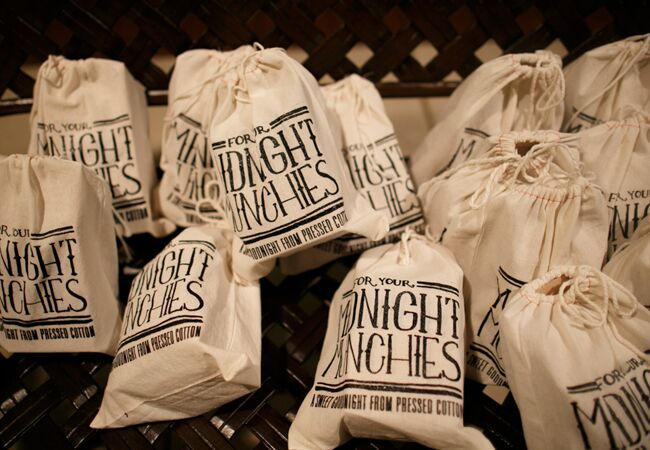 At the end of the night, we found "Midnight Munchies" bags made by Pressed Cotton waiting for us at the hotel. Inside each were cake pops, cookies and salty popcorn to relish any hunger we may had worked up on the dance floor.
10. Don't Be Afraid To Add Unexpected Elements (Like Silver Forks Or Corks)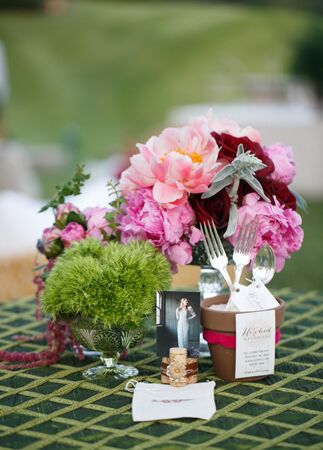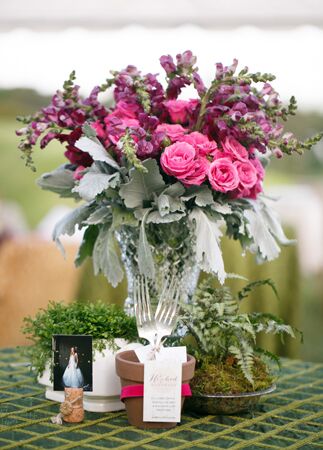 The next night we were invited to an outdoor dessert party. The decor was shabby chic with lots of unusual centerpiece elements. The interesting potted ferns mixed with corks and forks and other found objects gave the party a pretty yet approachable look.
11. Think Vintage Vignettes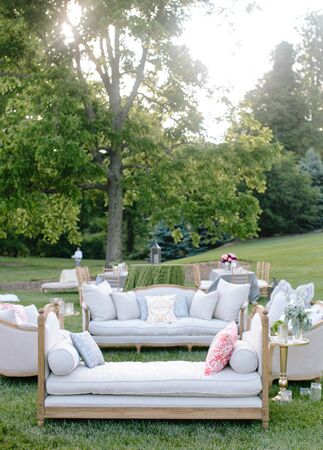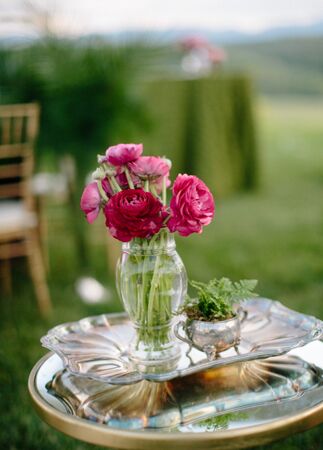 For a dessert party, you don't really need lots of formal seating so the geniuses at Engage created little vignettes made up of vintage-style couches and chairs. (Spend your Saturday's scouring flea markets and second-hand stores to re-create the look.)
12. Wash The Walls With Lighting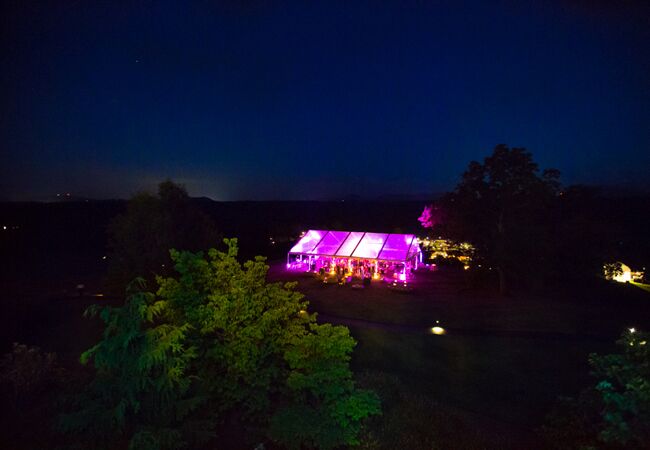 A pulled-back shot of the tent from the party that evening shows just how incredible and show-stopping the right lighting can be.
13. Plan A Speakeasy Themed After-Party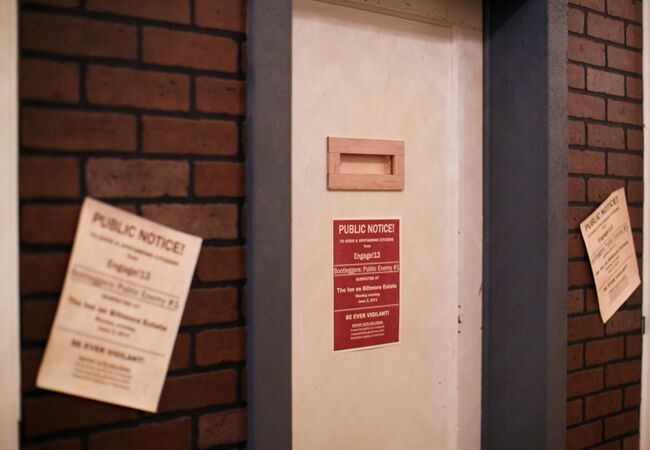 During the dessert party, a not-so-secret code word trickled through the crowd. You had to know the word to gain access to the speakeasy-themed after party! The speakeasy after-party actually took place in the ballroom — but the door to get in had been custom-made complete with a peephole and hanging wanted signs for famous bootleggers!
14. Book A Jaw-dropping Backdrop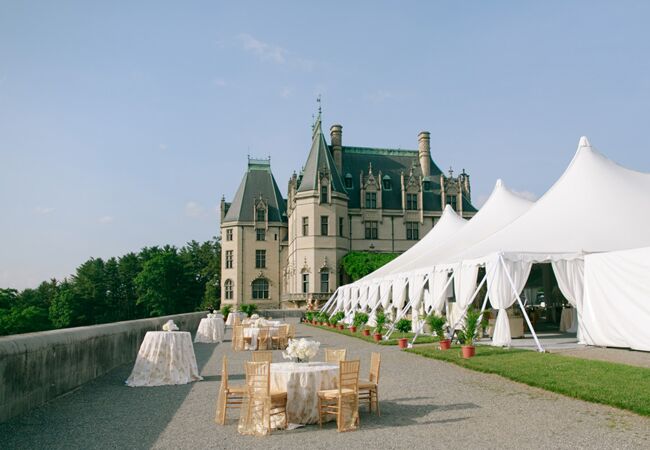 The last night might as well be described as the grand finale. We were all invited to a Great Gatsby-themed tented gala. It doesn't hurt to have the largest home in America, The Biltmore House, as your backdrop either! Alongside the tent were a few simple cocktail tables overlooking the beautiful view and sunset.
15. Supersize Your Grandmother's Bridal Portrait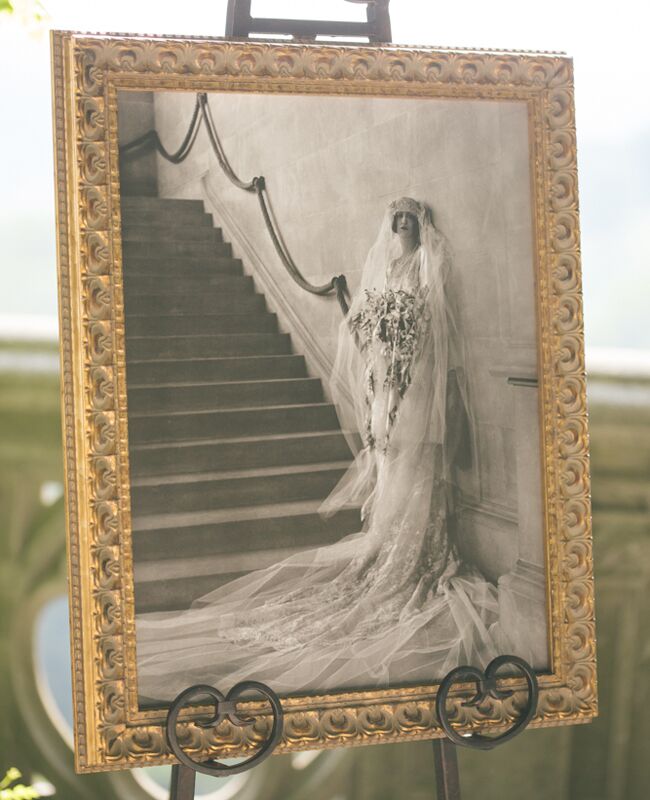 A large framed photo of Cornelia Vanderbilt on her wedding day (she married John Cecil and the two celebrated their wedding breakfast at The Biltmore House in 1924) was set just inside the tent. Include beautifully framed photos of your grandmothers to make them feel as though they too are part of a historical day.
16. Consider A Coloring Book-Style Guest Book Mural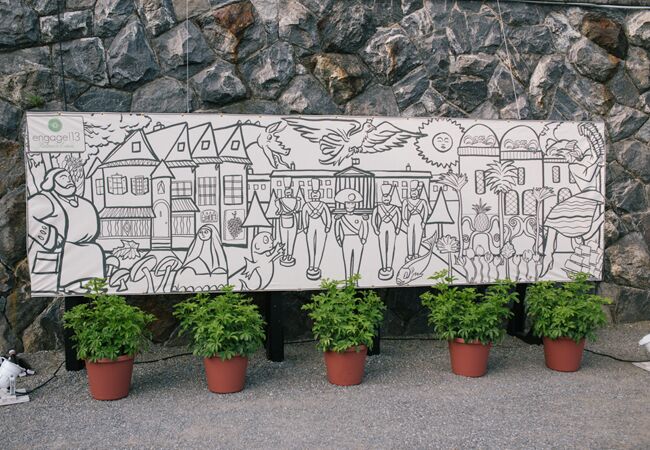 Here's a unique guest book idea: A wall mural was on display for guests to paint, color and sign!
17. Stick To Gold And White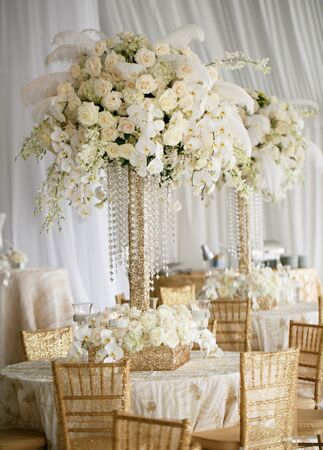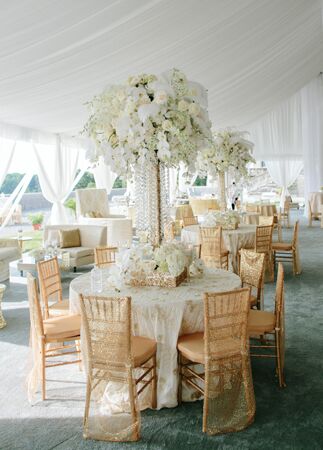 Over-the-top glamour is totally on-trend — and you can't go wrong with elaborate white and gold centerpieces like these made of orchids, roses and feathers designed by Karen Tran. (Answer: You seriously can't.)
18. Play With Patterned Linens
You don't have to work with loud colors to make a statement. Patterned linens in subtle colors like gold and ivory freshen up a space without overpowering. Mini mirrored tables made the room bigger and practically multiplied the number of flowers in the room.
19. Re-Think Your Entertainment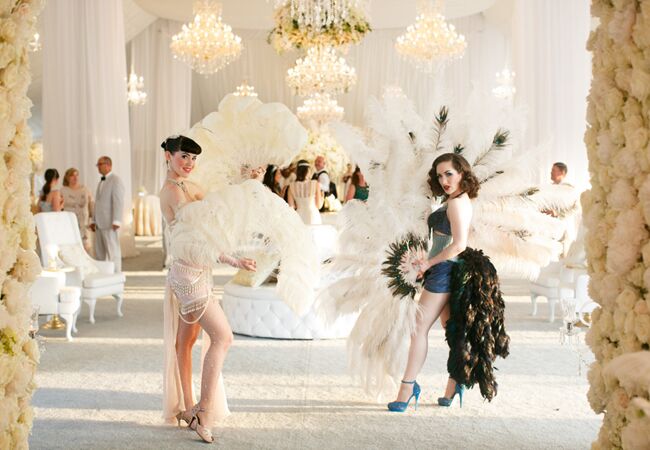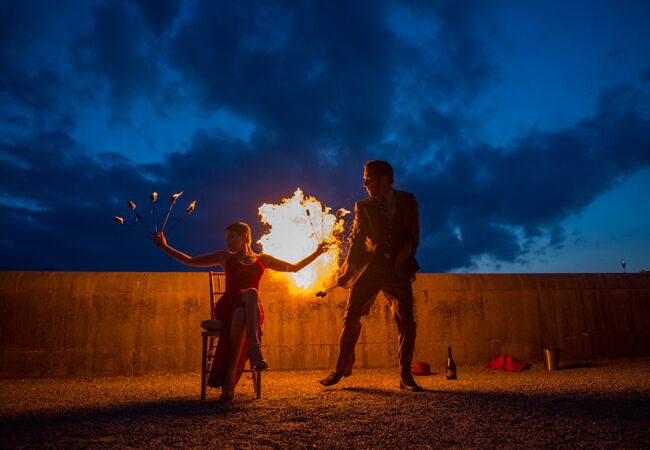 To seriously amp up your cocktail hour or dance party, consider all the entertainment options. Burlesque dancers welcomed us to the tent, swing dancers energized the dance floor, and fire eaters made our jaws drop late into the evening.
20. Create A Grand Entrance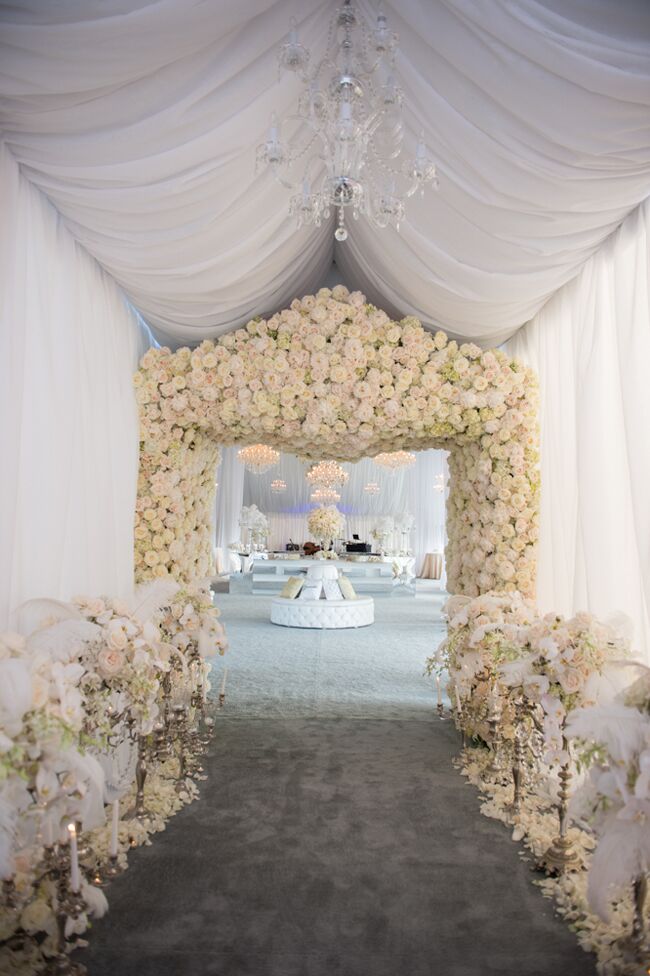 First impressions are important, and this entryway gives proof. An incredible arch of roses and orchids greeted us at the front of the tent and set the tone for the evening (elegant and over-the-top!).
21. When In Doubt, Hang More Chandeliers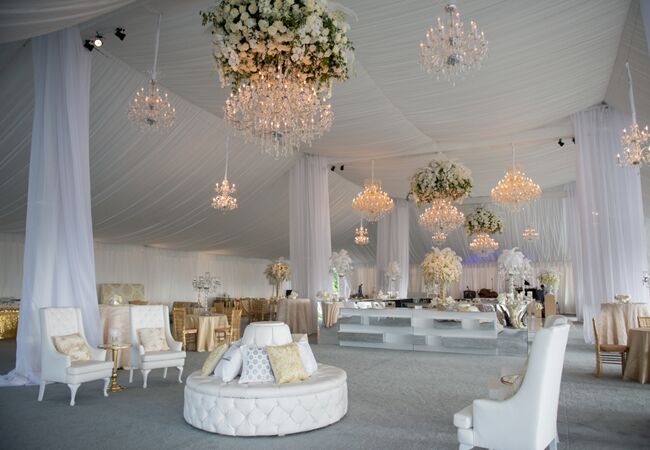 For a very tall space, it's important that you think tall. To fill a space as large as this one, draping and multiple chandeliers did the trick. Depending on your space, you might want to think about adding extra hanging lanterns or other lighting elements. It's one of the fastest ways to transform a room.
22. Elevated Your Band Or DJ
If you want guests truly interacting with the music, then highlight person or group of people who are creating it for you. The band set up on a stage elevated right in front of and above the dance floor, while and sparkly lining and lots of flowers gave it extra appeal. (Once guests hit the dance floor, they didn't want to leave!)
23. Launch Confetti Over The Dance Floor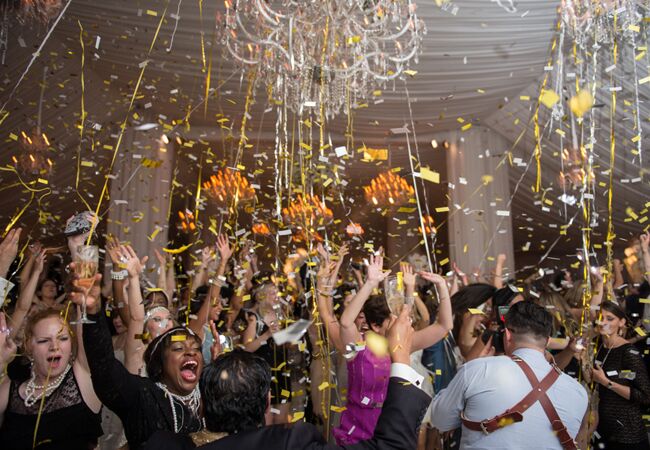 Confetti is not just for New Year's Eve parties. To really enliven your guests, surprise everyone with confetti. Confetti launchers (they're also sometimes called canons) are your best bet. You can also find smaller versions at party stores to hand out to a few key friends or family members. An extra bonus: Your photos will look amazing.
24. Instead Of One Wedding Cake, Order A His And Hers!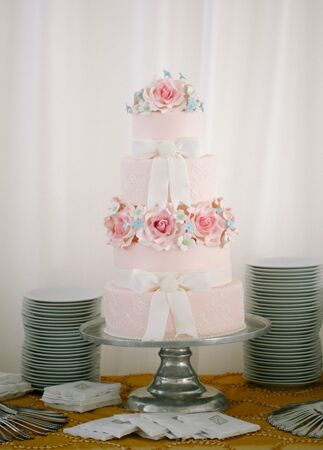 The groom's cake can look spectacular too. Instead of choosing a sheet cake for him and relegating it to the corner somewhere, order two equally as ornate and tall cakes for a serious dessert display.
26. End The Night With Fireworks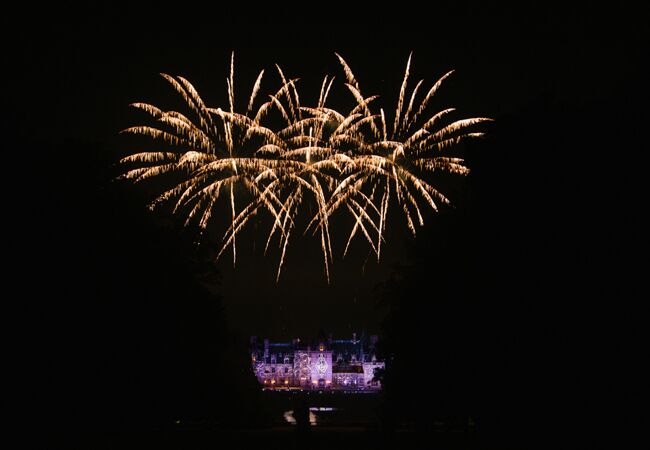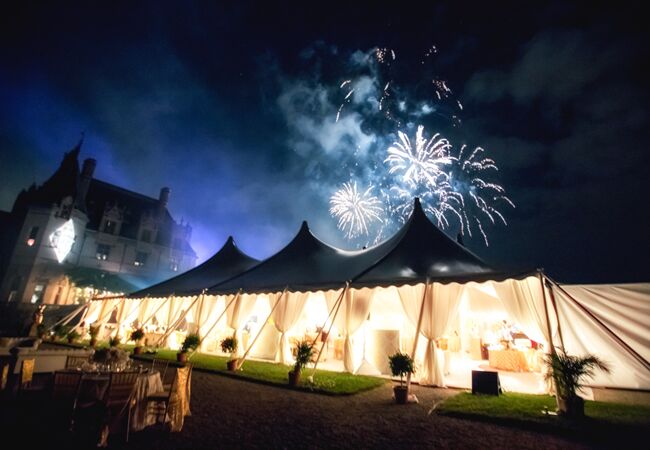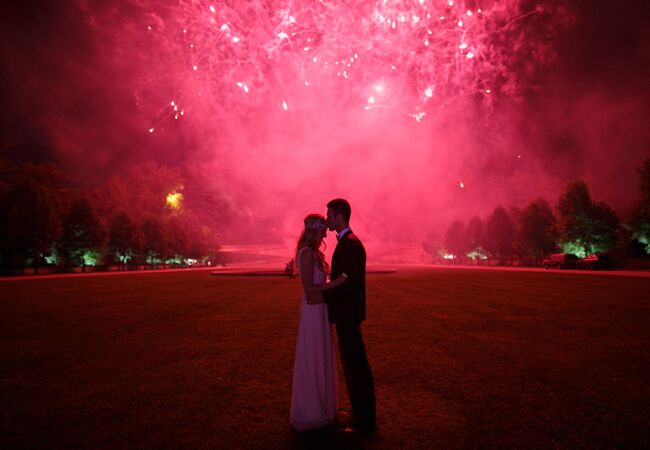 As if confetti wasn't enough, an incredible fireworks display synchronized to a few romantic songs capped off the night. (And no, we didn't stumble up on a bride and groom in the middle of the conference — that's me and one of my favorite event designers, Christopher Confero, posing for a shot!) If fireworks are too much (or out of budget range), there are other options. Wish lanterns or even wedding sparklers can have a similar top-off-the-night affect.
Clearly, it was a weekend to remember. And just like a wedding, having a video is one of the best ways to remember all of the details. The team from I Do Films captured it beautifully in this video. Enjoy!
As promised here's a list of the pros who contributed to this over-the-top weekend!
Location: The Biltmore Estate | Photographers: Jeremie Barlow Photography, Carla Ten Eyck with Andrew Henderson, Allan Zepeda, Parker J Phister | Graphic Design: Trisha Hay Design | Event Branding, Accessories & Gifts: Gifts for the Good Life, Arak Kanofsky Studios | Event Calligraphy & Hand Lettering: Deborah Nadel Design | Hand Painted Iternaries & Custom Painted Maps: Momental Designs | Letterpress & Printing: Two Paper Dolls | All Tents & Event Production Support: Classic Event Rental | Custom Event Linen & Event Furniture: Nuage Designs | Entertainment: Elan Artists | Videographers: I Do Films, Elysium Productions | Event Wines: Biltmore Wine Company | Event Seating Sponsor: All Seated.com | Engage!13 Website: Flosites | Custom Event App: Appy Couple | Photo Sharing: Capsule | Hair & Makeup: Shawn Leech, Blush | Gifts: Tieks, Hannah Handmade, Checkerboard, Solemates | Custom Printed Disposable Linen Napkins: MYdrap |
Welcome Party at Antler Hill
Design & Decor: Pressed Cotton | Entertainment: Elan Artists presents Hilary Hawke & The Flipsides, Elan Artists presents Ray Jarrell Entertainment | Linens: Nuage Designs | Event Lighting & Backup Tent: Classic Event Rental | Furniture: Settee | Event Map: Brent Holloman for Pressed Cotton | Mixology Bar: Troy & Sons | Mixology Palate Sign: Dana Cochran – A Fine Line Studio | Custom Pillows, Mixology, Napkins & Corn Hole Beanbags: Gifts for the Good Life |
Dessert Party & Speakeasy After-Party
Tenting & Rentals: Classic Event Rental | Linen & Specialty Furniture: Nuage Designs | Floral & Event Design: The Bloom Room | Hand Lettering: Dana Cochran — A Fine Studio | Vintage China: Upstyled Setting | Perfume Garden: Spa at Inn on Biltmore Estate | Coffee & Tea Purveyor: Royal Cup | Event Lighting: It's a Wonderful Light | Paper Hats & Pocket Squares: Kathryn Godwin | Dessert Table Backdrop: The Original Runner Company | Entertainment: Elan Artists presenting Ray Jarrell Entertainment |
Great Gatsby Gala
Gala Wardrobe Styling: The Stylish Dresser | Tenting, Flooring, Lighting: Classic Event Rental | Floral Design: Karen Tran Floral | Chandeliers: Signature Chandeliers | Furniture & Linens: Nuage Designs | Entertainment: Elan Artists featuring, Carte Blanche, Vintage Burlesque & Cabaret, Ray Jarrell Entertainment | Fireworks: Pyrotechnico | Gala Logo & Event Accessories: Gifts for the Good Life | Photo Booth: Love Life Images | Floral Support for Karen Train: Blossoms at Biltmore Park | Cornelia Vanderbilt Replica Wedding Dress: Kathryn Godwin | Cornelia's Wedding Brunch & Flower Bell: Flowers by Biltmore | Custom Aisle Runner into Biltmore House: The Original Runner Company | French Press Coffee: Royal Cup |
Want more? (Yes you do!)
> See the latest wedding photos — added daily
> 10 wedding planning questions you didn't think to ask