3 Pairs of Shoes?! Plus 9 Other Must-Haves From Annie Lee
by Anja Winikka
Next up in our Wed 100 series is Annie Lee, principal planner and founder of Daughter of Design (she's the daughter of an interior designer) and author of Learn to Speak Wedding: Flashcards for Beginners. Her list of accomplishments and clientele is long and impressive (the royal family of Qatar and the Tribeca Film Festival to name a few). In my opinion though, the best part about Annie is how perfectly meticulous she is. Talk to her for two minutes about planning a wedding, and she'll tell you how important it is to create the right foundation: finding the right chairs or the right linens and lighting are all precursors to a well-designed room. A glance over the weddings and events she's planned and designed proves that she's doing something right — they're all stunning. So what does Annie Lee have to say a bride needs with her on her wedding day? Take note my friends — she knows her stuff!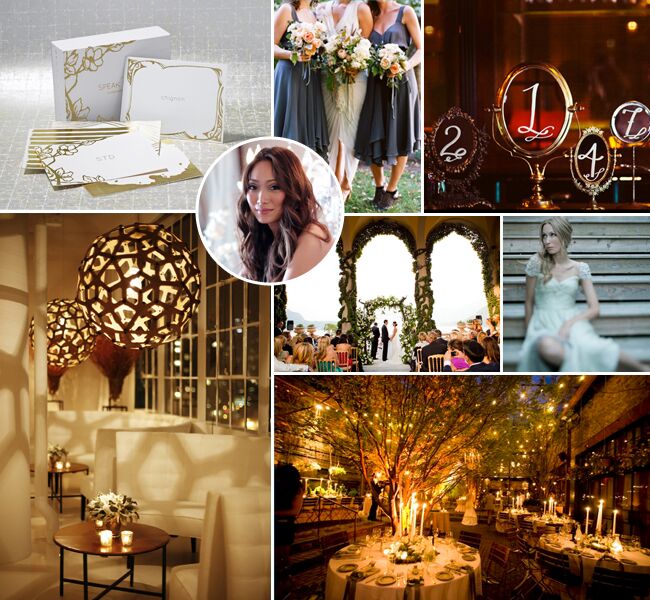 1) A day-of play list to match the mood she wants to be in when she gets ready. If you need some calming make a list of soothing songs. If you're amped and bouncing off the walls make a list to reflect that and have all your girls ready to get the party started during hair and makeup!
2) A total of three pairs of shoes — two pairs of shoes in addition to your pretty photo shoot-ready ones. One pair should be platforms that keep you at the same height and they should be broken-in and reliable. These will be great for walking around for photos and after to wear for your first dance through dinner. The other pair should probably be flats or flip-flops. This is for when your feet are over any kind of heel and you just want to dance. We never let our brides walk around barefoot because there seems to always be some sort of broken glass!
3) Lunch. The bride and the bridal party must eat lunch. The next chance to eat won't likely be until after the ceremony and with all the emotions and adrenaline high from the the wedding, it'll be important to be well-nourished. We don't want to let nerves hit an empty stomach and have people feeling weak and faint.
4) A veil. When else are you going to get to wear one? When we put the veil on the bride, it's one of those finishing touches and wow moments that make the bride a bride!
5) In Jewish wedding tradition there is a yichud, which is alone time for the bride and groom right after the ceremony. But I think every couple should have that 10 minutes alone after the ceremony. It's easy to lose focus of the wedding in its big production and so this is the one moment the couple can be totally alone and appreciate each other.
6) Personal vows. Everyone is so obsessed with personal touches but to me, the ultimate personal touch are written vows. It is a very endearing and private look into the couple's relationship, and truly has the guests feeling like they've become closer to the couple after hearing them.
7) Oil blotting paper is so critical to keeping faces looking fresh. I highly recommend Shiseido's blotting paper to keep the bride, bridal party and some of the men looking matte for flawless photos!
8) Pins — both bobby pines and safety pins. Those are the two items in our emergency kit that get used at 100% of our weddings. Not one wedding goes by where we are not helping pin someone's hair back into place or safety pinning a dress together. Pack them!
9) Everyone thinks to do a timeline, but we always make a set-up sheet as well. This is especially true if you're not having a planner. It's always a good idea to make a list of all the items in the wedding and detail out what should be placed where and who is in charge of bringing it (for example, is it the caterer's cake knife and server set or yours?).
10) On that note, every bride should make a return list. At the end of the night, the last thing you want to think about is breakdown and packing up. Nothing is more heartbreaking than to realize the bouquet or cake topper wasn't saved. Make sure to create a list outlining which items you'd like back and who they should be given to at the end of the night (for example cake topper and money envelopes to the mother of the bride and grandma's brooch back to the mother of the groom).
Want more? (Yes you do!)
> 100+ jaw dropping wedding ideas