3 Tea Party Bridal Shower Recipes We Can't Resist  
by Bridget Clegg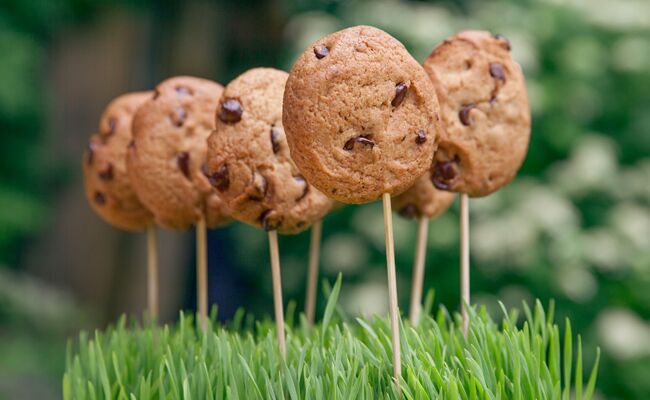 These three deliciously clever recipes prove that desserts are the most important meal of the day. For all you mothers-of-the-bride, maids of honor and future mothers-in-law tasked with planning a bridal shower, we've asked celebrity caterer Andrea Correale of Elegant Affairs to share how she transforms a girly get-together into a springtime tea party bridal shower. (Hint: it's all about the sweets!) Get the recipes below and check out Andrea's display tips to make your table a tea party fit for Alice herself.
Chocolate Chip Cookie Lollipops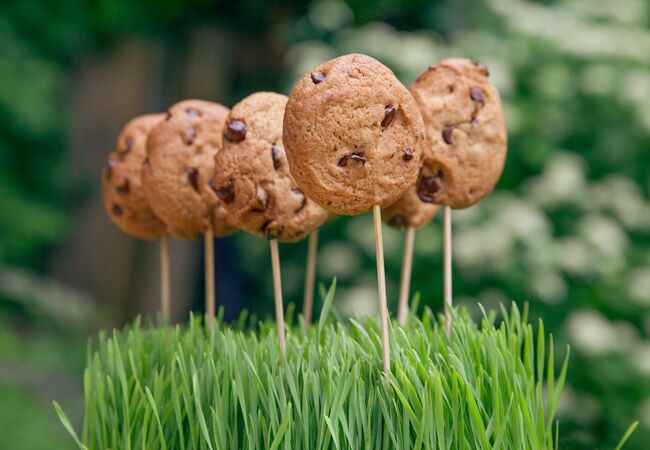 1 cup unsalted butter
1/3 cup granulated sugar
½ cup light brown sugar
1 egg yolk
2 teaspoons vanilla
2-1/3 cups flour
½ teaspoon salt
1-1/3 cups mini chocolate chips
24-9" wood skewers
1 bed of 10″ x 10″ wheatgrass

1. In an electric mixer, beat butter until smooth. Add sugars and cream together. Add egg yolk, then vanilla and beat until fully blended together (it should be light and fluffy). Add salt, and then add flour one cup at a time. Sprinkle in chocolate chips and mix until just combined.
2. Preheat your oven to 350 degrees F.
3. Spoon balls of the cookie dough onto the baking pan and press the skewers into the cookie dough balls, making sure the stick is completely covered by cookie dough so it does not fall out once its baked. Bake the cookie lollipops for 10-12 minutes or until cookies are golden brown. Remove from oven and let cool.
Yields 24.
Tip: Make these delicious treats your centerpiece by arranging them in wheatgrass as shown above. Or line the bottom of a 1-2 inch deep rectangular tray or planter box with Styrofoam and cover the surface with sprinkles or candy. Then simply insert the cookie lollipops in the tray and place them in the center of your table.
Raspberry Mousse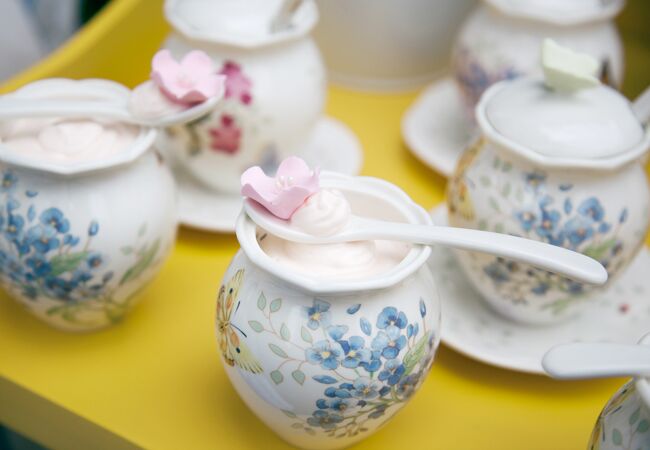 2 cups fresh raspberries
½ cup sugar
1 Tablespoon lemon juice
1½ teaspoons unflavored gelatin
1/4 cup cold water
1 cup heavy whipping cream

1. Place the raspberries in a food processor; cover and puree. Strain and discard seeds. Transfer puree to a large bowl. Stir in sugar and lemon juice; set aside.
2. In a small saucepan, sprinkle gelatin over cold water; let stand for 1 minute.
3. Stir over low heat until gelatin is completely dissolved. Stir into raspberry mixture. Refrigerate until slightly thickened, about 1 hour.
4. Transfer gelatin mixture to a large bowl and beat on high speed until foamy. Gradually add cream; beat until thickened, about 2 minutes.
5. Spoon into dessert dishes. Cover and refrigerate for 1-2 hours or until set.
Yields 8.
Tip: Instead of putting out one big bowl of mousse, create stylish individual treats by serving it in small sugar pots, shot glasses, votives or champagne glasses. Garnish each one with a small sugar flower, berry skewer or chocolate garnish.
Tea Bag Cookies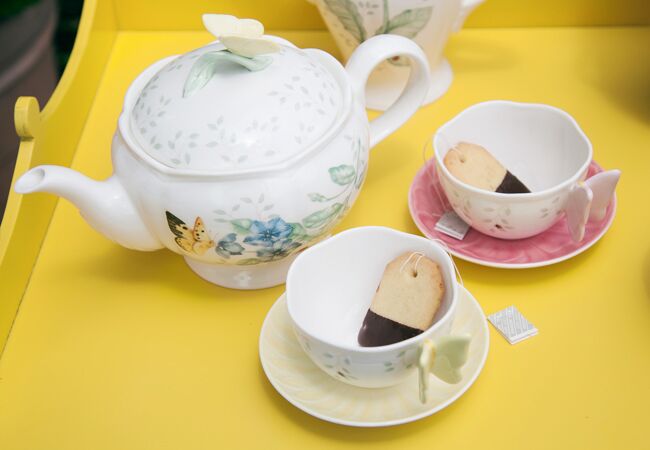 3/4 pound unsalted butter, at room temperature
1 cup sugar
1 teaspoon pure vanilla extract
3½ cups all-purpose flour
1/4 teaspoon salt
3½ ounces dark chocolate, broken into small pieces

1. Preheat oven to 350 degrees F. In the bowl of an electric mixer fitted with a paddle attachment, mix together the butter and 1 cup of sugar until they are just combined. Add the vanilla.
2. In a medium bowl, sift together the flour and salt, then add them to the butter-and-sugar mixture. Mix on low speed until the dough starts to come together. Dump onto a surface dusted with flour and shape into a flat disk. Wrap in plastic and chill for 30 minutes.
3. Roll the dough 1/4-inch thick. Make your cookies with a tea bag-shaped cookie cutter.
4. Make a small hole at the top with a skewer. Place the cookies on an ungreased baking sheet lined with parchment paper. Bake for 20 to 25 minutes, until the edges begin to brown. Allow to cool to room temperature, then place on a baking sheet lined with parchment paper.
5. Put 2½ ounces chopped chocolate in a glass bowl and microwave on high power for 20 seconds. Stir with a wooden spoon. Continue to heat and stir in 20-second increments until the chocolate is just melted. Add the remaining chopped chocolate and stir until the residual heat in the bowl melts the chocolate completely. Allow it to sit at room temperature, stirring often, until it's completely smooth. The more you stir, the glossier the chocolate will get.
6. Dip each cookie halfway through in the chocolate and set it on parchment paper to dry. It will only take a couple of minutes for the chocolate to set. After it's dried, tie a tea bag string through the hole.
Yields 12.
Tip: Place each cookie in a tea cup to make it a creative place setting, or group cookies in a pretty tea box for a grab-and-go cookie bar.
See More!
> This diamond ring cake is kind of unbelievable (Get the recipe!)
> A garden tea party wedding in Fayetteville, Arkansas
> Pretty wedding cupcakes for your reception (and pre-wedding parties)