4 Things We Learned From Zac Posen
by Libby MacCarthy
Established ready-to-wear designer Zac Posen made his mark on the bridal scene back in February 2014 when he partnered up with David's Bridal to deliver Truly by Zac Posen. It's an affordable line of elegant, glamorous wedding dresses with a modern edge and perfectly feminine silhouettes. We recently sat down to chat with Zac — from the perfect fit to the love that goes into every design, here's what we learned.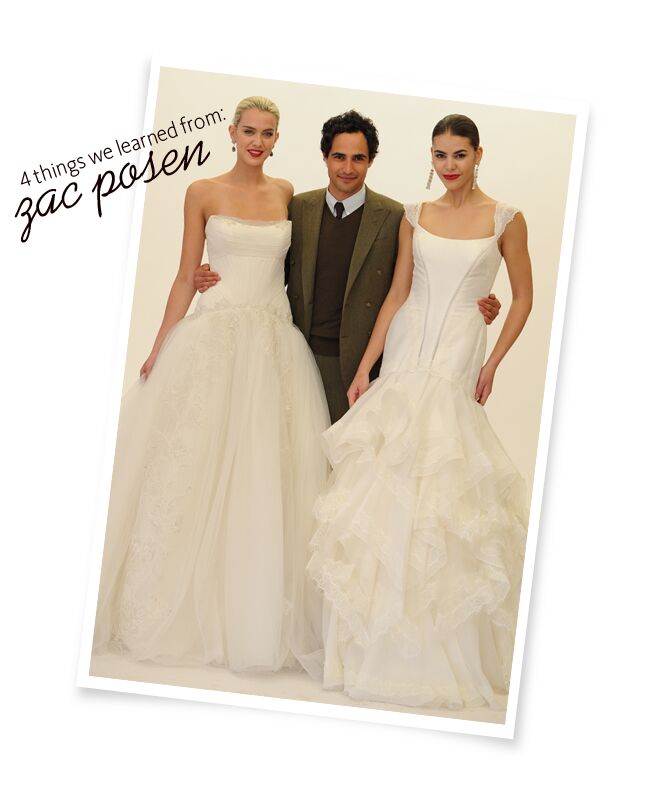 |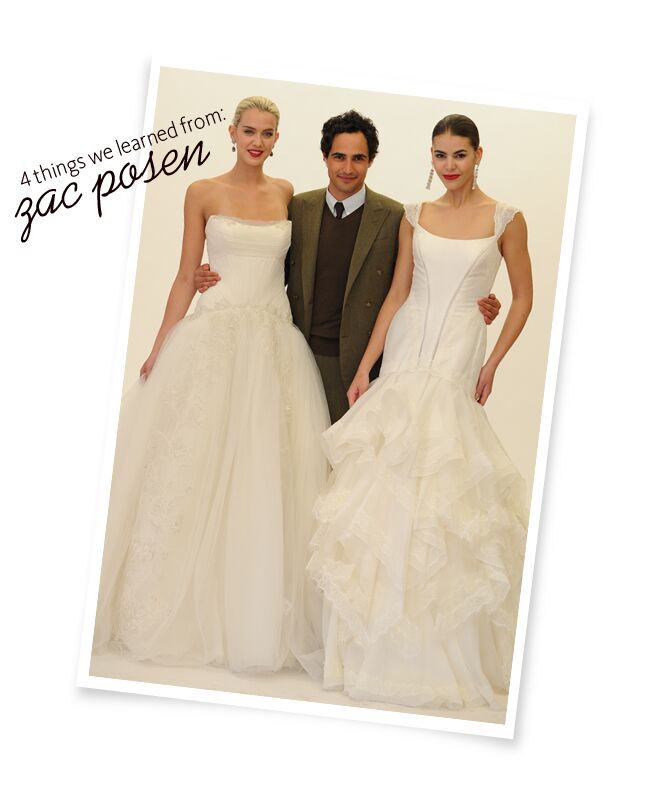 1. Fit Is Paramount
When you head into the bridal salon, it's great to have some ideas of what you like and what you don't like to help guide your bridal consultant, but try to keep an open mind. "A great fitting dress that enhances a woman's body shape is what a bride should look for when choosing a gown," says Posen. "The color choice is also very personal; it has to complement the skin tone as well as bright the eyes. My advice would be to never be afraid to try new styles or necklines; it is always exciting to experiment with your look."
Consultants are trained to know what shapes best flatter the body, whether you're looking to accentuate your curves or play down any trouble spots, so be open to their suggestions. You might be shocked when they bring over a sexy mermaid style after telling them all about a classic lace A-line gown you've had your eye on, but you might be pleasantly surprised once you slip it on.
2. Bridal Has Kind Of Always Been His Thing
"I've always designed custom gowns for my closest friends and family," says Posen. "I'd been waiting for the right opportunity to enter the market in a bigger capacity and with a larger scope. David's Bridal was definitely the right partner for such a project. I was really looking to deliver quality garments at an accessible price point, while catering to a wide spectrum of customers in terms of geographic locations, body shapes and sizes."
From mermaid to sheath and ball gown styles, Truly by Zac Posen incorporates a range of silhouettes that work with every woman's unique shape. And with gowns range from sizes 0 to 14 and retailing for under $2,000, they're incredibly accessible. "The Truly Zac Posen woman is feminine, confident and sophisticated. She is someone who embodies a true sense of identity. She is empowered, glamorous, enjoys the transformative power of fashion, but doesn't follow trends," says Posen.
3. A Floor-Length Gown Will Always Be Timeless
One of the thing we love about Posen's collections is the elegance and sophistication woven into every gown in the form of clean, perfectly tailored lines and sculptural elements that are flattering to the feminine figure. Hemlines play an important role as well, with long statuesque gowns speaking to the glamour of the 40's and 50's.
"The celebratory aspect of a woman's body is always present in my designs, whether it's for my ready-to-wear collections, my custom red-carpet gowns or a bridal gown," says Posen. "I love seeing my designs on beautiful women who are celebrating something very important in their life. It makes me very proud that they choose my designs for those significant moments. A floor-length gown will always evoke a timeless elegance."
4. Every Design Is Extremely Personal
"I have been lucky enough to craft custom wedding gowns for many amazing women," says Posen. "All the wedding dresses that I have created represent my very personal love note to the women who have worn them on their most beautiful day."
Want more? Right here!
> 10 Things Every Bride Should Have According to Reem Acra
> See Zac Posen's latest collection of wedding dresses!