5 Clever DIY Supplies That Make These Wedding Projects Possible
by Bridget Clegg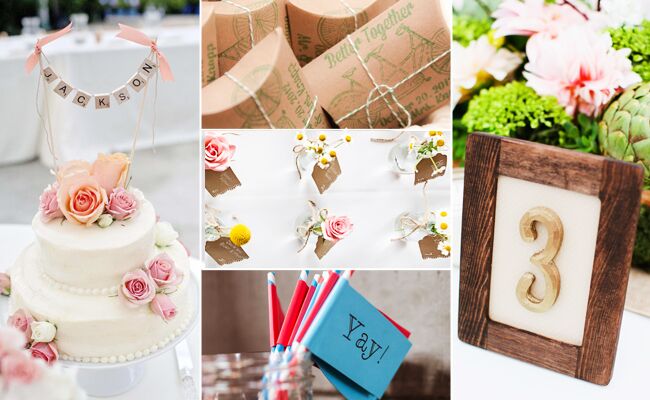 The key to avoiding DIY wedding fails is to gather the right supplies. Once you find your project inspiration and track down the right materials, you're 90 percent of the way to a craft success story. These five pretty DIY wedding details come straight from our real weddings, but we've tracked down just what you need to make these projects happen for your own wedding. Save the inspirational photo and find out where to buy the supply below!
(Oh, and that other ten percent you need for a craft win? It's 4 percent patience, 4 percent a crafty companion and 2 percent red wine.)
Glass Jar Escort Cards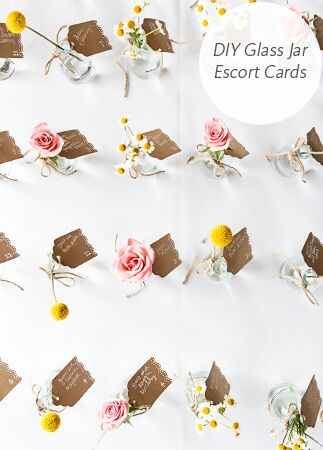 photo by
Photo: Vue Photography
Make bud vase escort cards by writing guests' names on kraft paper tags and tying the tags around small glass jars. Set the jars out on a table at the entrance of your reception for a beautifully simple floral display!
DIY supply: Glass cork jars, $76 for set of 149, Koyal Wholesale
From the album: A Rustic Wedding in Douglasville, GA
Homemade Scrabble Tile Cake Topper
Hot glue Scrabble tiles onto twine and attach to wooden skewers to create this easily personalized cake topper. Tie ribbon that complements your cake design around the tops of the skewers to finish the project.
DIY supply: Scrabble tiles, $4 for set of 60, Save On Crafts
From the album: A Whimsical Scrabble-Themed Wedding in Cincinnati, OH
Paper Straw Cocktail Stirrers
Stock your cocktail hour bar with homemade stirrers that say exactly what your guests are thinking. Print out celebratory phrases on colored paper and cut into 4″ by 1″ rectangles. Fold around a paper straw and seal with double-sided tape.
DIY supply: Paper straws, $6 for set of 25, The Knot Shop
From the album: A Colorful Trapeze-Themed Wedding in Athens, GA
Stamped Wedding Favor Boxes
Wrap up your wedding favors in packaging that matches your wedding style. Stamp a relevant image onto cardboard pillow boxes, then tie up the box with baker's twine. This bike-loving couple filled their boxes with tea for guests to take home!

DIY supply: Pillow boxes, $43 for set of 250, Uline
From the album: A Rustic Vineyard Wedding in Bertram, TX
Framed Table Numbers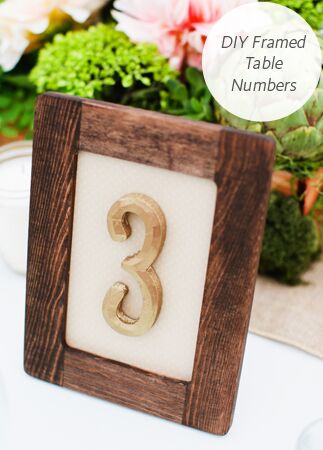 photo by
Photo: Ala Cortez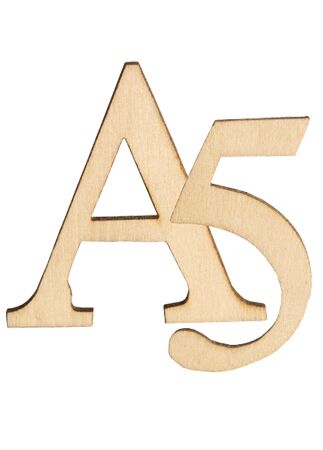 photo by
Photo: Walnut Hollow
Make your own table numbers by painting wooden numbers in the color of your choice. Frame a pretty piece of paper and glue the wooden number to it.
DIY supply: Wooden numbers, $3, Walnut Hollow
From the album: A Romantic Wedding in San Clemente, CA
See More!
> Top online wedding favor resources for DIY wedding favors
> Make this DIY confetti program!