5 DIY Wedding Projects That Won't Break Your Budget
by Jamie Miles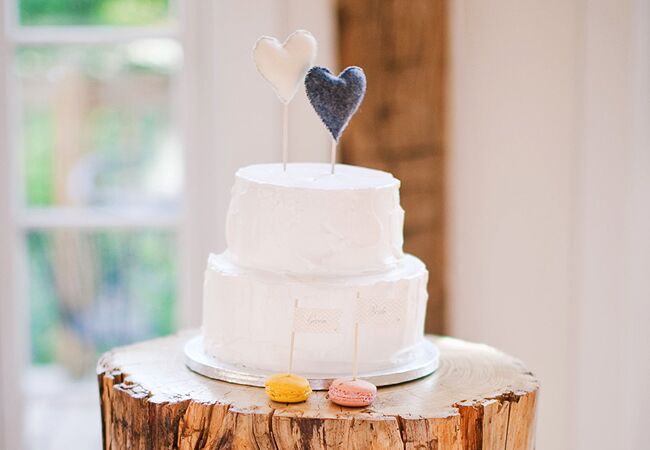 photo by
Joey Kennedy Photography
For those of us who are not queens of crafting, the idea of making anything for your wedding probably sounds way too complicated. Our advice: If crafts aren't your thing, choose one or two small projects and don't try to take on the bigger details. In other words, don't try making your own centerpieces or cake but also don't be afraid to make the ceremony programs or package up the wedding favors. We talked to Sarah Shewey, founder of DIY Wedding Planning Group Happily for project ideas. Below are Shewey's five simple DIY wedding day projects that she swears you can't mess up. Even better, all of these ideas are super affordable.
Fresh Flower Bridal Shower Centerpieces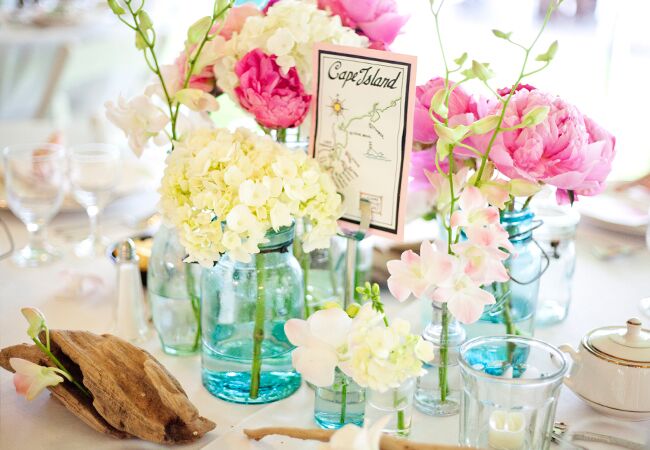 Keep it simple. Collect various vessels like vintage bottles, teacups and even drinking glasses from around the house to create an eclectic table setting, says Shewey. Then group all the containers in interesting ways placing a few in the middle of the table and filling them with different florals, feathers or other creative elements like berries, pinecones or moss. Try a vintage brass candle holder with a succulent inside or a low ceramic vase or mason jar with bright blooms.
Love this table centerpiece? It's from this really pretty wedding album: A Traditional Wedding in Kennebunkport, ME
Mini Potted Plant Wedding Favors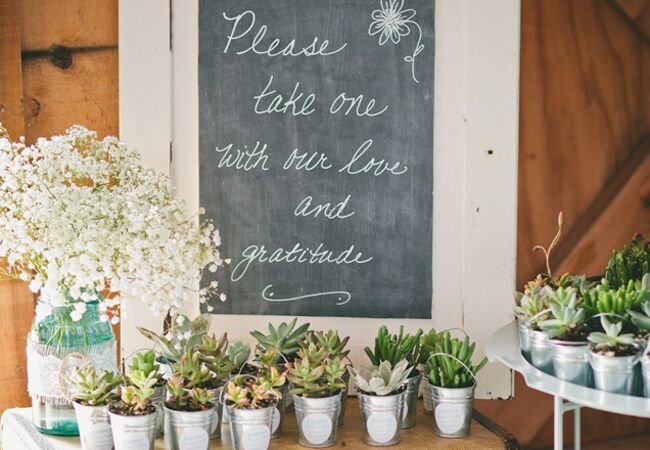 photo by
Elias Photography
Mini potted plants or succulents can make a great favor for guests to take home, Shewey suggests. Find mini terracotta pots or mini zinc buckets online for a few dollars and pick up seeds and soil from a home improvement store. The pot them yourself. To add a personal touch add your wedding colors on the pot or embellish with ribbon or yarn. If you're craftier in the kitchen, consider baking in bulk and keeping the goodies uniform by filling brown paper bags with baker's twine and tagging or stamping with your wedding logo to create a homespun favor your guests will love. (Just be sure you get lots of help from family and friends on this type of project.)
Like these favors? They came from this wedding: A Vintage Pastel Wedding in Franklin, TN
Simple Ribbon-Tied Ceremony Programs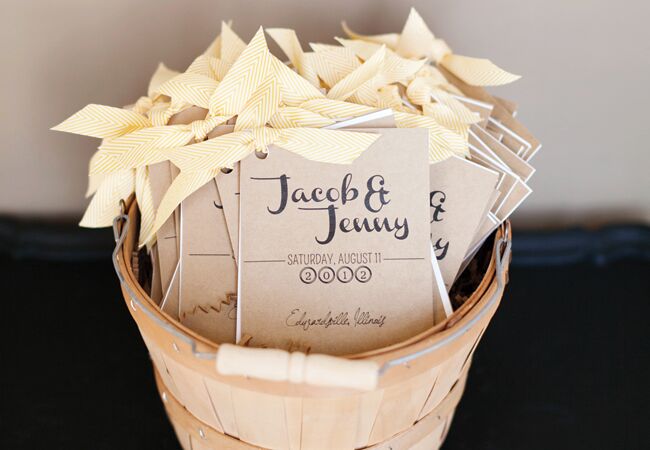 Graphic designers need not apply here. Sometimes all it takes is a creative template and a few craft supplies. Print out your programs and then punch the corner to tie bits of ribbons, vintage torn fabric or lace scraps for a bohemian vibe, Shewey says. For a summer wedding, consider gluing one side of your programs to a large popsicle stick for an instant fan. Paint the sticks beforehand for an added pop of color.
Think these programs are cute? You should see the full wedding: A DIY Wedding in Edwardsville, IL
Mustache Photo Booth Props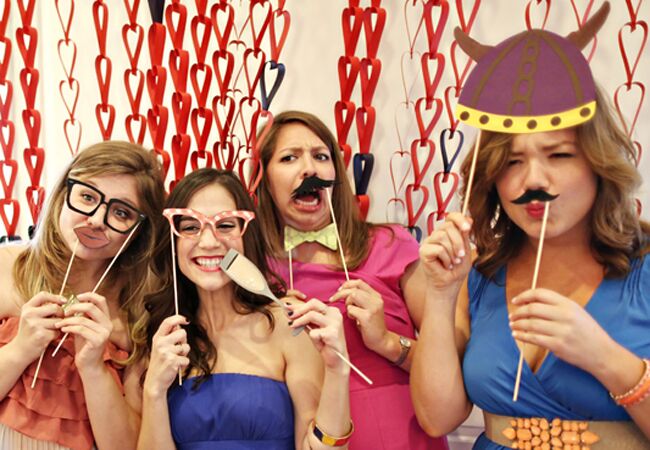 If you're doing a photo booth, you have to have fun props. Hit the craft store for skinny wooden dowels and card stock paper. Create your own patterns and cut them out. The goofier the better. Think: ties, mustaches and lips, crowns and more. Embellish with feathers or even rhinestones. Put all your props in a basket with a handcrafted sign that encourages guests to play with them! (Psst: Don't really have the time to make these? You can buy them in The Knot Shop.)
Looks like a fun wedding right? See the full album here: A Fun Casual Wedding in Elverson, PA
Sweet Felt Heart Cake Toppers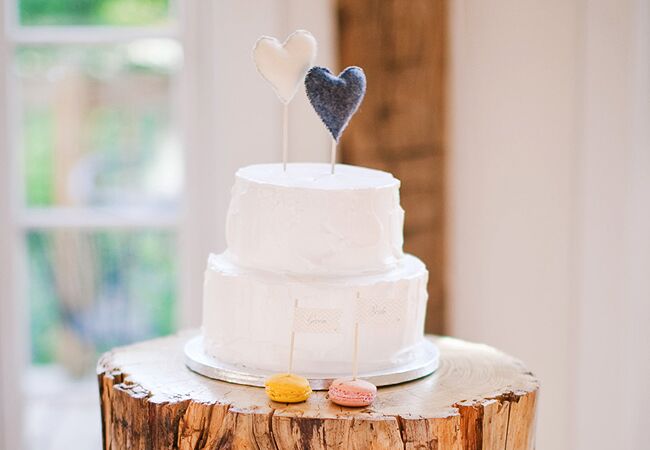 photo by
Joey Kennedy Photography
This is especially fun for a simple wedding cake. You don't even need a sewing machine to create these little guys. Grab some felt in your favorite colors, a little batting, a pair of scissors and a needle and thread. Cut out hearts, sew them together and stuff them. Finish them off with the little wooden sticks (you'll find them at craft stores). Want more cute ideas? Check out our DIY cake topper slideshow (you can create any of them in under an hour).
Cute cake and toppers from: A Modern Rustic Wedding in Lancaster, PA
Want More? Of Course You Do!
> Feast your eyes on these 15 fresh flower cakes!
> Football inspired groom's cake