5 Mistakes We Made With Our Wedding Invitations
by Engaged & Confused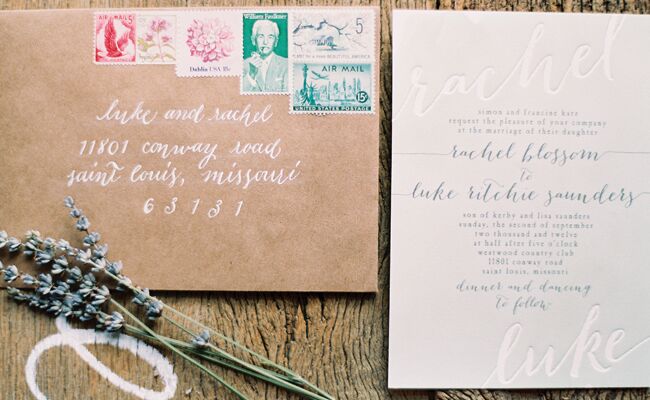 Traditional wedding etiquette books will tell you that you should send your wedding invitations six to eight weeks before your wedding. Like most brides, I didn't want to inconvenience my guests (by rushing them to respond) so I was determined to get those suckers out on time. And we made the deadline — but just barely and not without some stress. Here are the mistakes we made along the way. Can you relate at all or was sending your invitations a seamless operation?
1. We ordered them late.
It wouldn't be exaggerating to say I looked at our proofs 10+ times. And depending on how you look at it, that's either obsessing or just being a careful bride. Bottom line, we didn't order them until a few weeks before we wanted to send them. In case you're wondering, we went with Wedding Paper Divas' Pure Style, and they are gorgeous!
2. We tried to DIY the envelopes
DIY is awesome — if you have time to DIA (Do-It-Again), after inevitable mess-ups. We decided not to splurge on calligraphy, but printing the envelopes with no time for trial and error wasn't a huge money saver in the end. In this case, we quickly realized that our printer couldn't handle the luxe, thick stock of our envelopes. We had to bring in professional help — and we realized this less than 24 hours before we were leaving town for five days. Luckily, I found a local stationer, Fiona Designs, on Etsy, who immediately met my future husband so he could hand off our envelopes, and then facilitated proofs (and printing) via email during our trip. They were waiting for us to assemble on the night we returned and thankfully, were perfect.
3. I didn't read all the fine print.
Like many pre-designed stationers, Wedding Paper Divas gives you the helpful option to have the RSVP address printed on your reply card envelopes. In a moment of bridal brain, I skipped this step. We had the stationer print these as well, for a small additional fee, so this turned out to be merely a minor blip. But read the fine print of your entire order during the proof process (rather than just focusing on typos and spacing, like I did).
4. We chose bulky invitations
I knew postage would be extra, but I was surprised by exactly how much it added up for our square-shaped envelopes. With two stamps needed for each, we spent a few extra hundred dollars on postage. In the end, I was happy to do it because I really wanted this particular invitation, but I might have checked out similar styles in a more traditional shape to save the extra money.
5. We assembled them in one (late) night
Whether you're engaged for just 6 months (like us) or over a year, it seems like every bride and groom has a few late nights due to wedding planning (if you haven't, please tell me your secret!). Our first night we worked into the wee hours was the night we got back from our trip (we wanted to get the invites out the next day, which would be the important six-week cut-off). I stamped and licked envelopes for an hour straight after my better half assembled all 97 of them. By the end, I totally related to George's fiancé Susan from Seinfeld (who died after licking too many envelopes). No one died during the process of sending our invitations, but we felt a little dead at work the next day.
Brides and grooms: Where did you get your invitations? What style did you choose? And was it a stressful or smooth process?
Want more? Right here!
> 10 bridal shower invites we'd be psyched to have in our inbox
> 25 fun save-the-date ideas you'll love