5 Reasons to Not Incorporate a Hot Air Balloon Into Your Engagement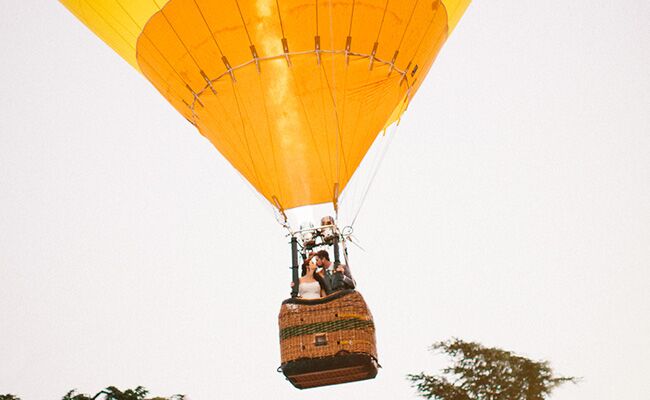 Annie McElwain Photography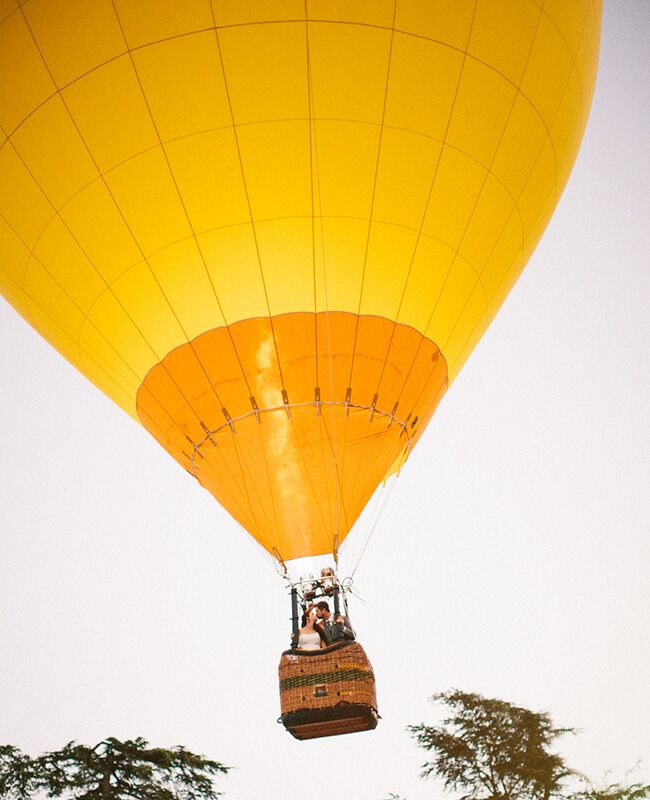 We know that taking pictures on a hot air balloon ride gets you lots of cred on Instagram — especially if it involves getting engaged in a hot air balloon. However, you may want to drop heavy hints to your guy that he should think twice before going up, up and away, even if you're both the adventurous type. And if he thinks you're full of hot air (sorry, couldn't resist), here's five reasons why a hot air balloon proposal could turn into an extremely unpleasant situation — including an unconscious pilot, a missing ring and a wedding guest injury.
1. This weekend, Stephen Richardson proposed to his girlfriend, Brandi Runyan, in a hot air balloon that crashed into power lines and caught on fire. Although there were seven people in the balloon, nobody was hurt, thankfully — although some homes in the Noblesville, Indiana, neighborhood lost power. "[Brandi] wanted a story and she got one," Stephen says. "Especially after this, we'll just keep it simple."
2. An unnamed couple in southern Indiana got engaged in a hot air balloon two years ago, and when the balloon got caught on a power line, the pilot was knocked unconscious. He was revived by CPR from the groom, but the couple suffered burns from the crash.
3. A few years ago in Ohio, James Ng decided to propose in a hot air balloon, but dropped his camera case into the woods 500 feet below — and it contained the engagement ring. Thankfully, he found the ring in the woods — but the hunt took him seven days.
4. Instead of an engagement, Kerrin and Jonathan Narcisse decided to have their wedding ceremony in a hot air balloon with a few friends last January, but a big gust of wind made their balloon crash into someone's backyard in San Diego. One guest suffered a small back injury.
5. The National Transportation Safety Board did a study last year and found that there have been 760 hot air balloon accidents in the US, and 67 of them were fatal. Looks like it's much safer to keep your feet on the ground than to risk any danger.
Want more? Right here!
> 6 surprising facts about Jill Duggar's engagement (that included chaperones!)
> A rustic mansion wedding in Washington, DC