Meet The Knot Dream Wedding Couple!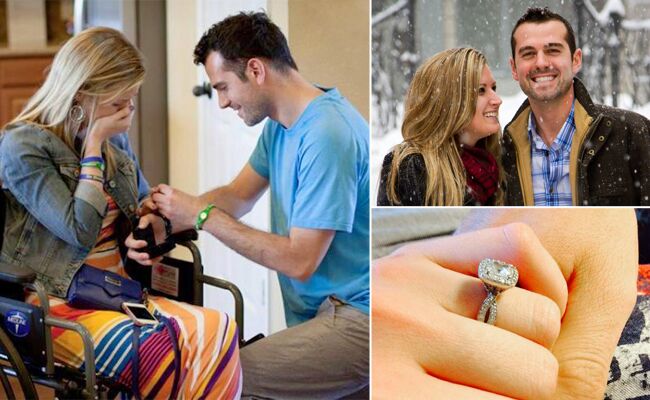 Get excited: The Knot is going to throw one lucky couple the wedding of their dreams, and you get to help plan it by voting on all the details!
But just who is The Knot Dream Wedding couple?
Their names are Rebekah Gregory and Pete DiMartino. Last year, on April 15, 2013, the two were standing near the finish line of the Boston Marathon when a bomb exploded. Since that day, Rebekah has endured 15 surgeries and is still at risk for leg amputation. Pete lost 90 percent of his right Achilles tendon and suffered multiple broken bones in his ankle. Rebekah's son, Noah, was also injured. Despite their traumatic experience, the two have done their best to move forward with their lives and Pete proposed in October. When we heard about their story, we knew they'd be the perfect couple for The Knot Dream Wedding.
So now for the fun part! Rebekah would love a fairy-tale-themed wedding. Pete's big request? "I was picturing a really cool bluesy, jazz band."
Now that we know what they want, we're going to make it our business to throw them the wedding of their dreams. The first step to ensuring they get a true fairy-tale wedding is to hire an amazing wedding planner. We enlisted the help of celebrity wedding planner Marcy Blum to help pull together all of the details for a truly spectacular event. (By the way, Marcy isn't just any celebrity planner — she's of the best. She just planned LeBron James's wedding!)
Now that we have the couple and the wedding planner, it's your turn to help. Starting today and throughout the next couple months, we'll be asking you to vote on all the details of The Knot Dream Wedding.
First up: We have to choose a city! The choices are…
1. Louisville, Kentucky (Rebekah's hometown)
2. Boston, Massachusetts (To make a happy memory for the city)
3. New York, New York (Pete's hometown)
4. Asheville, North Carolina (Rebekah and Pete's favorite vacation spot)
So where should it be? You decide!
> Vote for The Knot Dream Wedding location
> See photos from last year's Dream Wedding
> 3 expert wedding planning tips from Marcy Blum