6 Surprising Facts About Jill Duggar's Engagement (That Included Chaperones!)
by Ivy Jacobson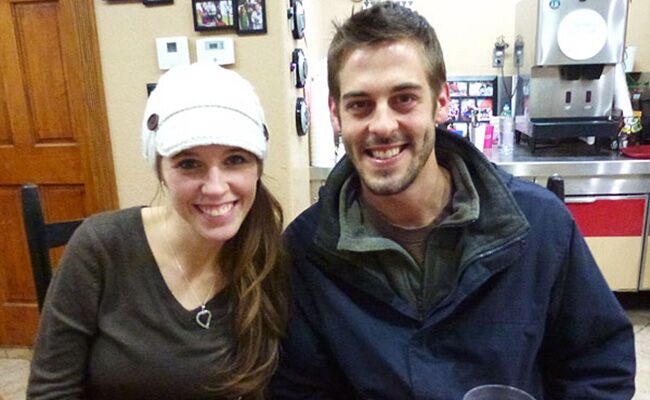 Holding hands and living together before marriage is seemingly normal behavior — except when you're part of the Duggar family! Jill Duggar, part of the famously huge clan on 19 Kids & Counting, announced her engagement to accountant Derick Dillard today. "I am so happy," says Jill. "Our story is so very unique." Unique is right, since the couple started talking on Skype before meeting in person and got engaged with two special chaperones present! Here's six surprising — and sweet — details about their engagement:
1. Jill's dad, Jim Bob, connected with Derick when he was doing missionary work in Nepal. He thought that Derick and Jill would hit it off, so the two started Skyping and texting (with each of their parents overseeing the conversations). Jill and Derick began courting in November, which means that they have chaperones supervising them when they're alone together, and have little to no physical contact.

2. Jill says that she fell in love with Derick — before she even met him. "We got to know each other in the first few months pretty quickly," Jill told People. "I was in love with someone I had never met in person, but we really knew each other well."
3. Derick and Jill may both live in small Arkansas towns, but the start of their courtship began overseas. "The first time we talked, he was in Japan, we met in Nepal, he spent time in India and Israel and then came back to Arkansas where he met my family," Jill says. "We have a very international story even though we live so close."
4. The couple saved holding hands for engagement — and will kiss for the first time on their wedding day. "I feel like I'm dreaming," Derick says. "It was great to grab her hand for the first time."
5. Derick proposed to Jill on March 29 on a walk after lunch, with Jill's sisters and chaperones, Jana and Joy, lingering behind.
6. Derick arranged for someone to start singing a love song to them on a bench before he proposed. "By the second verse, I knew the song was about Derick and me," Jill says. Derick then got down on one knee with a diamond and white gold engagement ring he'd designed himself.
Want more? Right here!
> How cute are Miami University's traditions for married alumni?
> A romantic garden wedding in Fayetteville, AR