7 Bridal Shower Invites We'd Be Psyched To Have In Our Inbox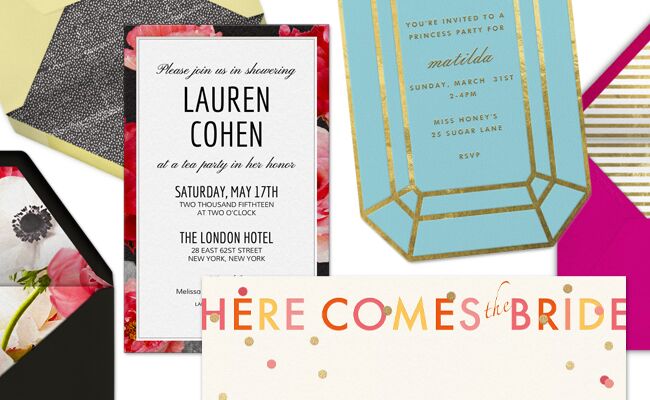 While we wouldn't recommend them for your formal wedding invitations, online invites are an easy way to get the message out to your bridal shower invitees. And just to be clear, we're not talking about a boring text email. There are both free and fee-based invitation sites with gorgeous invite designs. Even if you do fall in love with an online invite that costs a small fee, chances are you'll still save money compared to the printing and postage costs of paper cards. Some of our favorite online invites below!
Dramatic Floral Bridal Shower Invite From Postmark
Gold Leaf Diamond Bridal Shower Invite From Paperless Post
Modern Floral Bridal Shower Email Invitation From Greenvelope
Floral Wreath Bridal Shower Email Invite From Celebrations
Coral and Gold Bridal Shower From Evite (Free!)
Brushstroke Bridal Shower Invite From Paperless Post (Free!)
Modern Yellow Bridesmaid Bridal Shower Invite From Paperless Post
See More!
> 15 pretty bridal shower cakes
> 10 bridal shower theme ideas