The Best 7-Year Anniversary Gifts for Your Spouse or Favorite Couple
Celebrate the copper anniversary with one of these heartfelt presents.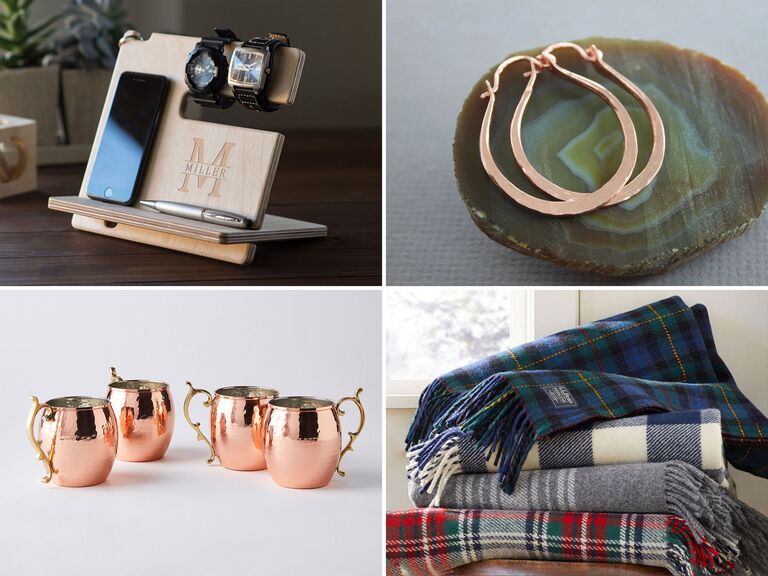 We have included third party products to help you navigate and enjoy life's biggest moments. Purchases made through links on this page may earn us a commission.
Seven years of marriage is a huge accomplishment that deserves to be recognized. Celebrate with a thoughtful seven-year anniversary gift for your spouse or the happy couple. From unique and creative to classic and practical, this is your one-stop shop for seventh anniversary gifts. These traditional and modern presents are right on theme—but if you'd rather break from tradition, that's okay too. We're also sharing some of our favorite alternative picks for spouses and couples alike. Keep reading to find out all you need to know about the traditional seventh-year anniversary themes, then shop our list of ideas.
In this article:
What Is the Seven-Year Anniversary Gift?
Traditional: Copper and Wool
Traditionally, seven years of marriage is represented by copper and wool, which possess different meanings. Copper is known for its durability. Additionally, in mythology, it's associated with Aphrodite and Venus, the goddesses of love. Wool, on the other hand, symbolizes warmth and comfort. Together, these materials represent your strong, loving and comfortable relationship after so many years together. Whether you're searching for a copper anniversary gift or a wool one (or both), we've got inspiration for you right ahead.
Modern: Desk Sets and Stationery
For those out there who prefer something a bit more contemporary, desk sets and stationery have become the modern seven-year wedding anniversary gifts. They represent the love and pride a couple has for each other's work. They can be especially practical gifts if your partner's WFH setup needs an upgrade (or they need a little motivation to get back to the office).
Other Seven-Year Anniversary Symbols
If you're not inspired by the traditional or modern seventh anniversary gifts, there are a few other symbols associated with seven years of marriage. The anniversary's gemstone is the onyx, which is thought to ward off negative energy and provide protection. The seventh anniversary flower is the freesia, which complements the milestone's colors of yellow and off-white.
Copper and Wool Anniversary Gifts
Wool and copper gifts may seem difficult to find, but there are actually lots of creative ideas and options out there. Below, find the best traditional seventh anniversary gifts for him, her and them.
Meaningful Sheet Music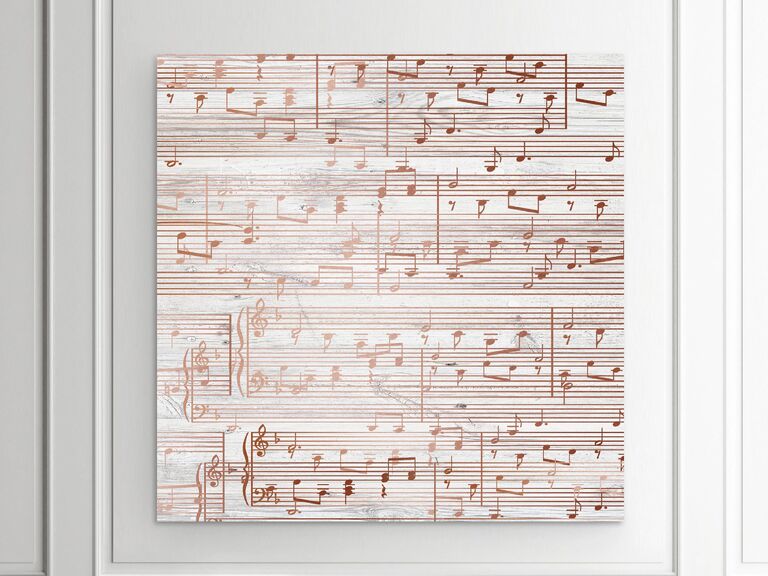 If you've got a special tune that means the world to both of you (like your first dance song), have the sheet music printed on canvas in a beautiful copper hue. This special piece of home decor is a romantic seven-year anniversary gift your spouse will love.
Sentimental Penny Art
The first thing most of us think of when someone says "copper" is the penny, so why not incorporate that into your present? This unique plaque displays three special dates from your relationship—like when you met, got married and celebrated your seventh anniversary—each beside the year's corresponding coin. You could say you're lucky in love.
Merino Wool Hoodie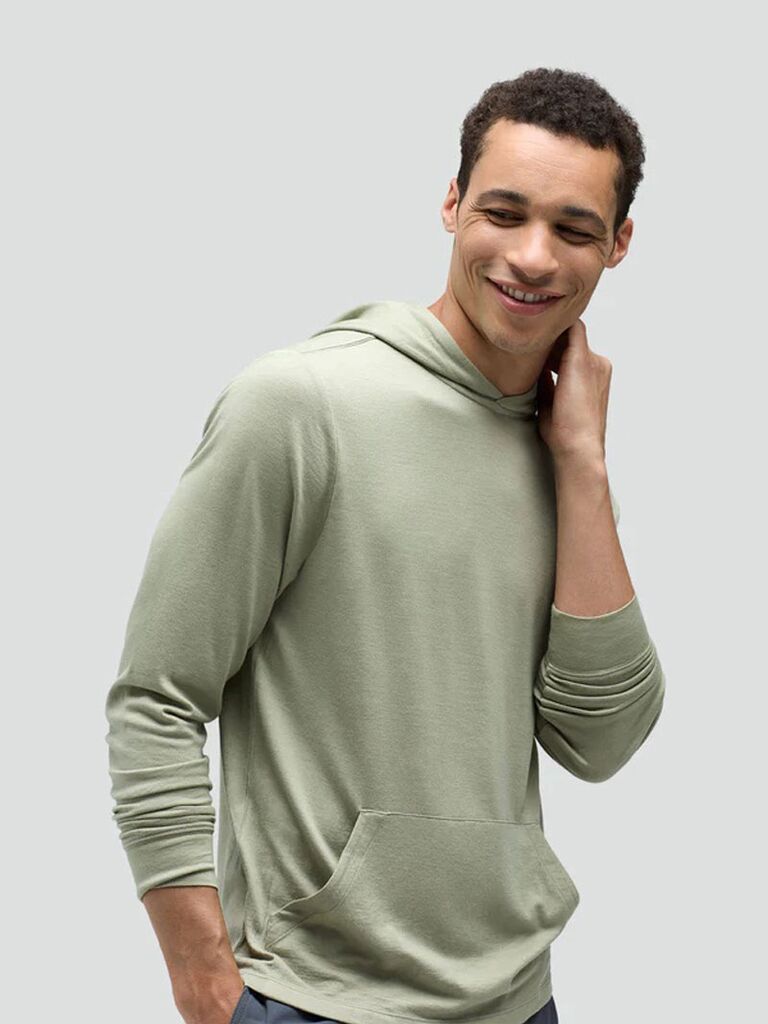 The wool anniversary is an excellent opportunity to upgrade your S.O.'s wardrobe. We love this merino wool hoodie because it effortlessly combines comfort and style. The breathable fabric wicks away moisture and protects against odor-causing bacteria. That means it's no big deal if your spouse wears it nonstop—it can go weeks before needing a wash.
Recycled Wool Pullover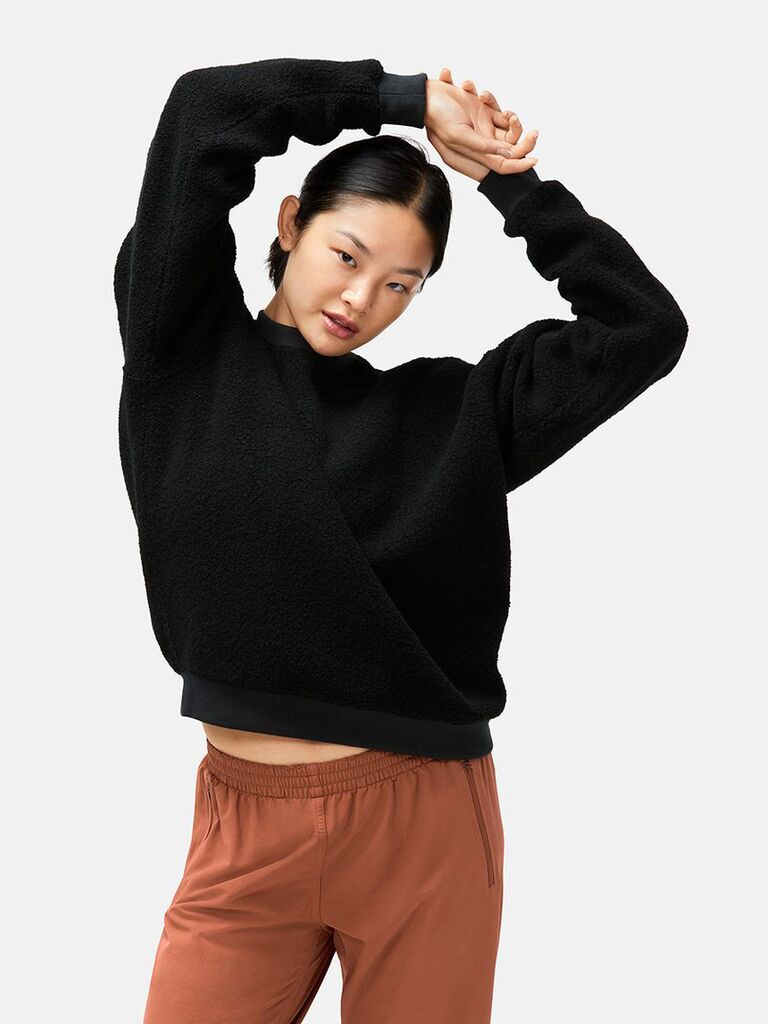 This fleece crewneck is delightfully fuzzy and roomy. It's made from recycled wool for a warm and cozy pullover that'll instantly become your partner's favorite loungewear.
Copper Moscow Mule Mugs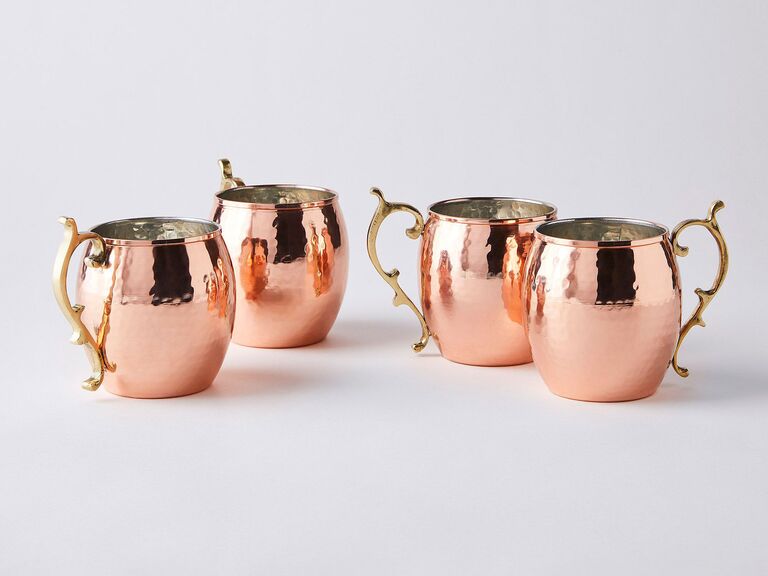 Where there are copper mugs, there are Moscow mules. These vintage-inspired mugs are made from heavy-gauge copper to keep your drinks cold longer. Pair them with homemade mules for a refreshing seventh anniversary gift.
Twisted Copper Bangle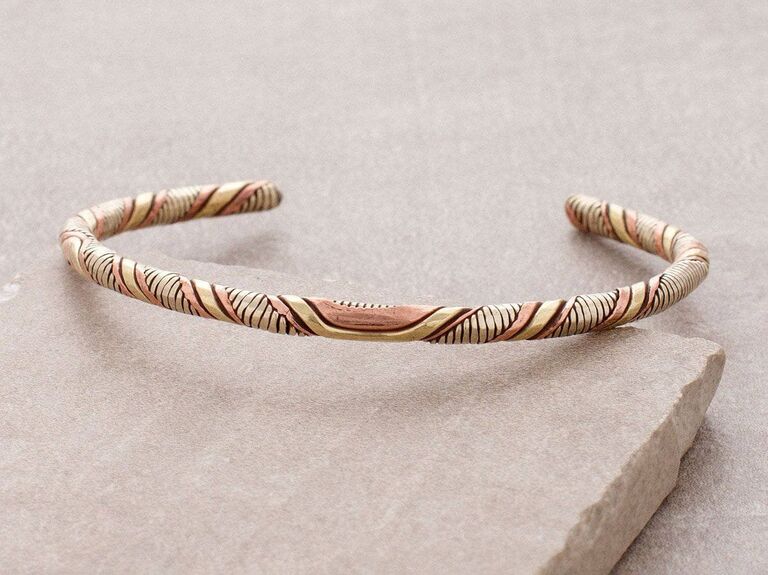 Did you know copper was one of the very first metals discovered? While it was a durable material for toolmaking and jewelry, it was also thought to promote wellbeing. So, add a little copper to your spouse's jewelry collection for a beautiful—and possibly healing—accessory. This bangle bracelet twists copper with brass and nickel to create a statement piece. It's handmade using recycled materials and your order gives back to mothers in need.
Custom Copper Money Clip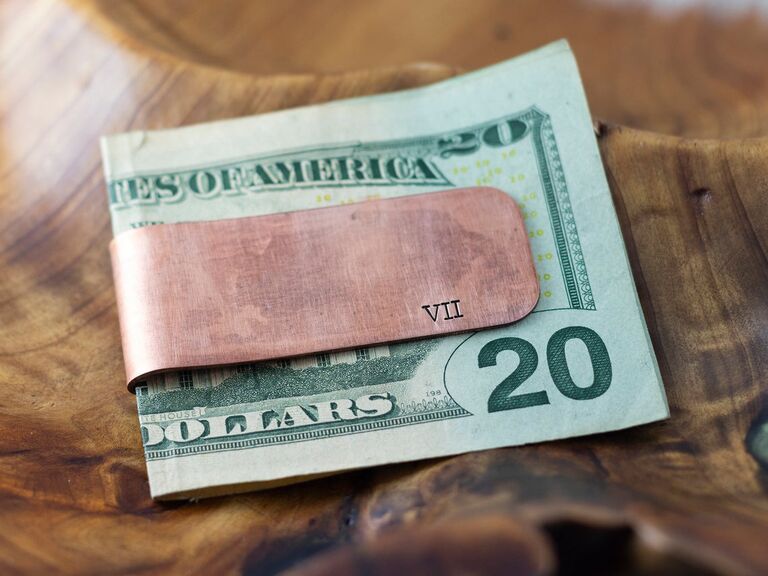 Copper can be formed into a range of unique gifts, including this durable money clip. It's made from 18-gauge copper (so it's thick and strong) and can be stamped with personalization. This one is etched with seven in Roman numerals, but you could also add your partner's initials.
Cozy Wool-Lined Slippers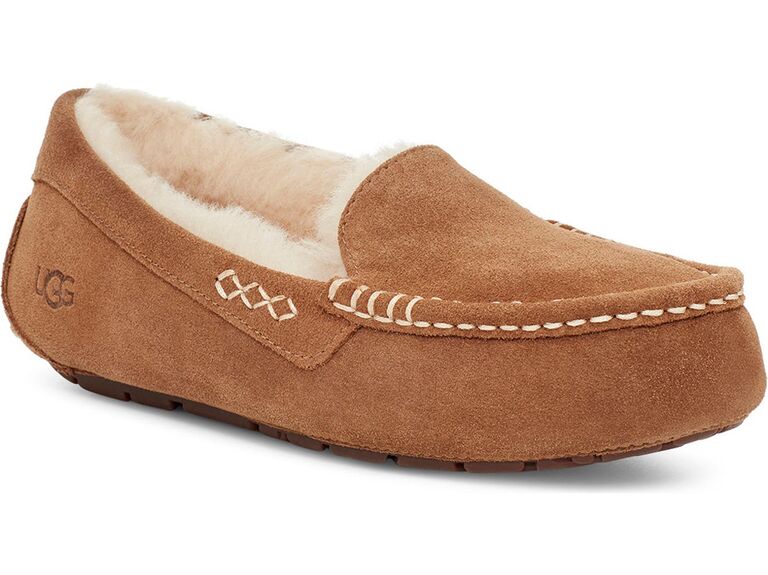 UGGs are back in style just in time to celebrate the wool anniversary. Your spouse will definitely appreciate a snug pair of indoor-outdoor slippers. They're made from water-resistant suede and lined with fluffy wool.
Wool Crew Socks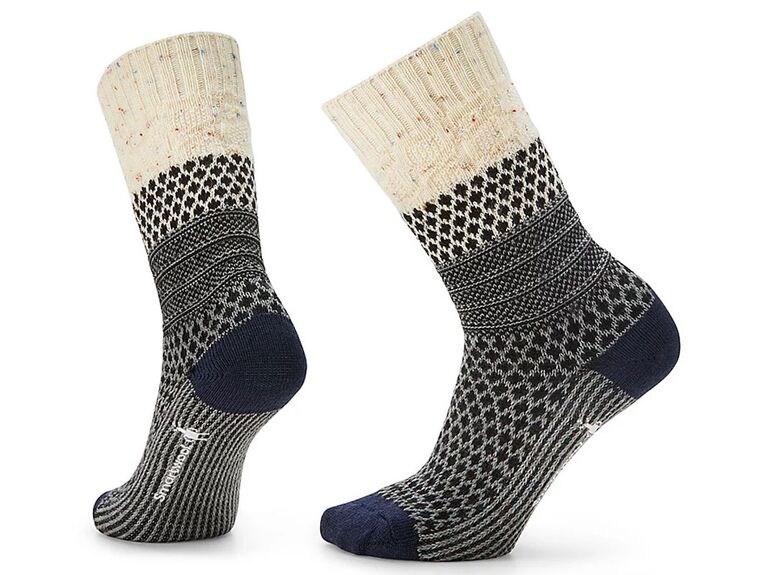 Trust us when we say these wool socks are not a boring seven-year anniversary gift. Not only do they come in a bunch of fun colors, they're also ridiculously soft for all-day comfort and warmth. Your partner will definitely want a second pair.
Copper Wall Sculpture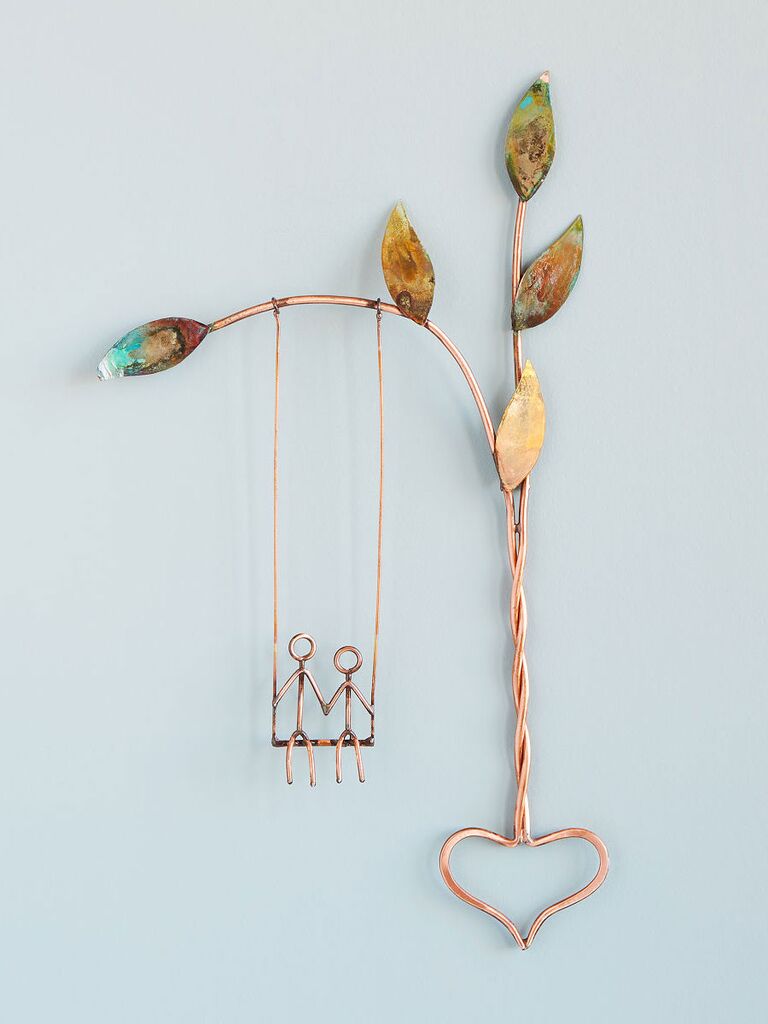 This copper wedding anniversary gift is especially creative. The handmade copper sculpture is a unique tribute to life's simple pleasures like good company. It features a minimalist tree motif with a couple or family sitting together on a swing. And yes, the swing actually moves.
Washable Wool Blanket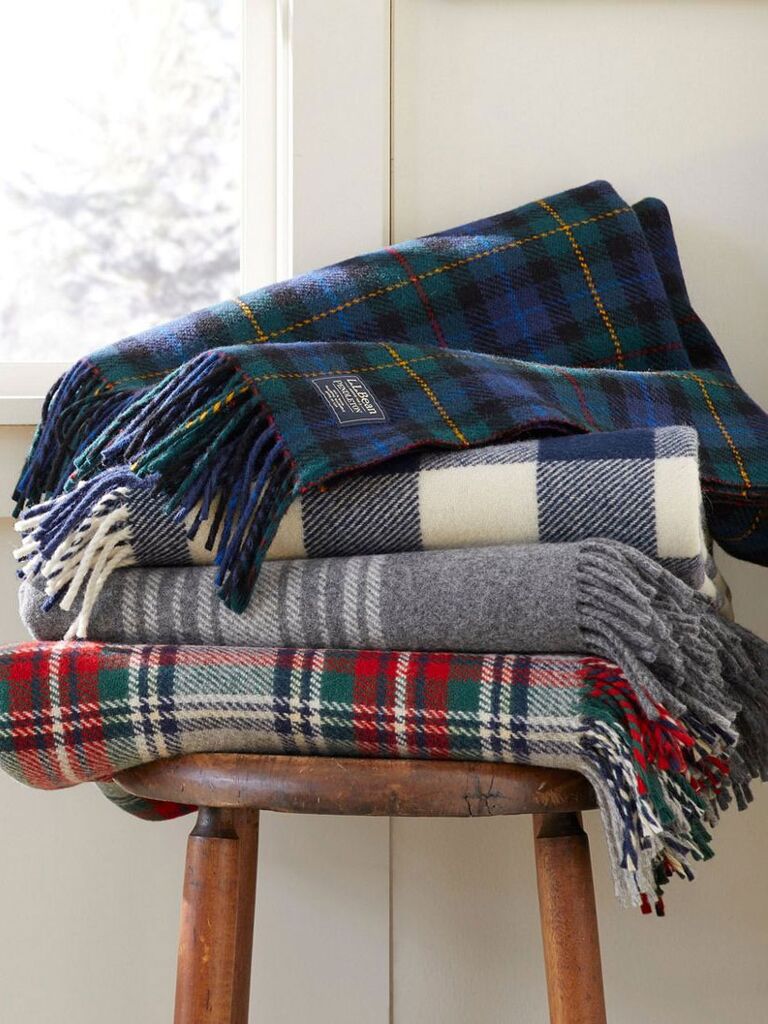 There's nothing quite as timeless as a wool blanket. Add a rustic touch to your or the couple's home with a cozy plaid throw. This specific style is made from washable wool that won't shrink in the machine so two people can always fit underneath it. It can even be monogrammed for a personal touch.
Copper Hoop Earrings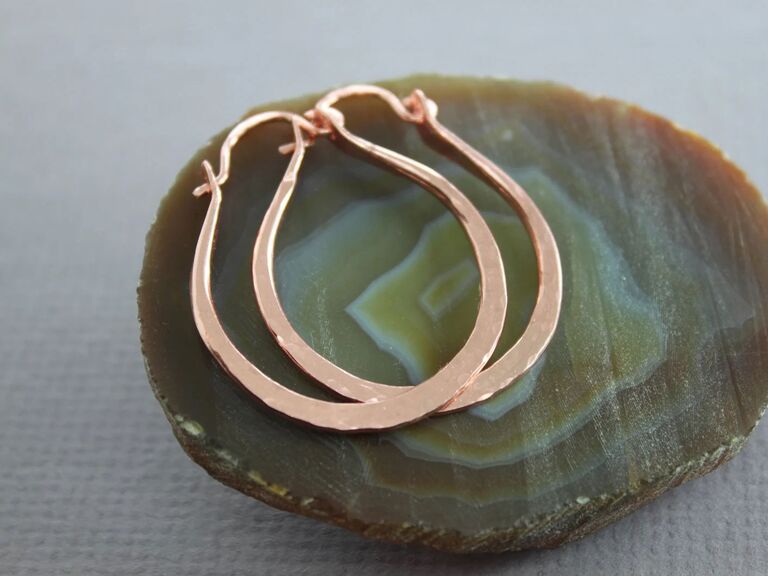 You can't go wrong with jewelry for the seventh (or really any) anniversary. Hoop earrings are a perennially popular accessory. Though still minimalist, this hammered copper pair will add a fun dose of shine to their everyday wardrobe.
Personalized Catchall Tray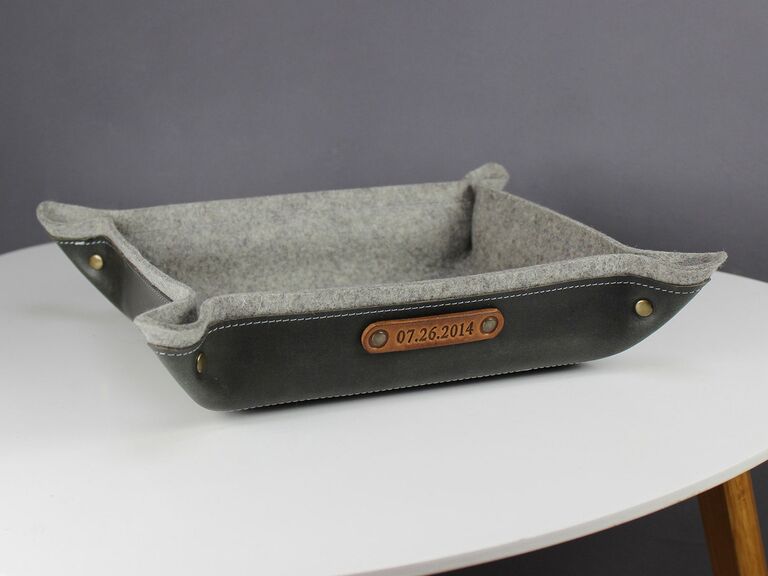 If looking for lost keys takes up a significant chunk of your spouse's time, this wool and leather catchall is an attractive and functional accessory they'll appreciate. It's perfect for storing everything from car keys and loose change to notes and receipts. Add a leather plate with your partner's name, initials or a meaningful date.
Copper Tumblers With Wool Case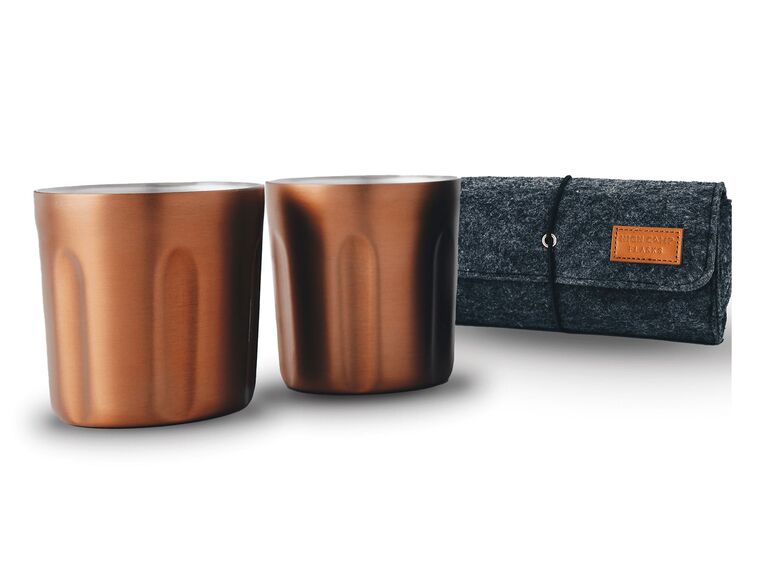 Anniversary shopping for an outdoorsy spouse or couple? These camp tumblers combine both the traditional seventh anniversary materials. The copper-toned stainless steel cups come in a transportable wool felt case. They're great for enjoying (and sharing) a drink on the go.
Decorative Sound Wave Art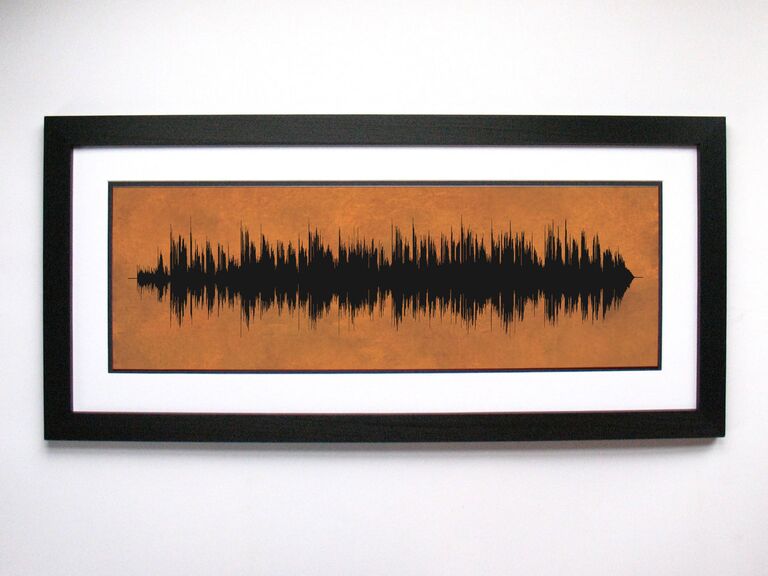 This is a romantic copper anniversary gift idea that music lovers are sure to adore. Bring back a special memory by memorializing it as a sound wave. Simply pick a song meaningful to your spouse or the happy couple, then have it etched onto copper-colored aluminum.
Desk Set and Stationery Anniversary Gifts
Not sold on copper or wool? Try turning to the seven-year milestone's modern theme of desk sets and stationery instead. Showing love and respect to someone's work is one of the highest acts of kindness we can give. Whether your partner's work is personal to them or this couple is a team in business together, let them know that their talents are valued. Below are our favorite office essentials for year seven.
Acrylic Office Organizer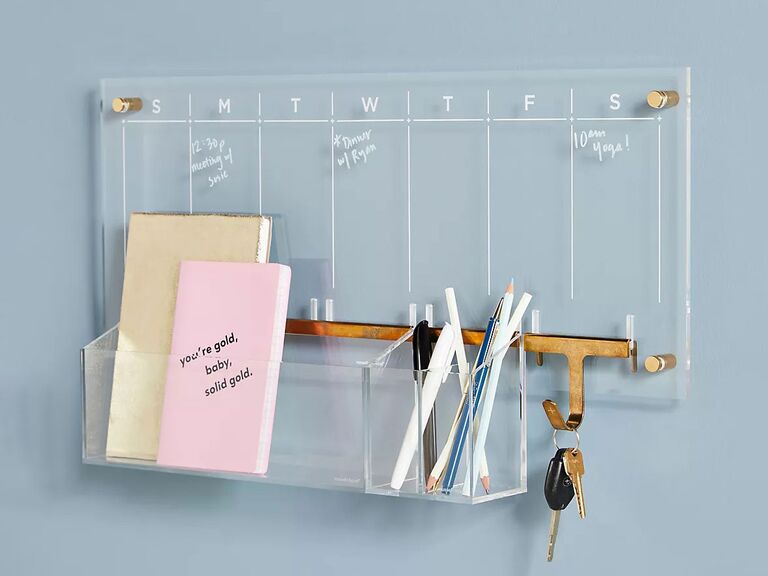 This acrylic desk set can do everything. Between the weekly calendar, hook and holders, it can help keep track of pens, pencils, notepads, keys and even their schedule. Best of all, it's wall-mounted, meaning their desk is completely clear and clutter-free.
Wool Desk Pad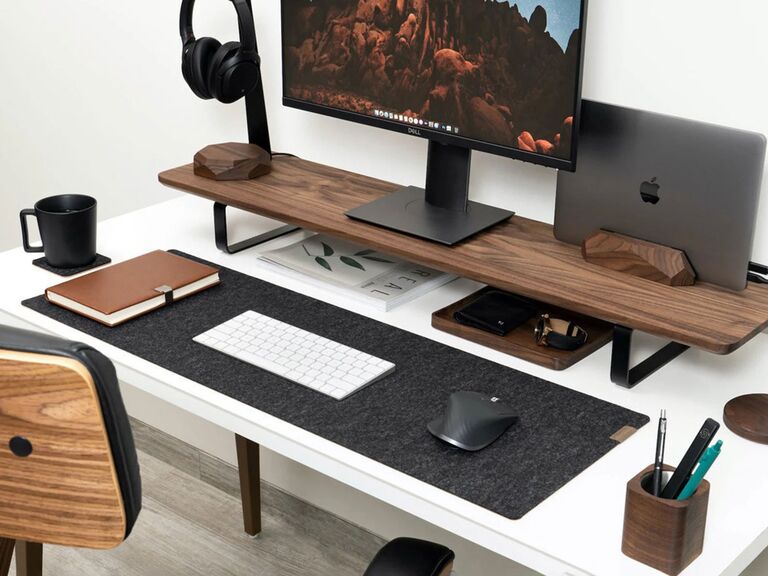 No need to choose between the modern or traditional seventh anniversary theme with this gift idea. It's a merino wool felt desk pad with a no-slip ecological cork base. Choose between the medium and large size to fit everything from a laptop and mouse to writing supplies and a coffee mug.
Monogram Letterpress Stationery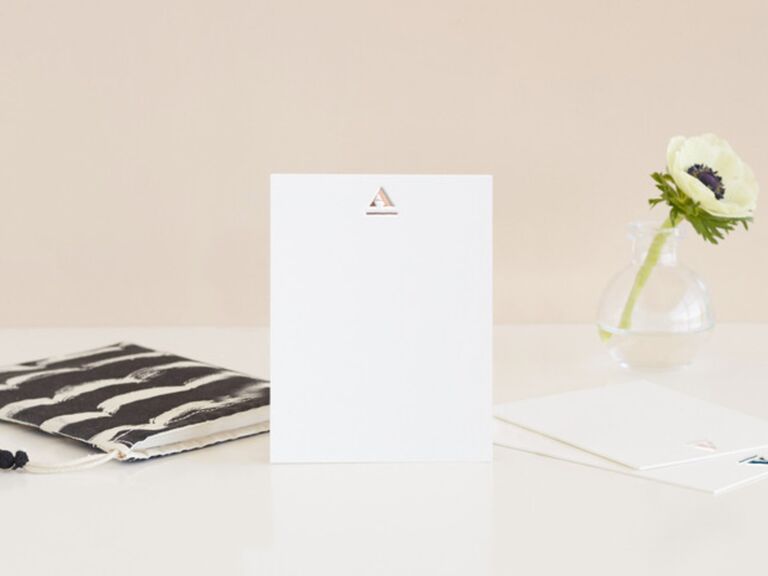 Stationery is also one of the seventh anniversary's modern gifts. This stationery has a simple yet timeless design. Your spouse's first initial is pressed in metallic foil and centered at the top of each card. Bonus: Each 20-card set comes with matching envelopes.
Custom Stamp Gift Set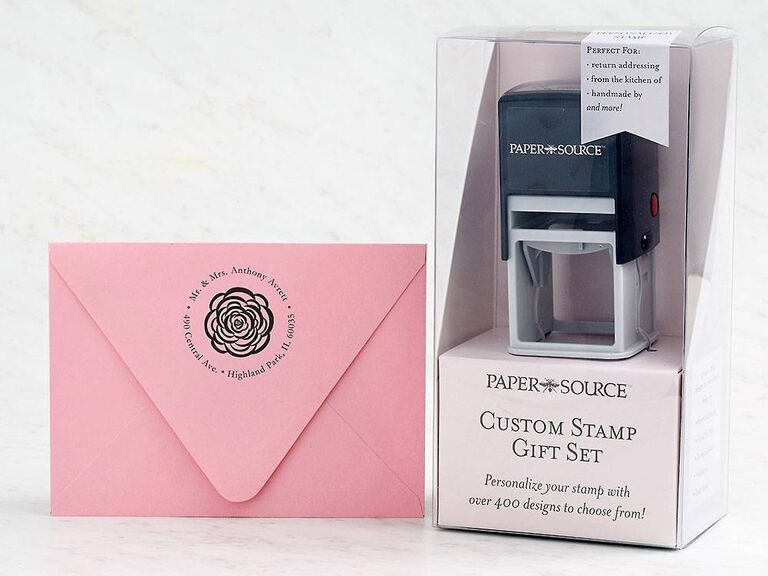 Personalization is always a nice touch when it comes to seven-year anniversary gift ideas for your wife, husband or couple friends. This gift set lets them customize any card or envelope with a special stamp. It comes with a self-inking stamper, one black ink cartridge and a gift certificate to design a personal stamp plate.
Floral Desk Set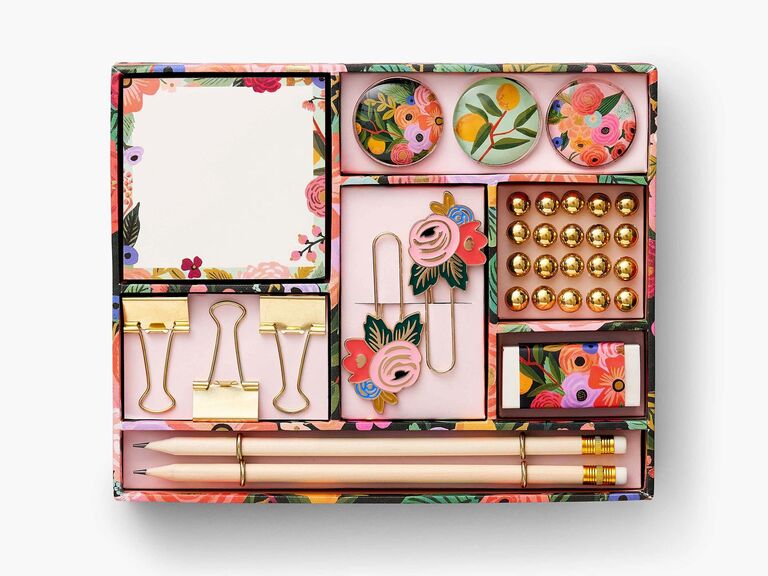 This desk set combines office supplies with cute office decor. It has pencils, push pins, binder clips, paper clips, magnets, a tear-off notepad and an eraser all decorated with a pretty floral pattern. Plus, it all comes organized in a matching tackle box for easy storage.
Sleek Leather Organizer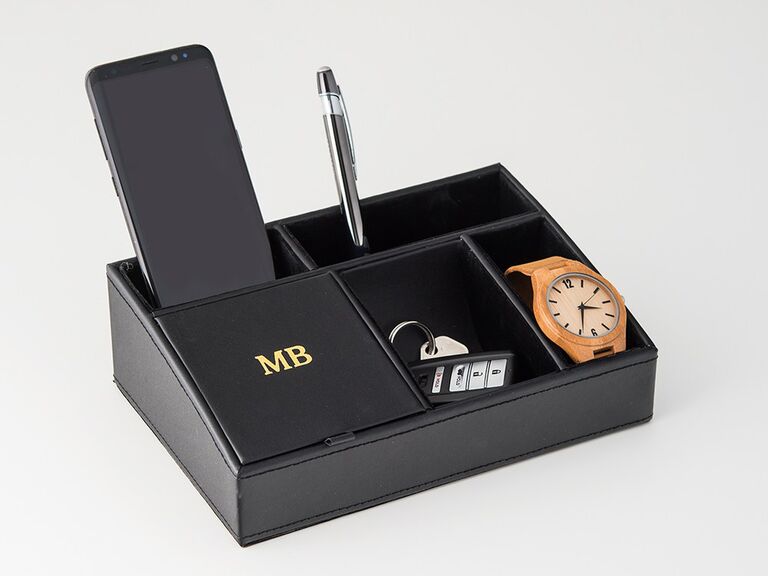 Looking for something on the contemporary side? Try this black faux leather desk set. It has five compartments with removable spacers so they can create their ideal arrangement. It also has space in the back to thread a charger through. Plus, the lidded compartment can be monogrammed with their initials so everyone knows who owns the office supplies.
Desktop Photo Calendar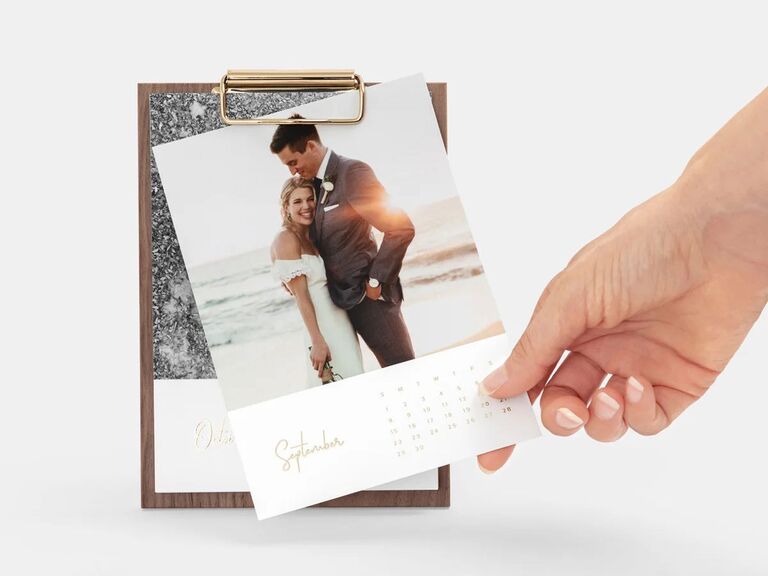 A sweet desk memento of your most cherished memories is sure to get your other half through the workday with a smile. This gorgeous desktop calendar, made from walnut wood, has a personally selected photo on each month's card. FYI: You can choose which month you want the calendar to start from, so they don't have to wait until the new year to use it.
Custom Valet Station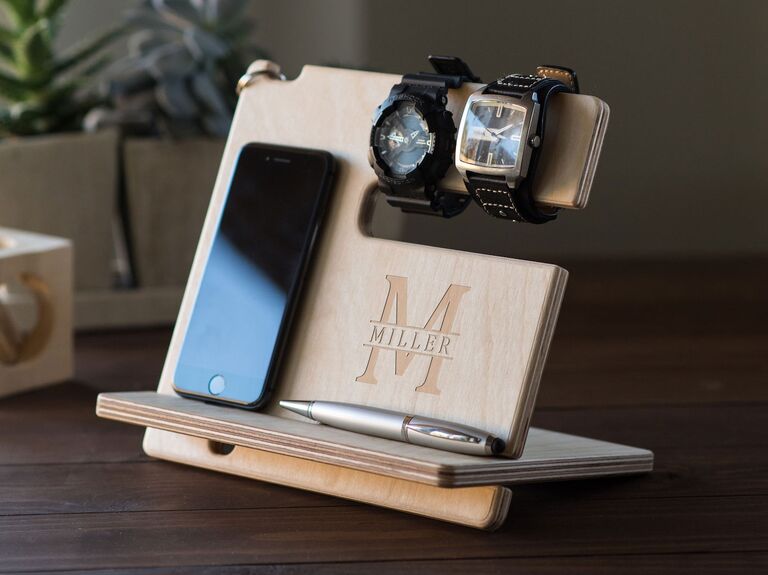 We all have gadgets galore and no place to put them all. This handy desk accessory solves that problem. The wooden valet stand provides a place for phones, wallets, keys, watches and more. Even better: It can be personalized with a name, date, initial or heartfelt message to sweeten the deal.
Personalized Photo Caddy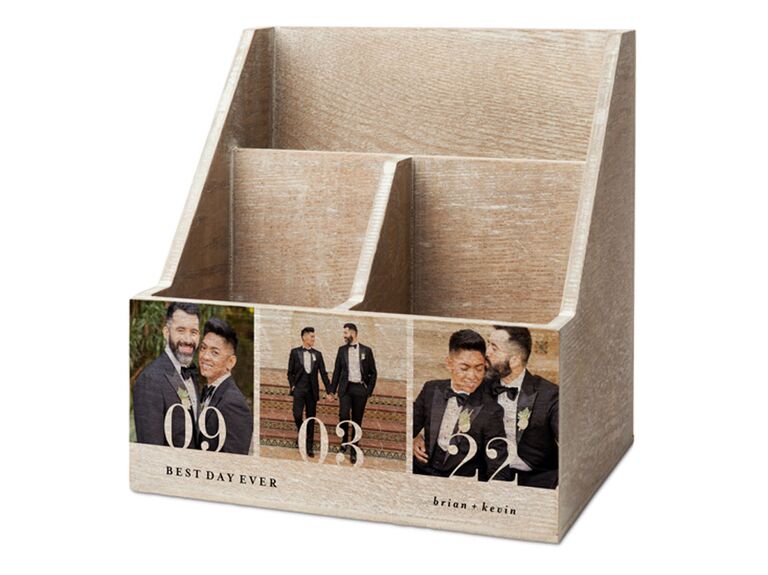 Even though it's your seven-year anniversary, you're probably still not over the wedding day. If your other half is always looking for new ways to show off your wedding album, this is the desk caddy of their dreams. Its spacious compartments can easily keep their paperwork neat, plus the custom text and images will be a sentimental reminder of your wonderful marriage.
Copper Desk Set
Cover all your bases with this desk set made out of one of the traditional seventh-year anniversary materials: copper. This set includes a pen holder and business card holder that'll elevate their office's style and function. It's stamped with a square pattern for extra charm.
Alternative Seven-Year Anniversary Gifts
If copper, wool, desk sets or stationery don't seem like the right fit for your spouse or the happy couple, that's totally fine. At the end of the day, it's all about finding something the recipient(s) will truly love. To help you score the perfect gift, we've rounded up a list of alternative anniversary gift ideas that range from symbolic to practical. Trust us, we're sure they'll love these creative picks just as much as we do.
Onyx Locket Necklace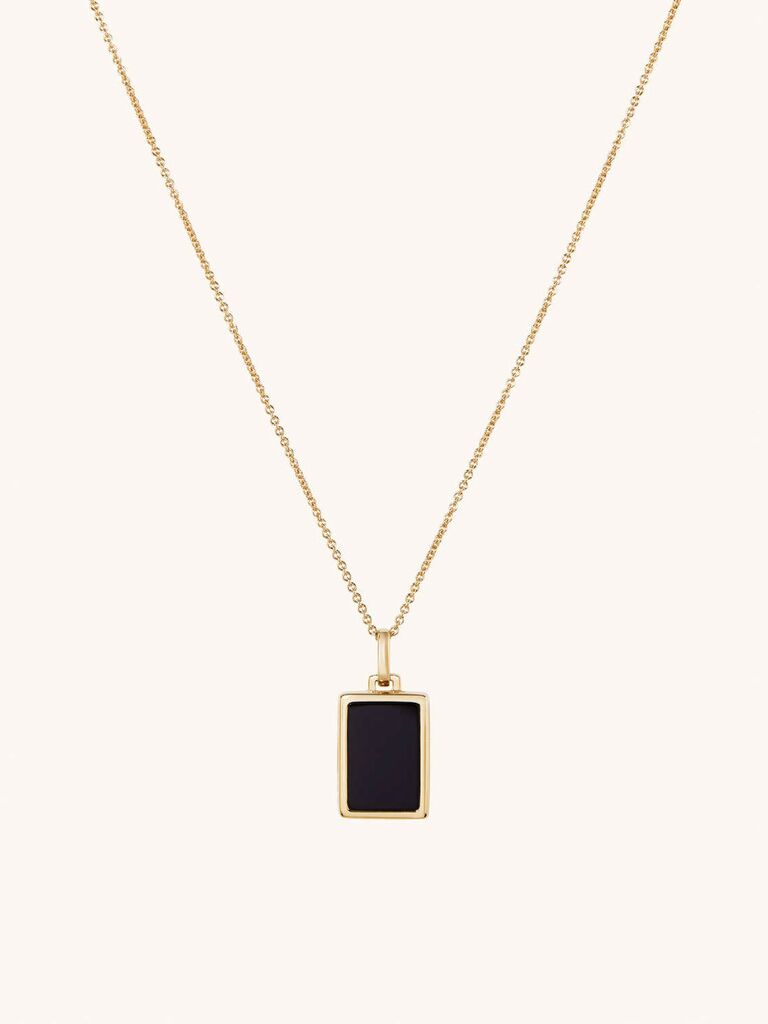 Jewelry is a great gift no matter what, but there are ways to make it extra special. This year, choose something crafted from the seventh anniversary gemstone, onyx. Associated with feelings of protection and security, the stone is a fitting emblem of your rock-solid relationship. This 18K gold vermeil locket features a rectangular black onyx pendant. The hidden compartment can fit a photo or a custom engraving.
Washable Silk Pajamas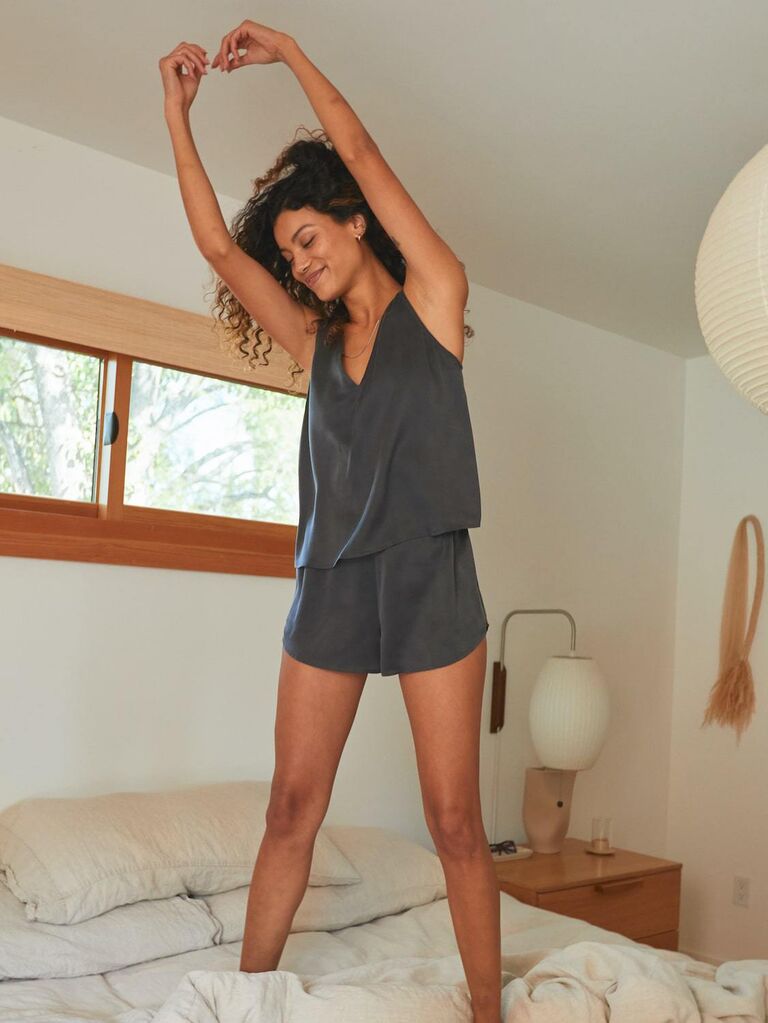 If your spouse takes loungewear very seriously, these pajamas will become their new favorite set. They're made from luxurious but low-maintenance silk and include a tank top with matching shorts. Don't forget to use the code FOR-TK20 for $20 off your first order of $100 or more. (Don't worry if you're shopping for your husband, Lunya sells menswear too.)
Indoor Smart Garden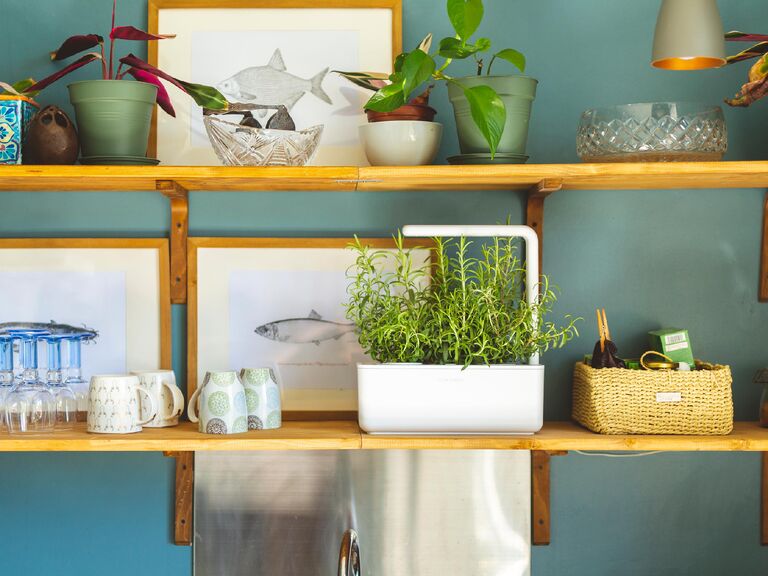 If your spouse or the lovebirds appreciate bright greenery in their home and fresh ingredients in their food, this indoor garden is the perfect gift. This sleek device provides automated plant care, from controlling light exposure to providing just the right amount of water so anyone, anywhere can grow herbs and vegetables.
Recipe Serving Board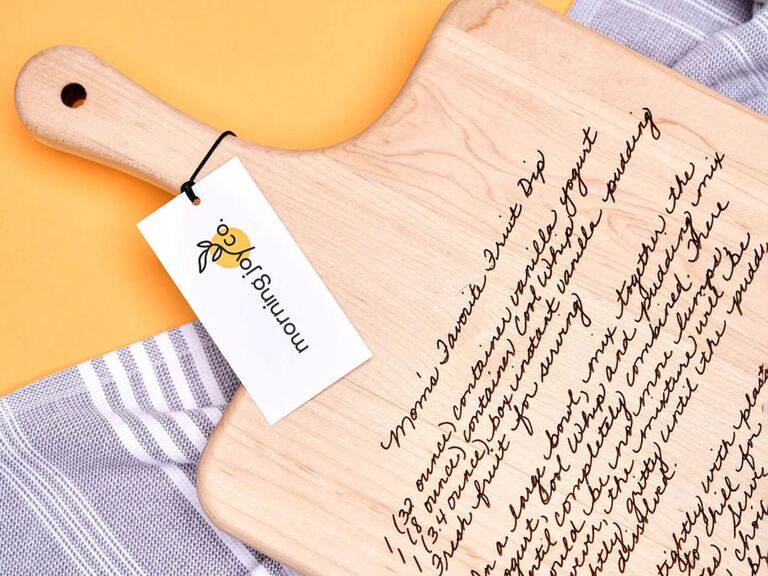 Warning: This seventh wedding anniversary gift may cause happy tears. If you're shopping for a cook, you've been lucky enough to enjoy their culinary masterpieces for seven-plus years. This truly special cutting board commemorates one of your partner's handwritten recipes. It's a super-sweet way to thank them for feeding you good food all these years—and hint at what food you're craving for the anniversary celebration.
Useful Beer Stones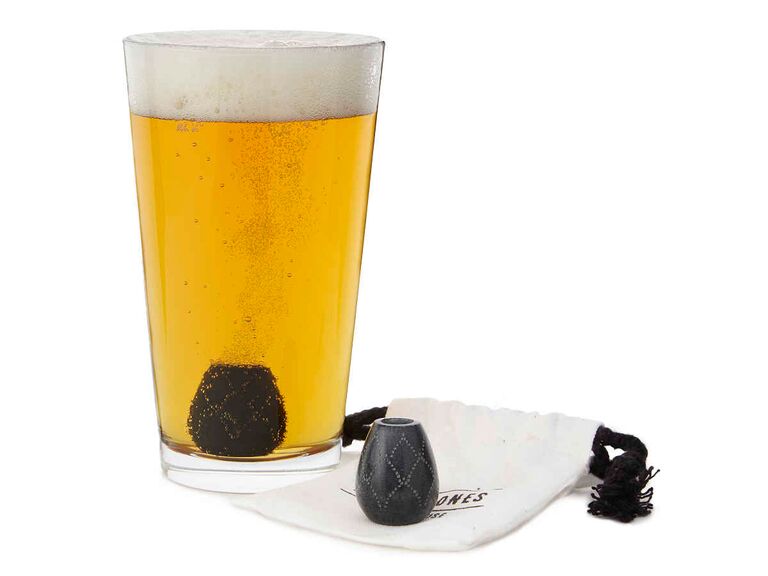 If your spouse or the celebrating couple loves the taste of beer straight from the tap, these stones will give their bottled brew a bubbly boost. The soapstone nucleators do more than enhance the beer's flavor though. They can be kept in the freezer for a frosty pint that's cold to the last drop. How's that for a creative seven-year anniversary gift?
Wine Delivery Service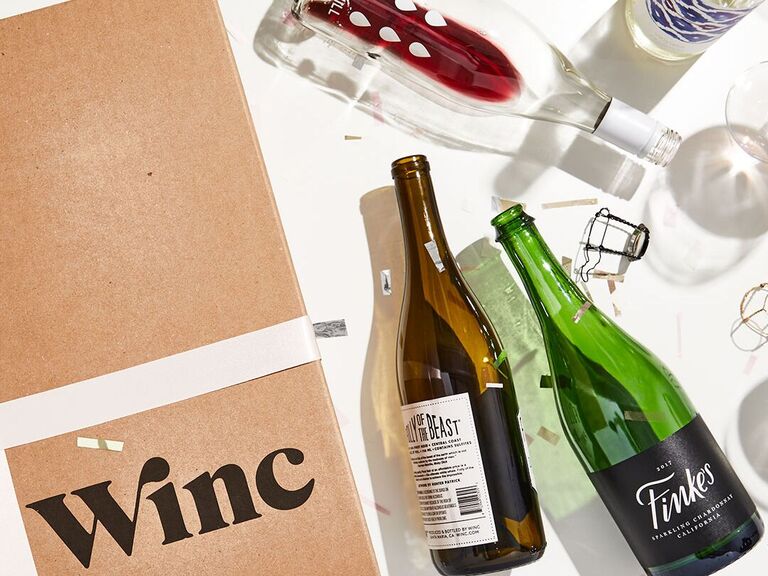 Wine can be a truly special present for your loved one(s), but it can also be hard to pick out. That's why we recommend Winc. The company delivers a personalized selection of delicious vino right to gift recipients' doors. A recurring shipment will keep the seventh anniversary celebration going for months.
Mini Fire Pit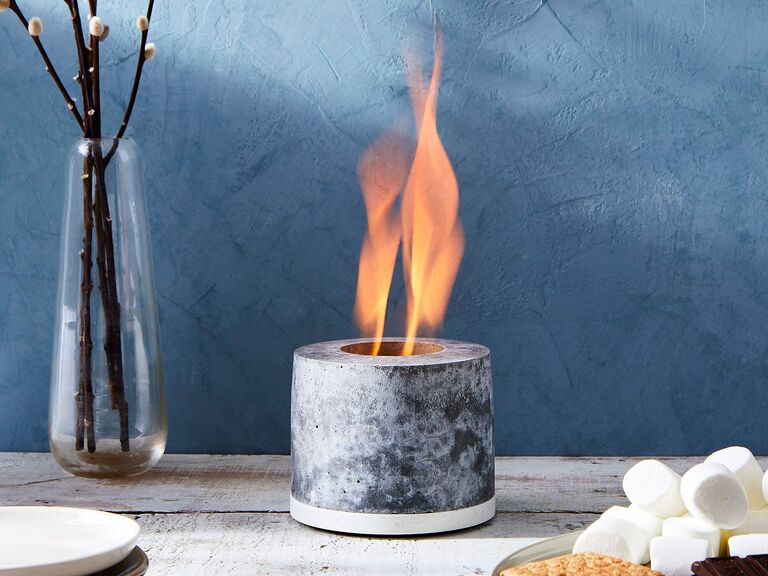 Looking for the ultimate anniversary present for your gadget-obsessed other half? We've got just the idea: a miniature fire pit. They can use it to make s'mores wherever they go—indoors or out.
Unique Star Map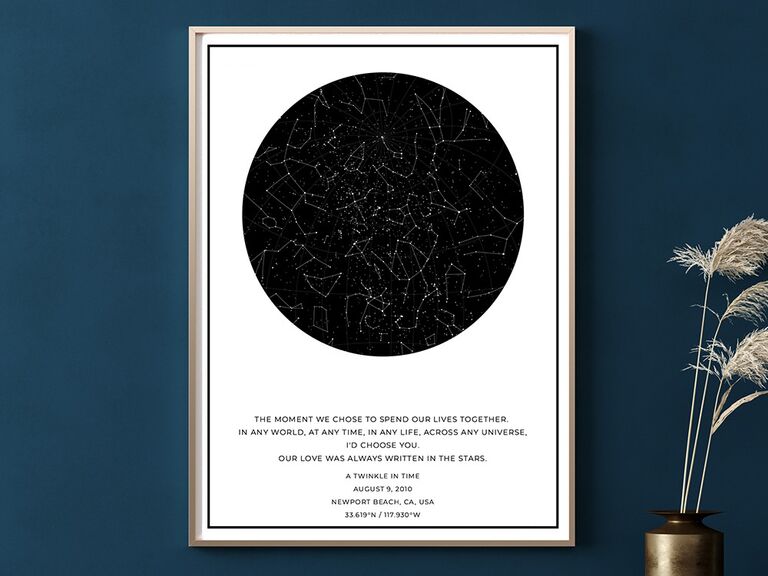 Freeze the moment it all started with a map of the night sky from the day you exchanged vows. This unique artwork is fully customizable. Choose the color, map shape (perhaps a heart) and even add a sweet personal message alongside the date, location and coordinates.
Love Knot Earrings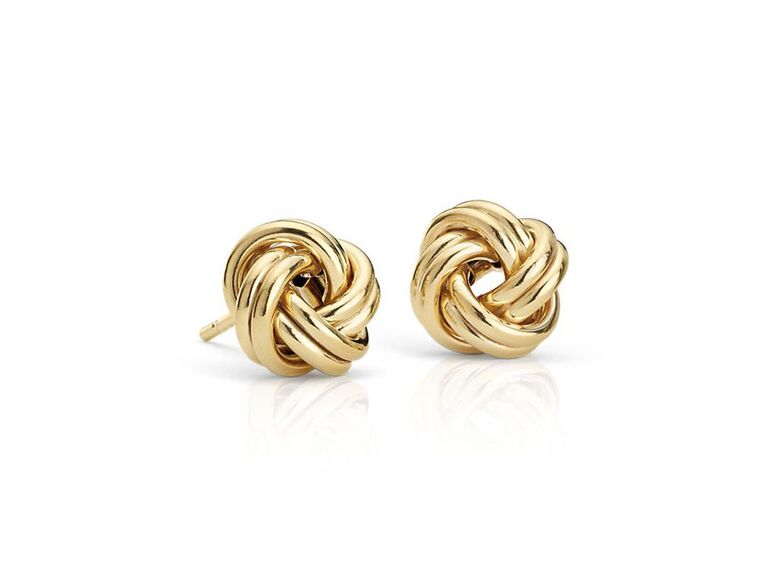 Love knot jewelry is a romantic gift that symbolizes a long-lasting, unbreakable bond. These stunning earrings, made from 14K yellow gold, will be a classic addition to your spouse's collection. The studs can be dressed up or down and will look especially great on your next date night.
DIY Whiskey Kit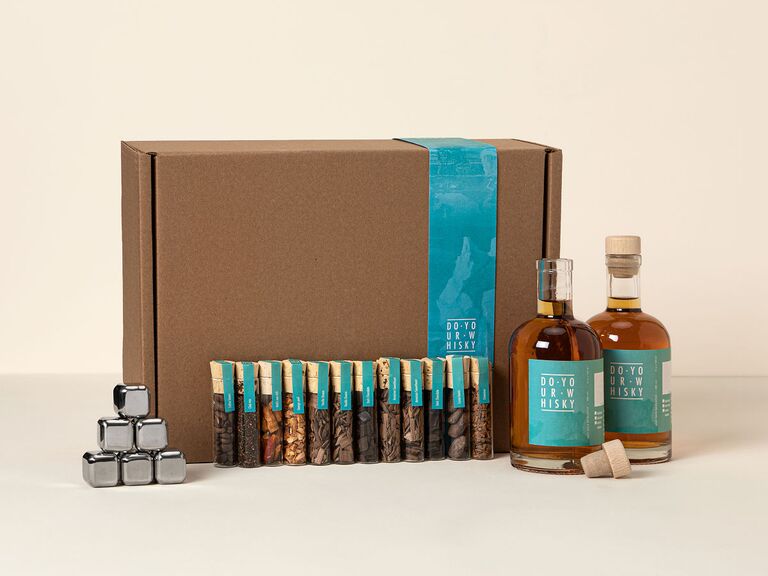 Shopping for a whiskey enthusiast? This DIY kit comes with a selection of botanicals and three different flavors of wood chips so they can create their very own blend of booze. The only other thing you'll need to grab? A grain-based vodka.
Freesia Flower Earrings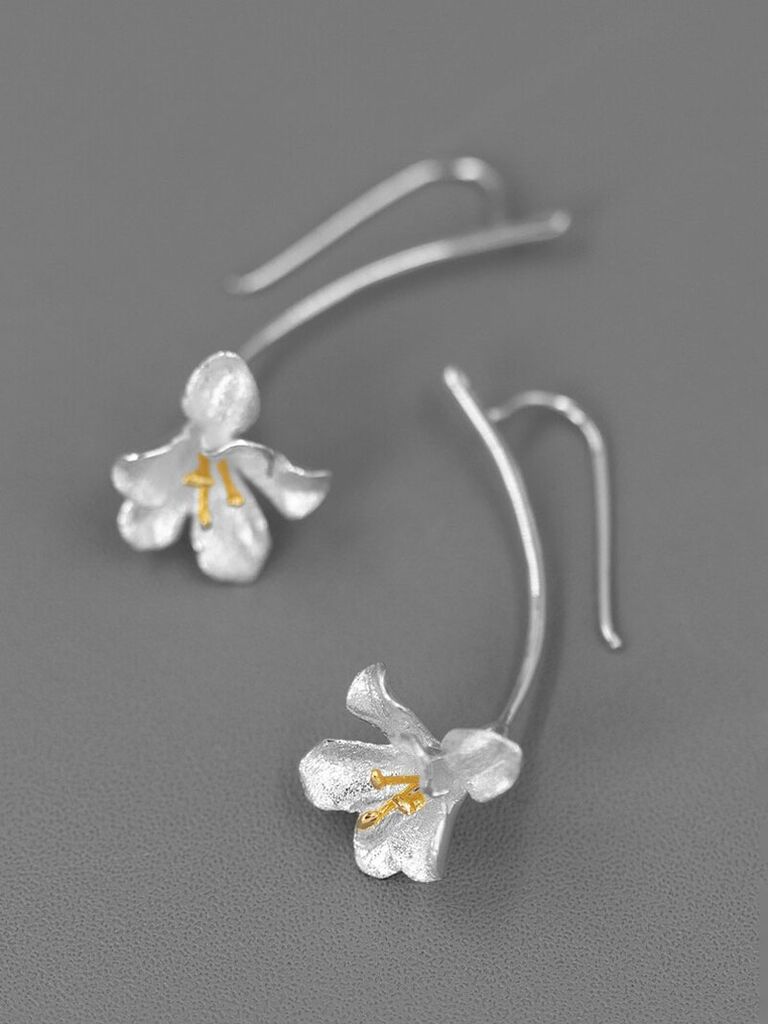 The flower associated with seven years of marriage is the freesia. This beautiful bloom represents the incredible trust you and your S.O. have built over the course of your relationship. That's what makes these dainty earrings—featuring sterling silver freesia flowers—a great seventh anniversary gift.
Monthly Book Subscription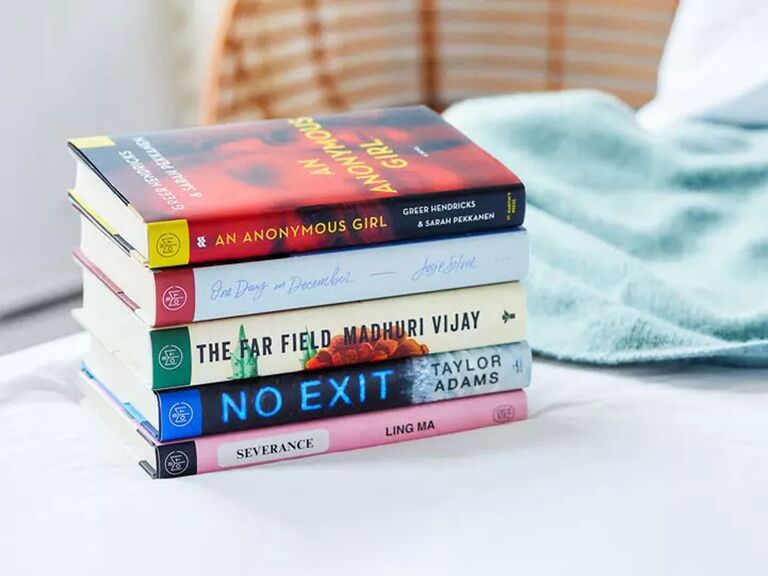 Is your partner an avid reader? Do they spend hours in the bookstore? Then they'll love this subscription service. Book of the Month Club is exactly what it sounds like; it delivers a curated selection of new, hit novels straight to readers' doors each month. Your partner will love finding new stories, all thanks to you.
Romantic Box of Donuts
Finding new ways to say "I love you" gets trickier as time goes on. Thankfully, we're here to help. Anyone with a sweet tooth will appreciate these delicious donuts that double as a meaningful message. Have them delivered on your seventh anniversary for a surprise breakfast.
Personalized Doormat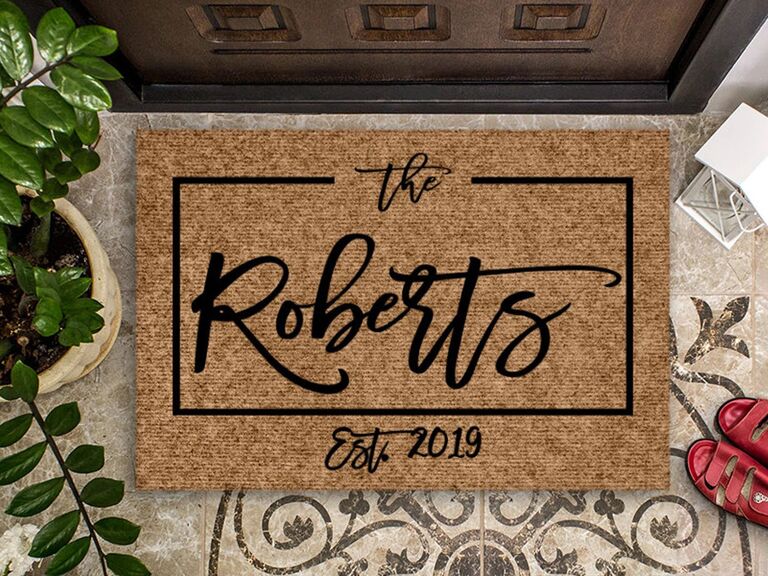 We'll say it again, we love personalized anniversary gifts. If the couple shares a last name, gift them a doormat with their family name and established date. It's a cute way to liven up their front doorstep.
Monogrammed Packing Cubes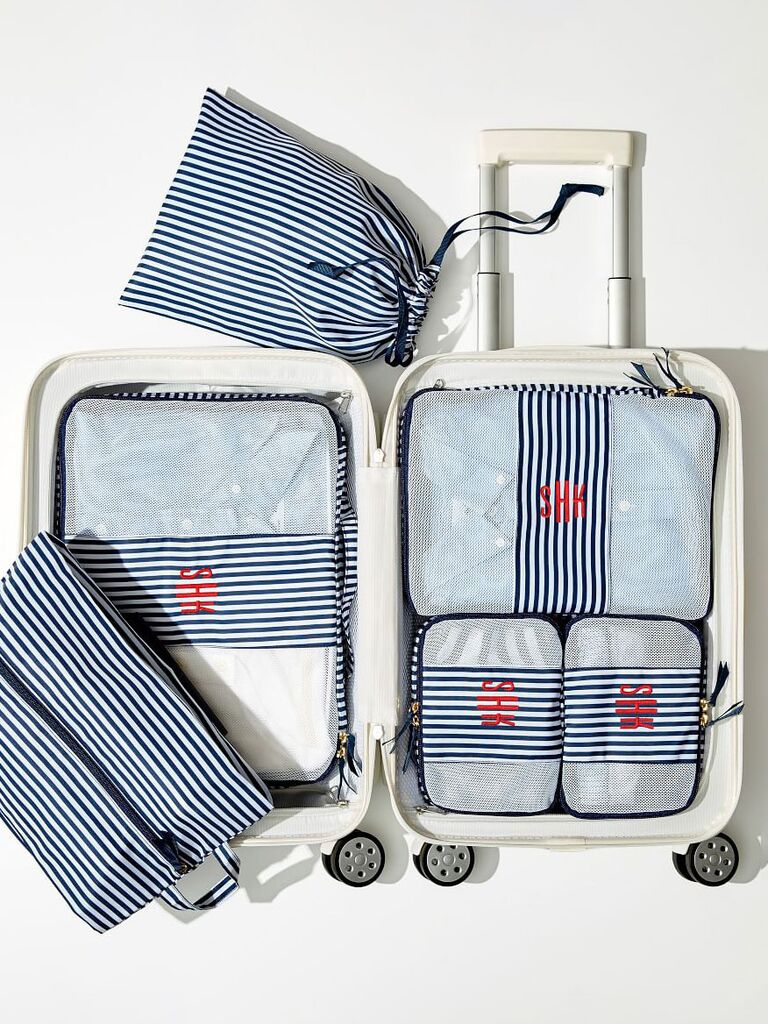 Travel is back in full swing and with it comes a host of innovative travel accessories. Packing cubes have always been around, but they're just now getting the recognition they deserve. Upgrade your partner's luggage interior with this chic six-piece set of organizational cubes. It includes four zip-up boxes, one shoe bag and one laundry bag so they can pack more, better. Hello, anniversary trip!