32 '70s Wedding Ideas That Are Absolutely Groovy, Baby
Can you dig it?
Calling all free spirits and flower children. It's no secret the '70s are having a major moment—bell-bottom jeans, flowy dresses, colorful suits and muted neutral colors are everywhere. If you love the trending look, we rounded up 32 ideas to help you throw a '70s-themed wedding.
The key to pulling off a vintage-themed wedding is to focus on the small details. Select a retro-inspired color palette, incorporate vintage furniture and fabrics and rock a nostalgic wedding day outfit. When all of these small elements come together, the end result will magically take your guests back in time.
We love these '70s-inspired wedding ideas because they're on-theme but still elegant. Whether you want a subtle nod to the disco decade or you want to fully unleash your inner hippies, we have something for every kind of couple. Scroll through and save your favorites to show to your wedding planner so they can clearly see your vision and bring it to life. With just a few intentional decisions, you can take your wedding from a simple celebration to a far-out '70s soiree. How groovy is that?
Blush and Rust Color Palette
Nail your '70s themed wedding with this nostalgic color combination. Mix blush with rust and cream for an on-theme palette.
Disco-Themed Decor
Nothing screams '70s more than disco. Set the tone by incorporating disco balls throughout your reception area. Not only will they look amazing, they'll also encourage your guests to get on the dance floor and show their best disco moves.
Patterned Wedding Outfits
Bright colors and fun patters were hugely popular in the 1970s. Get the look by swapping out a solid-colored cotton dress shirt for a patterned one made of a funk fabric, like satin.
Bright Wedding Suit
The 1970s were all about bright suits. Bring the old-school trend to life by rocking your own colorful outfit on your big day.
Vintage Cocktail Station
Pulling off a themed wedding is all in the details. Set up a cocktail area complete with a nostalgic van and peacock chairs for the ultimate '70s vibe.
Orange and Teal Color Palette
In need of some '70s wedding inspiration? Orange, teal and cream mixed together will instantly transport your guests back to the decade of disco.
Flower Crown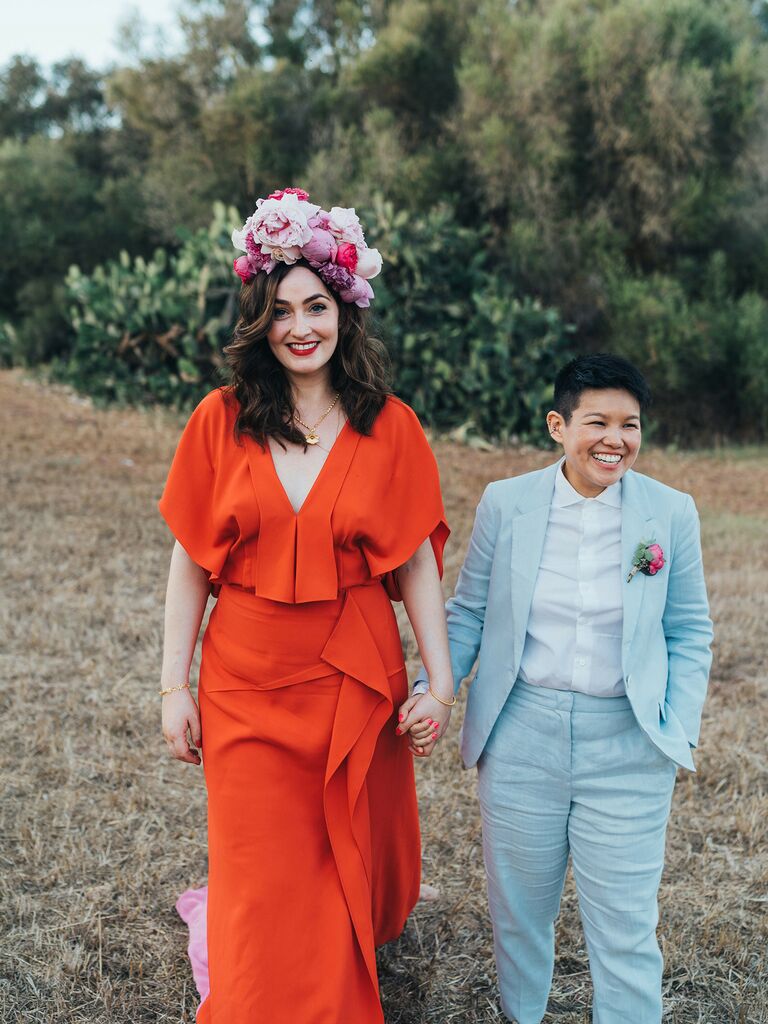 If you're a self-described flower child, this '70s wedding idea is for you. Rock a colorful flower crown for a fun, playful accessory.
Retro Escort Wall
Welcome your guests to the reception in '70s style. Use the escort card wall as an opportunity to nail your wedding theme.
Wedding Jumpsuit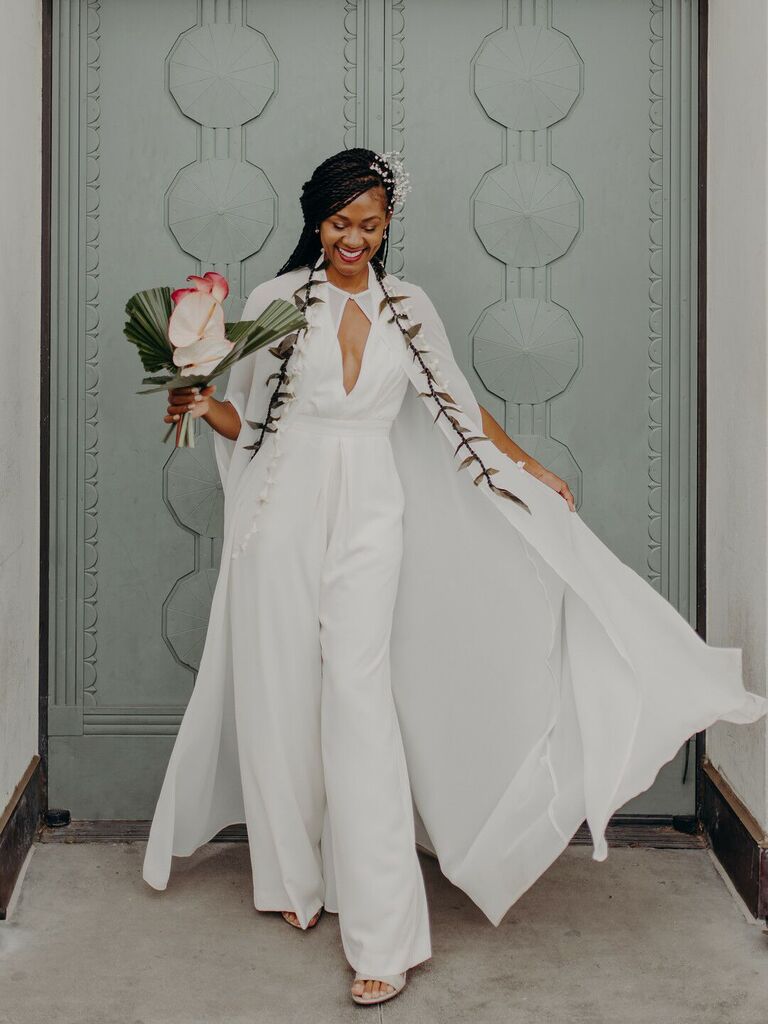 Jumpsuits were all the rage in the '70s. Lean into the trend by rocking your own. Make it even more nostalgic by adding a flowy, flower child-inspired cape.
Braided Hairstyle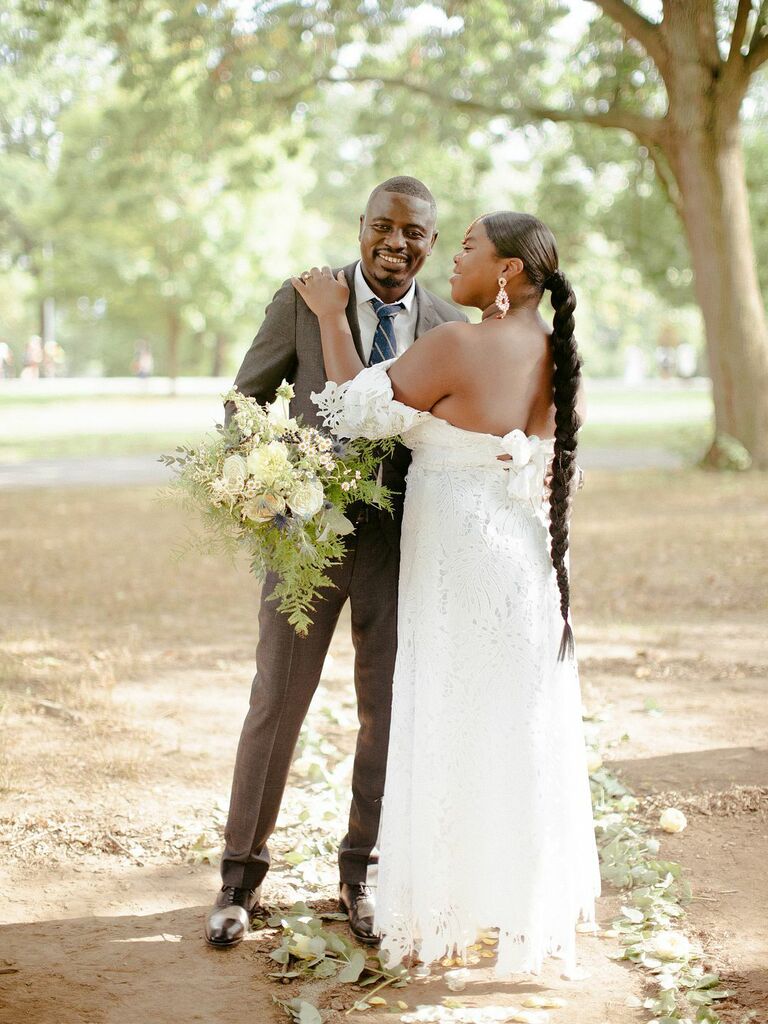 Channel your inner hippie by rocking this glamorous wedding hairstyle. Add extensions for an ultra-hip vibe. Hoping to wear your hair down? Braid the front two pieces of your hair for an on-theme look.
Velvet Accents
Velvet was wildly popular in the '70s—especially when it came to interior design. Set the stage for your guests by incorporating it into your reception space.
Groovy Photobooth
Transport your guests to Woodstock with a vintage van as your photobooth. They won't be able to resist posting it on Instagram.
Muted Earth Toned-Outfits
While bright-colored suits were popular in the '70s, so were earth-toned hues. Steal the style by rocking patterned, muted outfits for your wedding day. Psst: Add a pop of personality to your look with a pair of colorful socks or shoes.
Long, Loose Waves
Capture the free-spirited style of the 1970s with this gorgeous wedding hairstyle. Ask your stylist for long, loose waves.
Groovy Welcome Sign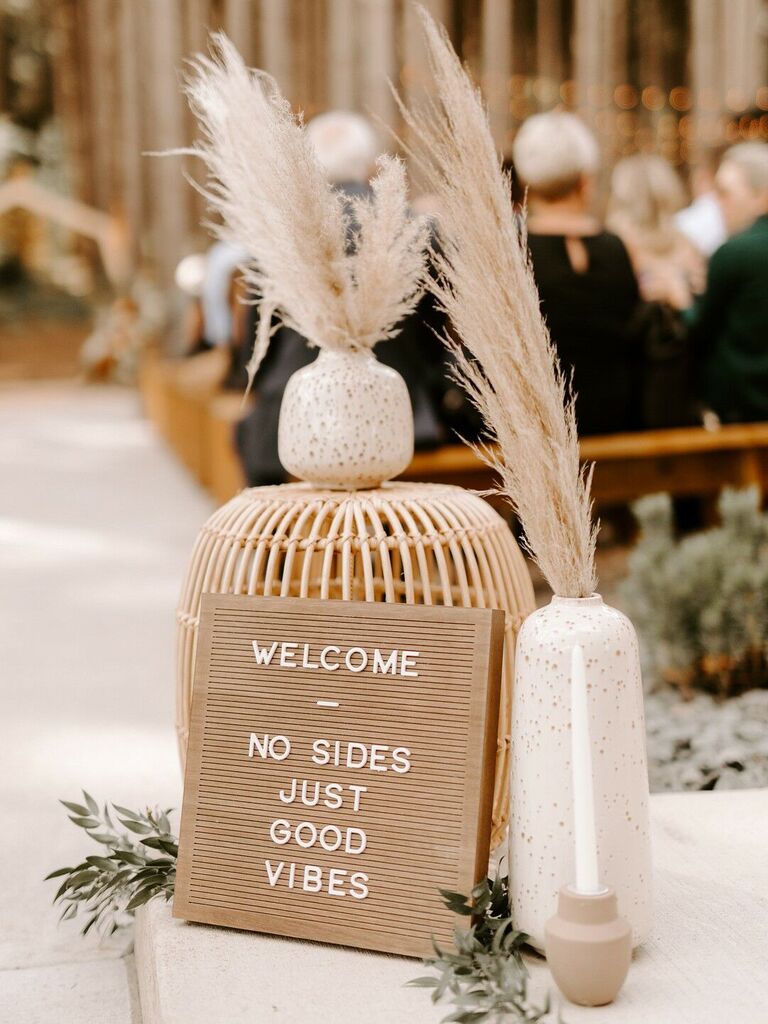 The 1970s were all about good vibes. Set the scene for your guests with a creative letterboard.
'70s Color Coordination
Buck tradition and skip white wedding outfits. Instead, incorporate your theme into your clothing. Pick two popular retro-inspired hues and wear them. When you come together at the ceremony, you'll look totally on-trend.
Hippie Headband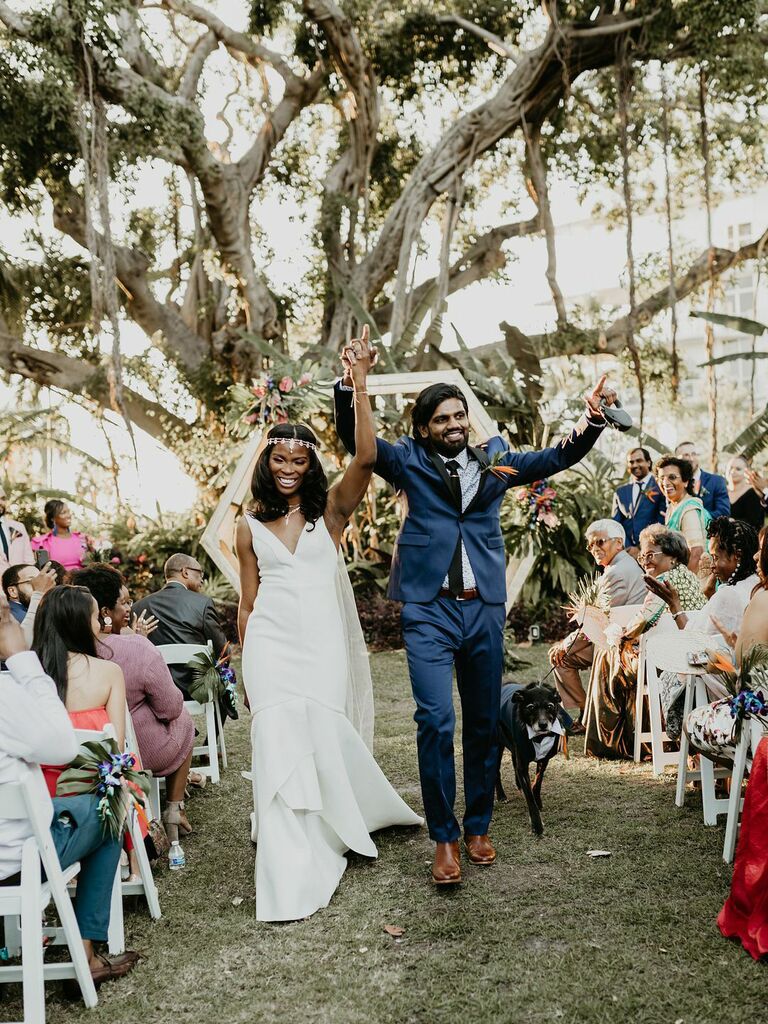 Rather than wearing headbands behind the ears, people in the '70s wore them around their head. Get the look by wrapping a sparkly headpiece around your head.
Mauve and Mustard Color Palette
We know: Mauve and mustard together? But together, these two colors create a retro atmosphere instantly.
Tree Planting Ceremony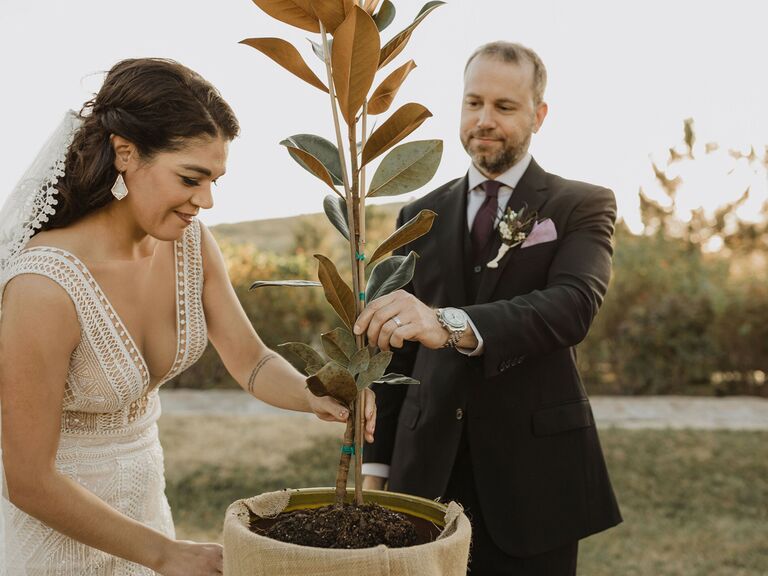 In the 1970s, awareness around the environment began to grow. Unleash your inner flower child with a symbolic tree-planting ceremony, which symbolizes putting down roots.
Flowy Wedding Accessory
If you love the style of the '70s but don't want to fully commit, invest in an on-theme accessory. A flowy cape will give your wedding day outfit a punch of nostalgia.
Peach and Marigold Wedding Color Palette
Warm pastel hues will instantly take your guests back in time. Pair it with cream-colored accents for a totally groovy reception.
Copper and Velvet Decor
Paired together, copper and velvet give off major throwback vibes. Incorporate it into your reception and ceremony decor for the ultimate '70s-themed wedding.
Ethereal Wedding Outfit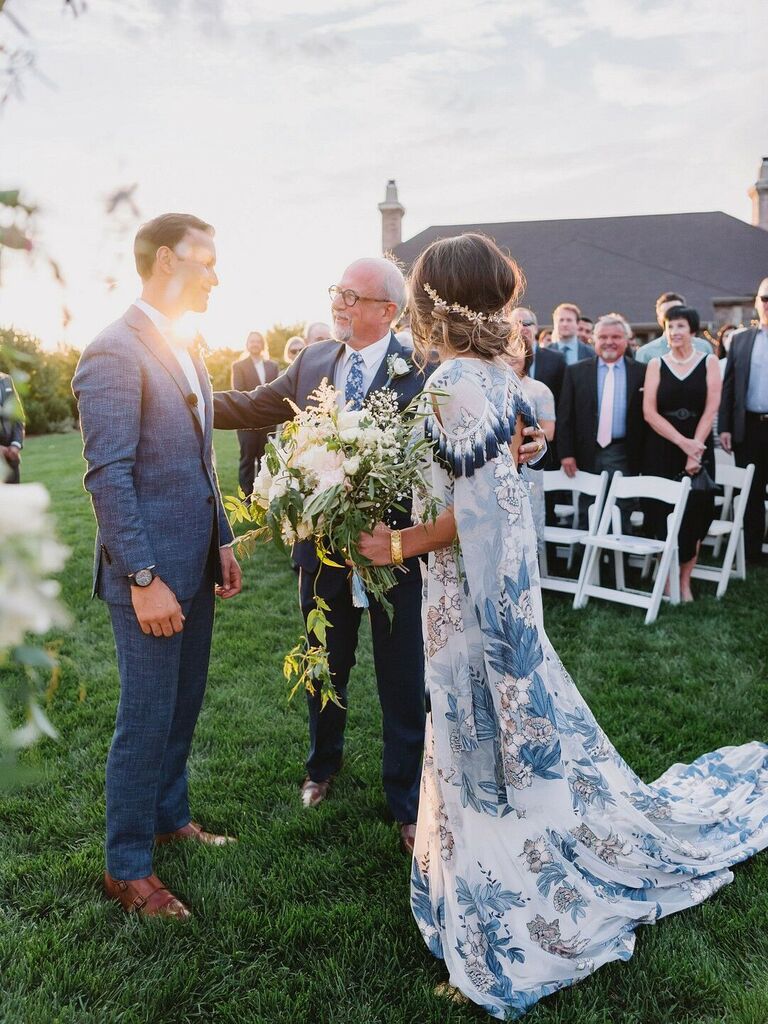 Want to nail your retro '70s theme? Wear a flowy, patterned outfit.
Retro Wedding Welcome Sign
While time machines don't exist, an on-theme wedding welcome sign is the next best thing. Upon entering the venue, your guests will feel transported back to the disco decade.
Dreamy Lace Wedding Outfit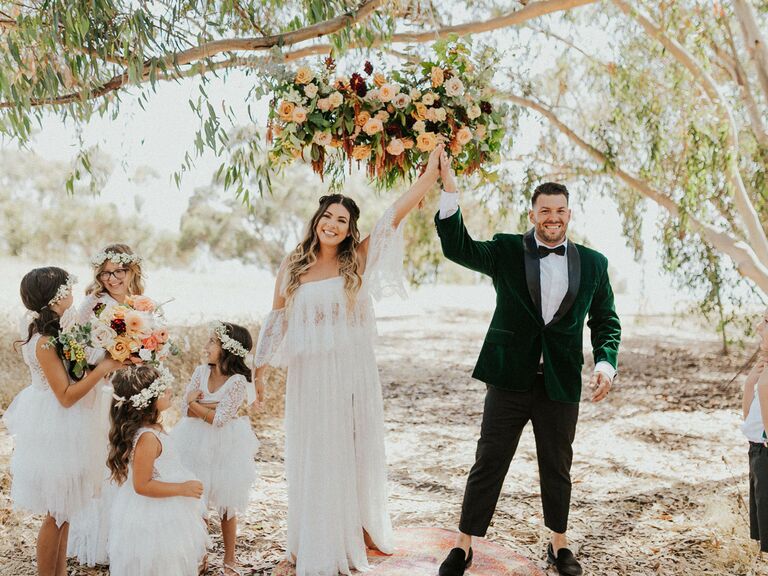 If you're searching for the perfect vintage wedding dress, look no further. This on-theme, 1970s-inspired wedding gown will look amazing set against your nostalgic decor.
Warm Sunset-Inspired Stationery
Get an instant 1970s vibe by using warm sunset colors: yellow, orange, blush and pink. Clue your guests in on your chosen theme by using the hues for your stationery too.
Blush, Yellow and Rust Florals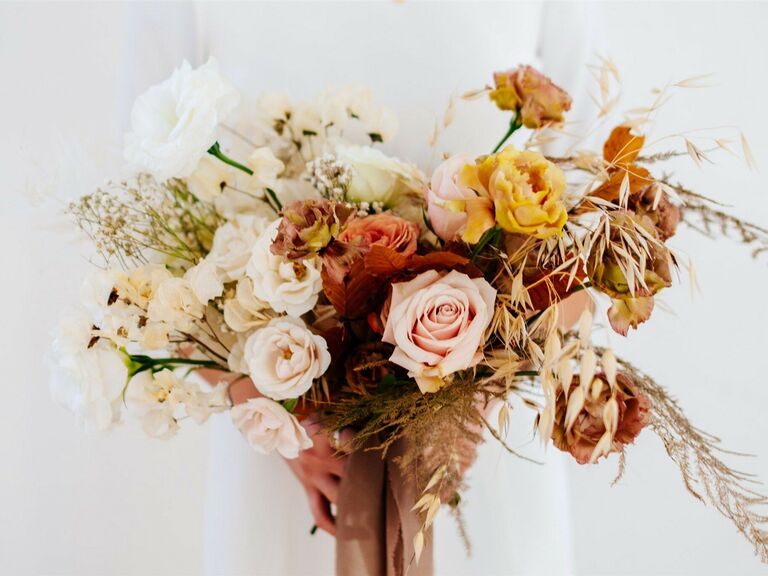 Speaking of warm sunset hues, we love the idea of incorporating them into your floral arrangements. It's a unique twist on the popular theme.
Moody, Groovy Color Palette
So you want a '70s-themed wedding, but you want it to be edgy. Simply add in a few dark hues (think: burgundy, black or violet) to make it happen.
Greenery Floral Crown
Maybe you're a flower child but you don't love the idea of a flower crown. Consider wearing a floral crown made of greenery instead.
Vintage Sweetheart Table
You don't have to go overboard to achieve a '70s-themed wedding. For example, simply swapping out traditional chair for these retro peacock ones will instantly take you and your guests back in time.
Velvet Furniture
If you love the velvet furniture trend from the 1970s, lean into it. Create a plush cocktail area for your guests to sip and mingle.
Disco-Themed Ceremony
Groovy, baby. Exchange vows under the sparkling reflection of disco balls for an on-theme and unforgettable ceremony.