8 Men's Grooming Products Perfect for Groom and Groomsmen Gifts
While the bride and her bridesmaids are getting manis and drinking mimosas, the guys can enjoy a pampering session all their own. Shop our favorite men's grooming products, perfect for groom and groomsmen gifts.
by Erin Rapp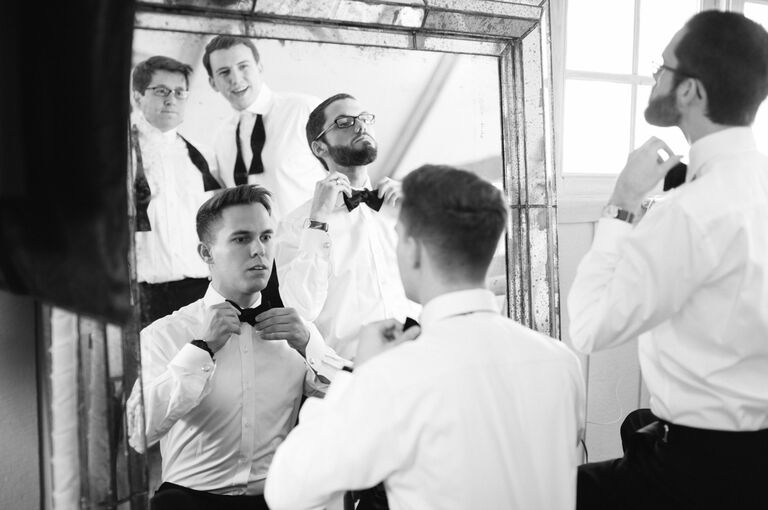 It's no secret that brides adhere to a strict wedding-prep timeline before the wedding day—but what about the guys? These days, groomsmen are gathering before the festivities begin to enjoy a drink and a old-school shave. Whether you prefer a clean look or sports a burly beard, consider treating yourself (or your groomsmen) to some clutch men's grooming products.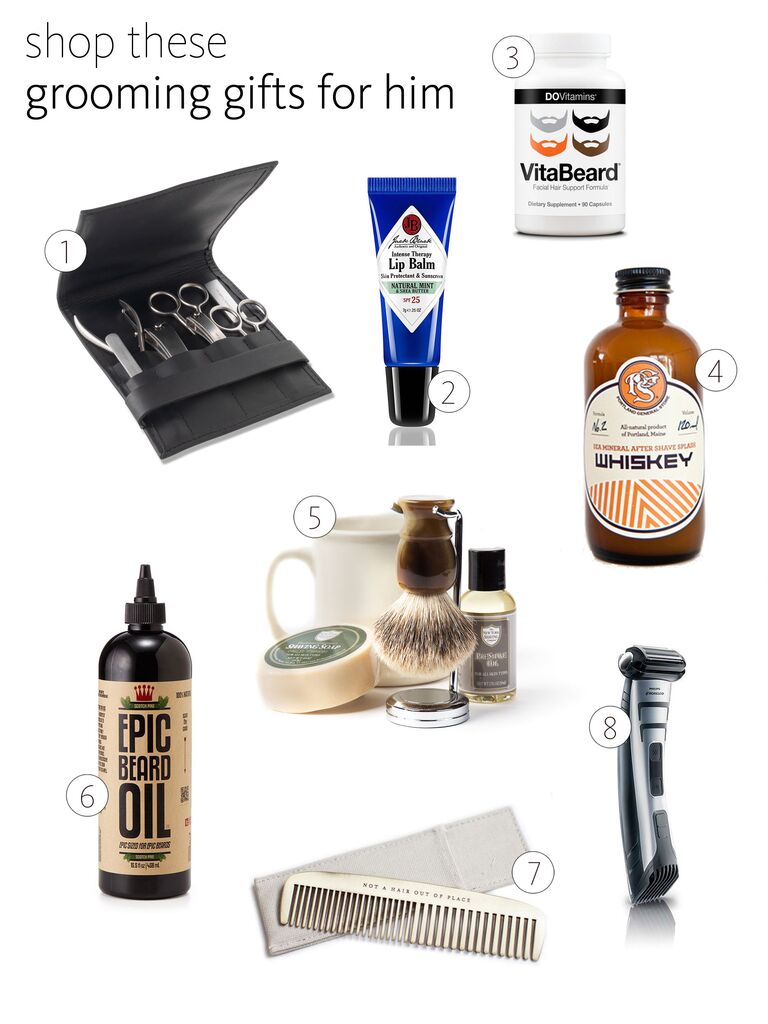 1. Get wedding band ready with this manicure kit. This set contains everything you'll need– from nail and cuticle nippers to tweezers and moustache scissors. Plus, it comes in a classic leather travel case, perfect for the honeymoon!
7-Piece Manicure Set, $160, TheArtofShaving.com
2. You're sure to have a first kiss to remember with this lip balm. Unlike the glosses you're accustomed to, this tube contains a silky smooth formula, full of skin-loving ingredients you'll love. The natural mint acts as a breath freshener, ideal for all those reception smooches.
Intense Therapy Lip Balm, $8, GetJackBlack.com
3. Brides are always searching for a new way to make their hair grow longer and stronger, and now, grooms can nourish their beards too. Not only will this supplement help facial hair grow faster, it claims to minimize beard itch.
VitaBeard® Facial Hair Formula, $30, DoVitamins.com
4. Don't be fooled– this whiskey-scented aftershave doesn't actually contain any drying alcohol. The nourishing tonic keeps freshly-shaven skin smooth and bump free thanks to sea minerals and essential oils. Perfect for sharing with your groomsmen pre-wedding—with a glass of the good stuff, of course.
Whiskey After-Shave Splash, $18, PortlandGeneralStore.com

5. Give your groomsmen the gift of a super close, and glamorous, shave. Guys will love this vintage style shave kit, complete with brush, stand, pre-shave oil, shave soap and mug. Your photographer will love capturing the moments before 'I do' as the groomsmen drop the soap in the mug, add a few drops of water and buff the brush to create a rich lather.
Lather Set, $55, BespokePost.com
6. Think beard-taming product and skin softener all in one. This mix of essential oils features a woodsy pine scent, perfect for all that rugged-chic scruff. This men's grooming product is the perfect gift for groomsmen in the wedding party with mega thick beards and those with a mere five o'clock shadow.
Epic Beard Oil, $40, UncommonGoods.com
7. This comb, complete with a canvas sheath, is made of time-tested brass making it a great wedding day gift for the groom. It fits perfectly in a jacket pocket— just in case a well-coiffed mane needs a pre-photo touch up.
Not a Hair Out of Place Brass Comb, $29, ShopWaitingonMartha.com
8. This body trimmer works wet and dry and prevents any irritation from occurring. Not wanting a fresh-faced look? The attachable heads keep hair at a consistent length, maintaining the beard without shaving it off entirely.
Philips Norelco Bodygroom 7100 Series 7000 Wet & Dry Body Groomer, $70, PhilipsStore.com