8 New Ways to Serve Up Your Wedding Cocktails
by Jamie Miles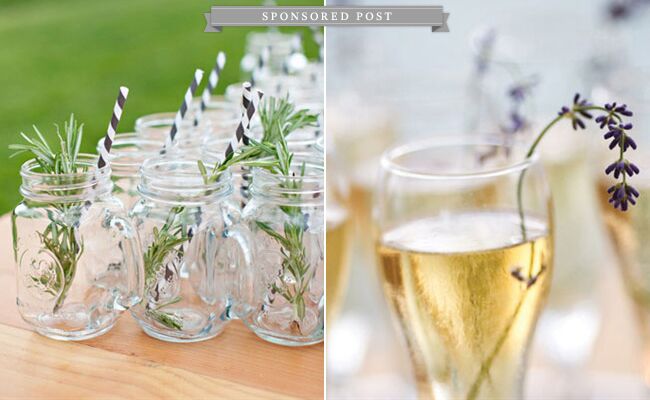 It's time to get creative with your
cocktail hour
and give your drinks a fun, personalized spin. Rethink the garnish, cocktail napkins, straws and overall presentation to create drinks that are unique and unexpected. We've got some ideas…
1. Add herbs for flair and flavor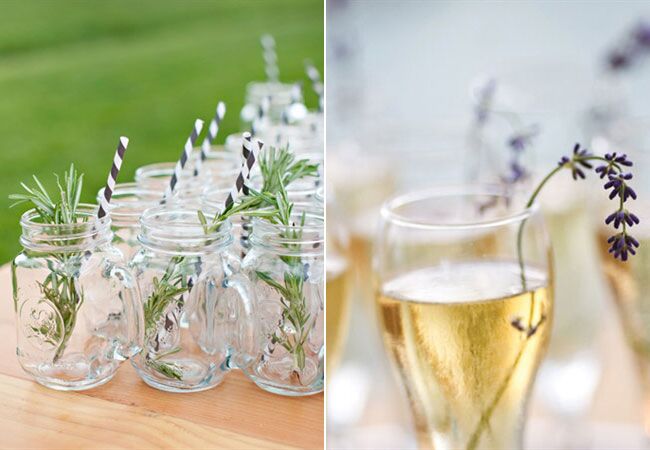 Click Imagery; Genevieve Nisly Photo Inc.
Not only will your drink look and smell amazing by adding an herb garnish, but the aroma will be released into the drink so it'll taste especially fresh. Consider infusing your liquor overnight or, use a bartender's trick, put a sprig in the palm of your hand and hit it with your other to release the same scent (Don't know what we mean? Watch our video demo with The Cocktail Architect Yusef Austin). It's practical and makes for a fun presentation.
2. Garnish (and sweeten) cocktails with fresh fruit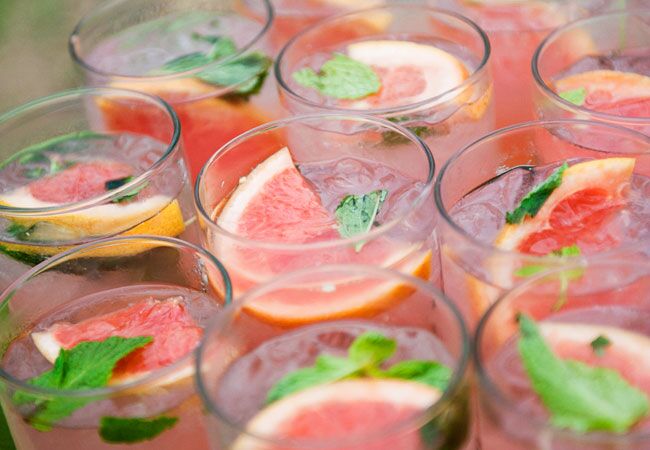 Typically cocktails are served with lemon or lime, but it's time to step it up! Incorporate some sweet seasonal fruits of summer like watermelon, maraschino cherries or even grapefruit! Think about muddling your fruit before mixing to add that fresh juice to your cocktail.
3. Get creative with your coasters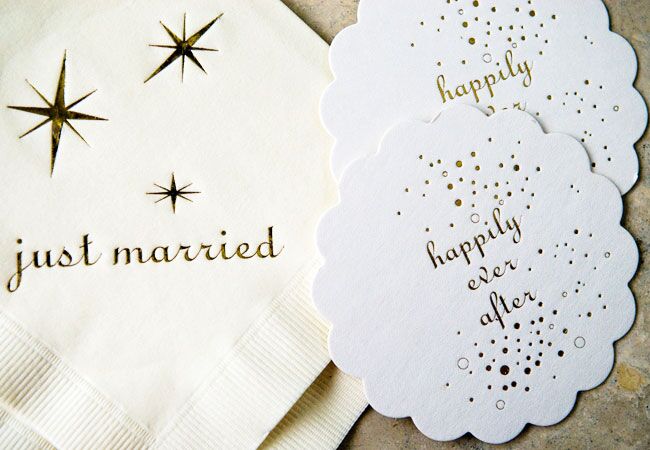 Ron B. Wilson Photography
Think about adding a cute saying or love quote to your drink coasters. I love the scalloped edges around these "happily ever after" coasters which can be used at both your rehearsal dinner and reception since they don't include the wedding date.
4. Have a traveling cocktail cart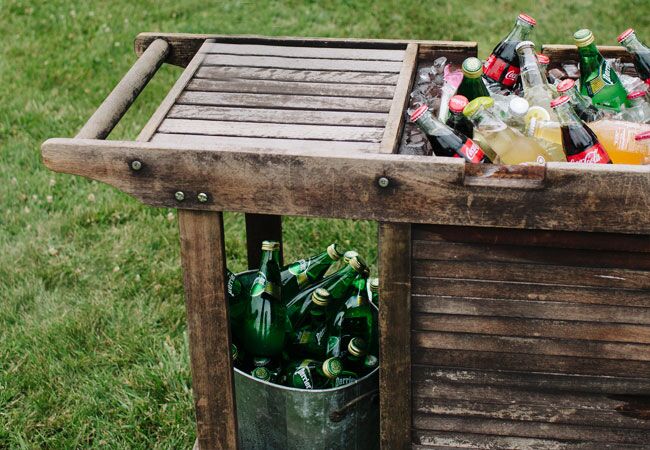 A cocktail cart is a great idea — stock it with soft drinks and cocktails so there's something for everyone, then wheel it inside for the reception and fill it back up! It makes for a cute presentation especially at a rustic, outdoor wedding.
5. Sweeten the rim of your martini glass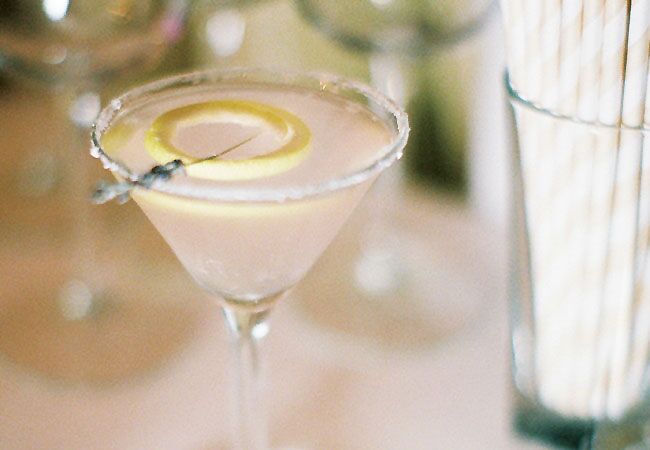 A sweet drink pairs well with a sugary rim. Consider a drink recipe like The White Cosmopolitan which consists of vodka, St. Germain, white cranberry juice and lime juice and serve it in a martini glass. The sugar will compliment the ingredients!
6. Sip in style with decorated straws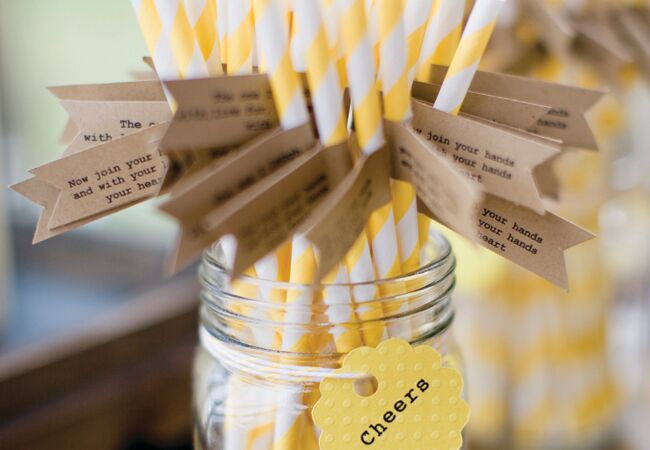 Sip in style with straws which incorporate your wedding colors. Add a cute saying, a phrase from your vows or a line from your favorite romantic poem. If you're a bit craftier, this could make for a fun DIY project.
7. Customize your wedding napkins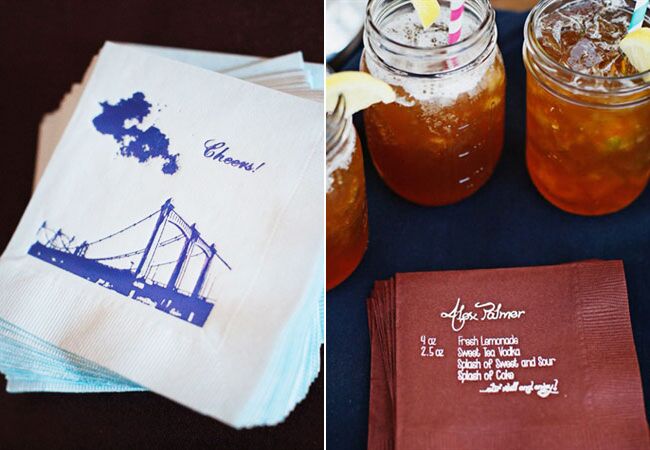 Eclectic Images; La Vie Photography
Everyone has napkins with their names or wedding date on them. Instead, think about adding an element which reflects the city where you're having your wedding (feature a local landmark) or add fun drink recipes so your guests can take home the napkins and recreate the cocktail after your wedding.
8. Incorporate your wedding colors into cocktail hour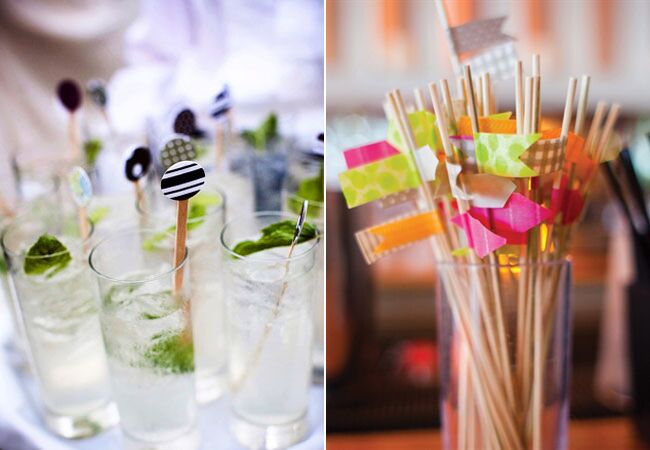 Nancy Gould; Sarah Postma
Drink tags are practical (and pretty!) and will allow you to identify which glass is yours. With hundreds of people mingling during cocktail hour you're more likely to misplace your drink. Make cocktail hour more festive with this cute easy-to-make touch.
> See 100+ more cocktail hour ideas
> The ultimate cocktail hour guide!
> Find your signature cocktail