A Comprehensive Worksheet for Bridesmaids
On top of your gown shopping, you have maids to dress as well. Use this worksheet to keep everything in order.
by The Knot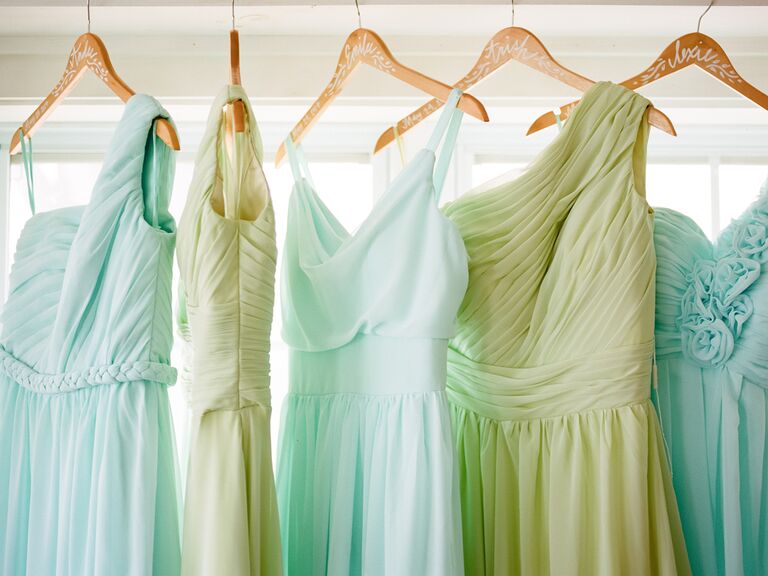 photo by
Jeff Loves Jessica
We know how hard it is to stay on top of everything. And as if choosing bridesmaid outfits wasn't hard enough, you have to make sure everyone gets everything at the right time. Have no fear. Use this cheat sheet to keep track of it all -- or, better yet, give it to your maid of honor so you've got one less thing to stress about.
How to Use This Worksheet
First, send a copy of this article to each of your maids (by email, fax, or mail). Have them fill out the Bridesmaid Info and send it back to you. Then start a file for bridesmaid dresses and update it as needed.
Bridesmaid Info
Attendant's name: __________________________
Phone number: ______________________________
Email address: _____________________________
Address: ___________________________________
____________________________________________
____________________________________________
Measurements
Chest: _______
Waist: _______
Hips: ________
Usual dress size: _______
STORE-BOUGHT DRESSES:
Name of store: _____________________________
Address: ___________________________________
Phone number: ______________________________
Sales associate/contact name: ______________
CUSTOM-MADE DRESSES:
Seamstress name: ___________________________
Address: ___________________________________
Phone number: ______________________________
Fabric store name: _________________________
Fabric: ____________________________________
Yards needed: ______________________________
THE DRESS
Description: _______________________________
____________________________________________
____________________________________________
____________________________________________
Designer: __________________________________
Style/pattern #: ___________________________
Color: _____________________________________
Size: ______________________________________
Date ordered: ______________________________
Date scheduled to arrive: __________________
Cost of outfit/material: $__________________
Cost of alterations per fitting: $__________
Seamstress/other costs: $___________________
Date of first fitting: _____________________
Date of final fitting: _____________________
HAS THE DRESS BEEN PICKED UP?
[ ] Yes Date: ______________
ACCESSORIES
Shoes
Designer: _______ Style #: _______ Cost: _______ Size: _______
Purchased? [ ] Yes
Headpiece
Designer: _______ Style #: _______ Cost: _______ Size: _______
Purchased? [ ] Yes
Gloves
Designer: _______ Style #: _______ Cost: _______ Size: _______
Purchased? [ ] Yes
Lingerie
Designer: _______ Style #: _______ Cost: _______ Size: _______
Purchased? [ ] Yes
Wrap
Designer: _______ Style #: _______ Cost: _______ Size: _______
Purchased? [ ] Yes
Bag
Designer: _______ Style #: _______ Cost: _______ Size: _______
Purchased? [ ] Yes
Necklace
Designer: _______ Style #: _______ Cost: _______ Size: _______
Purchased? [ ] Yes
Earrings
Designer: _______ Style #: _______ Cost: _______ Size: _______
Purchased? [ ] Yes
Other: __________
Designer: _______ Style #: _______ Cost: _______ Size: _______
Purchased? [ ] Yes
BOUQUET
Brief description: _______________________________________________
Who will give bridesmaids their bouquets? __________________________
When? ______________________________________________________
Where? _________________________________________________________