Making a Transportation Plan
Here's everything you need to help your guests—and you—get to and from the wedding with ease.
by The Knot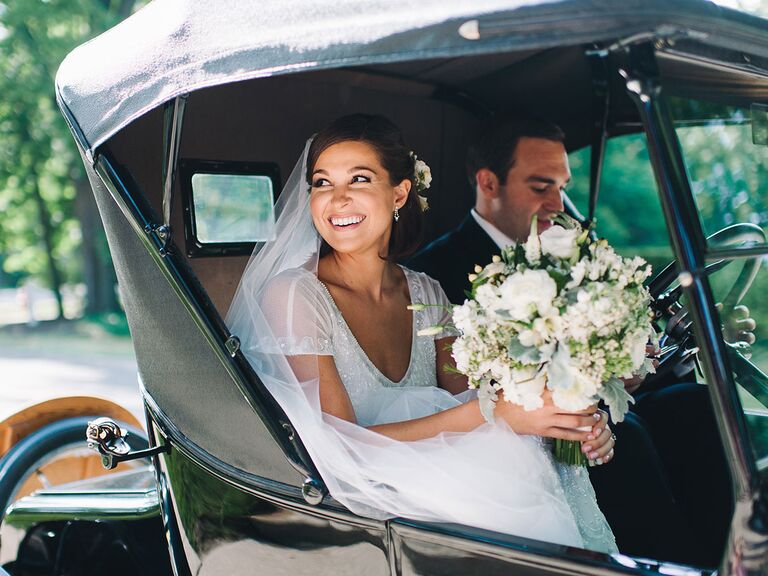 Coordinating wedding transportation isn't nearly as much fun as outfitting your registry or designing your wedding cake. To help speed up the process, we've organized everything you need to consider. Review this points and weigh your needs against your transportation budget, then start comparing rates among limo companies, parking and other transportation services in your area. 
Budget
Hopefully, you've already determined your transportation budget. Knowing your buying power will make it easier to choose services and proceed with your plan. Figure $50 to $75 per hour per car (depending on transport mode) and $20 to $25 per hour per valet for parking service. Be sure to factor in tips—about 15 to 20 percent of the bill (often conveniently added to your total in advance).
Who Pays
The couple is generally expected to take charge of their own transportation arrangements while, traditionally, the bride's family pays for the wedding party's transportation needs (to ceremony, reception and wherever the couple's going afterward), plus any parking expenses. Depending on who's footing the bill for other wedding items, transportation and parking fees should be easy to split evenly between families.
Arrival and Departure Style
Do you see yourself in a horse-drawn carriage? A lightning-white stretch? A Cadillac? A two-person bicycle? Here are some options:
Stretch limo

Classic car

Horse and buggy

Town car

Luxury car

Own car

Other
Attendants and Family Transportation
Take a head count, then calculate your vehicle needs. Compare prices as you shop around—one stretch limo might be cheaper than two town cars. Here's a breakdown of average capacities:
Stretch limos: 10 to 12 passengers

Limos: 6 passengers

Town cars: 2 to 4 passengers

Own cars: 2 to 4 passengers (determine how many each will seat comfortably, then decide if you need to rent)
Guest Needs
Depending on your reception and ceremony locations, you might not need to provide mass transport. But if you expect guests to arrive on their own, it's a good idea to cover all bases in terms of parking. Depending on the number of guests, you can choose parking attendants only or a full-service valet team. Guidelines? Four valets (or two or three attendants) plus a site manager generally can service 100 guests. Choose from these options:
Buses: 52-passenger capacity

Vans: 7-passenger capacity

Parking attendants only

Valet parking
Find a list of transportation servies in your area here.
Already have something in mind? See key points for your transportation contract here.