'Access Hollywood' Fashion Stylist Ashley Tarkington: My Registry Must-Haves
by Ivy Jacobson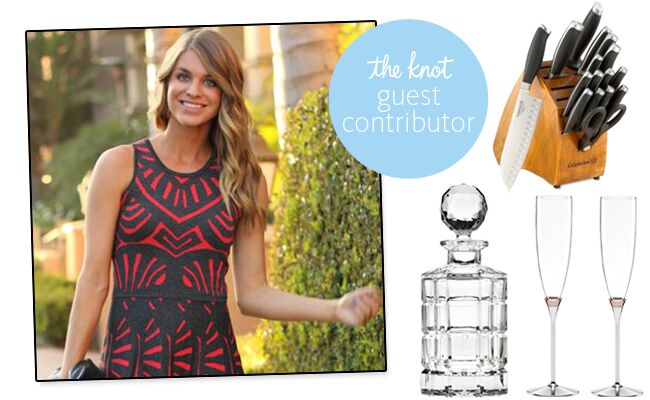 By Ashley Tarkington for The Knot
Hey brides and grooms! It's Ashley from Ash n' Fashn back with another wedding planning post. I'm now less than six months away from my wedding day and there's no turning back now because our save-the-dates have gone out. So crazy!
I wanted to tackle another wedding planning topic today: gift registries. Between the traditional registry, honeyfund and charities, there are tons of options for wedding gifts these days. We've gone to two weddings this year who forwent the typical gift registry and had guests donate to a charity close to their heart. The sky is really the limit, so you should do whatever fits with your life.
When it came time to register, my fiancé Jeff and I had a really hard time with ours. We live together and have most things we need, which made it hard to justify registering for a bunch of additional items. That said, when you're having a lot of showers and parties leading up to your wedding, your guests like having an idea of what to get you. We ended up registering for things we'll keep forever and end up passing down to our kids.
I've broken down the top eight items that I think are a must on any registry. Even if you have everything, there are some things that are fun (and useful) to get as a gift. This is also helpful for engagement gifts for couples who haven't registered yet. You can beat them to the punch with something they'll actually use!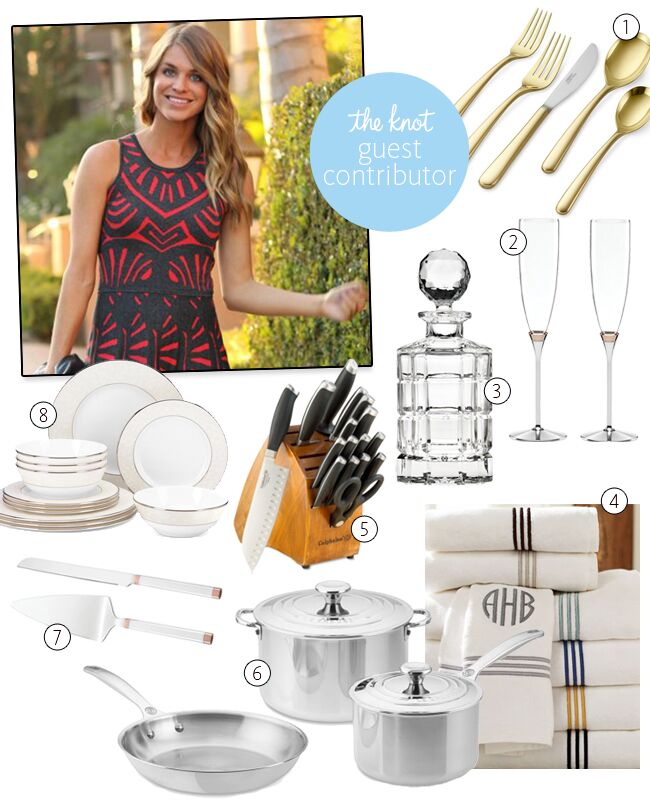 1. Soiree Flatware Place Setting, $90 – $324, Williams-Sonoma, Williams-Sonoma.com; 2. Rosy Glow Toasting Flute Pair, $85, Kate Spade New York, KateSpade.com; 3. Aberdeen Windows Decanter, $80, Godinger, Macys.com; 4. Grand Embroidered 700-gram Weight Bath Towels, $10 – $29, Pottery Barn, PotteryBarn.com; 5. Calphalon Contemporary 17-Piece Cutlery Set, $300, Calphalon, Macys.com; 6. Le Creuset Stainless-Steel 5-Piece Cookware Set, $400, Le Creuset, Williams-Sonoma.com; 7. Rosy Glow 2 Piece Dessert Set, $85, Kate Spade New York, Macys.com; 8. Lenox Opal Innocence 12-Pc. Service for 4, $580, Lenox, Macy's.com
Ashley Tarkington is the voice behind the blog Ash n' Fashn which encompasses all things fashion, beauty and home decor and lifestyle. In addition to the blog, Ashley works as a wardrobe stylist for the show "Access Hollywood" and is busy planning her summer 2015 wedding. Follow along with her onTwitter and Instagram.
Want more? Right here!
> 'Access Hollywood' Fashion Stylist Ashley Tarkington: All About My 'Desert Meets Beach' Wedding Plans!
> Pantone Color of the Year 2015 is Marsala–8 things for your wedding registry