6 Brides Share Why Their Wedding Dress Wowed Them
These stories prove a little detail goes a long way.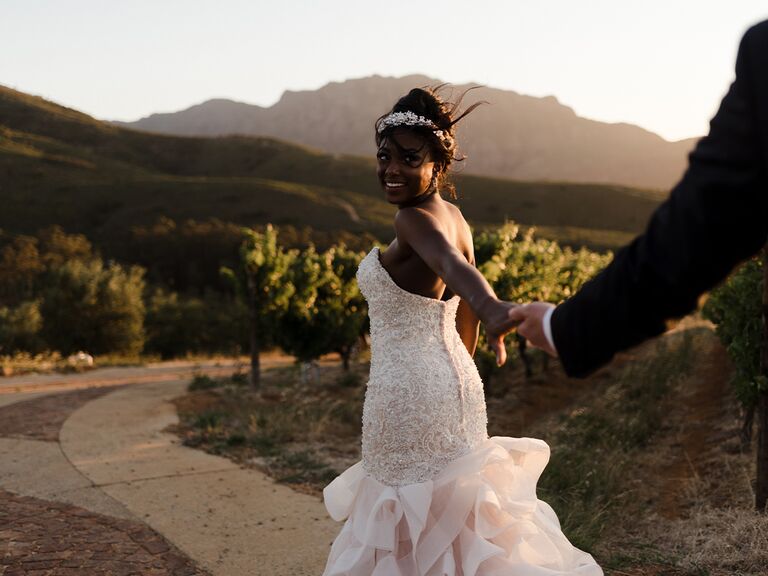 Alecia van Aarde, Studio A

There are a lot of emotions (excited, anxious, overjoyed, overwhelmed) that can come with shopping for your wedding dress. Ultimately, you're looking for that wow moment—when a gown makes you feel equal parts beautiful and comfortable, so that it just seems meant to be. Take it from these brides who found "the one"...sometimes what makes you fall in love are those extra-special touches that take a look to the next level (wait, we're still talking dresses, right?). Below, get inspo from their dress shopping stories, plus browse similar styles from Allure Bridals. Whether you're drawn to illusion backs, detachable trains or tons of beading, you'll see the beauty is in the details.
Structured Simplicity
Name: Anne Marie Prater
Wedding Date: July 3
Venue: Cavallo Point - The Lodge at the Golden Gate, Sausalito, California
The Dress: Allure Romance style: 3000
Her wedding dress wow factor: "The mermaid fit, sweetheart neckline and the structure and luxurious silk of the Mikado fabric were all my favorite. As an apparel designer myself, fit, design, construction and fabric are natural key details I look for, but the simplicity yet elegance of this gown was an instant 'love at first sight' for me. I actually felt like a princess. I've never worn such a lavish gown and what better first experience than in my wedding gown."

How she knew it was "the one:" "I knew I was looking for a mermaid cut and the perfect amount of detail. The specialist at RK Bridal had five gowns lined up on a rack for me to try on. The first dress happened to be 'the one.' It had everything I was looking for: the perfect fit, the perfect cut, the perfect ivory color, the perfect amount of structure in the fabric, and most of all, the perfect price. After I tried on that dress, there was no need to try on the other four. I'm still in awe of how everything came together in the midst of a pandemic."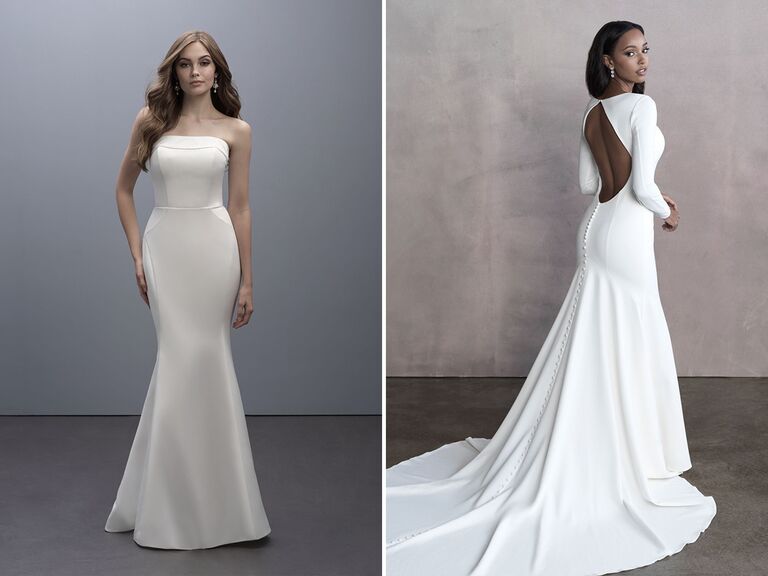 Get the look: Madison James style: MJ705; Allure Bridals style: 9801
Dramatic Detachable Train
Name: Candace Darby Phillips
Wedding Date: September 1
Venue: Ashton Gardens, Sugar Hill, Georgia
The Dress: Allure Couture style: C400
Her wedding dress wow factor: "My favorite detail was the detachable train/skirt. It was so unexpected and allowed me to have two totally different looks. I couldn't choose a style, so I got both! The ball gown silhouette was perfect for my ceremony, and the fitted gown was what I imagined for the reception. I also knew I wanted beading and a lot of it. I was able to order extra beads from Allure and have more added in alteration. I felt regal, confident and so beautiful. I thought I wanted to strictly feel 'va-va-voom' sexy, but I felt like this is exactly what I wanted my groom to see."

How she knew it was "the one:" "Everyone, including myself, expected me to have a super-fitted, sexy mermaid dress, but once I saw how grand the detachable skirt and column dress looked, I was convinced. It sounds cliché, but I just felt it. I work with wedding dresses every day (I'm a full-service bridal concierge) so it's rare that I'm speechless with a gown. I casually tried this gown on one day—no appointment, no family, no expectations, and I just said, 'I think this is my dress.' My friend was shocked because it was over a year before my wedding, but I just looked magical in it."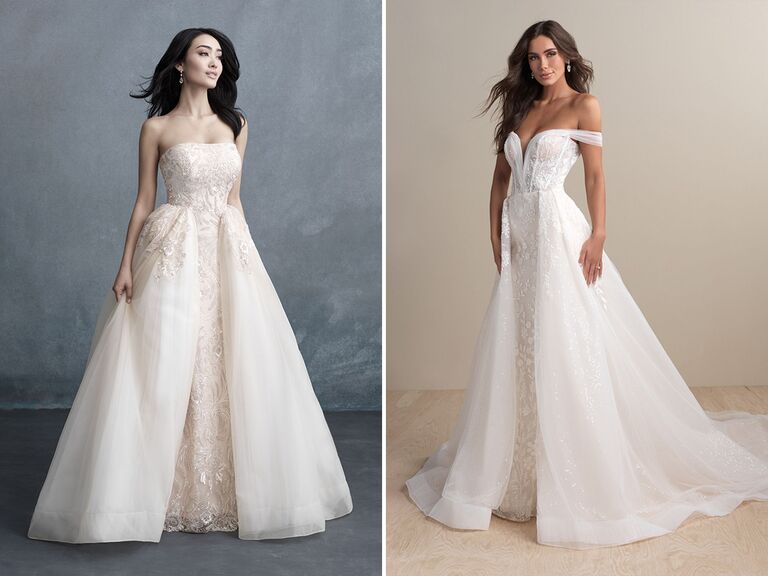 Get the look: Allure Couture style: C584T; Abella style: E158T
Cascades of Ruffles
Name: Gabriela M. Falero
Wedding Date: July 3
Venue: Russo's on the Bay, Howard Beach, New York
The Dress: Allure Couture style: C367
Her wedding dress wow factor: "My favorite detail was definitely the ruffles at the hem. It added a dramatic flair to the overall look of an already beautifully detailed gown. I felt so glamorous. Once everything—including hair and makeup—came together on our big day, I felt like more than a million bucks. The dress itself was the epitome of me: elegant and regal."

How she knew it was "the one:" "I ended up with a completely different dress than what I originally set out shopping for. At first, I was convinced that my wedding dress would be a long-sleeve mermaid gown with illusion back. But I wasn't a fan of the way many of the lace dresses felt and my main concern was how hot I'd be with a lace dress for a July wedding. I knew my dress was 'the one' as soon as I saw my mother and cousins' reactions. After trying on countless dresses, there was something about how they looked at me and how it made us all feel in that moment that assured me we no longer had to continue looking and this was the dress I would marry the love of my life in."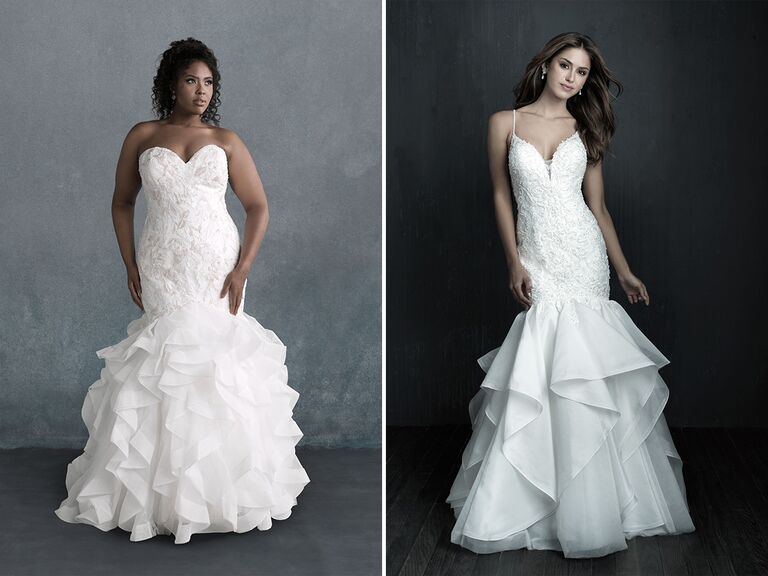 Get the look: Allure Couture style: C593W; Allure Couture style: C573
Airy Lace Sleeves
Name: Amanda Buller
Wedding Date: July 27
Venue: Amphitheatre of the Redwoods, Watsonville, California
The Dress: Wilderly Bride style: F100 - Camellia gown
Her wedding dress wow factor: "Hands down, my favorite part about my dress was the wispy lace elbow-length bell sleeves. This aspect was so elegant and the sleeves were flattering at any angle—especially when I was dancing into the night with my arms wrapped around my husband. Underneath the giant redwood trees, I felt like a woodland fairy princess. Once I put on that dress and was all glammed up, I felt so absolutely beautiful and comfortable."

How she knew it was "the one:" "I knew for sure that I wanted a dress with sleeves from the Wilderly collection. We had an outdoor wedding and I needed a dress that I could walk through the redwood forest in. This dress was the first one I put on, and after that I kept comparing every other dress to it. After trying on aGet the look: Wilderly style: F209 - Remi; Wilderly style: F207 - Gabriellebout five or so more dresses, I put 'the one' back on and knew I had to get it. Then my mother-in-law told me that she wore the first dress she tried on at her wedding as well, which was a sweet moment we shared."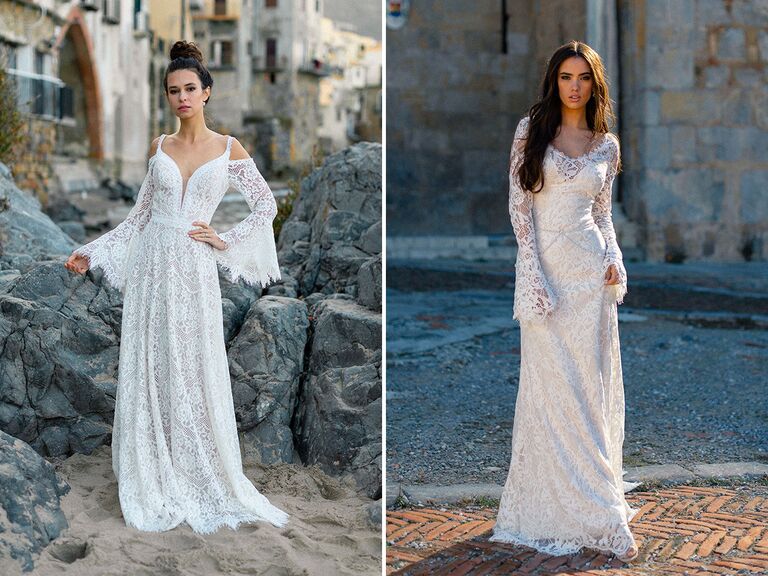 Get the look: Wilderly style: F209 - Remi; Wilderly style: F207 - Gabrielle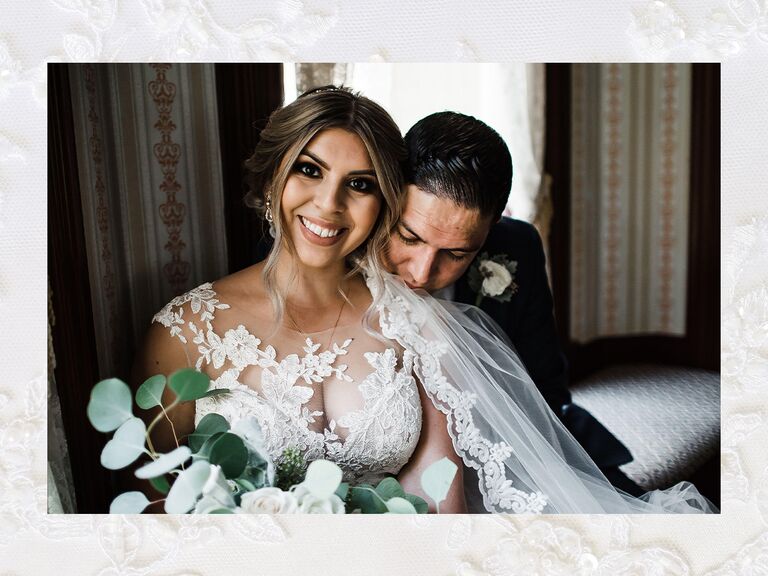 Illusion Lace Back
Name: Jazmine Corral
Wedding Date: August 18
Venue: Camarillo Ranch House, Camarillo, California
The Dress: Allure Bridals style: 9422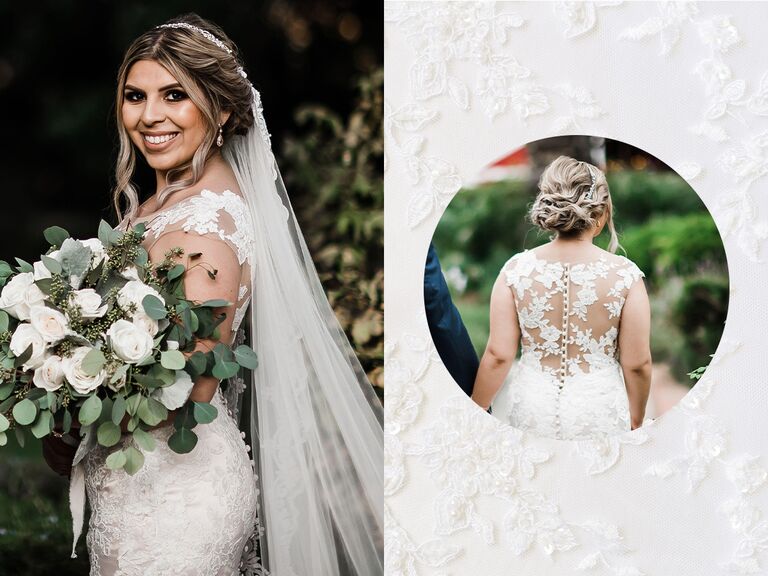 Her wedding dress wow factor: "The back of my dress was my favorite: I loved the illusion and the buttons that went from the top all the way to the bottom. I felt like it was timeless and classic and went so well with my venue because of the lace and buttons. They seemed so Victorian to me. When I had my final fitting I'd lost 30 lbs and the dress fit me perfectly after all the alterations. I would try it on at home because I loved it so much! This dress complimented my body and made me glow. I felt like it was the perfect dress for me."

How she knew it was "the one:" "When I started shopping I felt nervous about finding a dress. I was worried I wasn't going to find anything I liked and felt comfortable in. Initially I wanted long sleeves, then I went to Bella Bridal in Thousand Oaks for the Allure trunk show and tried on a few I loved. But when I finally put on this dress I felt really beautiful. After experiencing how the dress made me feel, I felt as if I didn't actually need to hide my arms. I felt like it fit like a glove. It complimented my curves and made me so happy. I knew my husband would love it when he saw it."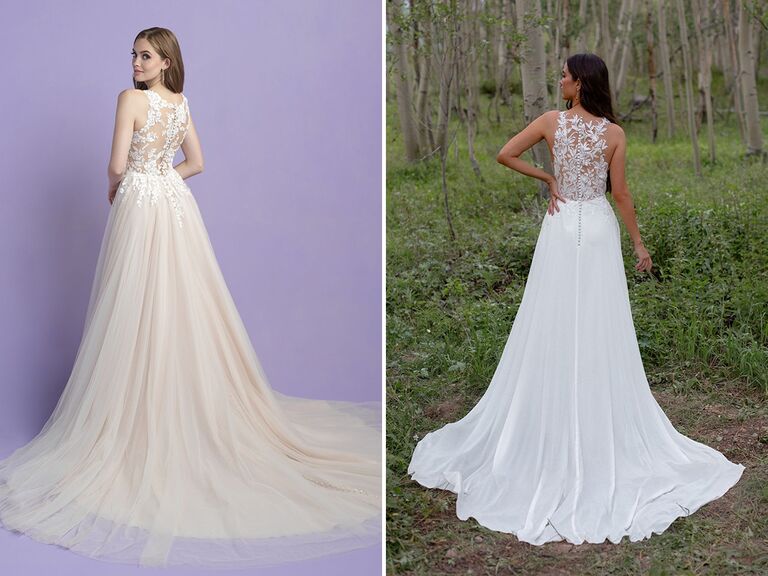 Get the look: Allure Romance style: 3406; Wilderly Bride style: F225 - Drew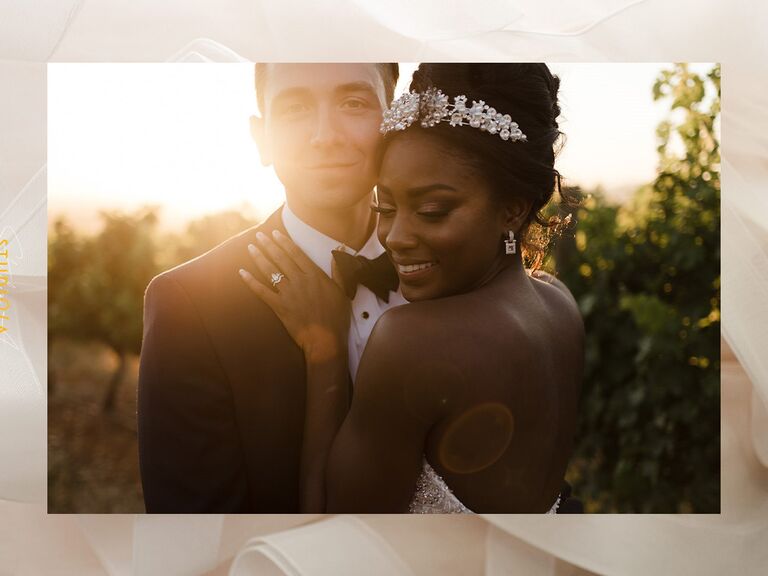 Form-Fitting Flare
Name: India Ballington
Wedding Date: December 31
Venue: Tokara Wine Estate, Cape Town, South Africa
The Dress: Allure Couture style: C389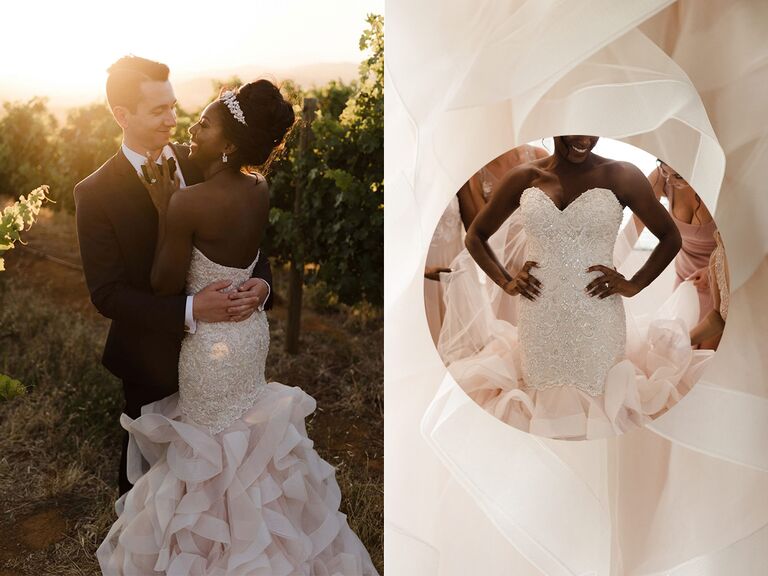 Her wedding dress wow factor: "My favorite aspect was the form-fitting style and the flare detail at the train—and it didn't hurt that it was a blush color! I wanted something that gave the impression that the dress was see-through and jeweled beading was required, because I wanted to look like a diamond. I felt sexy, like a queen, like a bride—a bride with style."

How she knew it was "the one:" "The beading and the form-fitting [silhouette] was definitely what I wanted in my ceremony dress, but I originally wanted something lightweight. I eventually decided to choose something more lightweight for my second dress at the reception instead. This dress's train felt too couture and unique to pass up. I was so stuck in what I originally thought I wanted that I didn't give this dress a try until my sister asked me to humor her. This was the first dress that I put on that gave me chills when I saw myself in the mirror."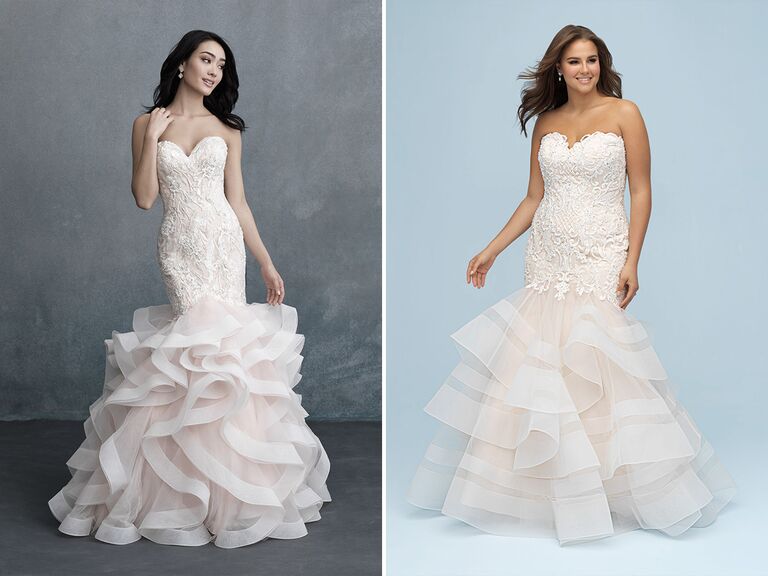 Get the look:Allure Couture style: C593; Allure Women style: W444
Want to see more? Browse the newest Allure Bridals wedding dress styles.

Image backgrounds by Dmitri Kalvan/ Shutterstock.com; Norb_KM/ Shutterstock.com; Ortis/Shutterstock.com