Alyssa Campanella's Bachelorette Party Was Seriously Stunning—See the Photos!
Fashion blogger and model Alyssa Campanella had the elegant bachelorette getaway that dreams are made of.
by Ivy Jacobson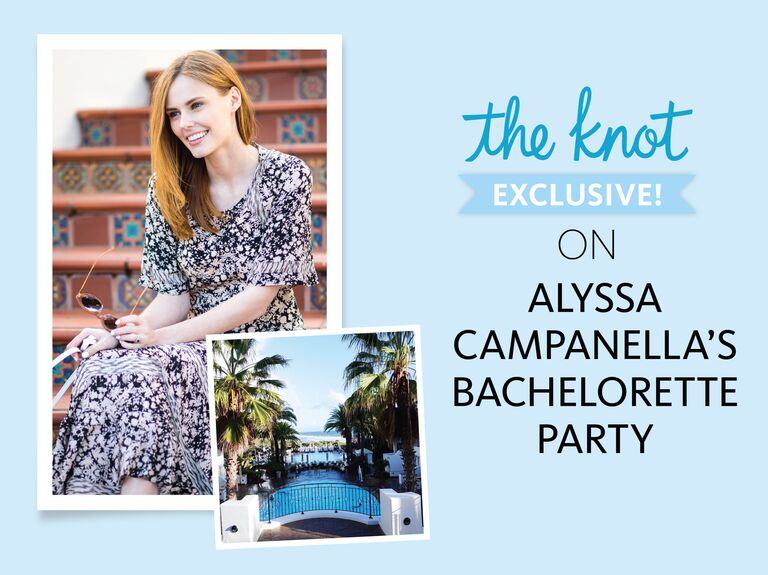 If you loved Alyssa Campanella's amazing cat-themed bridal shower, you're going to be equally obsessed with her picture-perfect California bachelorette getaway.
"For my bachelorette, I knew I wanted it to be intimate, just like the wedding," Campanella tells The Knot exclusively. "So I invited my four bridesmaids and the moms to a little weekend getaway to Bacara Resort & Spa in Santa Barbara, California. I couldn't have asked for a more perfect bachelorette getaway. It was intimate and relaxing with a lot of laughs, girl talk and plenty of wine."

On Friday, March 11, the bride and her ladies attended a wine tasting in the evening and had dinner and cake afterward. On Saturday, it was all about having an amazing breakfast and spa day.

And even though the former Miss USA's fiance, Reign star Torrance Coombs, wasn't there, his name made its way onto the bride's handmade sash with their sweet wedding hashtag: #herecoombsthebride.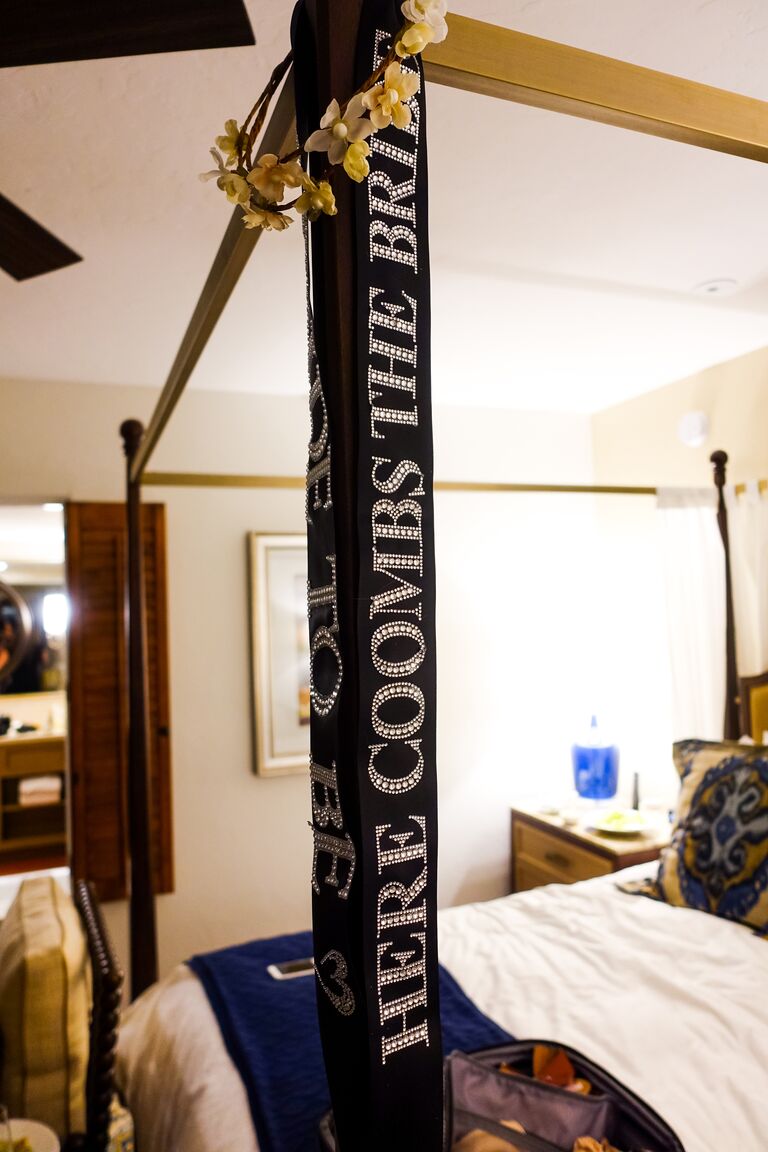 "My girls know I am not one for nightclubs, so they were not surprised when I revealed the getaway location," Campanella says. "The weekend could not have been more relaxing. My mom surprised me with a sash that she made at home that read 'Here Coombs the Bride.' "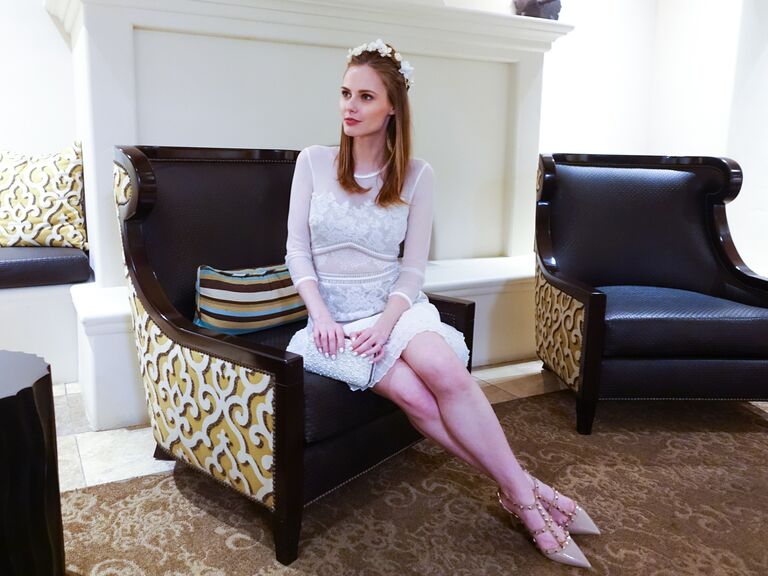 "My bridesmaid Raquel surprised me with a handmade floral crown to wear that evening, just like the one she wore to her bachelorette."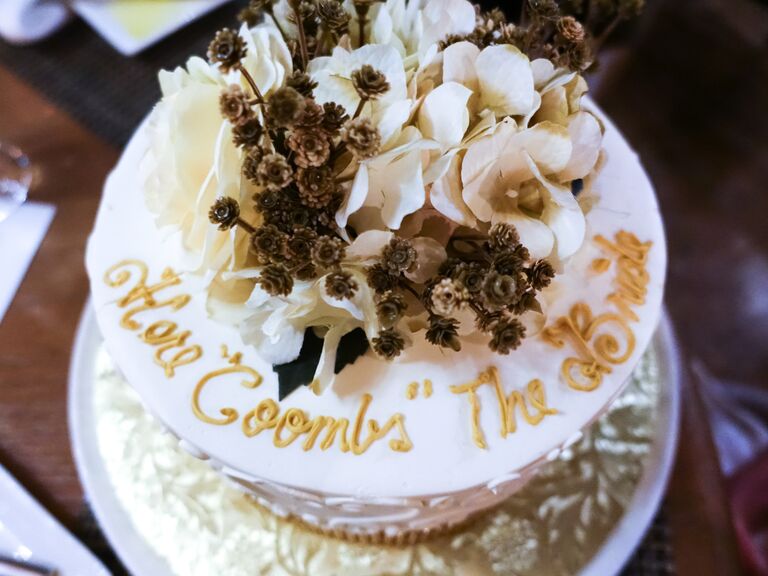 "It's no secret that I love wine, so bringing my ladies to a wine tasting at the resort before dinner was more than appropriate. We enjoyed a delicious dinner together afterward. The evening concluded with another surprise—the waiters brought out a red velvet cake with 'Here Coombs the Bride' written on it! Apparently all of my ladies had a secret text message group going on behind my back before the shower and arranged for my stepmother to pick up this cake from a bakery near her home in northern California the day before. I was super touched just seeing how much my girls had done for me."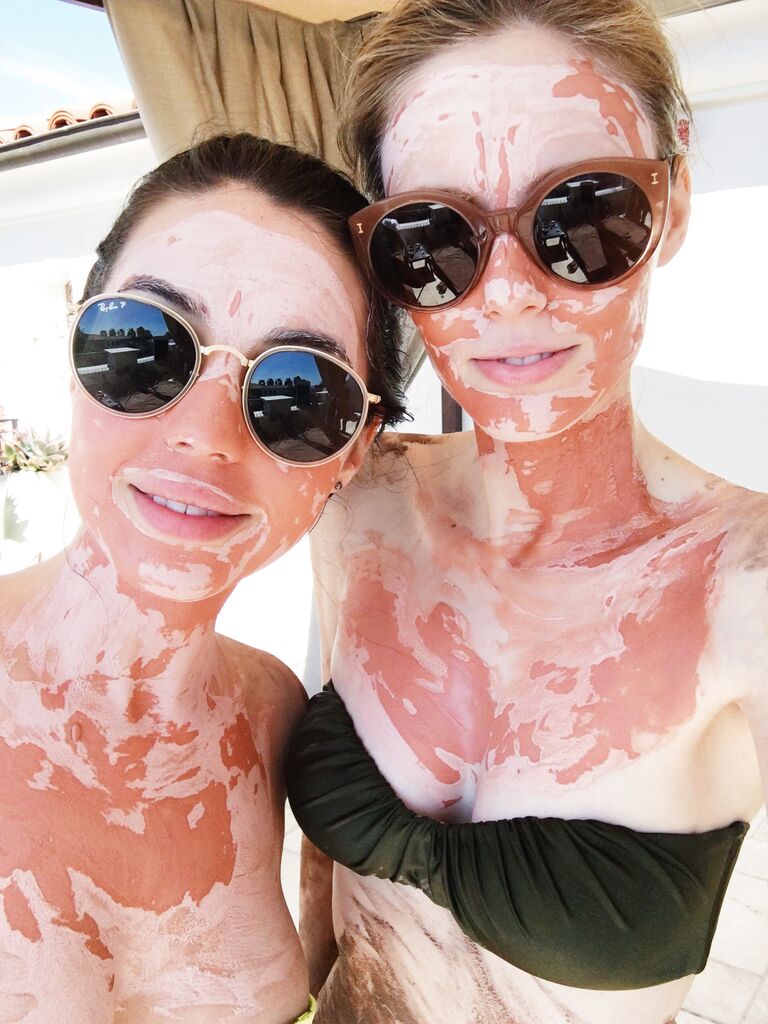 "On Saturday, we enjoyed breakfast by the pool before heading to our individual spa treatments of massages and manicures, and then we all reconvened at the spa's rooftop mud bar. The mud bar was probably the highlight of the trip for my girls. Everyone got a kick out of applying mud all over themselves and then laying in the sun for it to dry. Once it dried it would harden, so those who put too much on their faces could barely speak or show any facial expression. It was hilarious! Days later, everyone was still talking about the mud bar!"
See more photos from Campanella's bachelorette below and steal her style!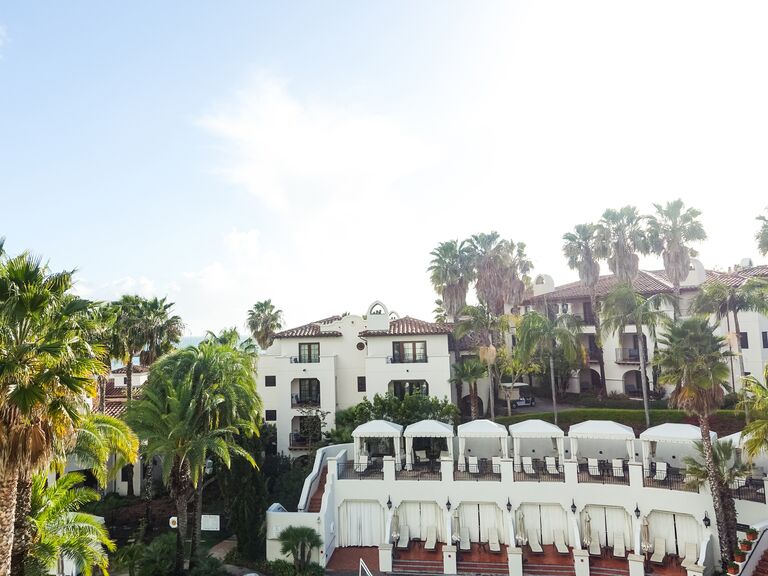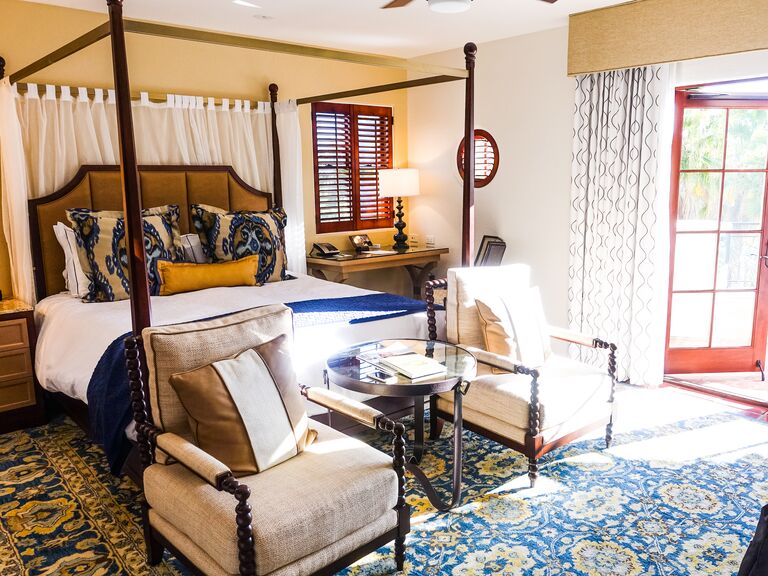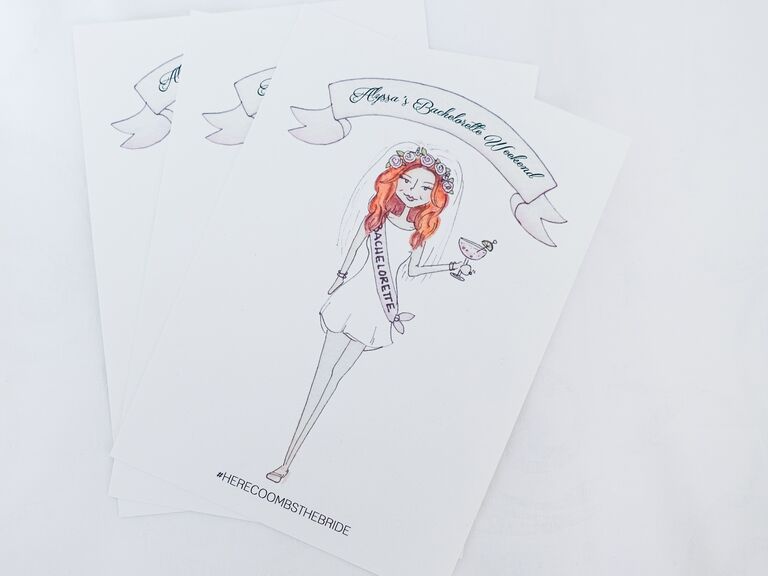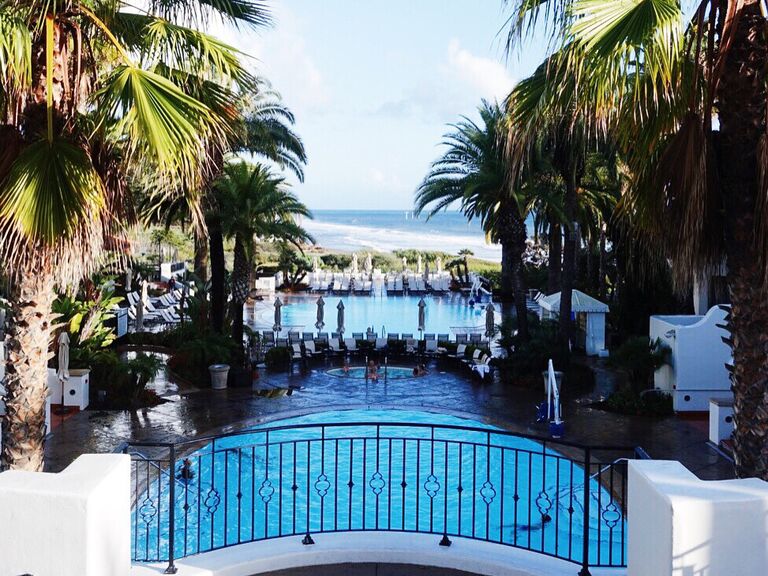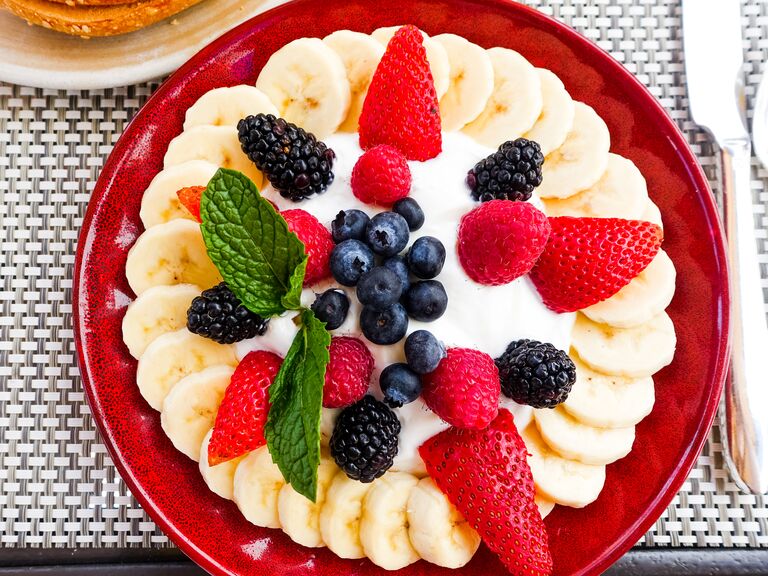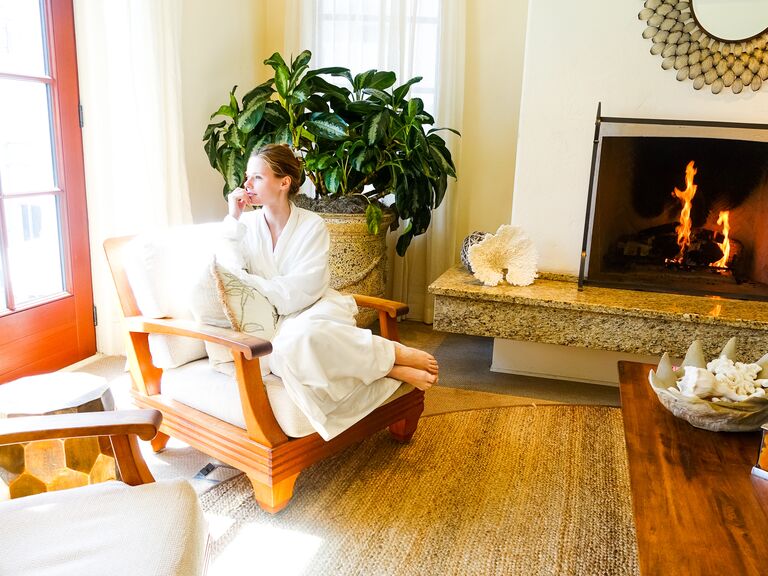 Alyssa's Bridal Shower Outfits:
Patterned maxi dress at Bacara—Rebecca Taylor dress, Aquazzura shoes, Serpui Marie bag
Dinner at the Bistro—Three Floor dress, Valentino shoes, Reiss clutch
Bachelorette Party Guest List:
Alyssa's sister and maid of honor Jessica Dolias
Alyssa's bridesmaid and Miss California USA 2008 Raquel Dorsey
Alyssa's bridesmaid and Reign star Adelaide Kane
Alyssa's stepsister Nina Junkerman
Alyssa's mother Anne-Marie Campanella
Alyssa's stepmother Dana Campanella