Am I Okay With Not Planning My Own Wedding?
by Rebekah Gregory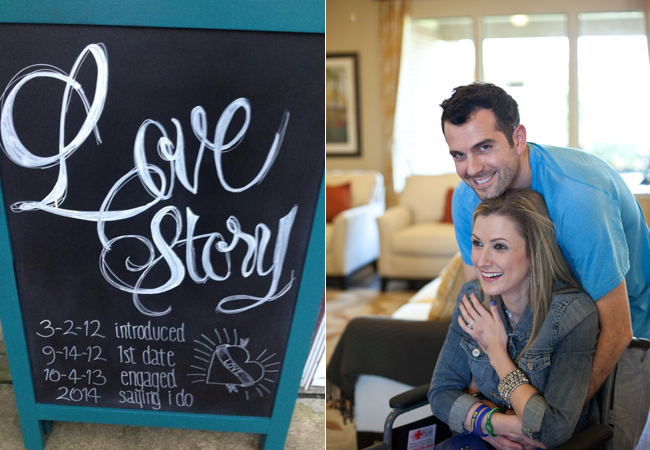 This is the second installment in a series of posts from The Knot Dream Wedding bride-to-be Rebekah Gregory. Follow our blog for weekly updates on everything from the proposal to her wedding planning and be sure to vote each week on the latest details: TheKnot.com/DreamWedding.
There are some girls that dream of their wedding from the time they are little. I have never been one of those girls. Perhaps it is because my life has always been a little messy and "out of the lines." And up until now, I wouldn't necessarily classify it as anything magical. So maybe subconsciously I was prepared to never meet my prince. Or maybe just maybe, I was in the midst of writing my own fairy tale without even realizing it. After all, it were those less than perfect moments that led me to my greatest "happily ever after" of all… Pete DiMartino.
So now because I was blown up last year and have such a handsome fiancé (it's okay to smile, really), I have been given the honor of letting America plan my dream wedding. All kidding aside, I am completely humbled that this is even an option for us. (Once again, we do not feel any more deserving than anyone else.) What I have found though, is that the number one question that people ask me about this experience is "am I ok with that?" And every single time I shake my head in amazement wondering if that is a real question. Am I "okay" with letting all the work be done for me and not having to do anything besides SHOW UP?! Seriously?! There are no words that can describe how "okay" with it I am. In fact, I am totally okay with someone planning my dream funeral too! Any takers?
On a serious note though, what I am most okay with is that there are so many people willing to help us plan the most incredible beginning to the rest of our lives. So many across the country, that are rooting for us to continue on into our happily ever after. Most that we will probably never meet that are out there cheering for us to succeed. That is pretty darn cool to me.
I think at times it's so easy to get wrapped up in the less important stuff. In this case the details of a wedding. As humans we are wired to want everything perfect. But aren't the imperfections the greatest beauties of all? In my heart I know that nothing can be picked wrong on April 4th, 2014, because I already have the only thing that matters to me: my groom. And while all of the other stuff is exciting, aside from lovely pictures in a scrapbook, the only thing that will carry on with me is Pete. So why would I rank any of the other details as that important? In fact, if you really think about it, the theme has already been chosen. It's LOVE. A crazy, messy, unanticipated union of two people that are ready to take on the world together. What could be any better than that?
But without further ado, the theme America chose alongside love is Enchanted Garden! I would like to say this was surprising to me, but the comments on our social media pages and just my initial instinct, already had me convinced that this would be the winner. And what could be more fitting for our Fairytale at the Biltmore? The single place that has over 7,000 acres of the most beautiful gardens imaginable. And with Marcy Blum as our amazing planner (who we had the pleasure of meeting with last week in NYC) it is sure to be the most magical day for us!
So as always, thank you to everyone who is a part of the voting and plans. We are truly so amazed everyday at the kindness that we have been shown through such a trying time in our lives. We can't wait to see what you guys come up with next with our beautiful selection of wedding rings from Michael C. Fina (vote here)! I hope each of you have just as much fun picking out your favorite as we did trying them on!
More About The Knot Dream Wedding
> Vote for the latest dream wedding details
> How finding love allowed me to overcome tragedy
> See the dream wedding venue!