Flower Wedding Jewelry? This Ann Arbor Florist is Making it a Thing!
The Ann Arbor–based florist shares her wedding day tips and tricks.
by Rachel Sylvester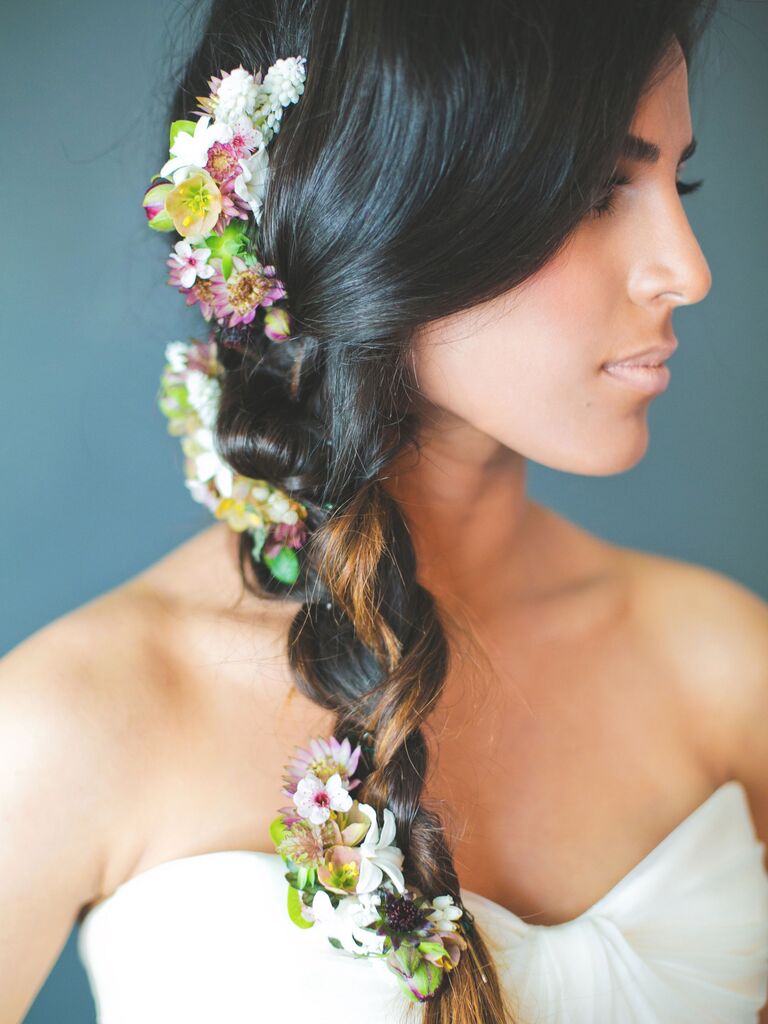 Mioara Dragan Photography
Susan McLeary
Passionflower, Ann Arbor
What's your one secret weapon?
Wonderful relationships with flower growers and suppliers. I'm obsessed with quality and I love to source special and uncommon blooms and plants for my couples. I feel this is what makes arrangements really sing.
How do you guide couples on the first steps to take when it comes to choosing their flowers?
I tell them to look at a lot of photos first—in magazines, on blogs, on Pinterest and Instagram. Look at the overall colors, shapes and feel that the flowers bring. Collect those images that inspire and excite you then decide what color family you like best. This is incredibly helpful info for your florist and a great place to start.
Are there any trends you're really into right now?
I absolutely love making floral jewelry, especially out of succulents. The jewelry makes a real statement on the wedding day, and then the succulents can be removed from the jewelry bases and planted for a really sweet and easy-to-care-for keepsake. My succulent boutonnieres can also be replanted.
Any recent over-the-top details you've planned?
One of my favorite details was a gorgeous green ceremony archway that we build on a farmhouse in Dexter, Michigan. The wedding took place during the height of the green garland trend and the planner and I wanted to make sure to put a fresh spin on the design. I decided to create panels with the greenery by creating a bold, thick arch that attached directly to the pillars on the farmhouse. It was such an impressive and visually impactful design.
What's the biggest piece of advice you find yourself telling couples throughout the planning process?
Delegate, hire a planner and rent instead of buying. A lot of couples want to provide their own candleholders, vases and sometimes even their own flowers! If the vases or candleholders are family heirlooms or really unique, I certainly make sure to incorporate them into the decor. Often though, couples think that if they buy their own vessels, they'll save money—and that's not the case. If you rent, all of the vessels are cleaned, cared for and removed by my team after the reception. Many florists have a large collection of really special rental items collected over many years, so take advantage. After the wedding, do you really want to be taking home 300 votive candleholders?
How can couples personalize their flower arrangements?
Many people I talk to have some sort of emotional connection to a particular flower or plant—whether it reminds them of their childhood, grandmother, where they were raised or a vacation that they took. I love to incorporate these items because weddings are all about the celebration of sentimentality, so if the flowers can add to that, it's a beautiful thing!
How can brides incorporate local blooms into their wedding?
I love to use locally sourced flowers whenever possible since it really ties the event to the place and season. Wouldn't it be wonderful to se the flowers you had at your wedding blooming every year on your anniversary?