Ariana Grande Reveals the First Photos From Her Minimony Wedding at Home
It's unclear whether the couple will have an anniversary reception.
Grammy winner Ariana Grande and fiance Dalton Gomez are married, and the wedding looked anything but Grande. The singer shared the first photos from her at-home, minimony nuptials on May 15, a week after TMZ broke the news that she had quietly married.
For the subtle affair, Grande chose a strapless, floor-length gown. The bride topped her look with a custom veil featuring a bow. "5.15.21," the songstress shared with her nearly 240 million followers on Instagram. The ceremony took place in front of Grande's fireplace, where the couple was surrounded by flickering candles on black tabletops and simple garlands of hanging florals cascading from the ceiling. The decor was incredibly simple with the pair opting for a white ceremony rug over an aisle runner.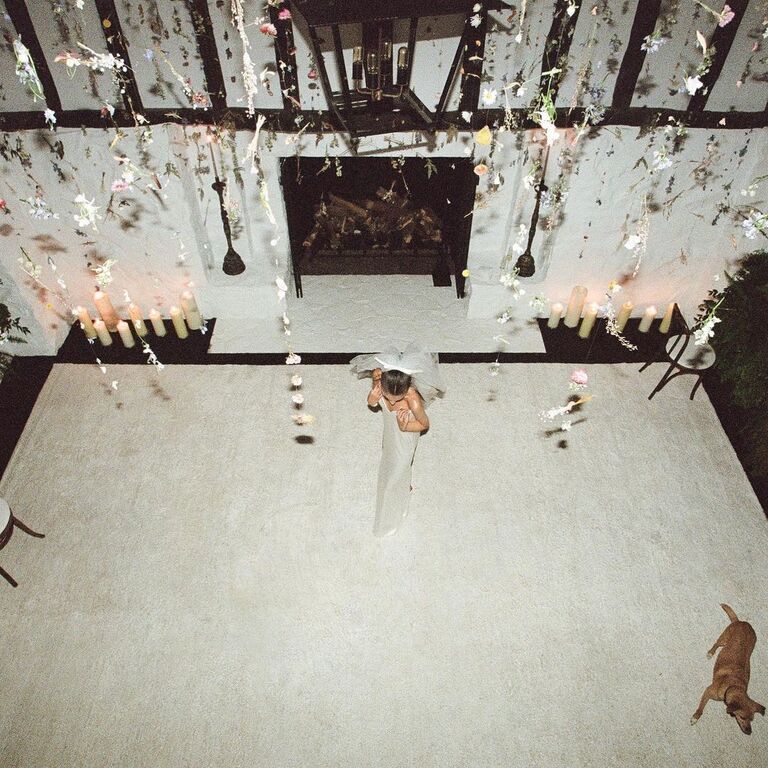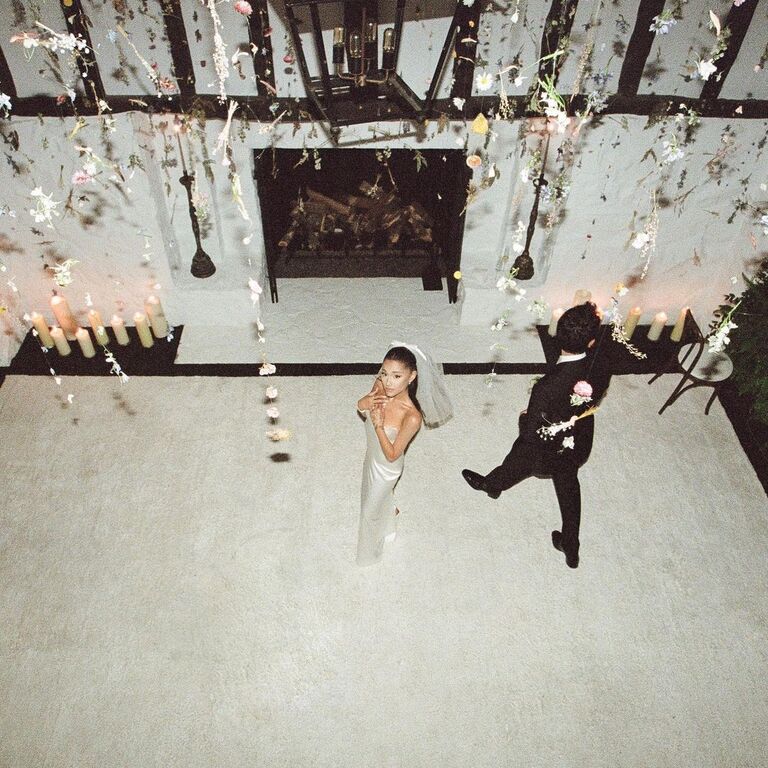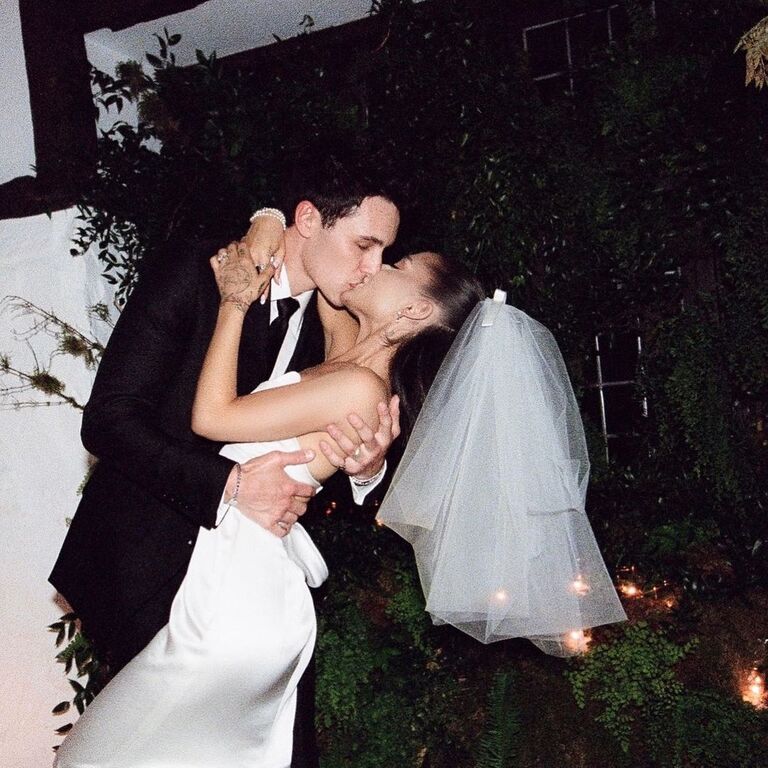 Grande and Gomez chose to wed in a low-key ceremony at her home in Montecito, California. "They got married. It was tiny and intimate—less than 20 people," Grande's rep confirmed to People. "The room was so happy and full of love. The couple and both families couldn't be happier."
There was reportedly no structure or formality to the couple's ceremony. Instead, the couple invited very few guests, making the wedding a true minimony according to our standards. The pair also exchanged informal wedding vows, meaning it was more off-the-cuff. The overall ceremony, TMZ reported, "was really just for them." It's unknown whether the couple's wedding was their one minimony or if they're planning a lavish sequel wedding down the line.
Ariana Grande's Wedding Dress Details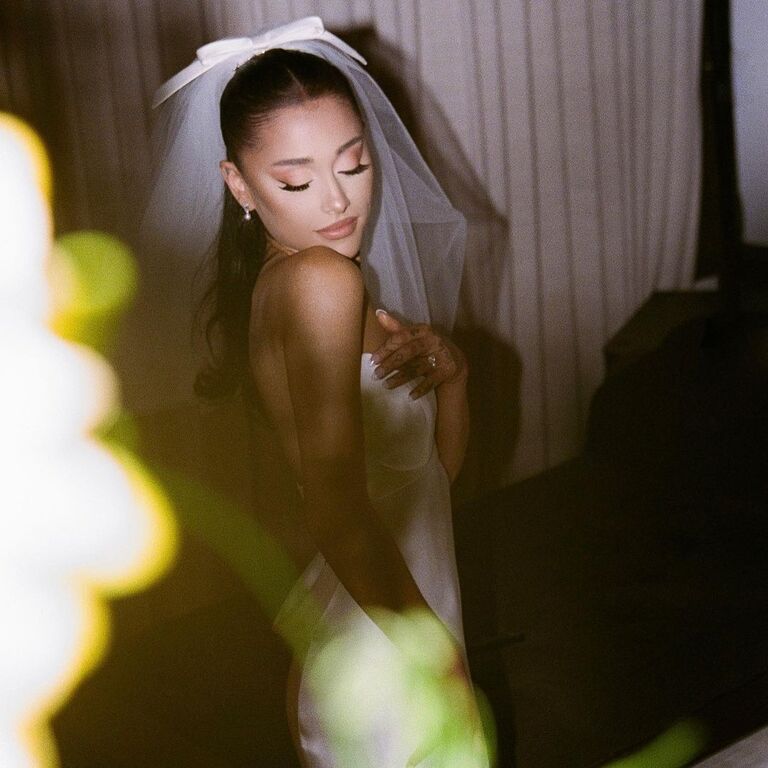 The bride opted for a simple-but-chic, strapless silk gown by Vera Wang. The dress featured a corset-style bodice and a dipped, open back. She topped her look with a veil featuring a bow embellishment to pull together the sweet look. She accessorized her dress with classic, pearl-and-diamond drop earrings custom-made by celebrity jeweler Lorraine Schwartz.
Grande kept her makeup simple by opting for a blush and nude palette, and chose a muted bridal manicure.
Ariana Grande & Dalton Gomez's Engagement
The singer, 27, revealed her engagement in late December, posting several photos with her real estate beau—ring, of course, included. "Forever n then some," she wrote on Instagram. Though their minimony came as a surprise, Grande and Gomez have been head over heels in love. In early April, the singer shared a few photos of her future husband. "My heart my person," she expressed. "Thank u so much for being u."
Celebrity jeweler Jack Solow was the name behind Ariana's Grande's engagement ring, which was custom-designed by Gomez. The realtor proposed to Grande with a toi et moi engagement ring, one of The Knot 2021 engagement ring trends. Grande's piece, in particular, features one large, diagonally-set oval diamond nestled alongside a round pearl. Both stones are set on a gold band. The diamond is at least four carats according to experts.
The toi et moi ring bears romantic significance throughout history as it represents the concept of two people becoming one. As featured on Grande's ring, the gems typically sit directly beside each other. Grande isn't the only celebrity to sport this particular style: model Emily Ratajkowski also wears this type of engagement ring.
Grande and Gomez's proposal announcement came just about nine months after they revealed they were dating. It is the "7 Rings" hitmaker's second engagement after a short-lived relationship and engagement to comedian Pete Davidson.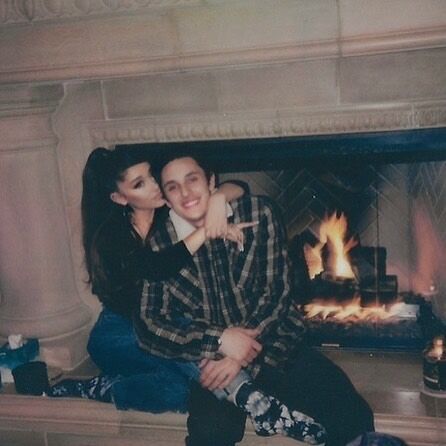 Ariana Grande's Anniversary Wedding Predictions
Though the pair is married, the newlyweds could throw a lavish anniversary reception down the line eventually for their famous friends. About half of all weddings in 2020 were postponed well into 2021 and 2022, with both anniversary receptions and sequel weddings trending across the board.
Before the forever, however, Grande and Gomez were predicted to have orchestrated what would've been the celeb wedding of the year. Grande, who's best known for singles like "Thank u, Next" and "7 Rings," still could be mulling over the possibility of a lavish anniversary reception. Below, The Knot Editors make our predictions for the couple's sequel wedding (should they choose to have one).
The Couple Could Party at a Private Estate
This was very much the case for the couple's minimony in May 2021 after they chose to marry at her Montecito home. "It seems only natural that they would get married at Ari's beautiful and historic house," a source told People of the event.
Not much is known about Grande's husband other than his professional career. Currently, he is with the Aaron Kirman luxury real estate group and has worked on million-dollar properties like a recent nearly $9 million listing in Malibu. Given his access to prime real estate properties, the couple had their selection from lavish properties to private estates for a wedding venue.
With a deep connection to Boca Raton, Florida (where Grande was raised), it was expected for the bride to choose Florida for her wedding. Indeed, they ended up selecting property that provided maximum security from the paparazzi, a sense of seclusion and privacy for their guests, and an exclusivity factor for an event that never-before-been replicated.
If they move forward with an anniversary reception, their vendor team will already be experienced with celebrity events. This will start with their planner—we imagine they could hire Marcy Blum or Yifat Oren.
She May Have Multiple Outfit and Beauty Swaps
The singer is known for her extravagant outfits, which could very well be the case for a fitting reception. One prediction is highly likely: Grande will sweep her hair into a magnificent ponytail, her trademark look, to party the night away. A glamorous cat-eye is also expected.
The Couple Will Select a Sentimental Playlist
Given the bride-to-be's musical prowess, we imagine she will have a heavy hand in the music curation throughout the day. The wedding playlist will include songs Grande has learned through the years, rather than her own hits. For example, the first tune Grande remembers singing is "Somewhere Over the Rainbow," so this classic song will certainly be involved in the couple's possible first dance.
The Guest List Will Be Star-Studded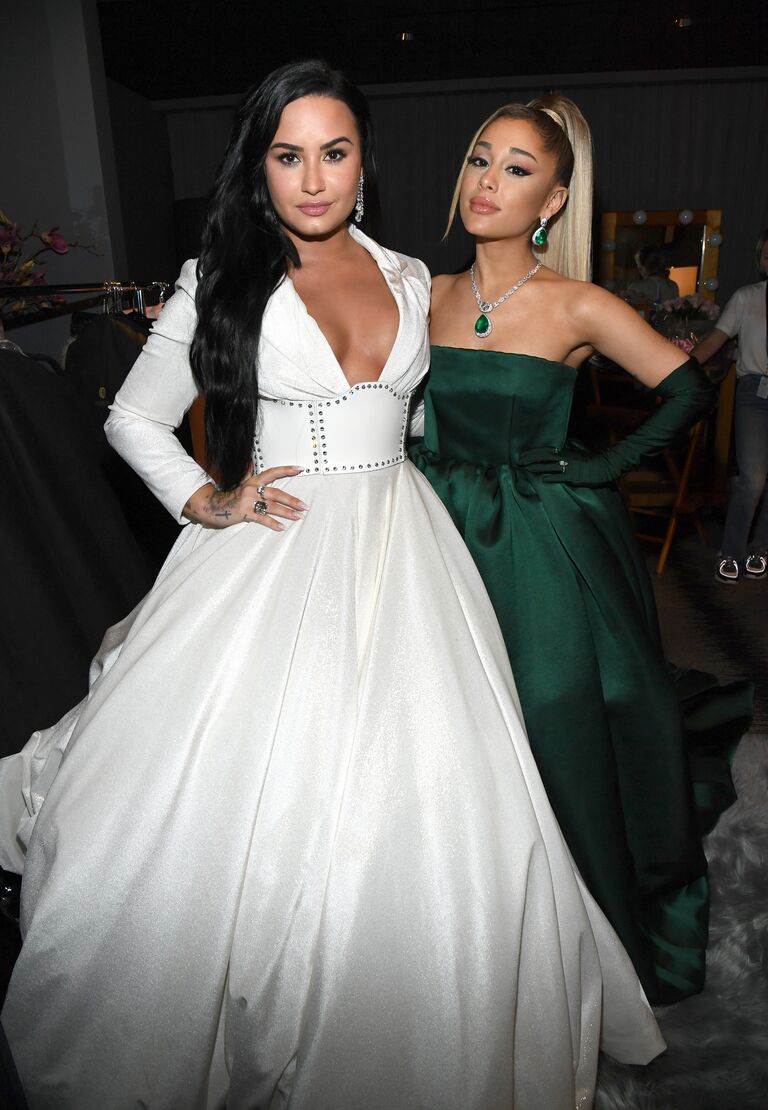 Grande has many celebrity friends who will likely end up on the guest list, including her manager Scooter Braun, whom she shares with Justin Bieber. ("Congrats to these two amazing souls," Braun commented on her engagement announcement. "Ari we love you and could not be happier for you. Dalton you are a lucky man.")
Additional invitations will go out to Victoria Monet, Grande's co-collaborator for the single "Monopoly," and Dynasty actress Elizabeth Gillies, who married in a backyard minimony amid COVID. If Grande has a wedding party, both ladies, along with her brother, Frankie Grande, will have special roles in the day.
Artists Demi Lovato, Troy Sivan, Camila Cabello, Lana Del Rey, Meghan Trainor and Miley Cyrus will also receive save-the-dates. Question marks remain next to Jimmy Fallon, Kim Kardashian, Kris Jenner, Mariah Carey and Nicki Minaj.
There Will Be Vegan Catering Options
The bride-to-be follows a "100 percent" vegan diet, meaning she will also provide catering options to accommodate guests' diverse tastes. "I love animals more than I love most people, not kidding," Grande told the Mirror of her decision, which she made in 2013. Her trainer Harley Pasternak touched on her diet two years later. "Ariana Grande, she's vegan," he told Glamour. "She loves daikon, lotus, adzuki beans—almost like a macrobiotic Japanese [diet]."
The couple will likely hire a caterer with a specialty in food science or a well-known vegan restaurant to create mouthwatering options for guests. However, that won't be the only food served at this lavish wedding. Most certainly, the couple will showcase the finest dining options, desserts included, to wow their loved ones.
The Couple Might Consider a Kabbalah Prewedding Course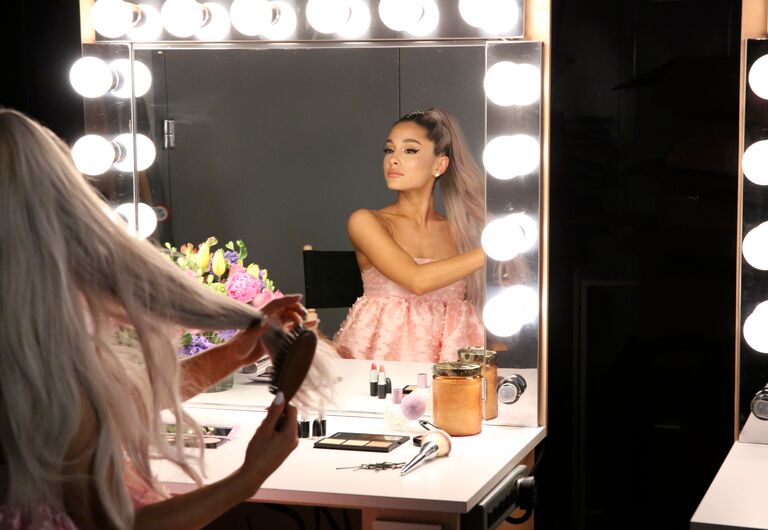 In 2014, Grande revealed she had converted to Kabbalah (a practice of Jewish mysticism) after being raised Catholic. "They were building a Kabbalah center in Florida so [me and Frankie] checked it out and really had a connection with it," Grande told The Telegraph. "It sort of stuck with me. And since then my life has unfolded in a really beautiful way, and I think that it has a lot to do with the tools I've learned through Kabbalah, I really do."