We Love Ashlee Simpson's Bachelorette Party Flower Crowns (and Embarrassing Cake!)
by Ivy Jacobson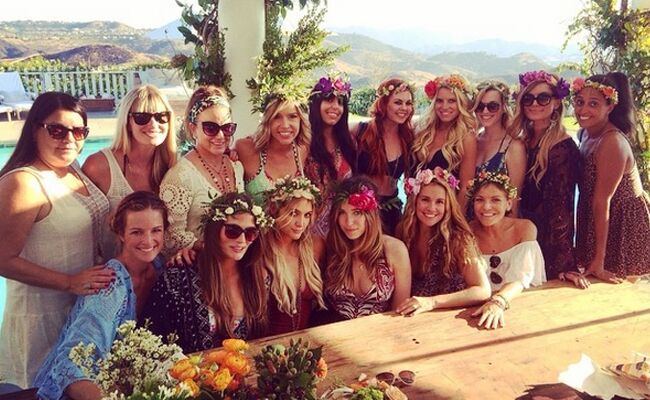 photo by
Kathryn Sykora via Instagram
Ashlee Simpson and Evan Ross's Labor Day weekend wedding is coming up, so a summery bachelorette bash was in order!
Ashlee and more than a dozen of her girlfriends recently got together at big sis Jessica Simpson's home for some poolside pampering while wearing pretty DIY flower crowns.
The floral accessory is popping up at bridal events everywhere, like Desiree Hartsock's bridal shower, but it seems only natural that Ashlee, the fairest boho-chic queen in all the land, would have them at her party.
Jessica posted a group shot and wrote, "All the beauties celebrating @ashleesimpsonofficial / @missbananahammock!!! I love you Ash."
Also at the party? A pretty cake (orchestrated by Mindy Weiss) that was decorated with daisies and topped off with a seriously embarrassing glamour shot of Ashlee from… actually, we're not sure when. All we know is that if she can rock a feathered mullet and a rodeo-style shirt in any decade, she's much cooler than we already thought she was.
Want more? Right here!
> Desiree Hartsock's bridal shower: See the pics (and pretty flower crowns!)
> 9 tips for picking bridesmaids