Here's How to Ask for Cash Gifts
Many couples prefer to ask for money rather than typical wedding gifts like china and appliances. Here's the history, etiquette and how-to of requesting and receiving cash gifts.
by Tracy Guth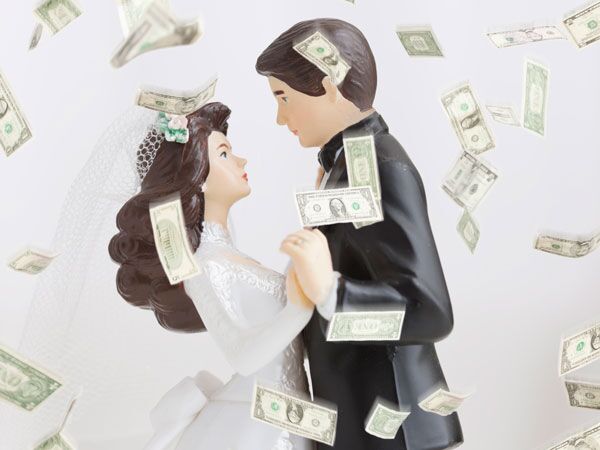 Engaged couples will always gladly accept cash wedding gifts, with many preferring gifts of money over traditional registry items like china, silver and crystal. Here's a little bit about why the cash gift continues to grow in popularity, plus some etiquette tips for the taking. (And by the way—our new Universal Registry tool allows you to register for literally anything you want, so you're definitely no longer relegated to things like china and cookware.)
The Reasons
Maybe you'd rather have a lump sum to put toward your first home, or you already live together and have long since set up house. Maybe you'd prefer cash for your rainy day fund for unexpected items. The truth is, many people have already accrued all kinds of appliances and amenities to outfit their lives, but very few would refuse a helping hand toward buying a home or new car. That's why money may be the most useful, thoughtful and appreciated gift of all.
The History
There was a time when the mavens of manners turned up their noses at the thought of giving money as a gift, but today there are plenty of people who can't think of a more appropriate present for two people beginning their new, shared life. In fact, monetary gifts have long been considered proper and acceptable in different regions of the country, as well as among people of different cultures. Guests invited to a Korean wedding often present envelopes containing cash or checks to the parents of the couple, who in turn present the money to the newlyweds. Guests at a Chinese wedding often hand the bride monetary presents in red envelopes (red symbolizes luck). There's an Italian custom called The Grand March, where the wedding reception ends with a receiving line in which the couple gives each guest a sweet in exchange for an envelope of money. During the traditional Polish Dollar Dance, guests dance with the bride and pin money to her veil or dress.
How to Spread the Word
If you decide to set up such an account, create a digital cash registry with us on The Knot Cash Funds, and let your parents, close relatives and friends know that when other guests ask what you'd like as a wedding gift, they can tell them cash would be most appreciated. A great place to convey your gift preferences and registry picks is on your wedding website. But our advice is not to forgo some sort of traditional registry completely. Give guests a choice—some may really want to give you something material.
Quick Tips for Checks
Some guests may still want to write you a check, so if anyone asks, checks before the wedding should be made out to the bride or groom (they should use the bride's maiden name, even if she's planning to change it). After the wedding, checks should be made out to the bride and groom. Besides being the traditional way to go about it, this just makes cashing the checks easier. At the reception, ask someone you trust, like the best man or maid of honor, to be in charge of collecting envelopes. You might even want to make him or her responsible for keeping the checks for you while you're on your honeymoon.
It's the Thought That Counts
There's no hiding how big or small a cash gift is—same as a gift off of a traditional registry. But the thought behind each one remains the same, so your thank-yous shouldn't vary in size, either.
Not sure where to begin with your wedding planning? Take our Style Quiz and we'll pull together a custom wedding vision and vendors to match, just for you. After that, create a free, personalized wedding website to keep your guests informed (and excited!) about your plans, and a time-saving Guest List Manager to organize your attendees. Even better? You can sync your Guest List Manager and wedding website to update everything at once.