35 Bachelorette Party Decorations That Are Fun and Affordable
Banners, pinatas, balloons, oh my! Check out our favorite bachelorette party decorations and supplies right here.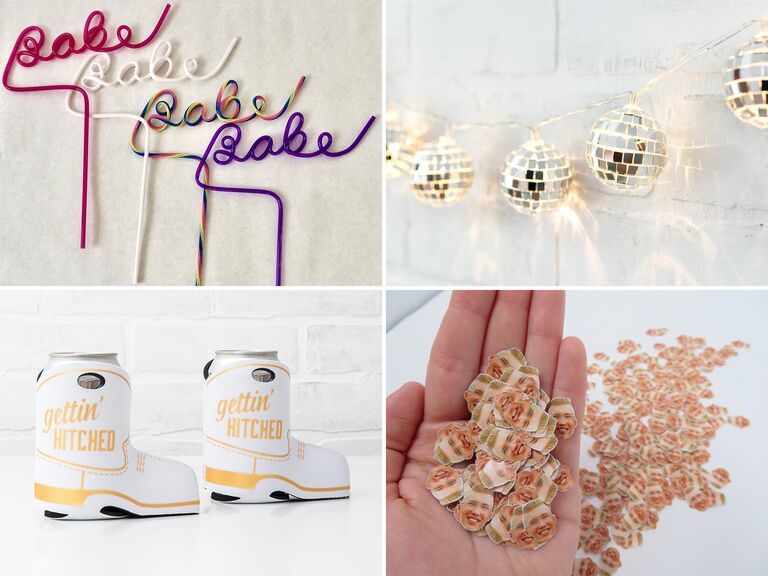 We have included third party products to help you navigate and enjoy life's biggest moments. Purchases made through links on this page may earn us a commission.
Are you putting together an awesome bachelorette party for the bride and her crew? Then you need some decorations. Setting up a fun ambience is one of the easiest ways to make guests feel comfortable, which is also the first step to mixing and mingling. This is the most laid-back of all the wedding bashes, so letting loose is kind of the point. Plus, bachelorette parties usually have guest lists that are made up of different family and friends who are meeting for the first time, so creating a welcoming environment is key.
Shop some of our favorite bachelorette party decoration ideas below—we've got balloons, banners, signs and accessories you'll love. And because we know this celebration also doubles as a major photo-op, we've picked supplies and decor your Instagram followers will love too (sorry, not sorry).
1. Big Balloon Arch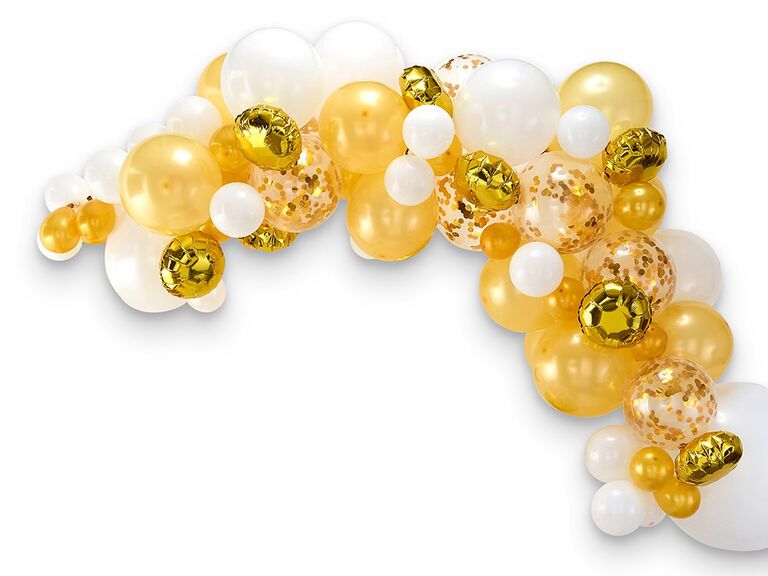 Nothing makes a statement quite like a balloon arch, and this kit helps you create one. Hello, bold bachelorette party decor!
The Knot Shop balloon arch kit, $30, TheKnotShop.com
2. Complete Decor Kit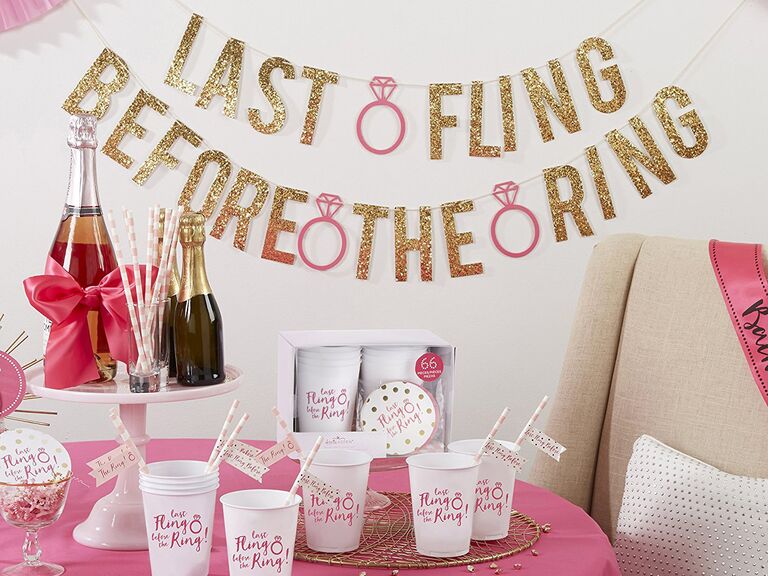 If you don't have the time to DIY bachelorette decorations, go for an all-in-one kit like this.
Kate Aspen Last Fling Before the Ring 66 piece bachelorette party kit, $35, KateAspen.com
3. Engagement Ring Ice Cubes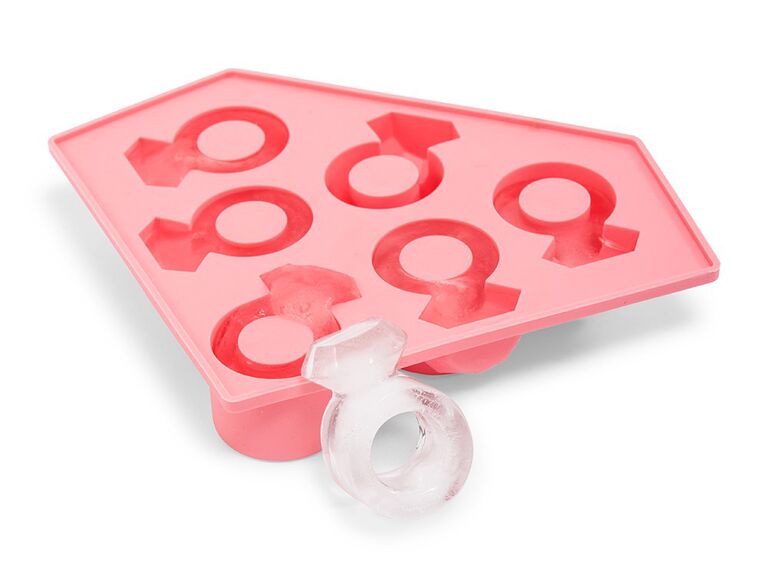 Use a clever silicone tray to make ring-shaped ice cubes or Jell-O shots that'll have everyone taking photos.
The Knot Shop novelty diamond ring ice cube tray, $6, TheKnotShop.com
4. Diamond Pinata
Willing to splurge? This massive pinata doubles as a bachelorette party activity, so you're really paying for two supplies for the price of one.
Chiciata diamond pinata in Gold & Silver, $78, Etsy.com
5. Queen Bee Plates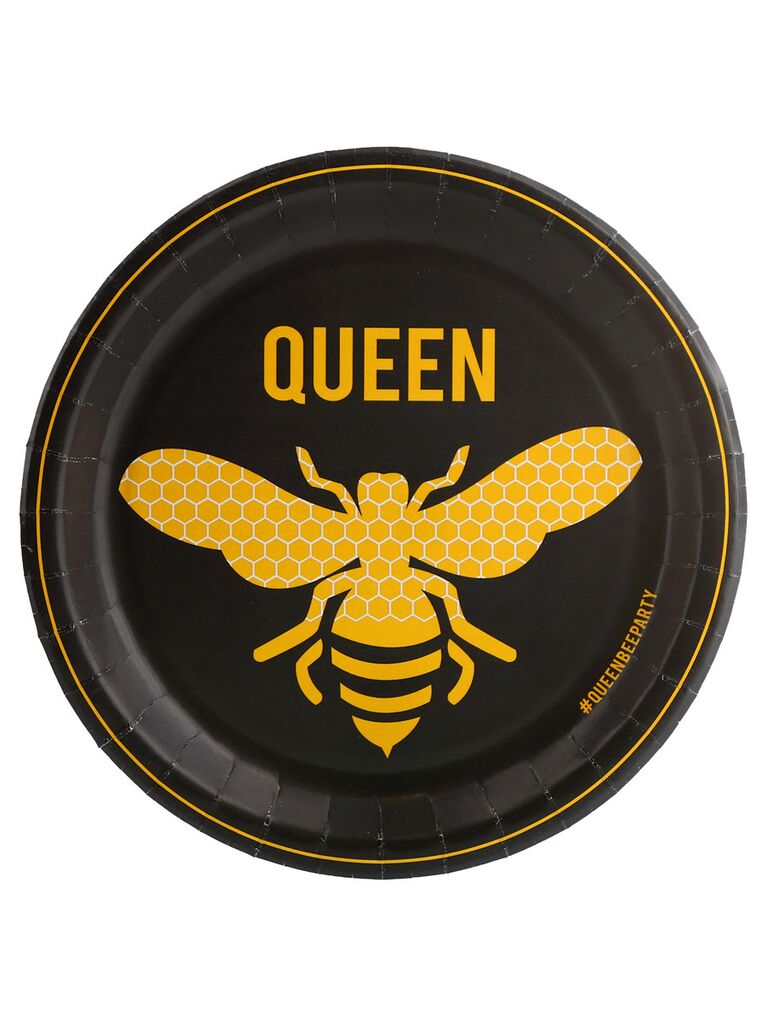 Let the bride know she's queen bee for the day with these clever and cute bachelorette party accessories.
Wholesale Party Supplies Queen Bee black dinner plates, $5 for a set of 8, WholesalePartySupplies.com
6. Bachelorette Party Backdrop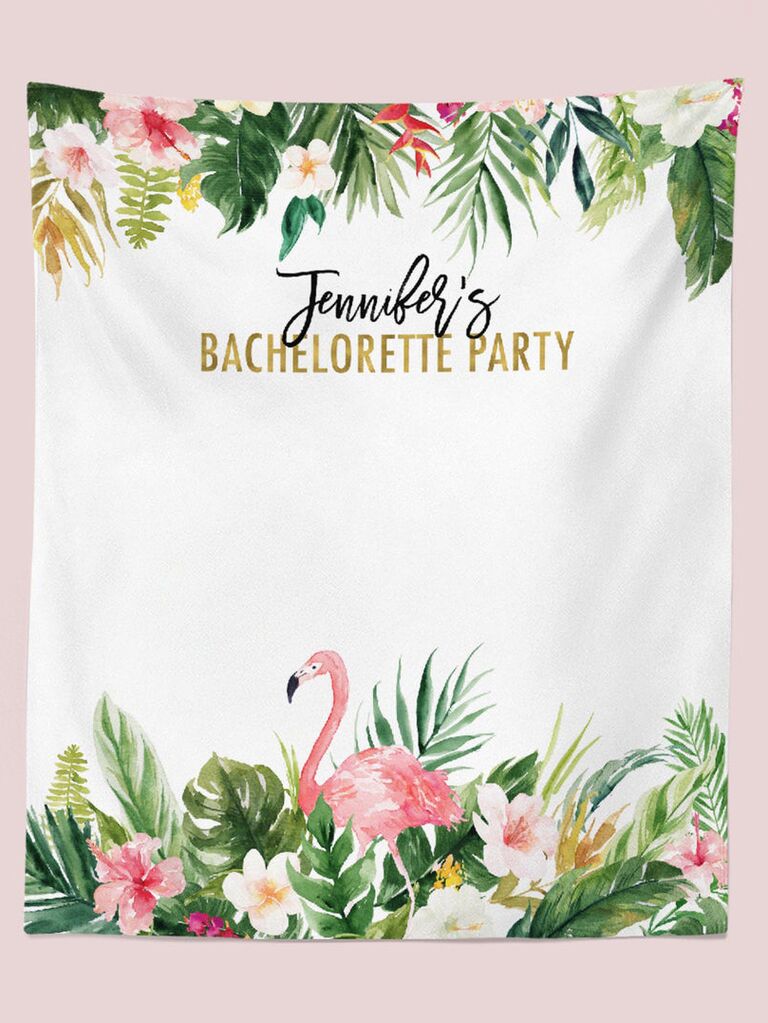 What happens at the bachelorette party stays at the bachelorette party, right? Not if you get click-happy with your friends in front of this beautiful backdrop.
Blushing Drops custom tropical bachelorette party backdrop, from $76, Etsy.com
7. Modern Plates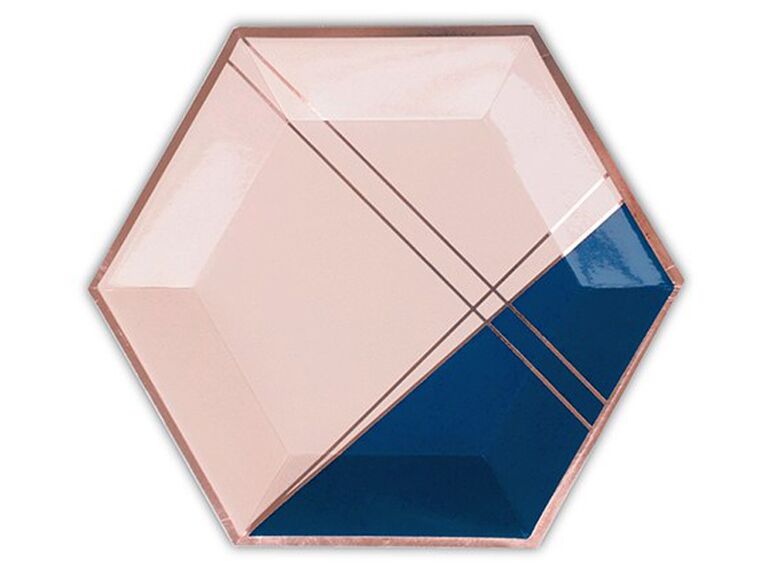 While some weddings stick to classic white, bachelorette party decorations can get playful and colorful. Chic hexagon-shaped party plates in pink and navy are both stylish and fun. (There are cute coordinating napkins to pair them with too.)
The Knot Shop rose gold & navy hexagon party plates in Large, $7 for a set of 8, TheKnotShop.com
8. Photo Props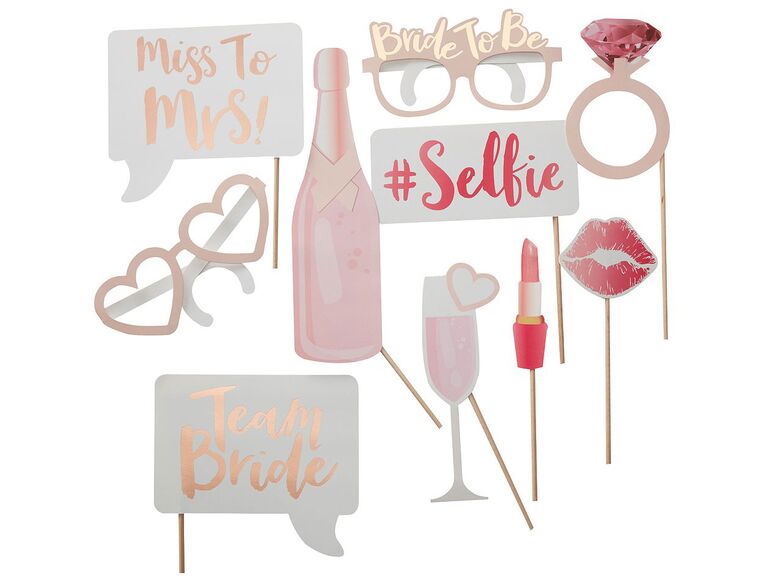 What's a party without a selfie station? Put out a few cheeky bachelorette party accessories so guests can snap pics with the props, either in a photo booth or using their own phones.
The Knot Shop photo booth props in Bachelorette Party, $9 for set of 10, TheKnotShop.com
9. Heart Sparklers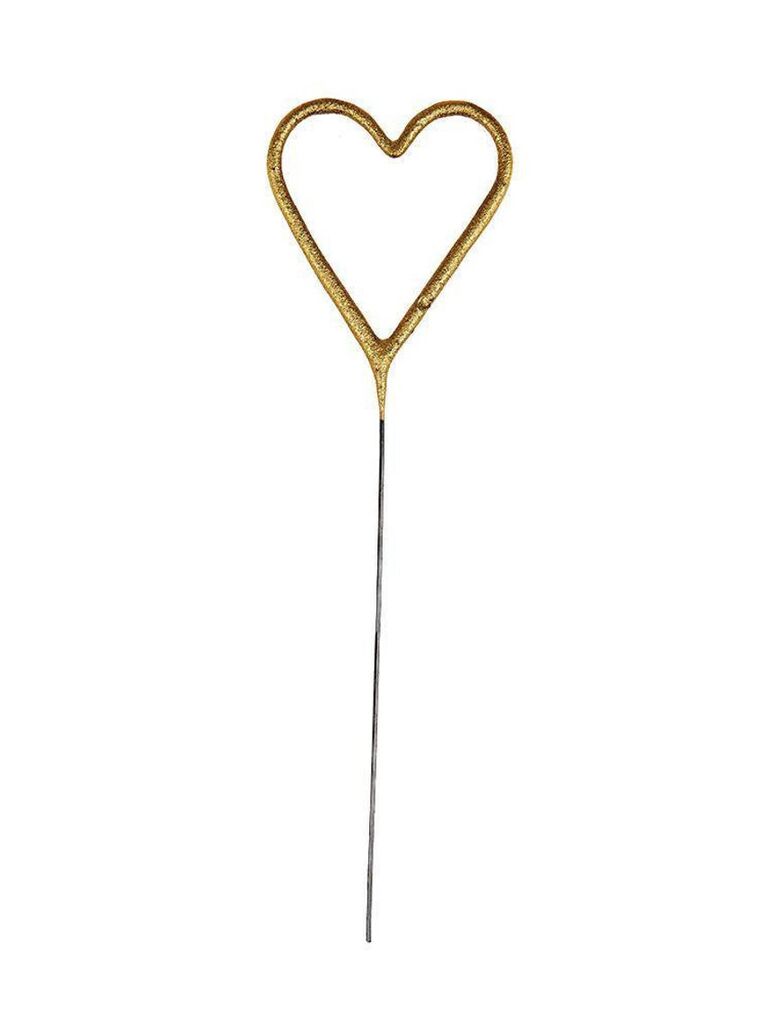 A cute Insta moment with heart sparklers? Check. These bachelorette party supplies will put a twinkle in everybody's eyes.
Meri Meri gold heart sparkler candle, $10, Etsy.com
10. Bling Balloon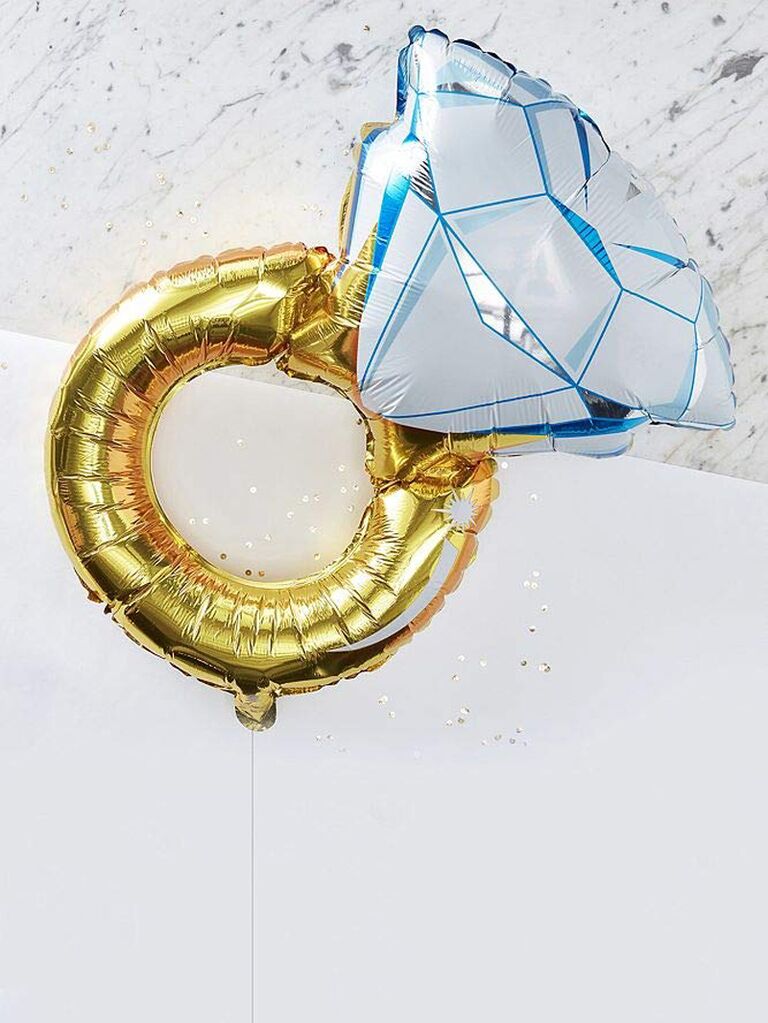 The more bachelorette balloons, the better—that's our motto.
Ginger Ray foil ring balloon, $6, Amazon.com
11. Splashy Signage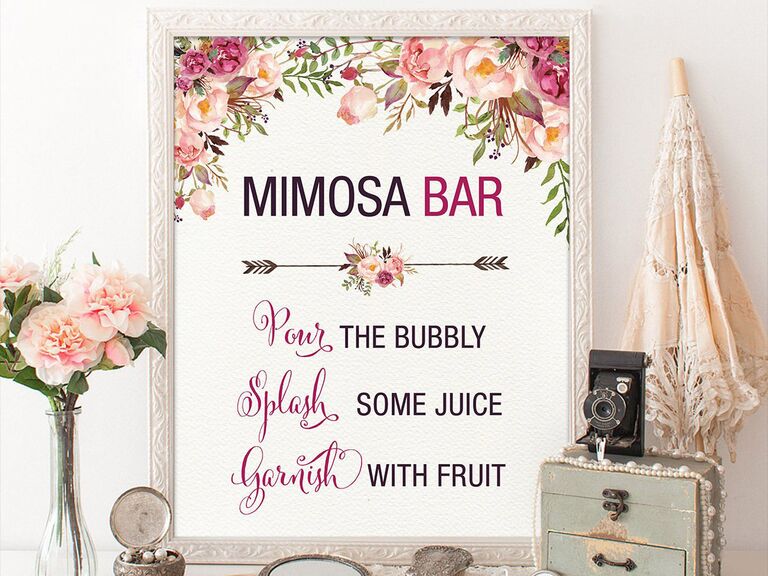 Going the route of a DIY cocktail station, like a mimosa bar? Don't forget the signage!
Blue Bunny Bride printable mimosa bar sign, $4, Etsy.com
12. Bachelorette Party Sign
She said yaaas! Hang this bachelorette party sign proudly—guests will get a giggle.
Xo, Fetti She Said Yaaas bachelorette party decorations banner, $9, Amazon.com
13. Cheers Napkins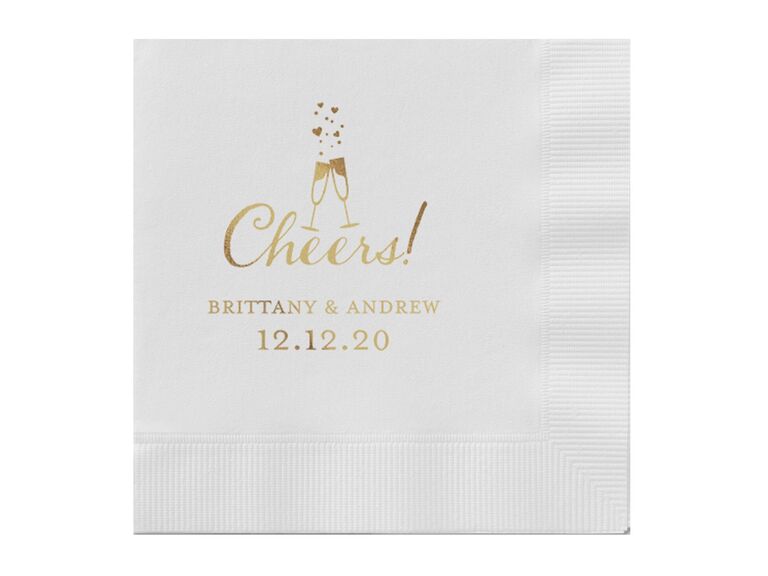 Metallic stamped napkins are a classic bachelorette party decoration idea. They can be personalized with the bride's name or with the couple's names and reused for other wedding celebrations.
Yours Truly Cherished Cheer napkins, $35 for a set of 50, Shutterfly.com
14. Diamond Cupcake Toppers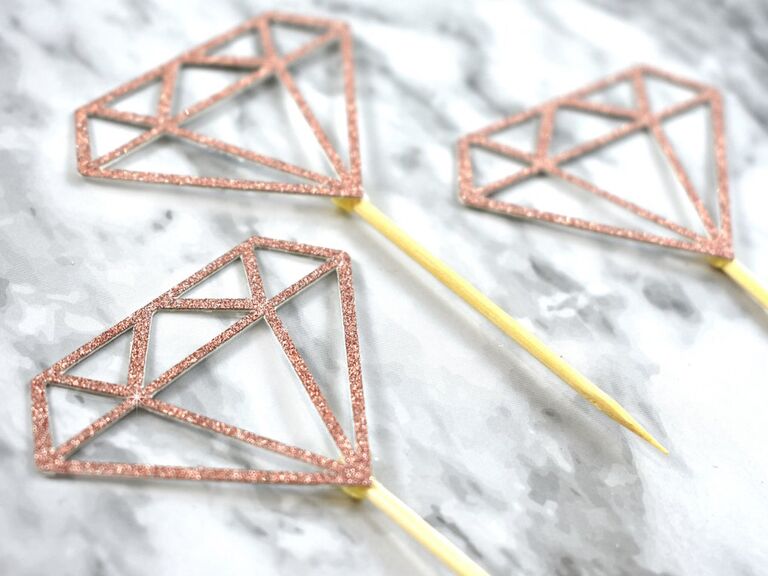 Cupcake toppers are the sparkly little detail you didn't know you needed. They're perfect for elevating dessert or cheese tables to a whole new level.
Cuckoo Lane Designs diamond glitter cupcake toppers, from $7 for set of 6, Etsy.com
15. Light Garland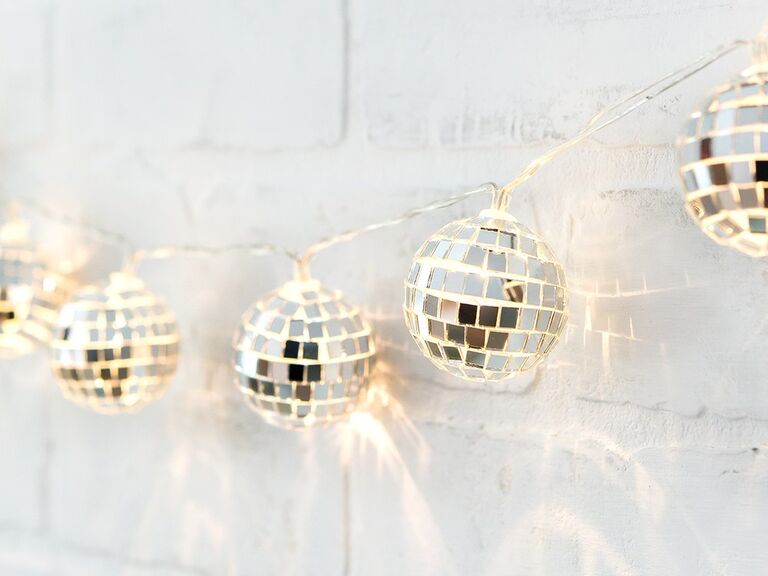 Festive garlands are always a good bachelorette party decoration idea. String light garlands? Even better. These ones come shaped like disco balls (the '70s are trending, baby!), but there are other cute options (including flamingos and paper lanterns) to choose from.
The Knot Shop decorative battery operated LED string lights in Disco Ball, $15, TheKnotShop.com
16. Doughnut Stands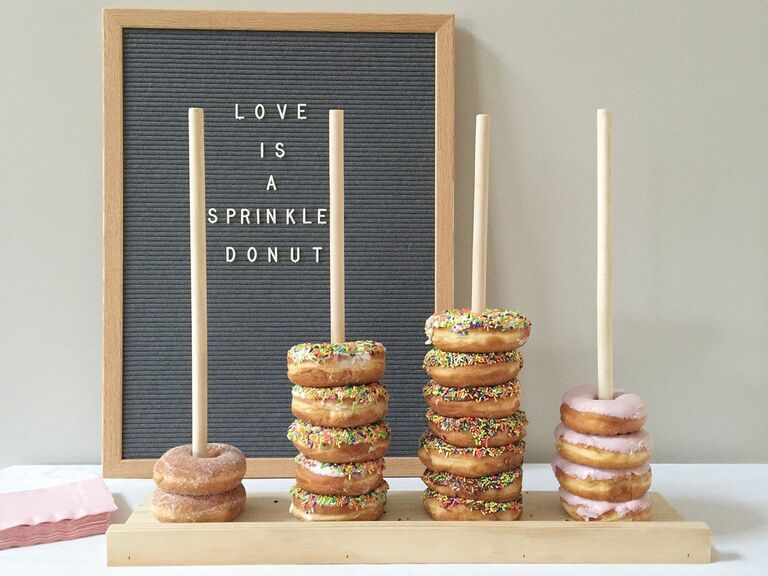 For a low-maintenance doughnut presentation, use a stand instead of a wall. You even have the option to personalize it for added charm and character.
Modern Silo donut stand, $38, Etsy.com
17. Team Bride Banner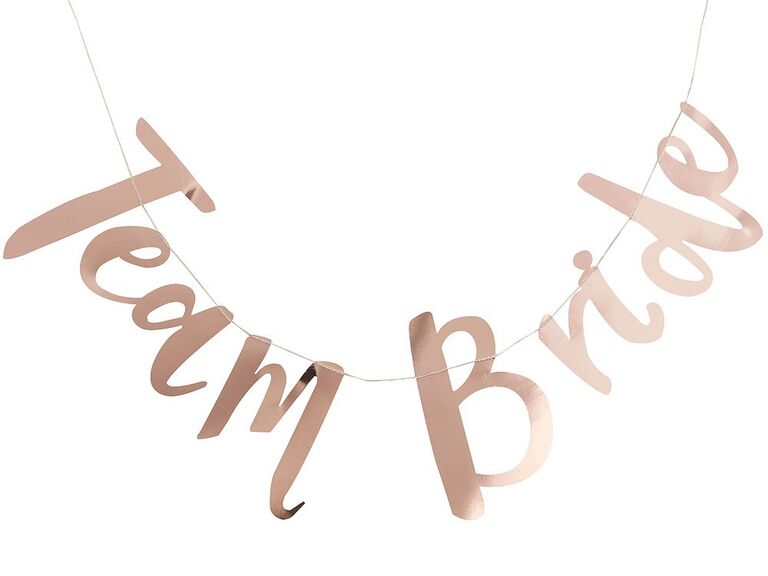 Party guests will want to say loud and proud they're on team bride—or at least this bachelorette party banner will say it for them.
The Knot Shop team bride metallic rose gold banner, $9, TheKnotShop.com
18. Princess Bachelorette Party Sign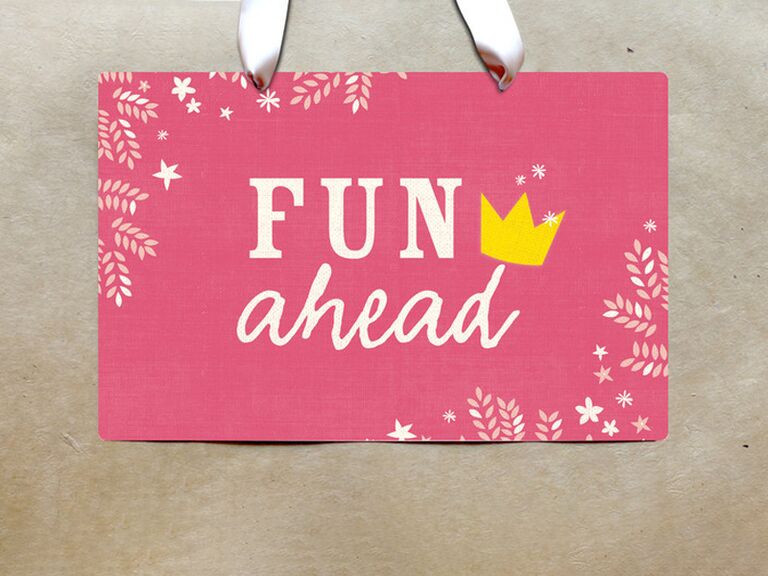 Need to show guests where the party's at? Set up a bachelorette party sign that tells them there's fun ahead (or to the left or the right … or around the back—the text is customizable).
Snow and Ivy princess crown personalizable party sign, $14, Minted.com
19. Glitter Balloons
Make a large space feel more intimate by adding overhead bachelorette decorations.
Banzi Balloons rose gold jumbo confetti balloon, $18, Etsy.com
20. Cheerful Foiled Cups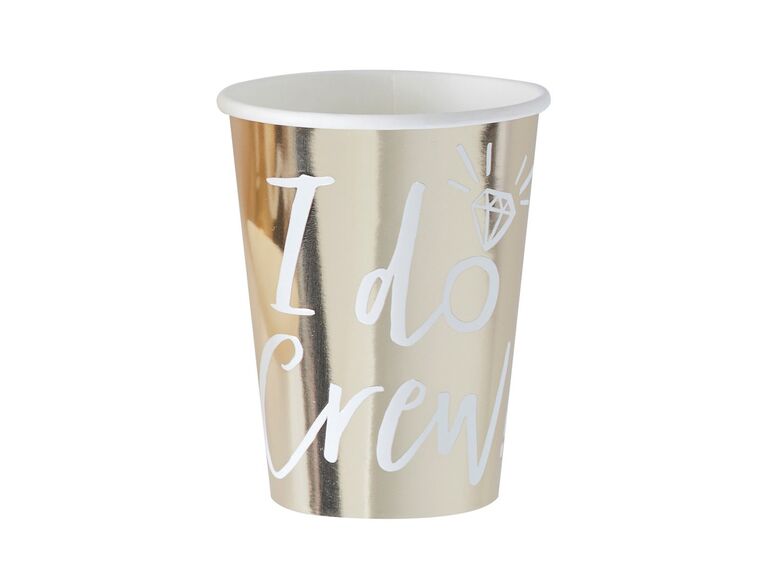 Dirty dishes are the worst part of throwing a party. Eliminate post-party clutter by serving drinks in pretty, disposable drinkware.

Ginger Ray gold foil I Do Crew party paper cups, $6 for set of 8, Target.com
21. Bachelorette Party Cake Topper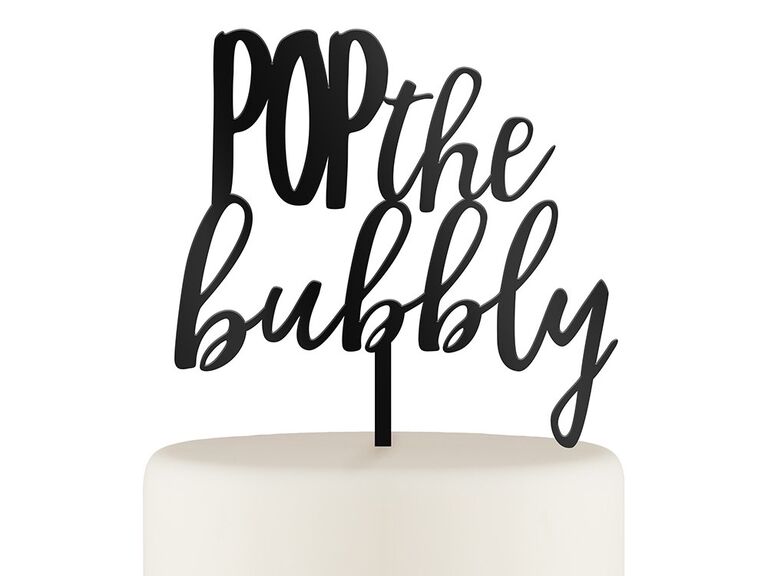 Yes, you can have a bachelorette cake. And we recommend a cute cake topper to go with it.
The Knot Shop Pop the Bubbly acrylic cake topper, $18, TheKnotShop.com
22. Cute Stir Sticks
Go stir crazy with these. Mix some razzle dazzle into your cocktail party and choose your favorite color to tie in with the theme. It shows you've left no detail unplanned.
Atomic Kraftworks Love wedding cocktail stir sticks, from $15 for set of 6, Etsy.com
23. Silly Koozies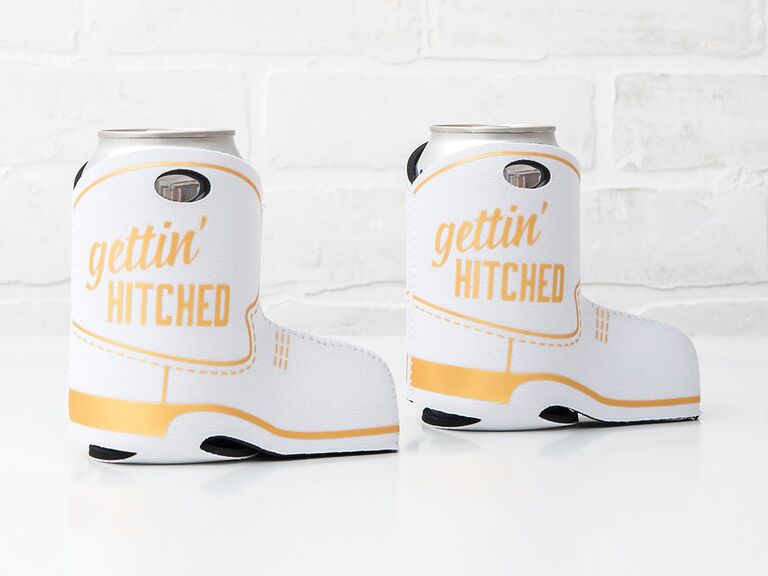 When we say "yee," you say "haw." (Did we do it right, Kacey Musgraves?) There are more fun koozies where these came from, so you should have no trouble finding a style suited to your destination. (These are perfect Nashville bachelorette supplies.)
The Knot Shop neoprene foam drink holders in Gettin' Hitched, $4 each, TheKnotShop.com
24. XOXO Balloons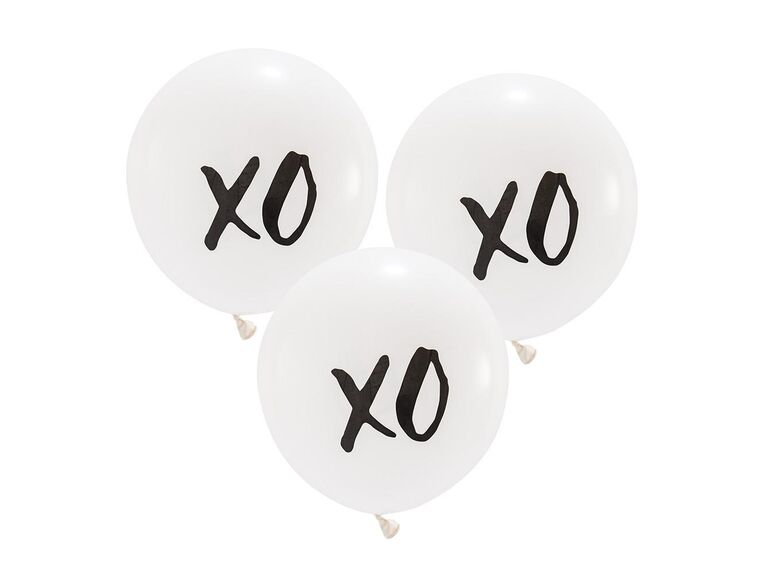 For a bachelorette party with preppy style, these black-and-white balloons add a fun, flirty vibe.
The Knot Shop XO white round wedding balloons, $6 for set of 3, TheKnotShop.com
25. Giant Champagne Balloon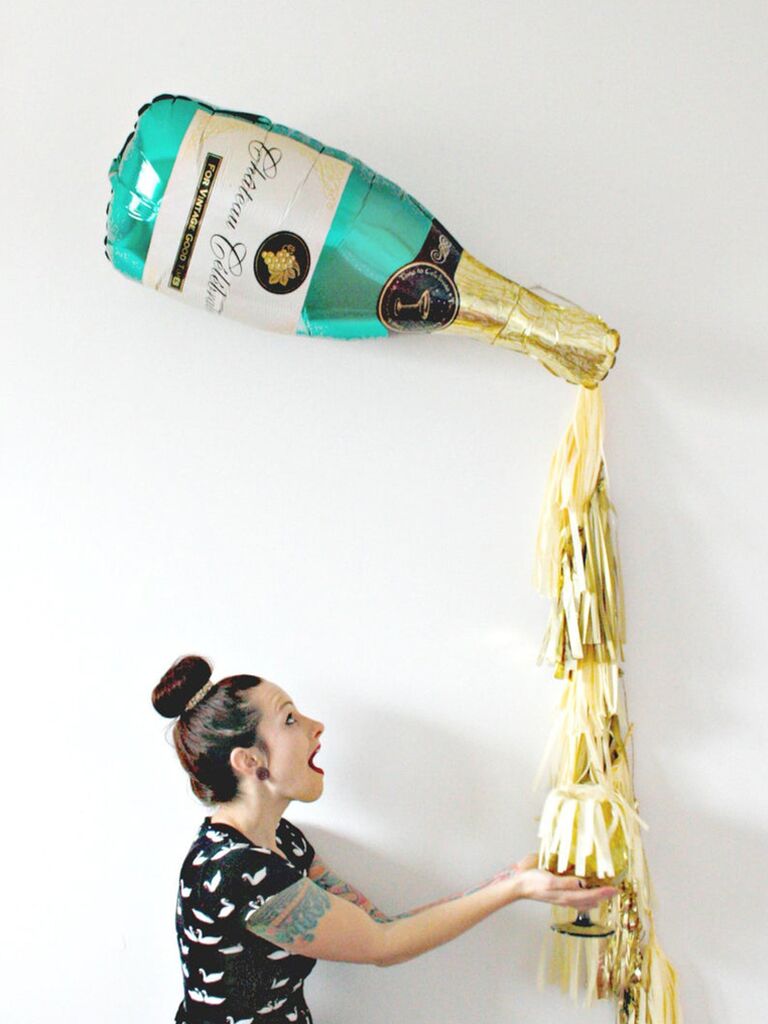 Just think of the cute photo-ops with this oversized champagne bottle bachelorette balloon.
Pomtree champagne bottle tassel balloon kit, from $8, Etsy.com
26. Ring Shots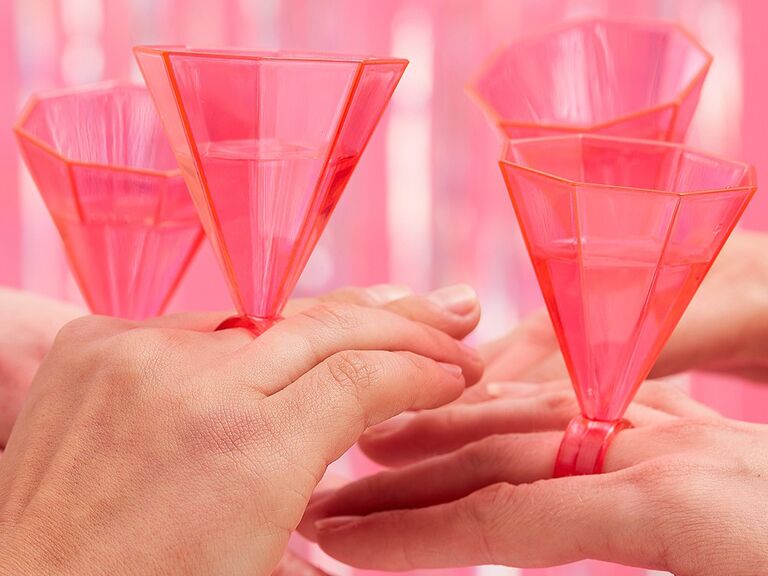 Forget ring pops—it's time for ring shots. These also work as bachelorette party favors.
The Knot Shop ring party shot glasses, $9 for a set of 6, TheKnotShop.com
27. Trendy Bachelorette Party Banner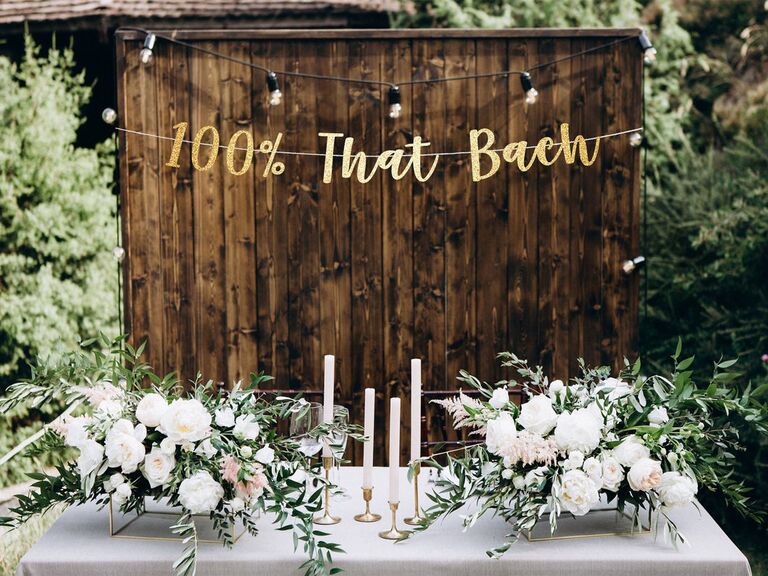 Channel Lizzo during the bachelorette bash with this "100 percent that bach" decoration.
Cake to the Top funny bachelorette party sign banner, from $24, Etsy.com
28. Babe Bendy Straws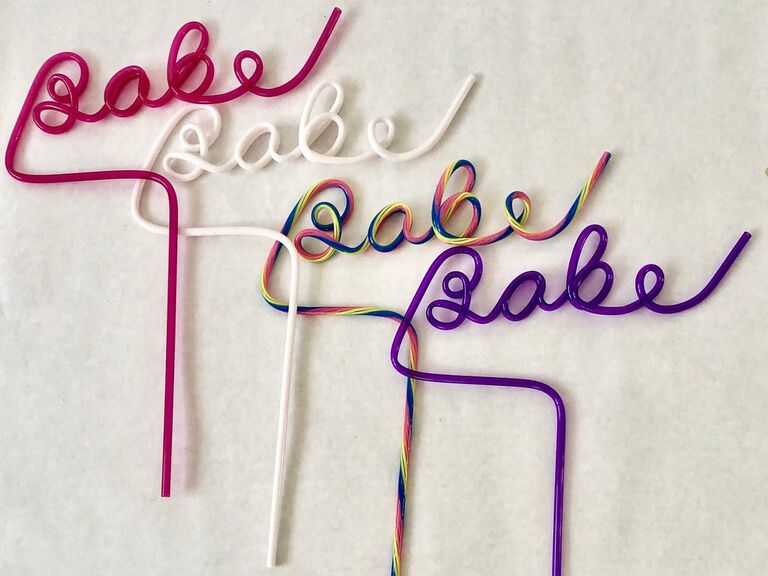 These reusable "babe" silly straws aren't just adorable—they're sustainable too.
The Dirty Bar Cart babe party crazy straws, from $10 each, Etsy.com
29. Destination-Themed Napkins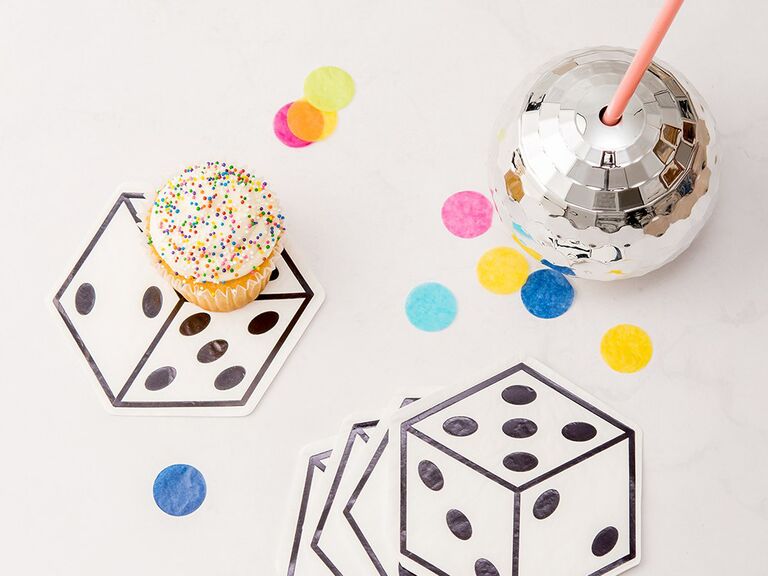 The bride got lucky, now it's time to celebrate with these Vegas-appropriate dice napkins. Not her style? Check out the seashell, pineapple and kissy lips options instead.
The Knot Shop cute special occassion paper party napkins in Vegas Dice, $6 for a set of 20, TheKnotShop.com
30. Diamond Ring Pool Float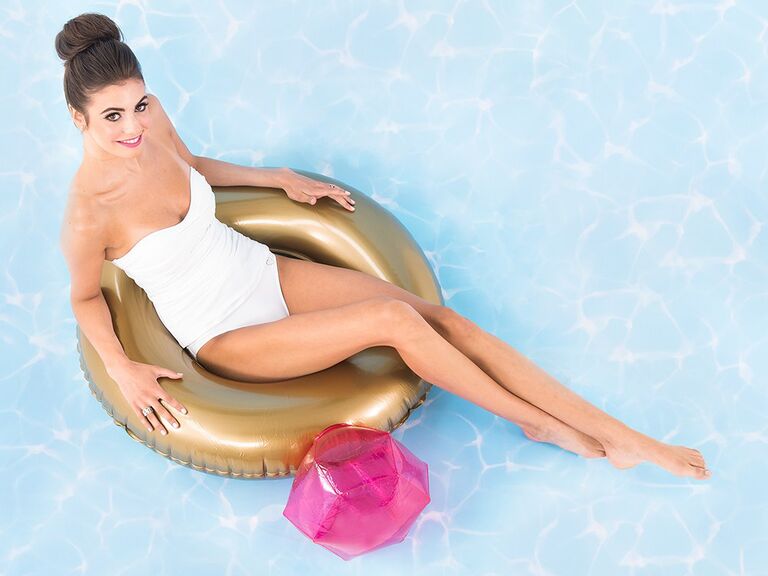 Hosting a pool party or bachelorette weekend trip? This ultra-festive pool float is too cute to pass up.
The Knot Shop giant inflatable pool float toy in Diamond Ring, $8, TheKnotShop.com
31. Nautical Bachelorette Party Sign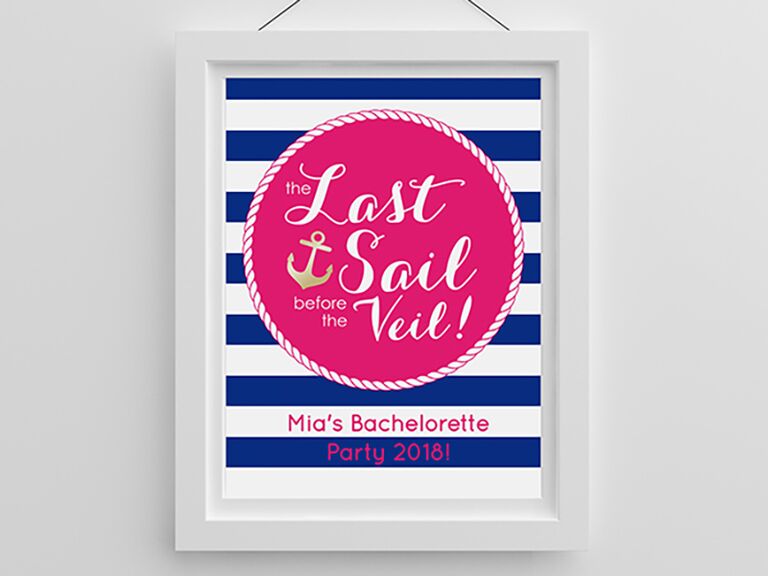 For a booze cruise or bachelorette party with a nautical theme, a personalized bachelorette party sign that says "last sail before the veil" is apropos.
Kate Aspen personalized poster in Last Sail, $18, KateAspen.com
32. Naughty Bachelorette Party Garland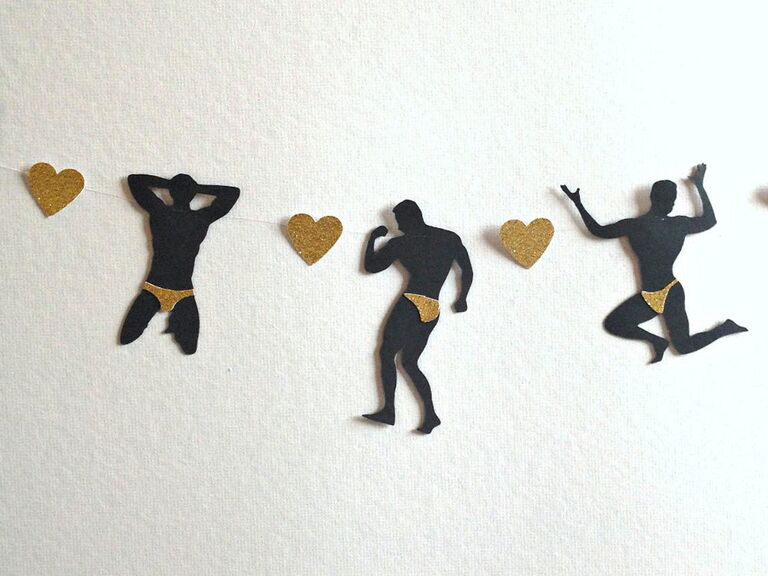 For those keen on getting a little naughty, not nauti, this best-selling bachelorette decoration should do the trick.
GG Parties bachelorette party garland, from $13, Etsy.com
33. Mermaid Bachelorette Party Banner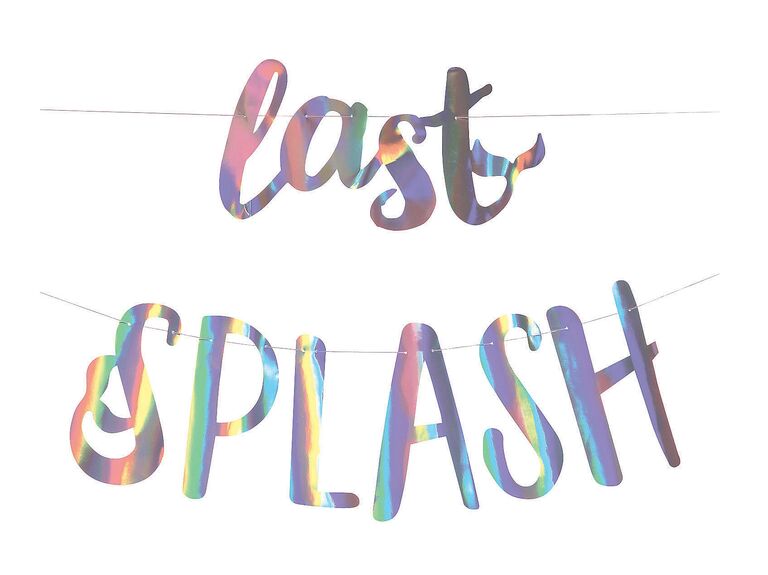 For the bride who's a mermaid at heart, plan an ocean-themed event, and make it complete with an iridescent "last splash" bachelorette party banner.
Oriental Trading Last Splash mermaid bachelorette garland, $8, OrientalTrading.com
34. Funny Face Confetti
Why is confetti of their fiance's face so hilarious? It just is!
Made by Vermonters custom face confetti, from $17, Etsy.com
35. Bachelorette Party Prep Kit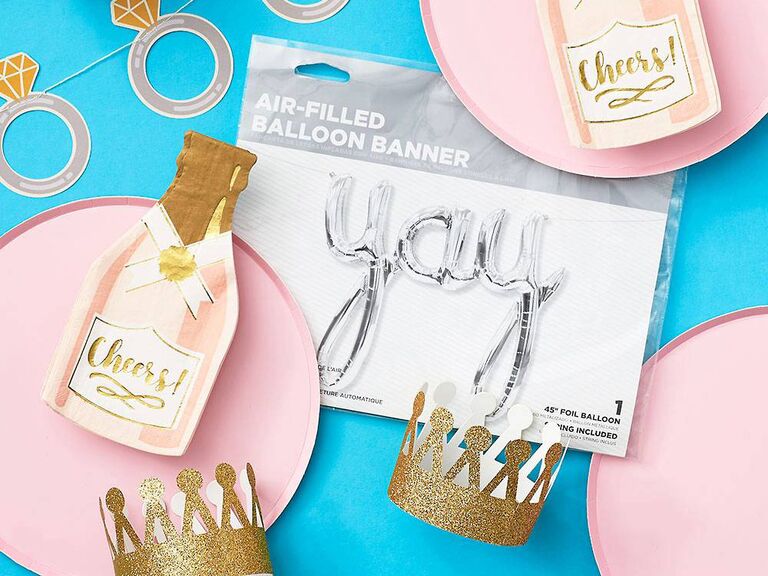 Go for one-and-done with this comprehensive bachelorette party decorations kit. It includes an engagement ring banner, a "yay" balloon, party crowns, napkins shaped like champagne bottles and pretty blush plates. It'll look like you masterfully coordinated everything yourself.
Paper Source bachelorette party prep kit, $50 for a set that serves 8, PaperSource.com