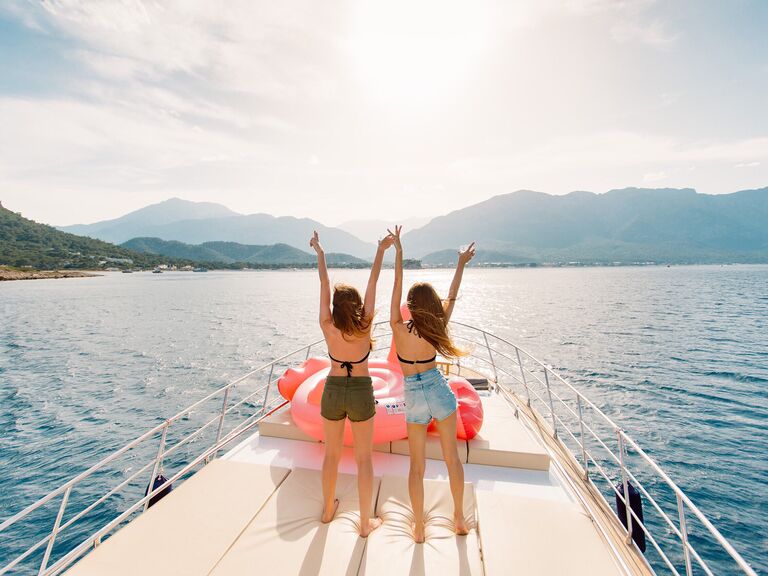 Whether your ideal bachelorette party entails hiking through the mountains, dancing until dawn or fully embracing the title of "beach bum," one thing is certain: You want it to be memorable. Choosing the city for your final single fling may be easy—but what about places to stay? The hotel or resort you choose has everything to do with the activities you plan, the food you eat and the photos you take, so it's important to do your research with Hotels.com before you hit "book." With a wide selection of accommodations from oceanside mega-resorts to chic city boutique hotels, you're sure to find the best weekend stay to suit your crew. But to make your search just a little easier, we've rounded up our fave hotels and resorts in different cities for the ultimate bachelorette getaway.
For a New England getaway words can't describe
1. Portland, Maine: Press Hotel
If you're looking for a unique place to stay with a dash of history and a modern twist, the Press Hotel in Portland, Maine is a must. As you might guess from the name, the Press Hotel is located in the old Portland Press Herald newspaper building and carries a cleverly integrated printing theme throughout the lobby and its seven floors. With a location at the intersection of Portland's historic Old Port and Arts District neighborhoods, you'll be surrounded by this quirky coastal city's countless museums and celebrated locavore foodie hot spots. Interested in Portland's vibrant craft beer scene? Take advantage of the hotel's Bucket o' Brews package to sample a selection of Maine's best beers.
Book it now at Hotels.com.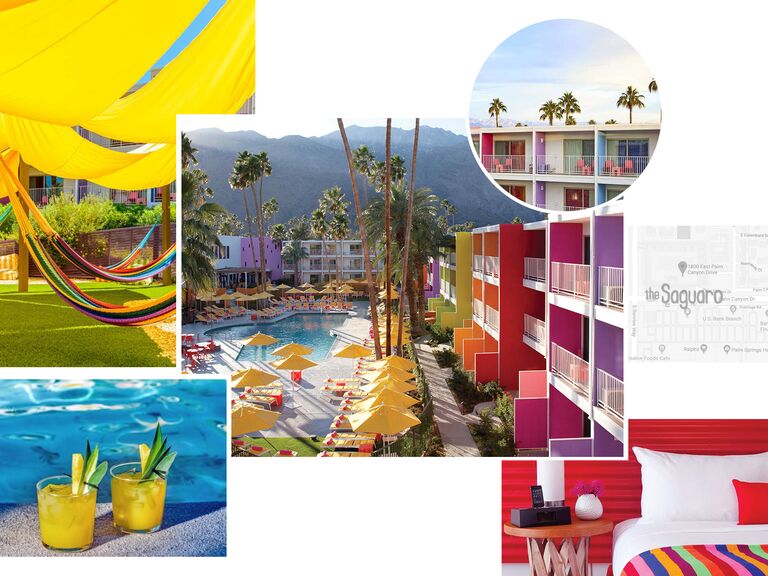 For an Instagrammable desert oasis
2. Palm Springs, California: The Saguaro
At The Saguaro Hotel, margaritas are 100 percent acceptable for breakfast (maybe even encouraged). With over 350 days of sunshine each year, Palm Springs is almost guaranteed to take fun in the sun to the next level, no matter what time of year you're celebrating. Oh, and did we mention this multicolored motel-style throwback is just begging to get 'grammed? Everywhere you turn, you can count on finding rainbow-hued walls, aesthetically pleasing brunch food, or an oh-so-stylish lounge chair underneath an array of palm trees. They even offer a special bachelorette package that comes with your choice of beer or rosé. Bask in the sun while you and your BFFs cool off with your complimentary drinks before heading to the on-location spa for group facials and mani-pedis.
Book it now at Hotels.com.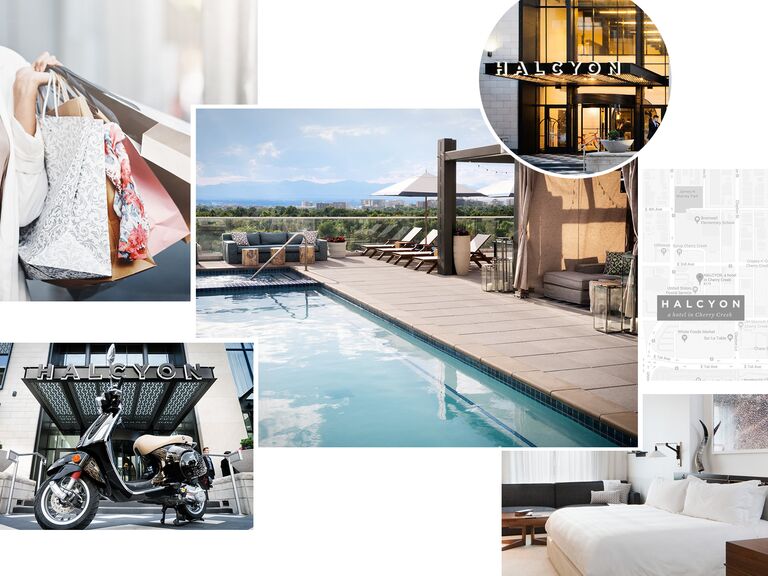 Shopping bags: iStock/PeopleImages
For a mountain escape in the big city
3. Denver, Colorado: Halcyon
If you look up the definition of "halcyon," you'll find the word means happiness and peace—which perfectly describes the feelings you'll get after visiting this aptly named hotel. Imagine relaxing in a rooftop pool surrounded by your closest friends and breathtaking views of the Colorado Rocky Mountains (doesn't get much more peaceful than that). The biggest perk to the Halcyon: location. The upscale, modern hotel is located in the heart of Cherry Creek, a neighborhood known for its chic shopping and dining. Spend a morning at the Cherry Creek North shopping center, which is home to nearly 400 stores (most are local boutiques) and more than 15 art galleries, before using the Halcyon's Gear Garage to borrow complimentary cruiser bikes and ride through some of Denver's most popular parks. In the mood for something more adventurous? The Gear Garage also offers all kinds of outdoor equipment rentals, from sleds to snowshoes.
Book it now at Hotels.com.
Zipline: iStock/RossHelen
For a summer camp (for adults) vibe
4. Poconos, Pennsylvania: Woodloch Pines
Ever wish you could go back to summer camp, but as a grown up? For a cozy woodland retreat featuring every type of outdoor fun imaginable, book one of the many private villas at Woodloch Pines, nestled among the Pocono Mountains (just a couple hours drive from New York City or Philadelphia). You'll basically have an entire home to yourselves, so you can rest up to explore all the amenities and activities available, from bumper boats and mini golf to a rock climbing wall and indoor skating rink. If you're feeling extra outdoorsy, learn to water ski on Lake Teedyuskung, take a nature hike down one of the many trails, or even go zip lining. Afterward, rejuvenate at at the resort's destination spa, which'll leave you and your gang feeling more zen and connected than ever before.
Book it now at Hotels.com.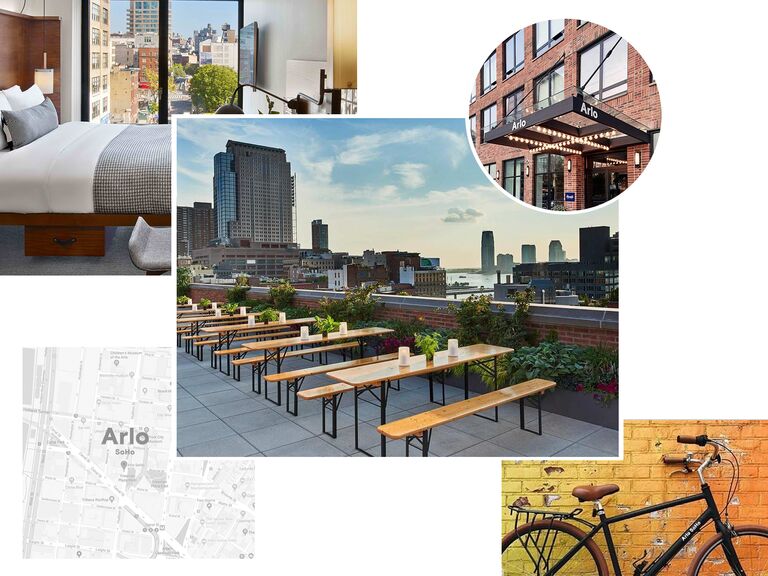 For a trendy New York City home base
5. New York, New York: Arlo SoHo 
Located just a short walk from the historic West Village, Tribeca and the financial district, the Arlo SoHo is perfect for a fun-seeking bunch looking to explore everything New York City has to offer. Start your morning taking a fitness class with a view at the Arlo's rooftop lounge, before stepping out with your squad to make your rounds at the trendy boutiques and healthy cafes—not to mention all the amazing restaurants featuring every type of cuisine—populating the area. Looking to venture out a little further? The hotel has bicycles for rent from dawn to dusk, so you can navigate your way through the streets of Manhattan (or along the picturesque Hudson River waterfront) with ease.
Book it now at Hotels.com.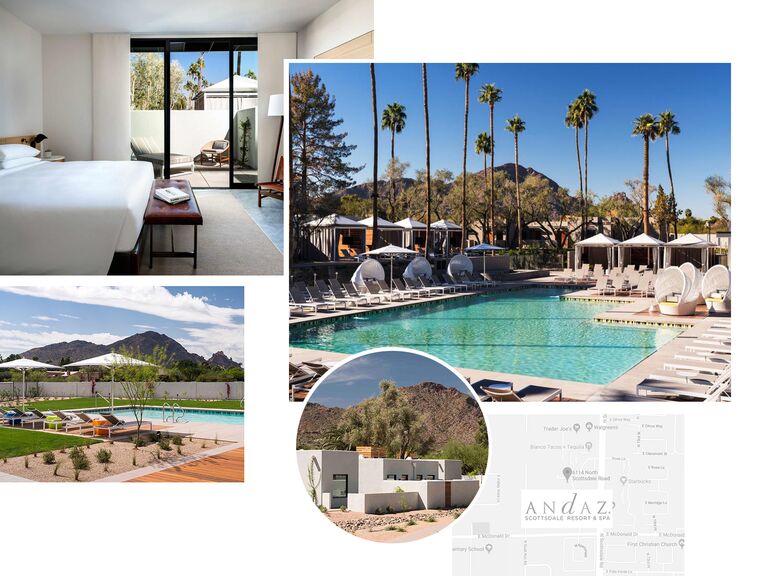 For a relaxing taste of the Arizona desert
6. Scottsdale, Arizona: Andaz 
Modern luxury meets a serene oasis at the Andaz Resort and Spa in Scottsdale. With three outdoor pools overlooking the Sonoran Desert and a short walk to the shopping and dining along the Scottsdale waterfront, your options for activities are endless. The bungalow-style guest rooms named after famous designers and architects are the epitome of mid-century modern cool, and if you and your pals want privacy, you can book a suite or even two of their "perfect pair" connected rooms. Gather your crew for a day of pampering at the on-site spa, sipping cocktails at the pool bar, or even an adventurous horseback tour through the canyons.
Book it now at Hotels.com.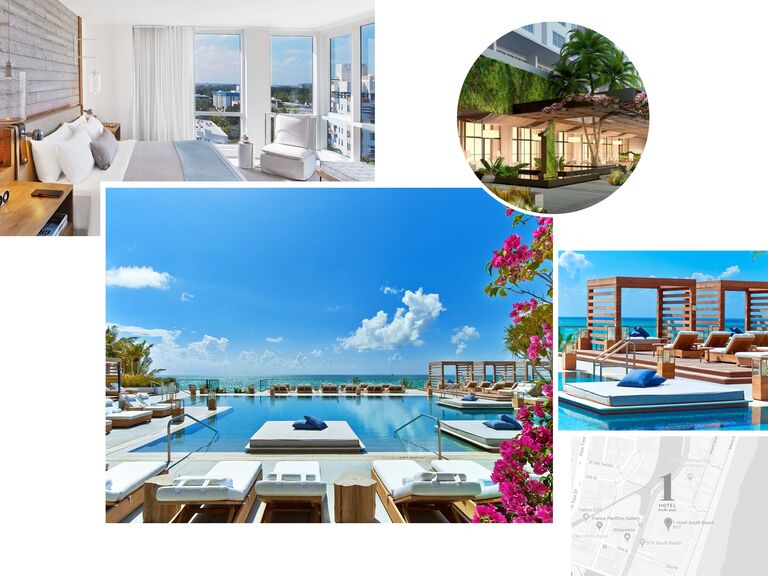 For a beachfront party that lasts until dawn
7. Miami, Florida: 1 Hotel South Beach 
If relaxing by the water is number one on your bachelorette bucket list, you're in luck. Take a few steps outside your room at the 1 Hotel South Beach and you'll feel the soft, warm sand beneath your toes. After waking up and stepping out to a patio view of the ocean, you and your BFFs can take a relaxing boat ride or cool off in one of the four outdoor pools (two of which have poolside bars—did someone say mimosas?). For your own private retreat and top-notch service, you can even book a poolside cabana for the day. But the Florida sunshine isn't the only thing that's hot; the area's famous nightclubs and entertainers are sure to bring the Miami heat even after the sun goes down. Don't worry, your squad is guaranteed to arrive to the club in style with the hotel's limo and town car service.
Book it now at Hotels.com.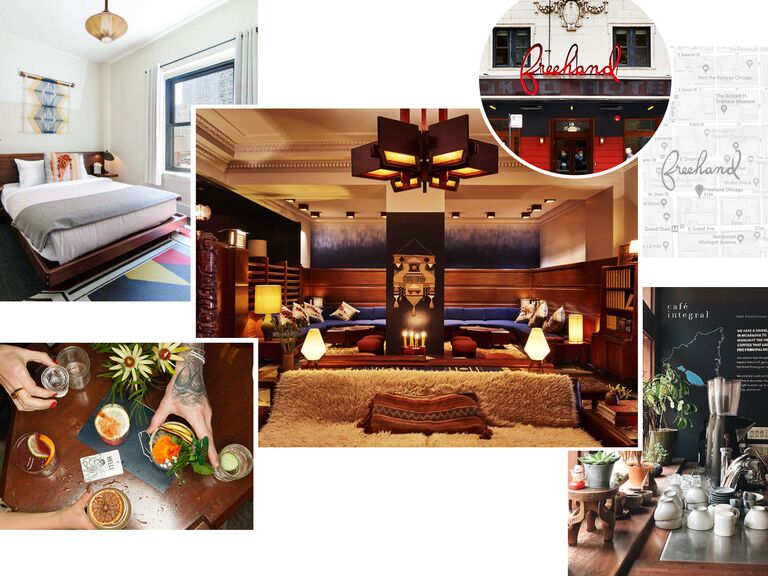 For a modern Midwest location
8. Chicago, Illinois: Freehand Hotel
This uber-trendy outpost is as effortlessly cool and high-design as the River North neighborhood that surrounds it (it's known for having the largest concentration of art galleries outside of Manhattan). The Freehand's hostel-inspired bunk rooms are also ideal for groups; you can book a quad room with four bunk beds for the ultimate grown-up slumber party. After checking out the local art scene, spend a late night sipping handcrafted cocktails at the Freehand's bar and lounge. The next day, hit up the hotel's morning hot spot for some freshly roasted Nicaraguan coffee and a spread of delectable breakfast bites to gear up for a day of exploring. We suggest scheduling a group kayak or boat tour down the river to get a one-of-a-kind v8. iew of the city, before venturing out on your joint mission to find the best Chicago-style pizza.
Book it now at Hotels.com.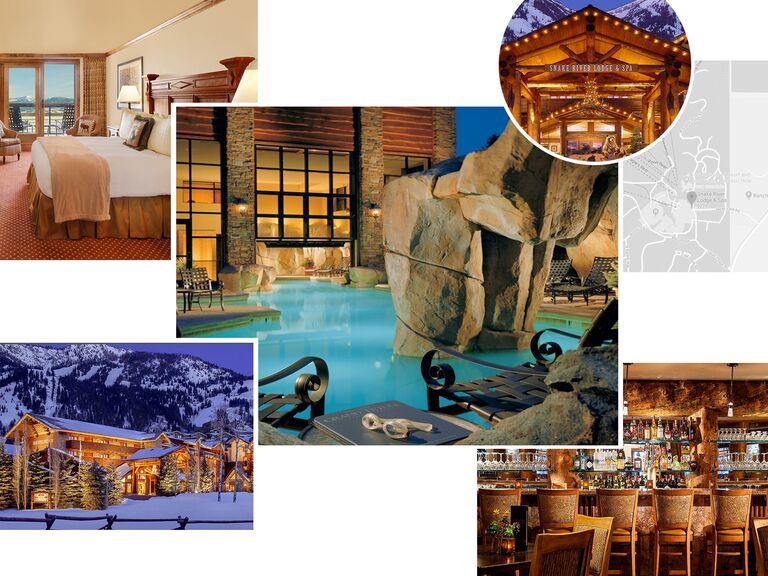 For a luxurious outdoor adventure
9. Jackson Hole, Wyoming: Snake River Lodge and Spa
If you're looking to enjoy everything the great outdoors has to offer, the Snake River Lodge and Spa is sure to be a hit with your crew. Located near Grand Teton National Park and just one hour from Yellowstone, this mountain lodge captures a rustic vibe with a modern twist. Whether you choose to adventure on foot, skis, mountain bike or on horseback, you've got the perfect setup to explore the many hiking trails and parks nearby, plus the convenience of on-site rentals for every kind of backcountry gear imaginable (bear spray and binoculars? They've got 'em). After a long day of adventuring, you can relax in one of the three spa tubs or at the indoor pool surrounded by authentic rock caves and waterfalls.
Book it now at Hotels.com.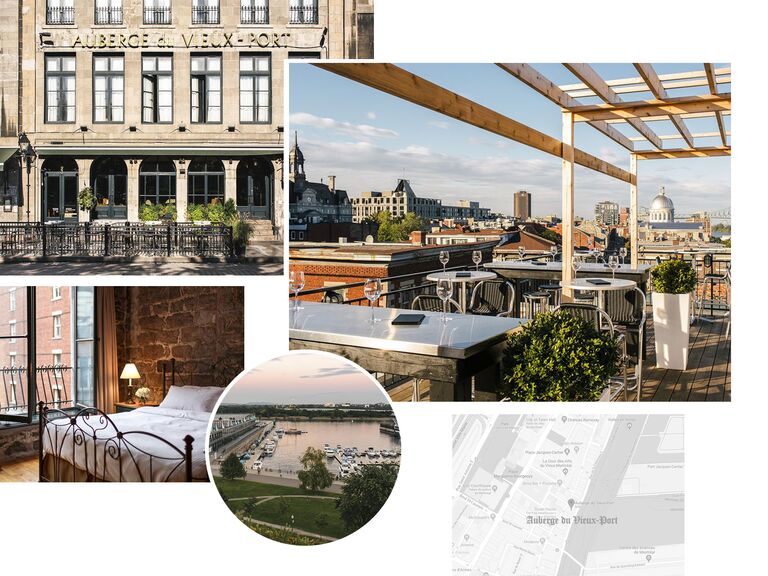 For a European-style getaway closer to home
10. Montreal, Canada: Auberge du Vieux-Port, Montreal 
From the carefully crafted 19th-century décor to the astonishing view of the Saint Lawrence River, the Auberge du Vieux-Port can easily be mistaken for a luxury European hotel (even though it's much more convenient to get to from most of the US). Spend the afternoon enjoying pub-inspired drinks and bites on the rooftop terrace overlooking Old Port while you take in the detailed Montreal architecture and feel like you're worlds away. The Auberge du-Vieux is a six-minute walk from the Notre Dame Basilica (a must-see in the area), but if you're looking to make your ventures a little more interesting, sign your group up for a ghost walking tour of Old Montreal and be guided through the city's most haunted locations.
Book it now at Hotels.com.
This article is sponsored by Hotels.com, where you can find the best stay for your bachelorette bash, whether at a posh resort or under-the-radar hip hotel. Check out Hotels.com/weddings for more tips and tricks to help you book your wedding travel.