57 Funny Phrases to Put on Your Bachelorette Party Shirts
Because what if you're just not the "I Do Crew" type?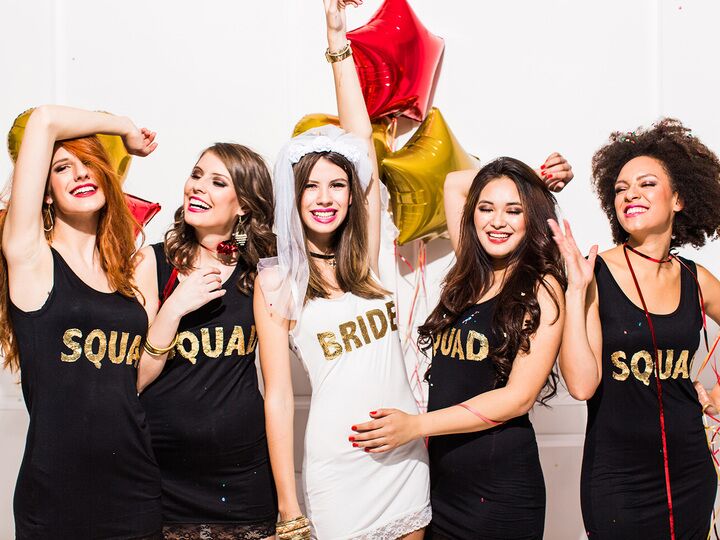 iStock
We know the scenario all too well: You've seen a million funny phrases on shirts while scrolling through friends' bachelorette party photos on Facebook—and now it's your turn to pick one. You start to panic slightly, because you want the shirts to be original, cute and witty—but how many sayings are out there, anyway? Whether you're the bride or a bridesmaid in charge of the swag, we've got you covered. Below is a list of 58 popular phrases to put on bachelorette party shirts (and swag—go crazy with koozies and hats too!) to get your creative juices going. We've seen these sayings phrased a ton of different ways too, so you should definitely mix and match your favorites. (They're ordered by category, and if the bride's shirt has a different phrase than her crew's, hers is placed first.) And if nothing on the list quite fits what you're looking for, inside jokes and favorite movie quotes are always a safe bet.
General
1. [Name's] Last Fling Before the Ring
2. Bachelorette Support Crew
3. Team Bride
4. I Do/I Do Crew
5. Yes!/That's What She Said
6. The Bride/Bride's Crew
7. Bride/Squad
8. Get in Loser, it's [Name]'s Bachelorette
9. Flamingle With Me, I'm the Bride-to-Be/Let's Flamingle
10. Bridin' Dirty/They See Us Rollin', We're Celebratin'
11. She Said Yes, We Said [Location]
12. Conductor of the Hot Mess Express/Hop On [Name]'s Hot Mess Express or Hot Mess Express Before the Dress
13. About to Raise Hell Before the Bells
14. Bach S**t Crazy
A Drink-Loving Crew
15. Buy Me a Shot, I'm Tying the Knot/Buy Her a Shot, She's Tying the Knot
16. Pop the Bubbly, I'm Getting a Hubby/Pop the Bubbly, She's Getting a Hubby
17. Look Like a Beauty, Drink Like a Beast
18. [Name] Found Her Hunk, So We're Getting Crunk
19. Something Borrowed, Something Blue, We Definitely Party Harder Than You
20. Future Mrs./Cheers B***hes
21. I Got the Hubby/We Got the Bubbly
22. Feyoncé/We Be All Night
23. He Popped the Question/We're Poppin' Bottles
24. He Put a Ring on My Hand/Put a Drink in My Hand
25. Drunk in Love/Just Drunk
26. I'm Getting Married/So We're Getting Drunk
27. When I Sip, You Sip, We Sip
28. Bride's Brew Crew
29. It's My Party and I'll Wine if I Want to
30. Champs Drink Champs
31. Wed, White and Boozed
Nashville/Southern Locations
32. [Name]'s Last Bash in Nash
33. Getting Sh***y in Music City
34. [Name's] Last Thrill in Nashville
35. [Name]'s Nashlorette
36. [Name]'s Last Ride Before She's the Bride
37. Boots and Bling, It's [Name's] Last Fling
38. [Name's] Last Rodeo
39. Honky Tonk Hoedown Before the Gown
40. Cowgirl Gang
41. Ropin' and Ridin'
42. These Boots Were Made for Walkin' Down the Aisle
Las Vegas
43. This Is How We Roll
44. [Name]'s Rat Pack
Mexico
45. My Last Margarita as a Señorita/Drinking Margaritas With My Señoritas
46. Fiesta, Siesta, Tequila, Repeat
Nautical/Tropical Locations
47. Last Sail Before the Veil
48. Let's Get Shipfaced
49. Tank Me, I'm the Bride to Be/Help Us Tank Her Before She Drops Anchor
50. Tan Lines and Good Times
51. Mermaid Kisses and Starfish Wishes
52. Feelin Nauti'
53. Beachin' Bride/Beachin' Babes
54. Aloha Bride/Aloha Beaches
55. Sun, Sand and a Ring on My Hand/Sun Sand and a Drink in My Hand
56. Beach Bach
57. Shady Bride/Shady Beaches