Our Favorite Backyard Wedding Ideas & Why You'll See Them Everywhere
There's no place like home.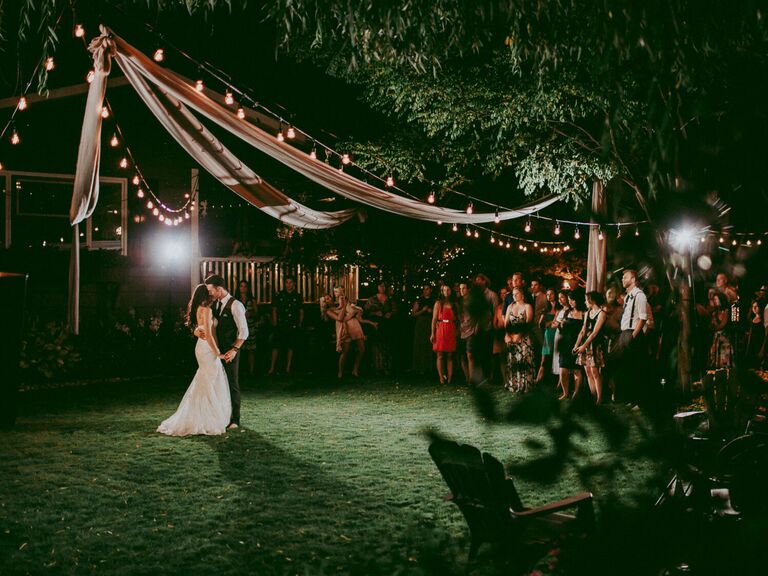 We have included third party products to help you navigate and enjoy life's biggest moments. Purchases made through links on this page may earn us a commission.
There's no place like home—especially when it comes to your wedding day. Couples today agree, as The Knot 2019 Real Wedding Study has discovered, that backyard weddings are on the rise. In fact, backyard and private gardens were the third most popular wedding venue last year (15 percent of all couples reported hosting their nuptials in such a venue in 2019). This trending wedding venue is gaining popularity among celebrities, including Hilary Duff and Gina Rodriguez, who both exchanged vows in sentimental backyard weddings.
In 2020, backyard weddings have become especially popular due to the pandemic. In light of the virus and social distancing orders, to-be-weds have reimagined their original plans into minimonies, microweddings and elopements with backyards being a venue of choice. If you've changed your plans to a backyard celebration due to COVID, first consult our guide on how to throw a wedding safely amid the pandemic. Then, stock up on wedding masks,hand sanitizer and social distancing signs.
If you're hosting a hometown celebration, we rounded up 29 backyard wedding ideas that will make your nuptials unforgettable. With everything from outdoor furniture to lawn games, we have something for every kind of couple. Plus, we included a shoppable section so that you can bring your favorite ideas to life. See our favorite backyard wedding ideas (and shop them) below.
Pampas Grass
If your backyard is already full of lush greenery, consider adding a unique twist to the decor with pampas grass. The trendy vegetation will give a boho or rustic vibe to your home setting. To-be-weds planning a sustainable wedding should also consider using dried pampas grass for eco-friendly flowers and decor.
Shop the idea: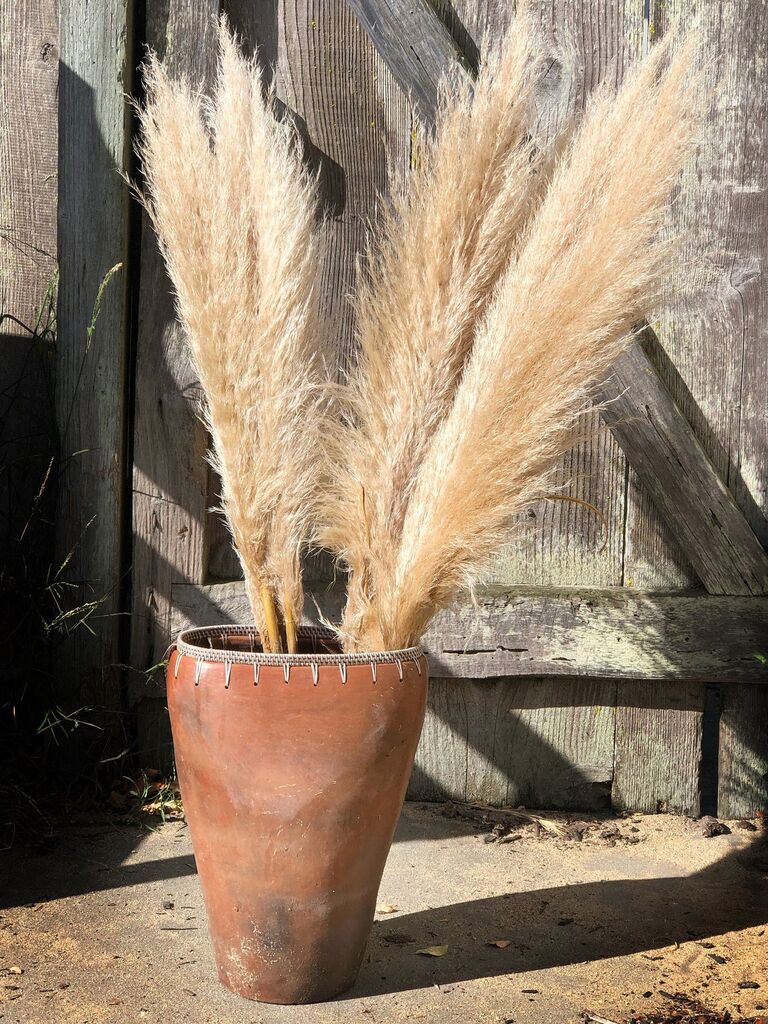 Pick up these stems of pampas grass for a boho-chic vibe that will complement the landscaping in your backyard.
Retro Radical pampas grass, from $16, Etsy.com
Outdoor Furniture
Bring the comfort of your home outside with this decor hack. Contact a rental company to get plush furniture that will create a warm and inviting (not to mention Insta-ready) atmosphere.
Shop the idea: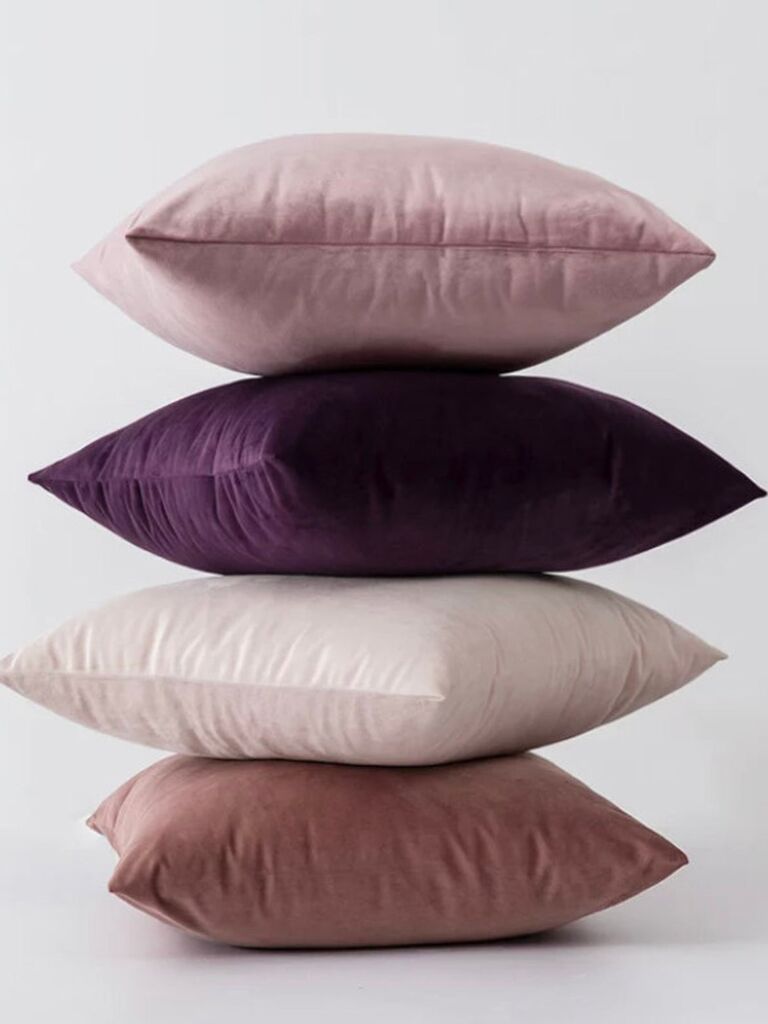 Plush pillows will invite guests to stay seated and mingle.
Burk Home velvet throw pillow cover, from $23, Etsy.com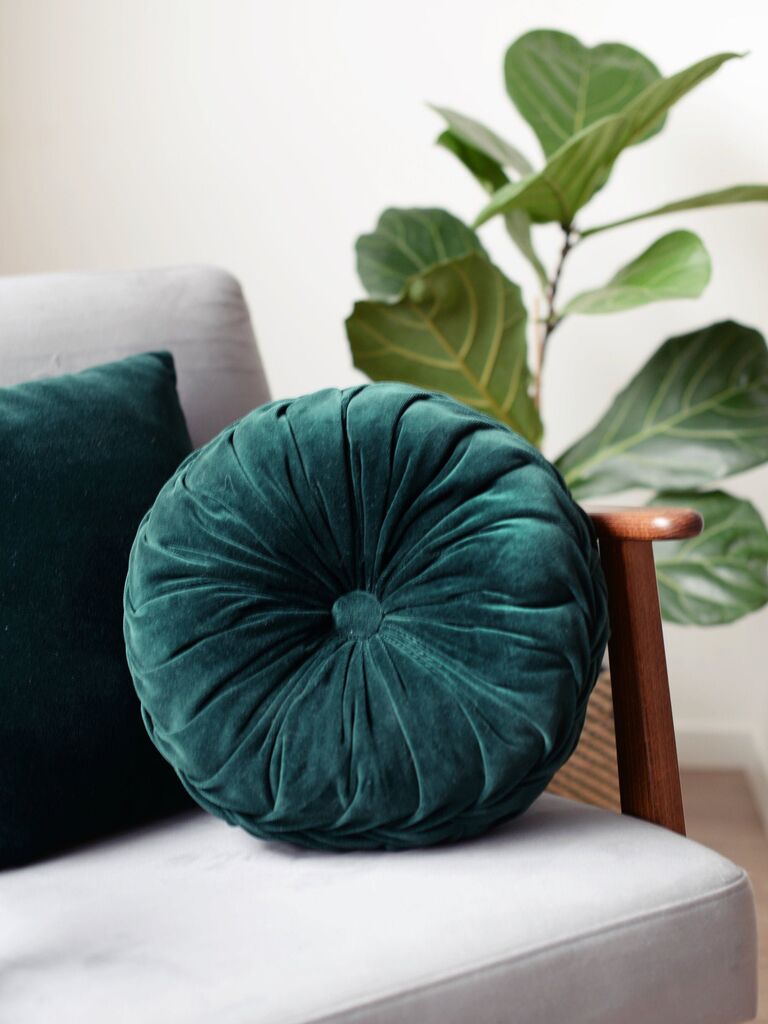 These decorative pillows will elevate the space and turn it into a luxurious lounge.
2 Minds Deco unique style emerald green velvet pillow, from $30, Etsy.com
Whether you fill these trays with florals, seasonal fruit and veggies or mementos from your relationship, they'll hold everything in place so guests have space to set down their drinks on the tables.
Ronit Yam Pottery handmade pottery flat serving dish, $79, Etsy.com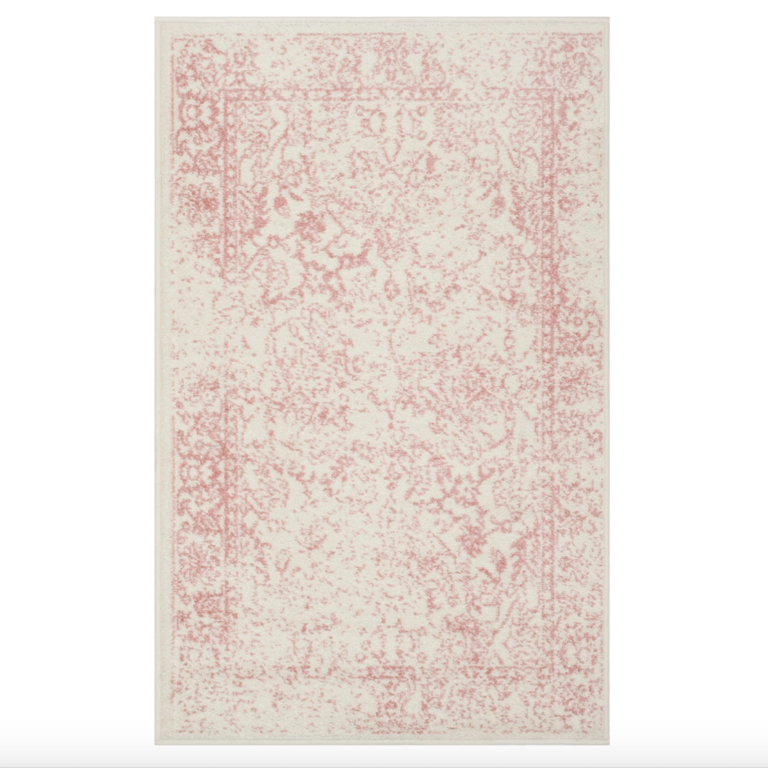 Tie the cozy lounge spot together with a neutral rug. This neutral blush tone adds some extra softness to your outdoor space.
Target medallion loomed rug, $124, Target.com
Photo Display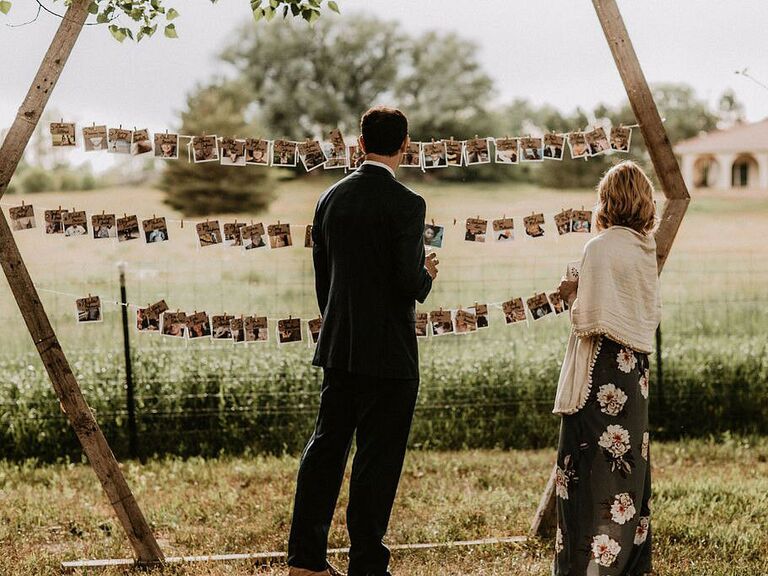 Encourage your guests to stroll through your backyard with interactive experiences. We love the idea of an oversized photo display because your loved ones can admire pictures of you and your partner. Take it one step further by including handwritten notes about the pictures and what they mean to you. Your guests will immediately feel closer to you.
Shop the idea: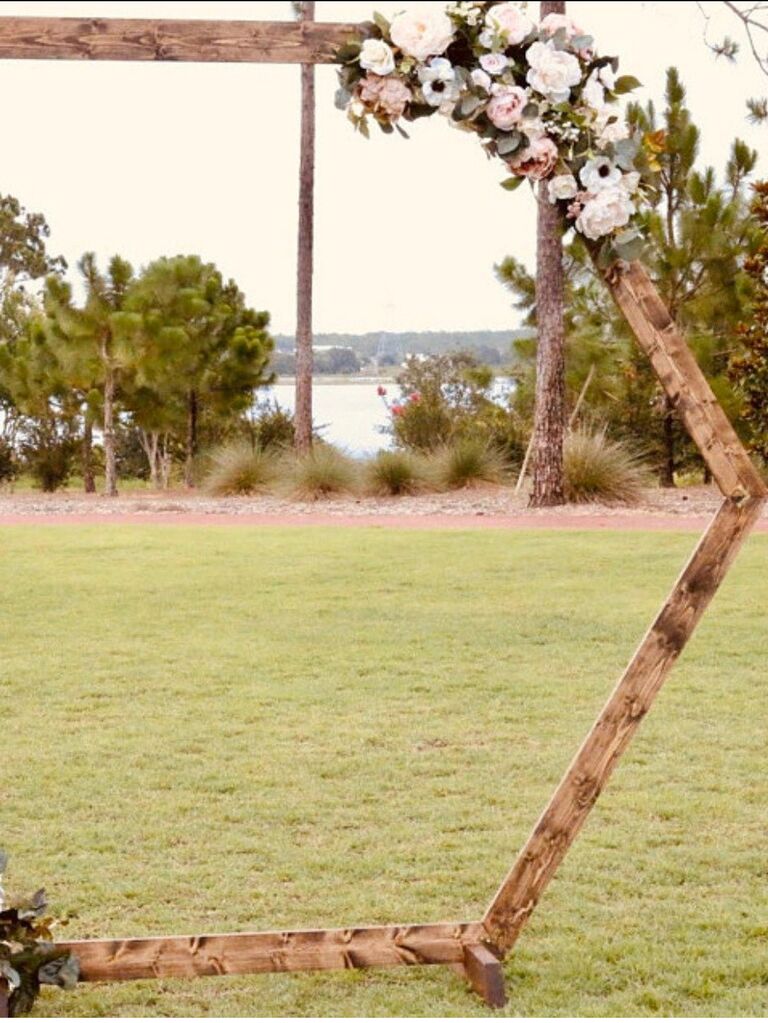 Contrast the soft landscaping in your backyard with a dramatic geometric shape like this hexagon. It will bring a modern vibe to any backyard wedding setup.
Nashville Woodworkz wedding hexagon arch, $190, Etsy.com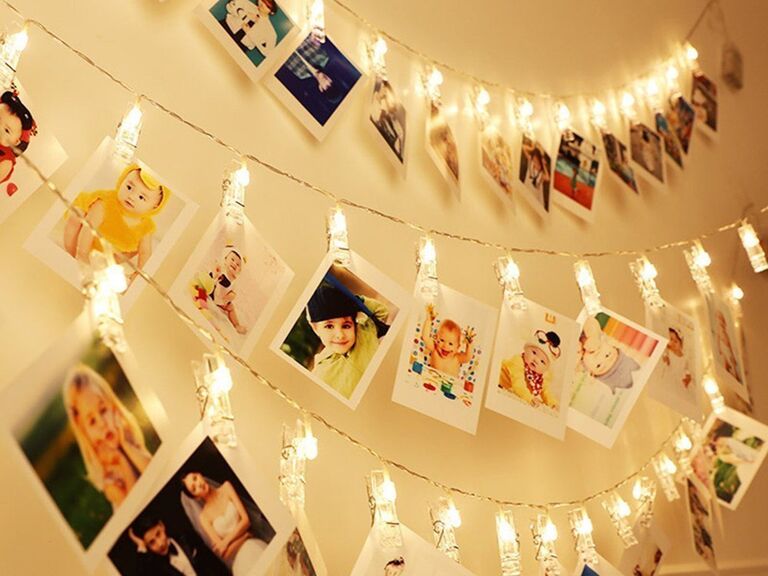 Use these adorable photo clips to hang up gorgeous pictures of you and your partner. They come with lights so your guests can enjoy the polaroids well into the night.
Happium battery operated photo clips, $9, Etsy.com
BBQ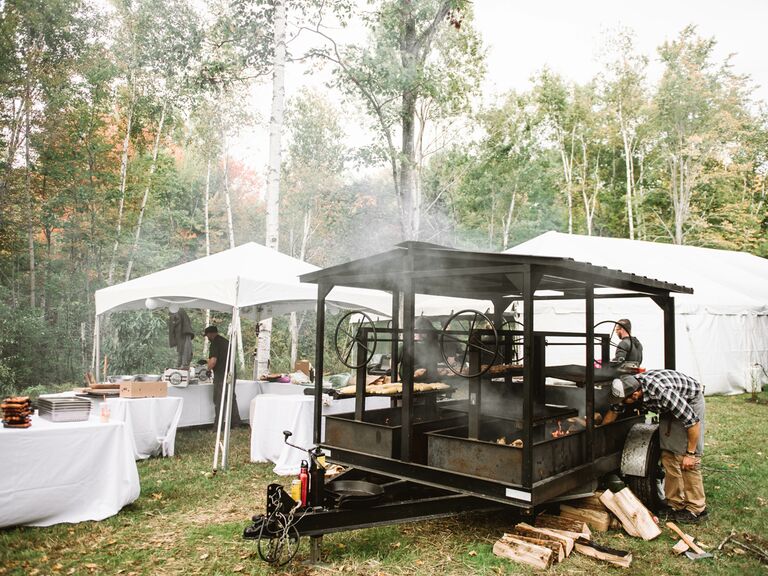 If you and your boo are total foodies, embrace it on your wedding day. We love the idea of hosting a barbecue bash at your backyard wedding because you can easily customize the menu. Serve burgers and hot dogs, or shrimp and oysters. Book a professional caterer on The Knot and plan your perfect backyard BBQ. It'll be a fun and delicious way to celebrate your love.
Rug Aisle Runner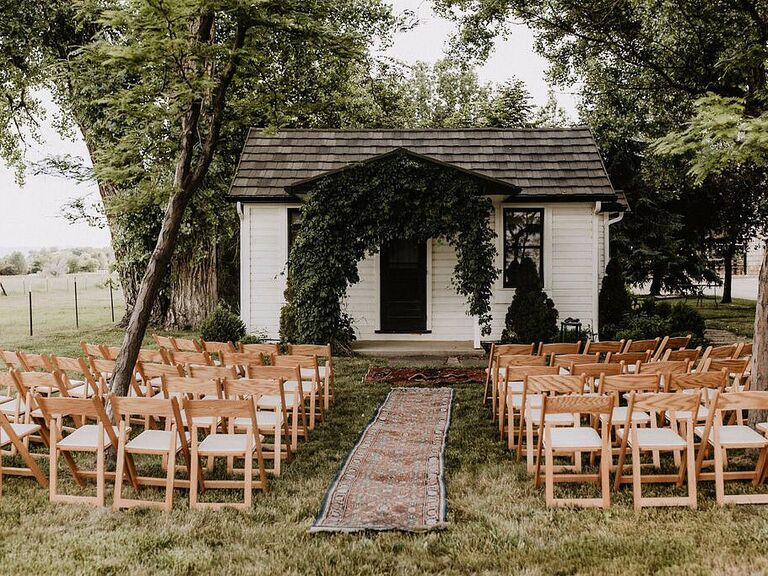 Elevate a plain grass aisle with the addition of runner rugs. They'll instantly add warmth and an overall boho-chic vibe to your nuptials.
Shop the idea: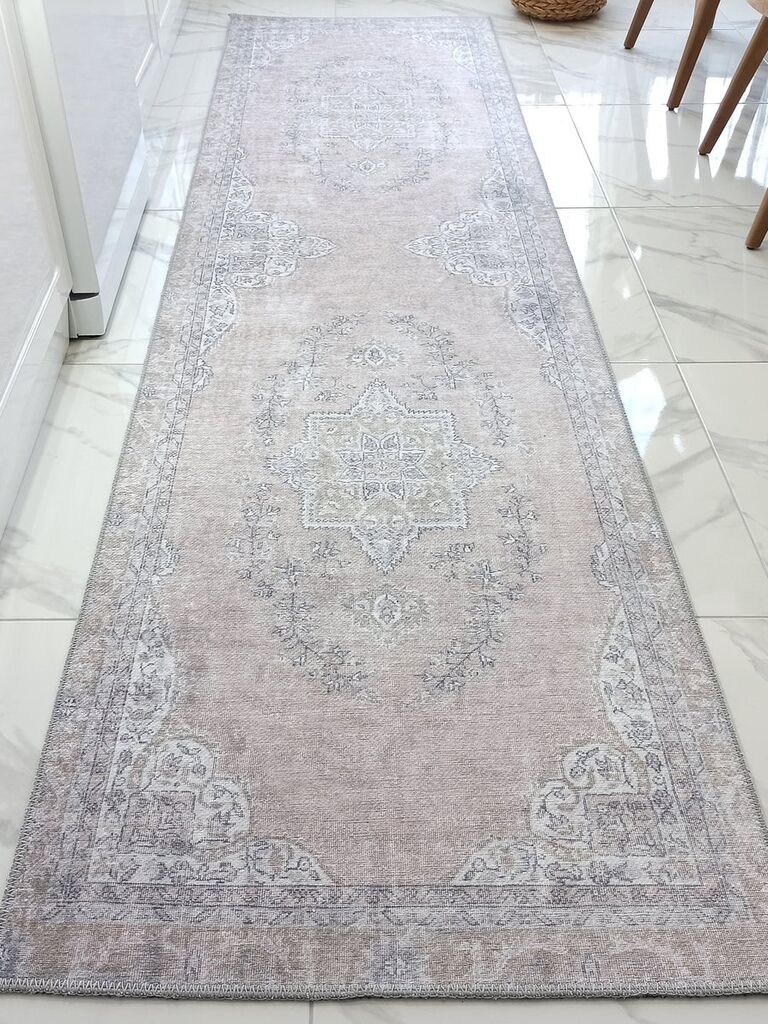 We love this runner because it has neutral colors and an understated design. It's a great option for those who want a classic wedding style.
Fame Rugs SAFA runner, from $83, Etsy.com
If you prefer a boho or rustic look, consider a bold-colored medallion-patterned rug. It'll give off all the cozy vibes at your ceremony.
Well Woven Barclay medallion rug, $50, Amazon.com
Dried Floral Centerpieces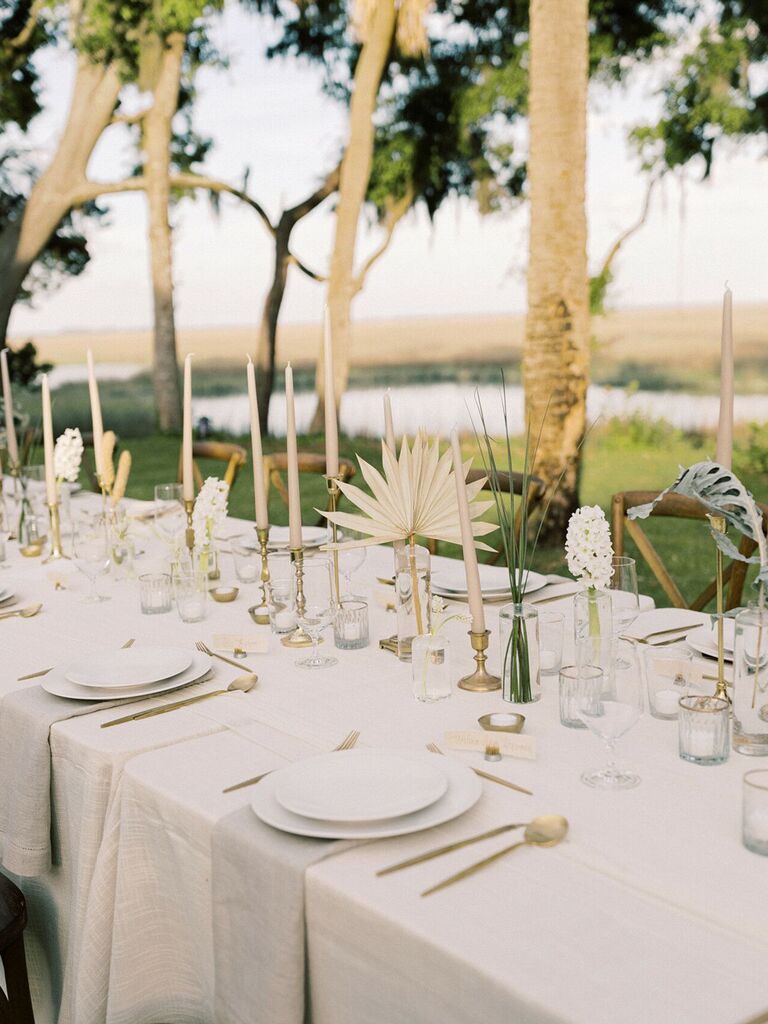 For a unique tablescape, consider dried floral centerpieces. They'll complement any color scheme, season or style. Plus, you can reuse them in your own home, gift them to guests or donate them after the fact.
Shop the idea: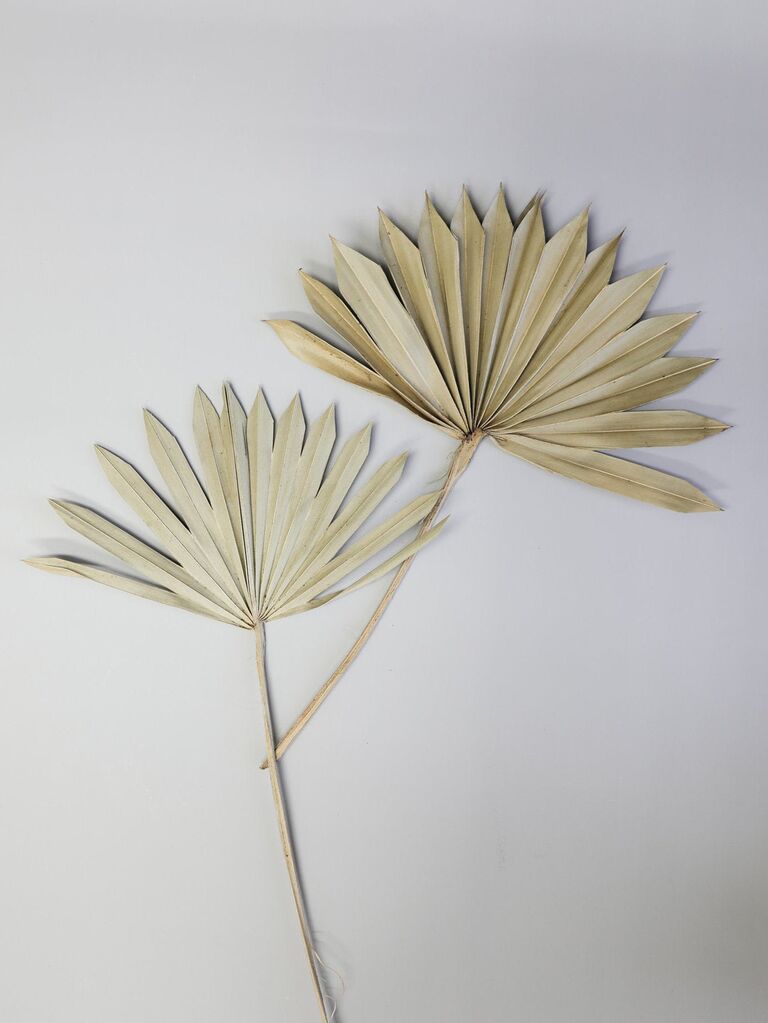 Copy the picture exactly with these gorgeous sun palm leaves.
Purxious by SQ green sun palm leaves, $25, Etsy.com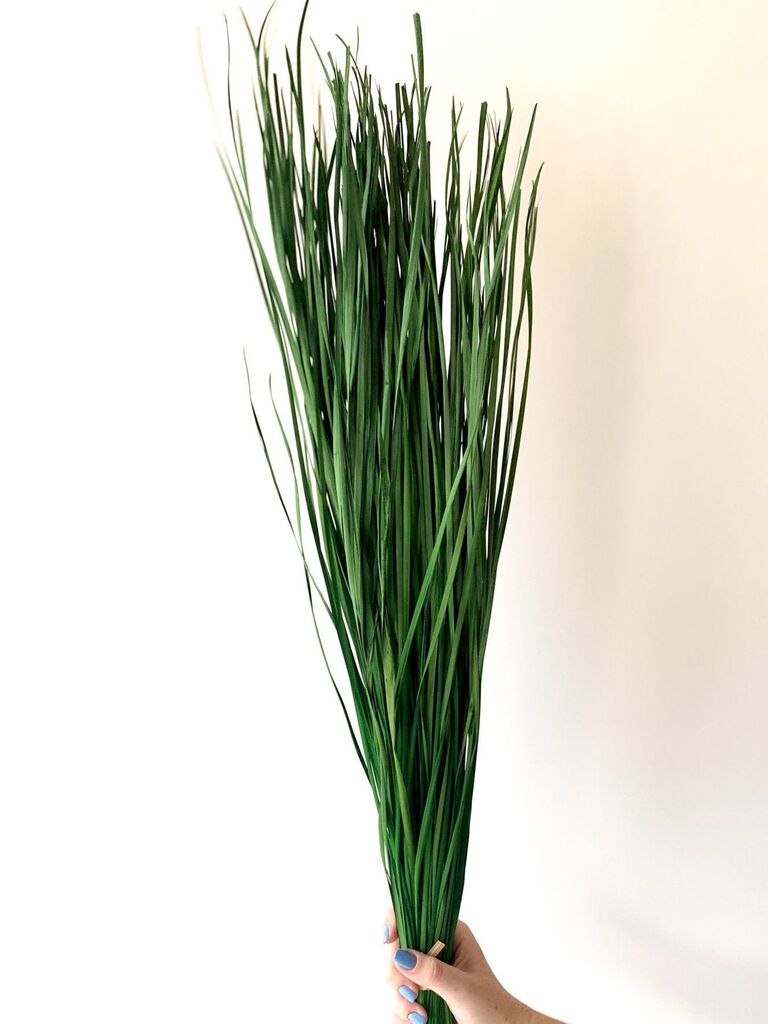 Accent the actual flowers with dried grass. It will fill up space on the table without looking overdone.
Craft By Rosy Rings dried preserved bear grass, $14, Etsy.com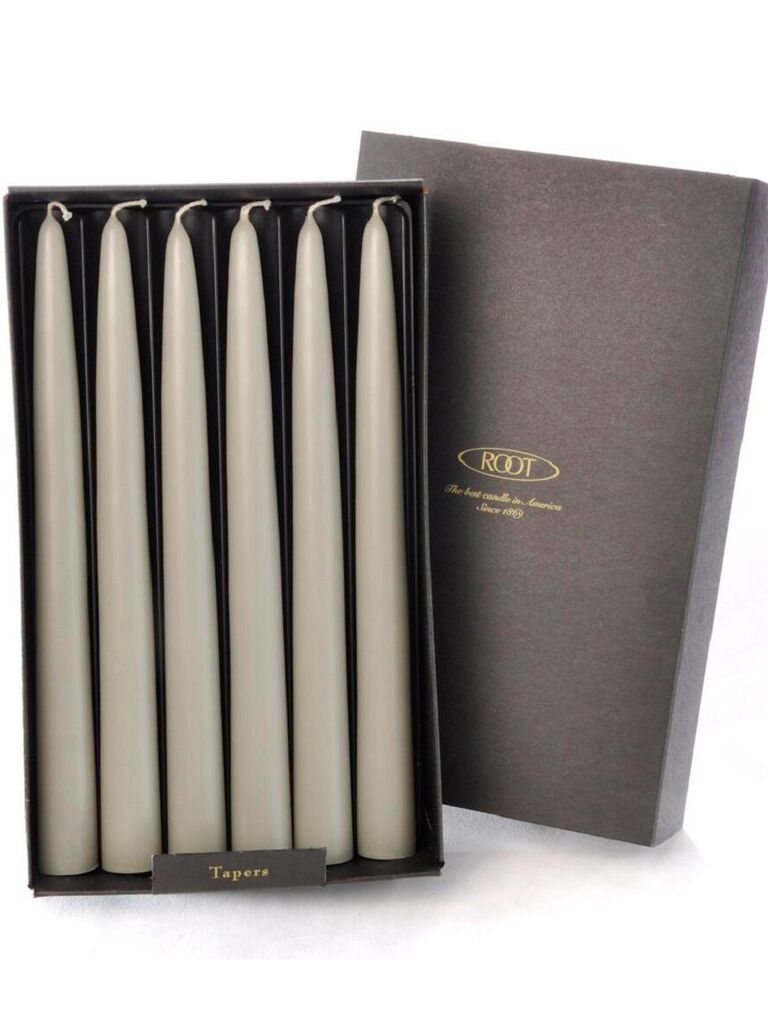 Lean into the neutral tablescape with taupe-colored candles.
Home Depot 9 in. dipped taper taupe candle box of 12, $32, HomeDepot.com
Yard Games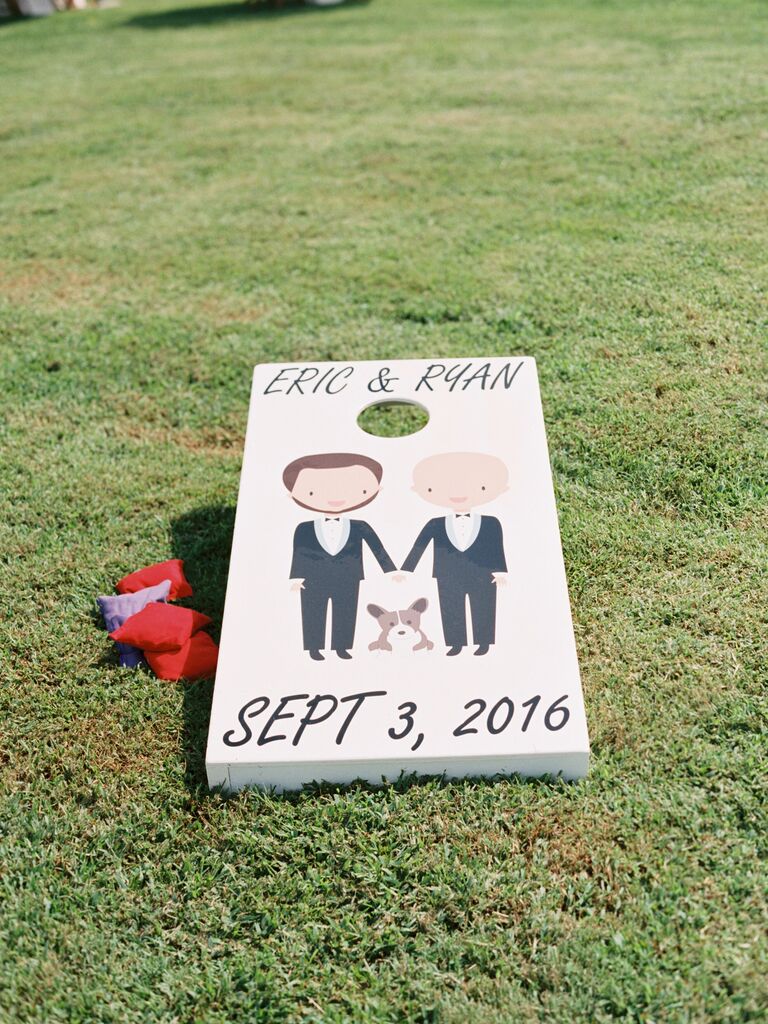 According to The Knot 2019 Real Weddings Study, 72 percent of couples said that taking care of guests was their number one priority. And while couples today are investing in all sorts of guest entertainment to happen (think: photo booths, palm readers, interactive food stations), there's nothing better than some old-fashioned lawn games. It's an opportunity to personalize your backyard wedding as well.
Shop the idea: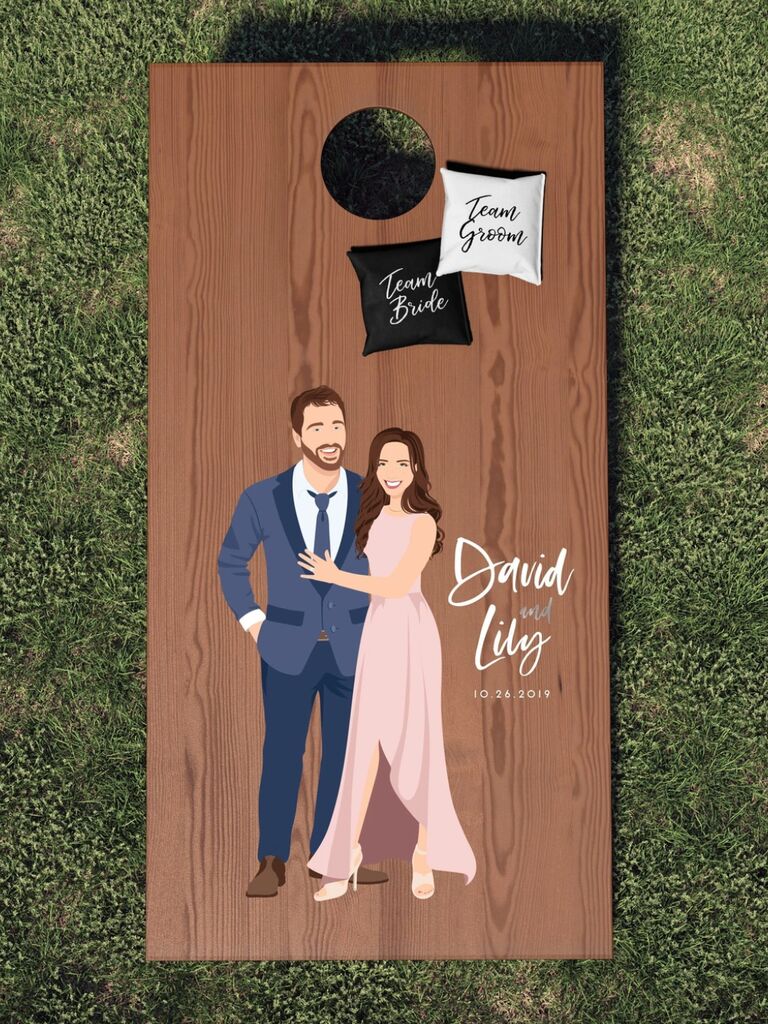 More couples are getting custom illustrations done to commemorate their marriage, and we love the idea of painting one on your cornhole game. Order these adorable boards for a truly personalized lawn game.
Miss Design Berry wedding cornhole board set with couple portrait, from $500, MissDesignBerry.com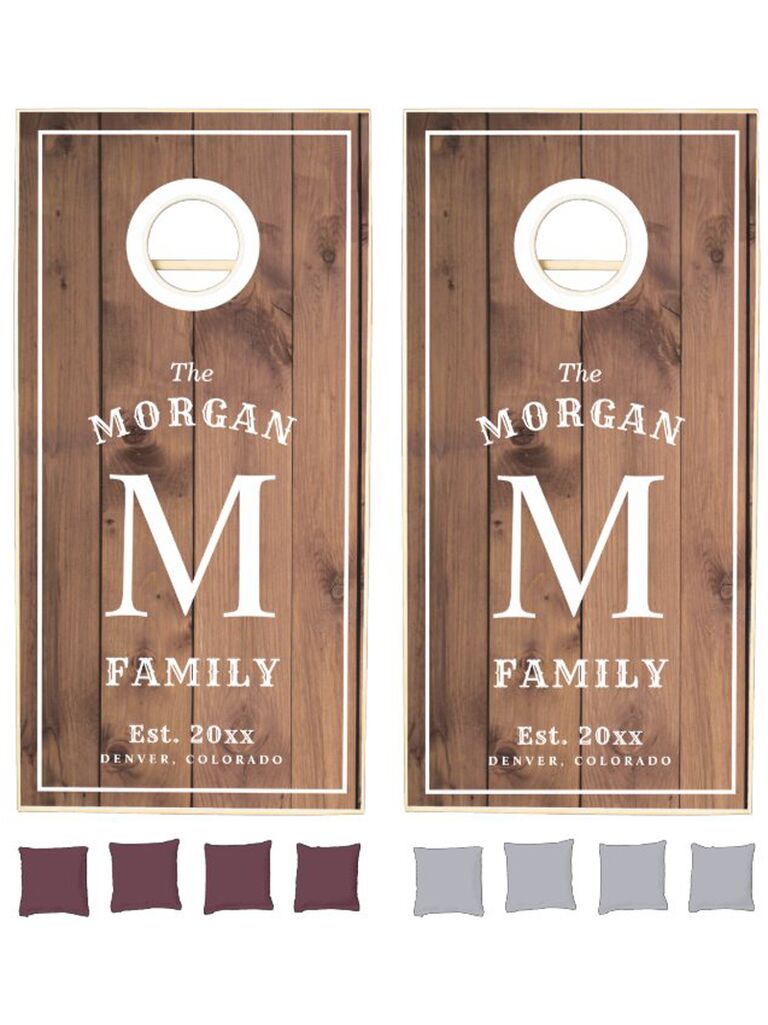 Or, commemorate your wedding day with custom monogram design on your cornhole boards.
Zazzle family monogram light wood cornhole set, $217, Zazzle.com
Geometric Dessert Table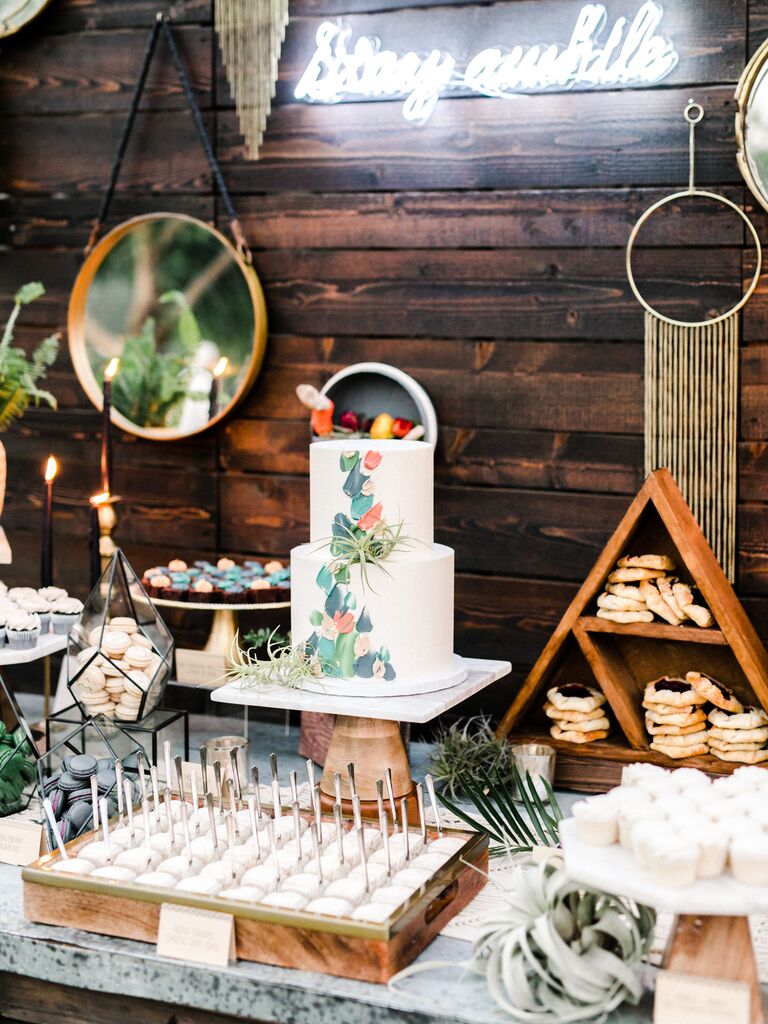 To-be-weds planning a boho backyard wedding will love this idea. Make your dessert table a whimsical installation by using geometric dishes. It's a subtle way to showcase personality with a stylish effect.
Shop the idea: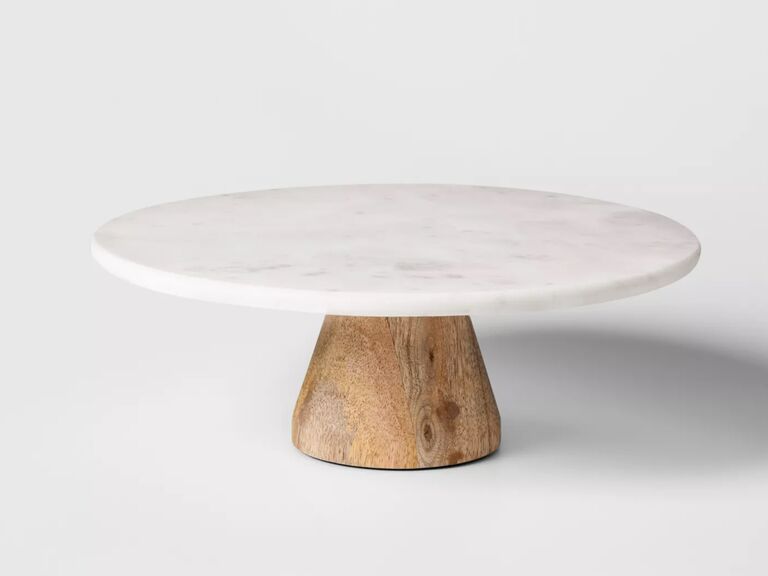 Mixing marble and wood together strikes a beautiful balance between modern and rustic. Place your wedding cake atop this stand to make it the centerpiece of the table.
Project 62 marble & acacia cake stand, $25, Target.com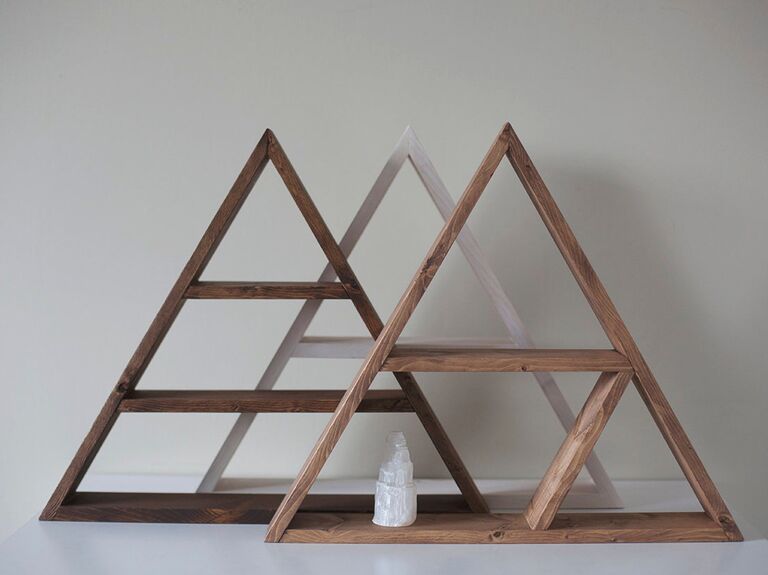 Triangle bookcases also make for unique dessert displays. Section off different sweets in this chic structure.
Wood Pyramid solid wood triangle shelf, from $38, Etsy.com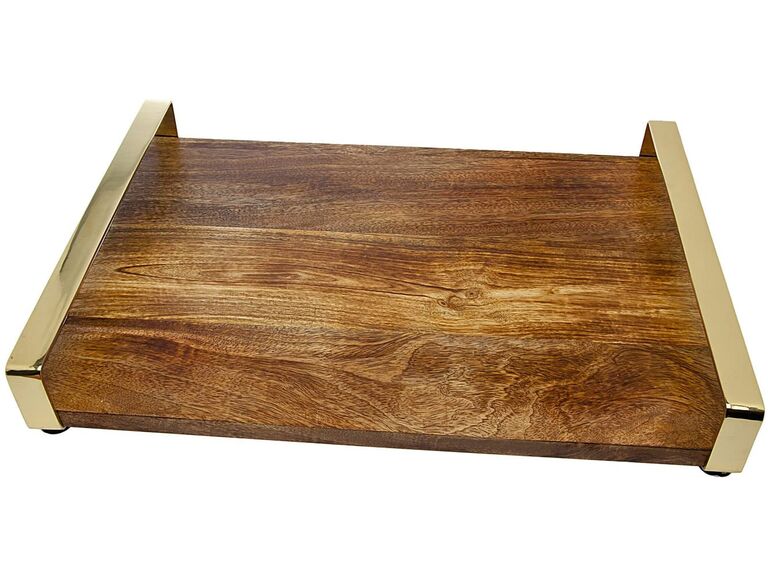 Invest in a wooden tray with metallic accents. Not only will it serve as a gorgeous display for your dessert table, you can use it for years to come.
Godinger wooden tray large platter with gold handles, $40, Amazon.com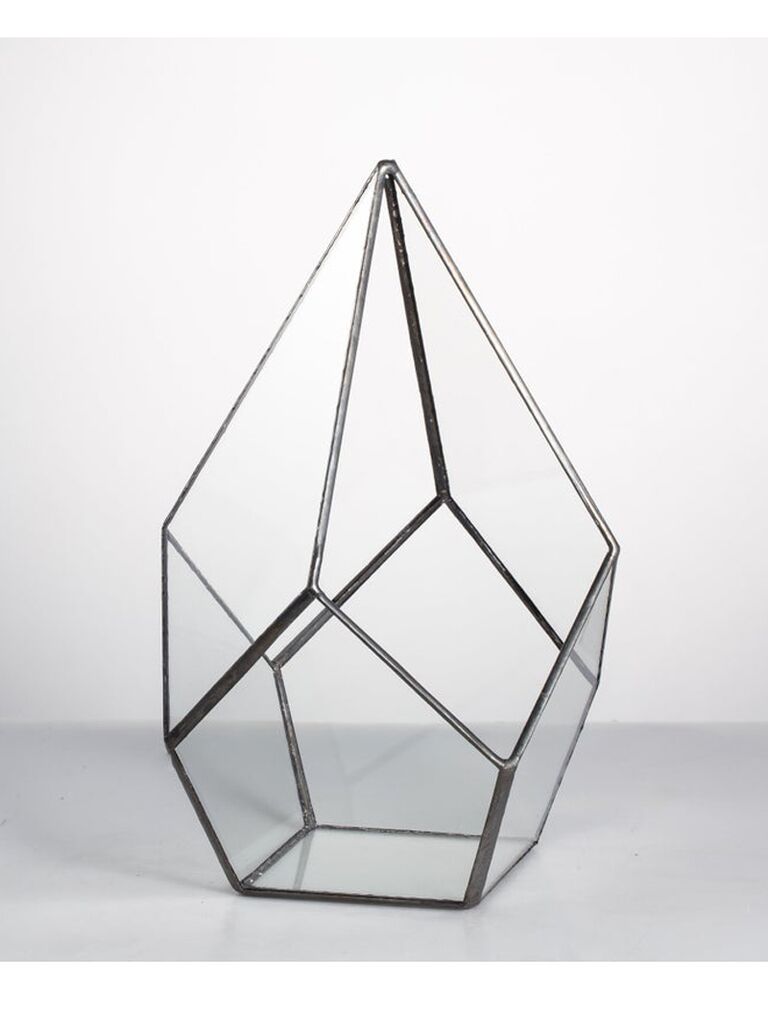 We love the idea of using glass terrariums as serving dishes. Fill yours with sweet treats for an unexpectedly chic accent.
NCYP Garden geometric glass terrarium, $26, Etsy.com
String Lights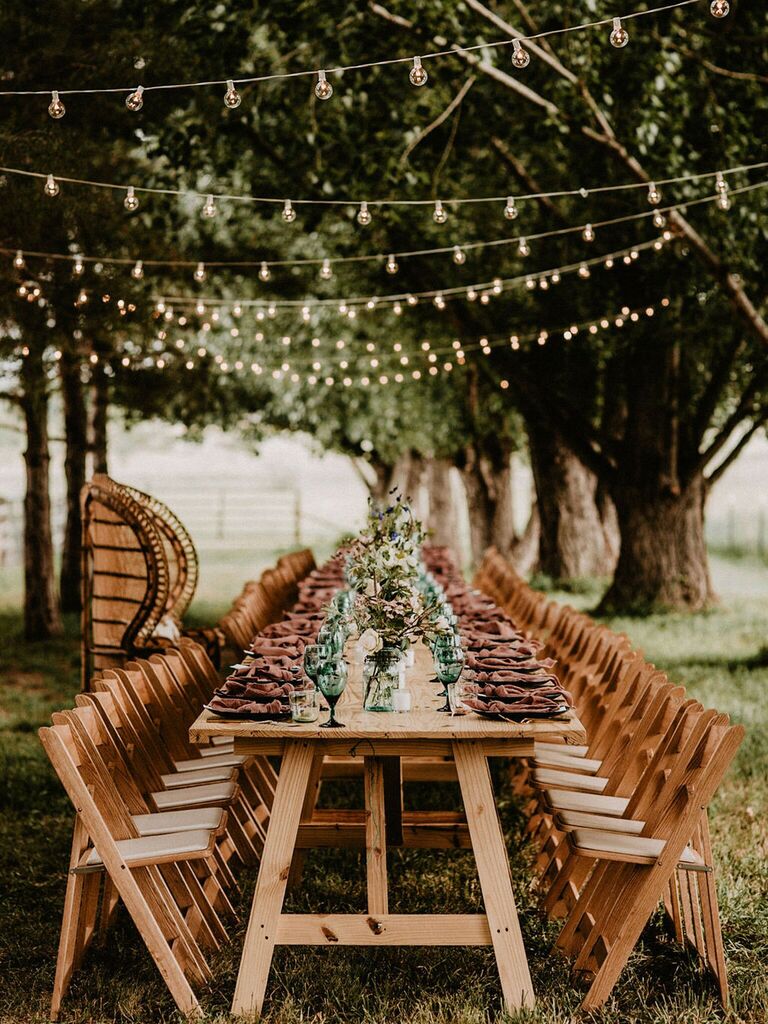 We'd be remiss not to mention string lights. Not only will they serve the actual purpose of lighting your space, but these romantic additions also bring instant warmth to your backyard. Plus, they make any picture look absolutely epic.
Shop the idea: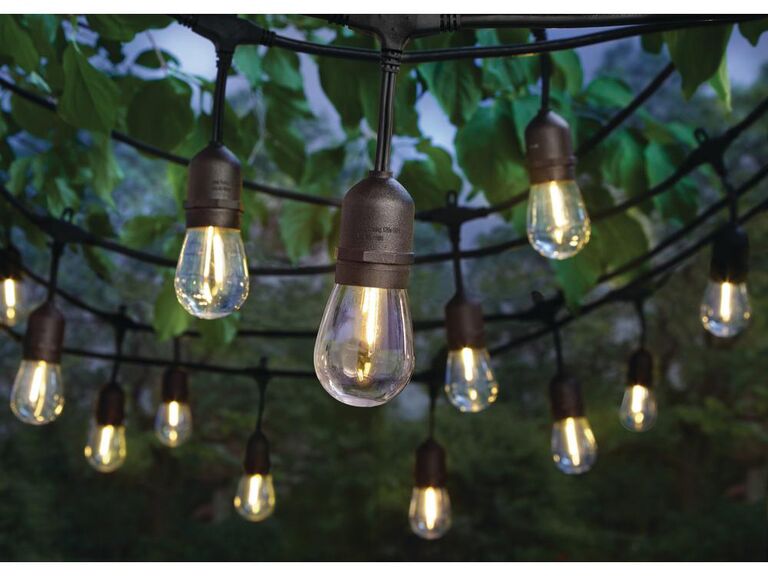 These durable Edison-style bulbs will cast a warm glow over your backyard wedding.
Hampton Bay 24-light indoor/outdoor 48 ft. string light, $50, HomeDepot.com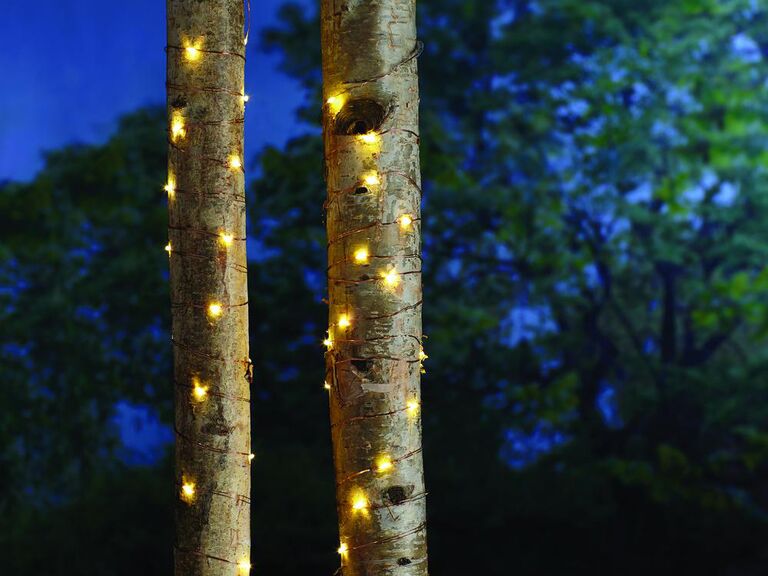 For a more whimsical look, consider these metallic fairy lights.
Hampton Bay 16 ft. battery-powered 25 bulb copper wire indoor/outdoor string light, $8, HomeDepot.com
Confetti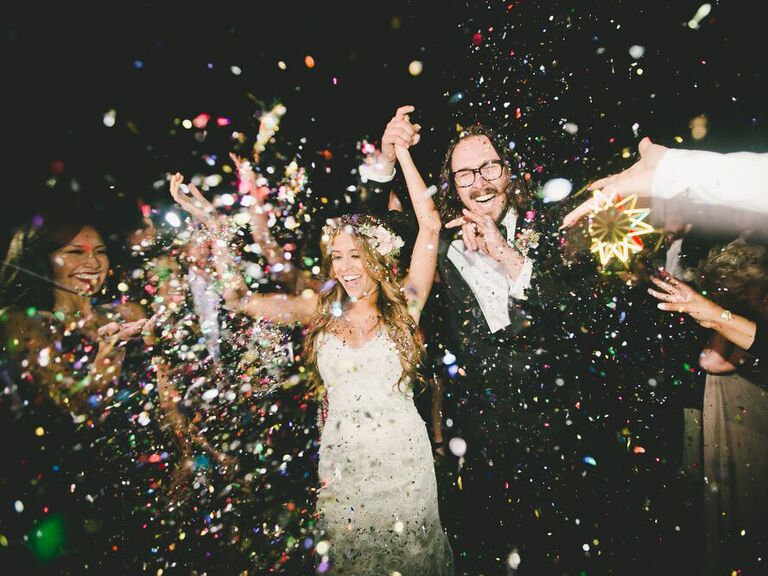 Turn your backyard into the ultimate party by handing confetti to your guests. (Pro tip: ensure it's biodegradable so your wedding is as eco-friendly as possible.) The party favor adds more fun to the day, and it will also create the most epic exit wedding photo ever.
Shop the idea: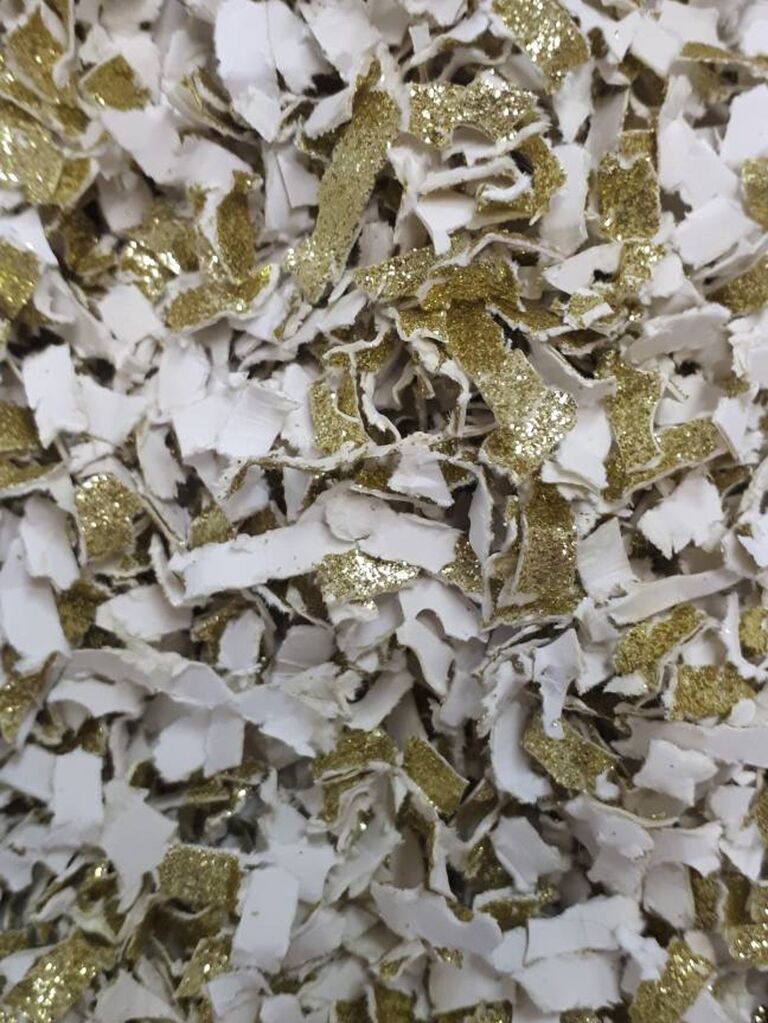 This gold confetti paper will look stunning in pictures.
Prairie Rose Party gold bulk shredded paper confetti, from $10, Etsy.com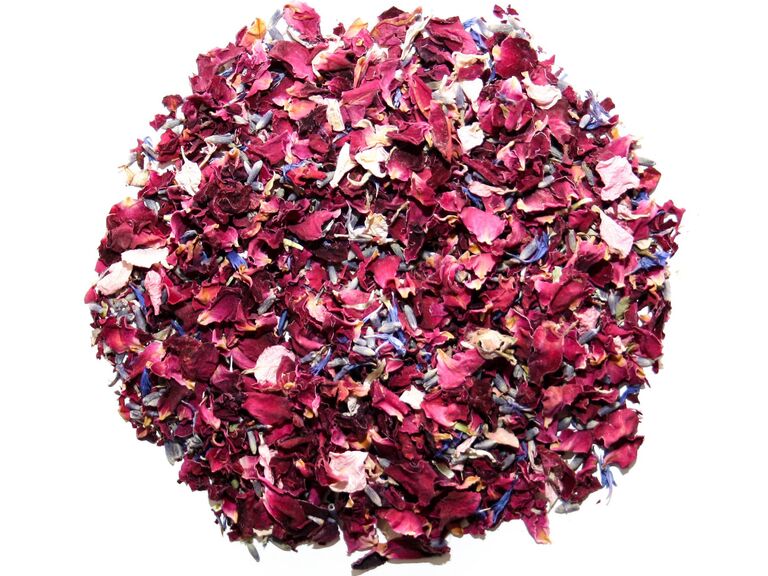 If sparkly confetti isn't quite your vibe, consider using dried wildflowers.
Confetti Cone Company wildflower wedding confetti, from $6, Etsy.com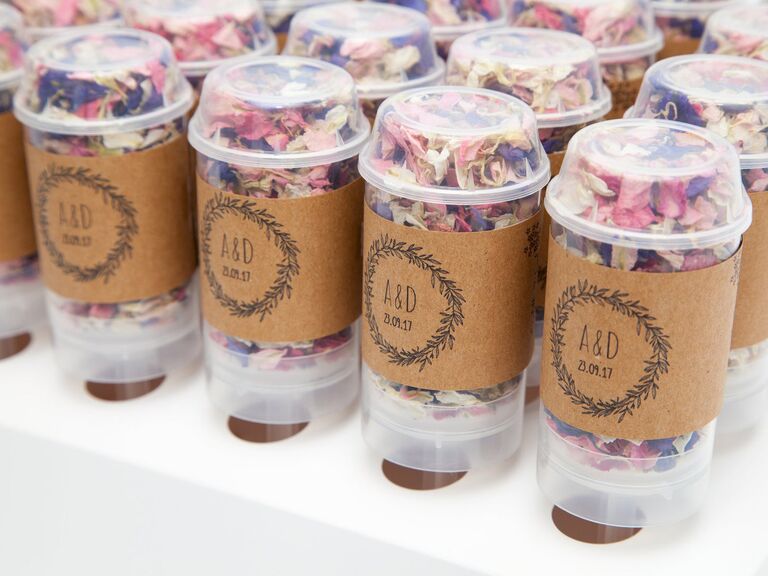 If you don't want to spend the time packaging loose confetti for your guests, consider investing in pre-filled confetti poppers.
Confetti Cone Company wedding confetti popper, from $4, Etsy.com
Letter Statements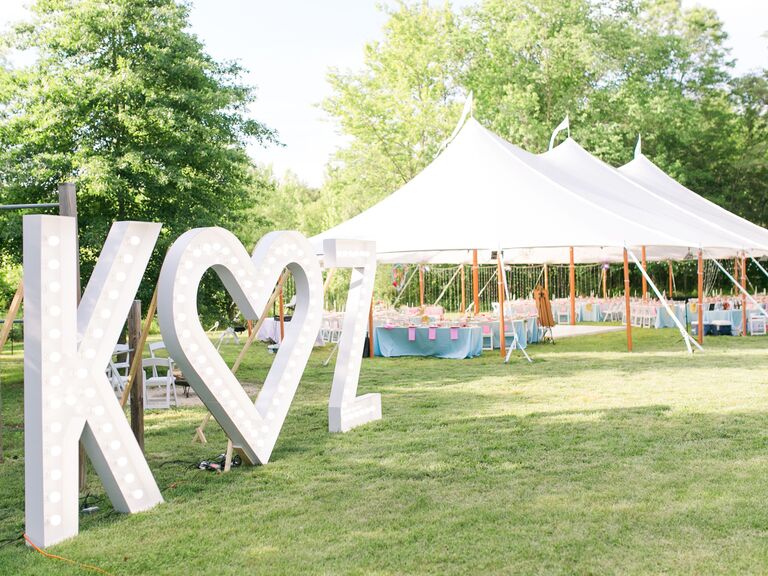 Backyard wedding ideas don't have to be understated. Add drama to your home with larger-than-life marquee letters. They'll add a touch of luxury to the space, and they'll make for the perfect photo backdrop.
Shop the idea: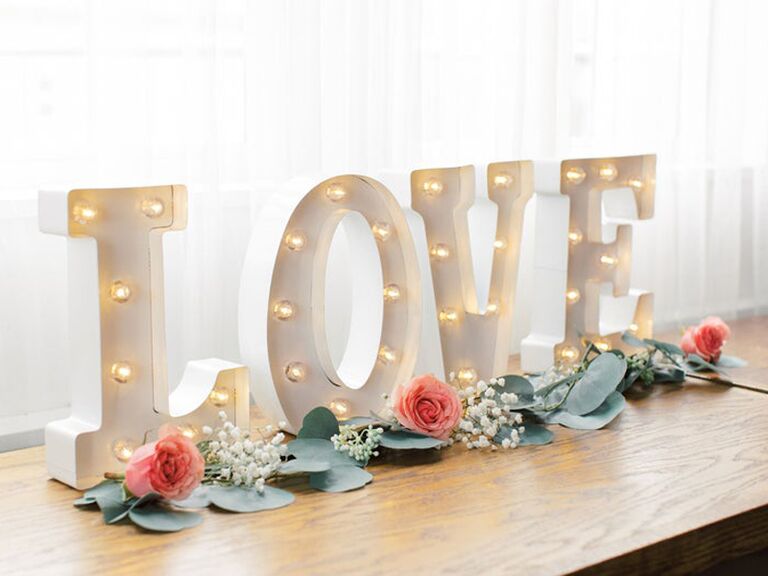 Don't want to go all out with this backyard wedding idea? Consider marquee letters made for a tabletop.
Save The Date Design Designs Co. wedding marquee lights, from $26, Etsy.com
Fabric Arch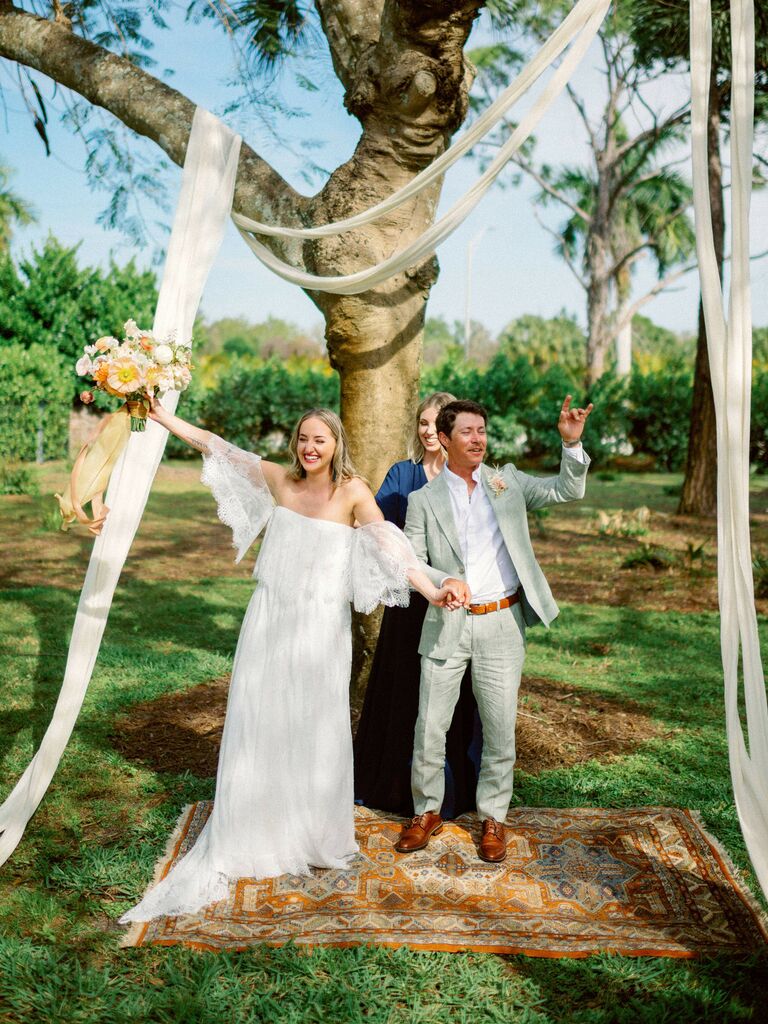 If you're planning a laid-back backyard wedding, consider this creative idea. Rather than a structured arch, drape fabric over a tress for a natural, breezy ceremony spot.
Shop the idea:
Order whatever color fabric you'd like from spots like Etsy, Amazon or Michaels.
Hay Bale Seating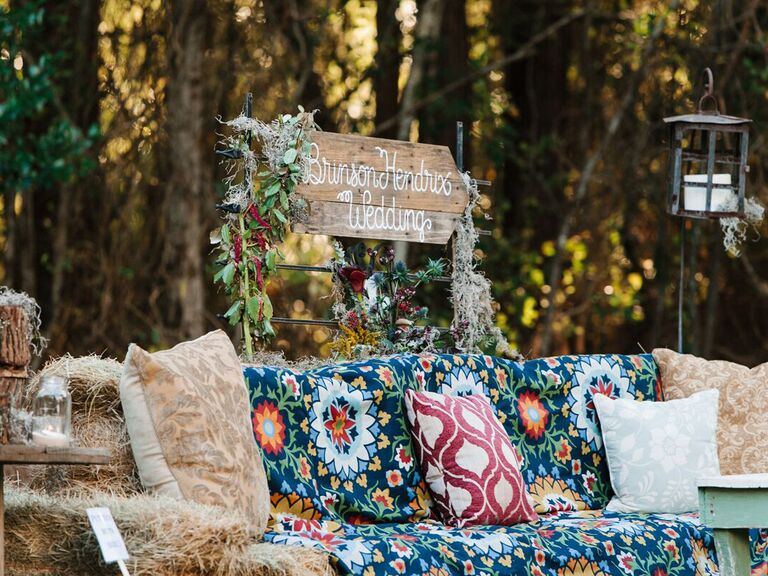 Having a country or rustic backyard wedding? Lean into your theme by using hay bales for extra seating. It's an adorable way to show off your personal style while also ensuring your guests are comfortable. Just be sure to cover them with something so your guests' wedding outfits don't get compromised.
Shop the idea: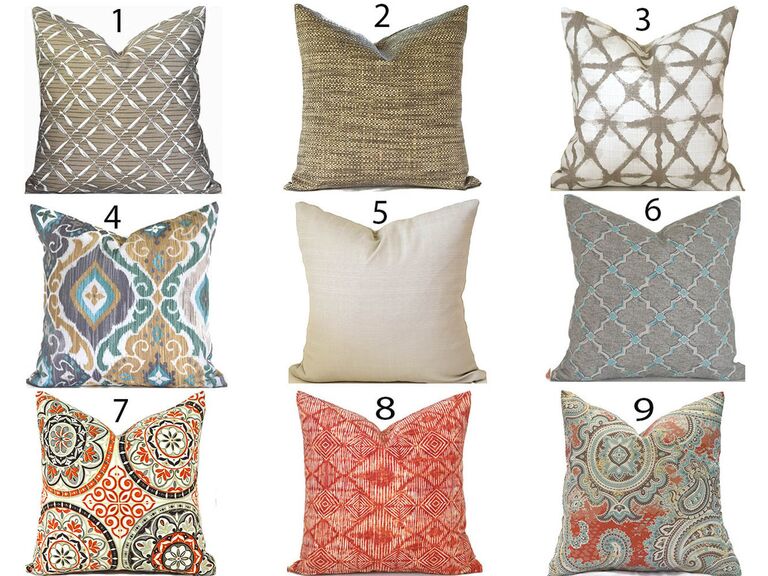 Add a few throw pillows on top of the hay bales to make the space more inviting. We love these outdoor pillow cases, which come in rustic-themed color schemes.
My Pillow Studio outdoor pillow covers, from $9, Etsy.com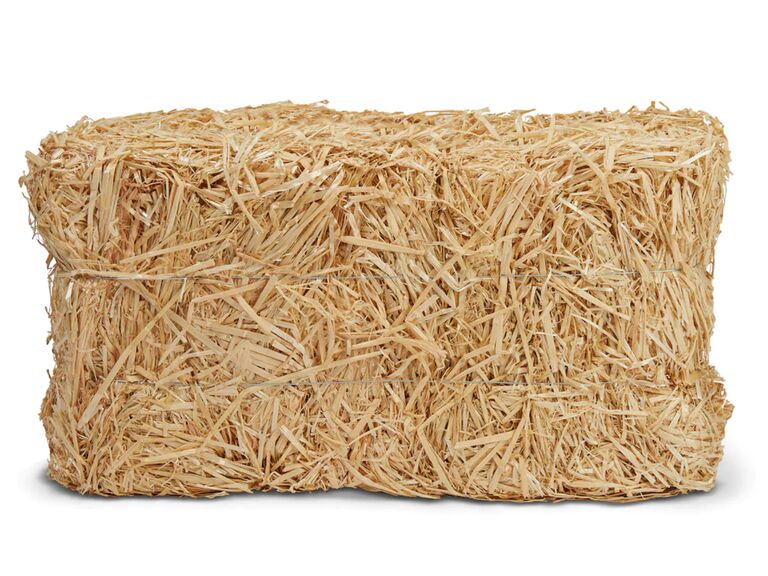 Yes, you can buy actual hay bales for your wedding. Added bonus: you can use them for other fall activities in the future.
Ashland 24" straw bale, $20, Michaels.com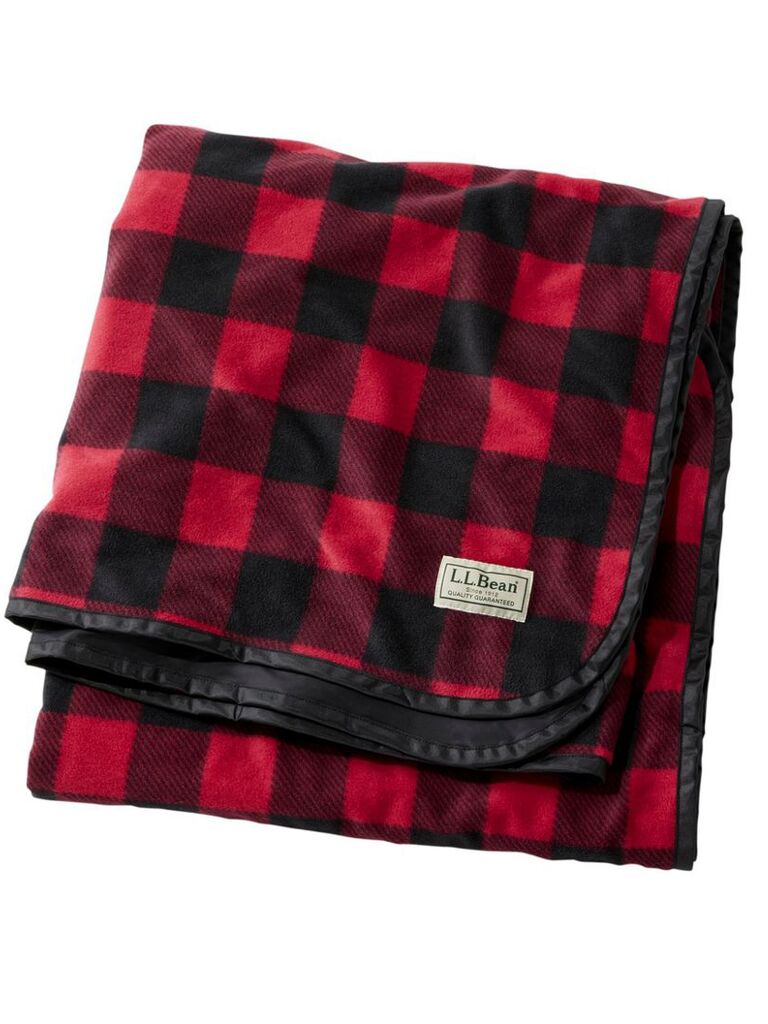 Pick up an outdoor blanket in a classic print, like this buffalo check so your guests can sit comfortably.
L.L. Bean waterproof outdoor blanket in Plaid, $59, LLBean.com
Two-Piece Arch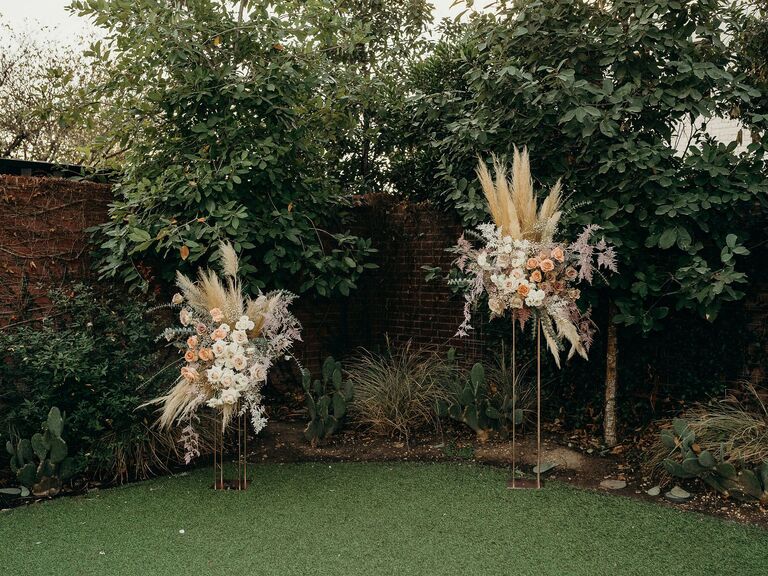 If you and your partner are hosting a unique celebration, consider this trending wedding arch alternative. Rather than one connected piece, use two mismatched pillars for your ceremony's focal point.
Shop the idea: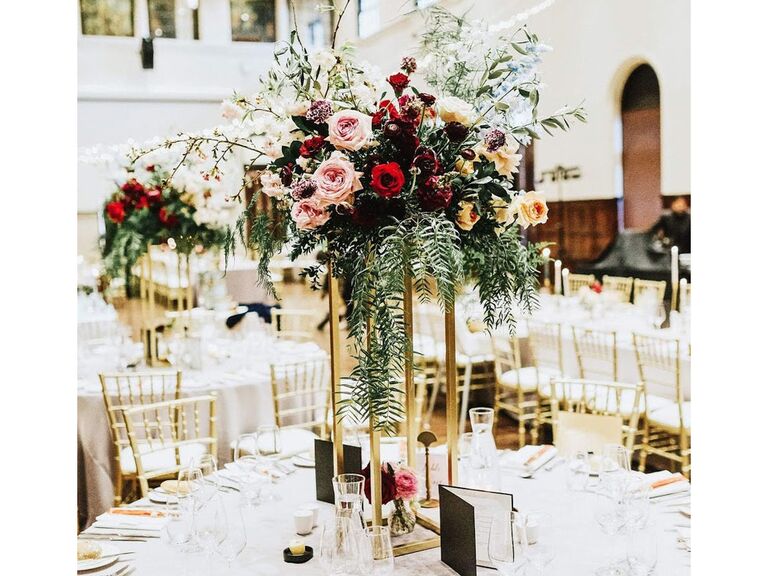 These chic gold stands come in different heights, so you can shop the above idea to a T.
Vallari Decor modern rectangle stand, from $48, Etsy.com
Doors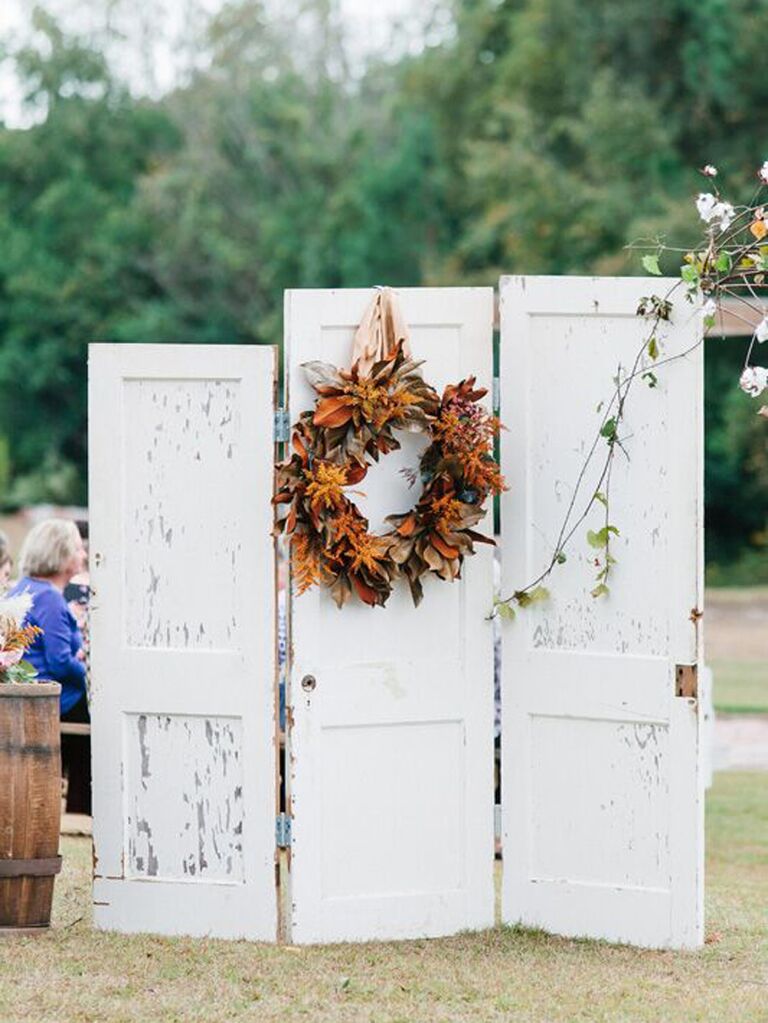 If you're looking for backyard wedding ideas for fall, consider this adorable idea. Section off your lawn with doors decorated with pretty autumn-colored wreaths. It will create the effect of separate spaces, which can be nice if you'd like to plan a more formal event or if you have a large space you want to section off. Check out websites like Etsy and Ebay to track down wedding doors for your ceremony, but act quickly—there's usually only one in stock at a time.
Shop the idea: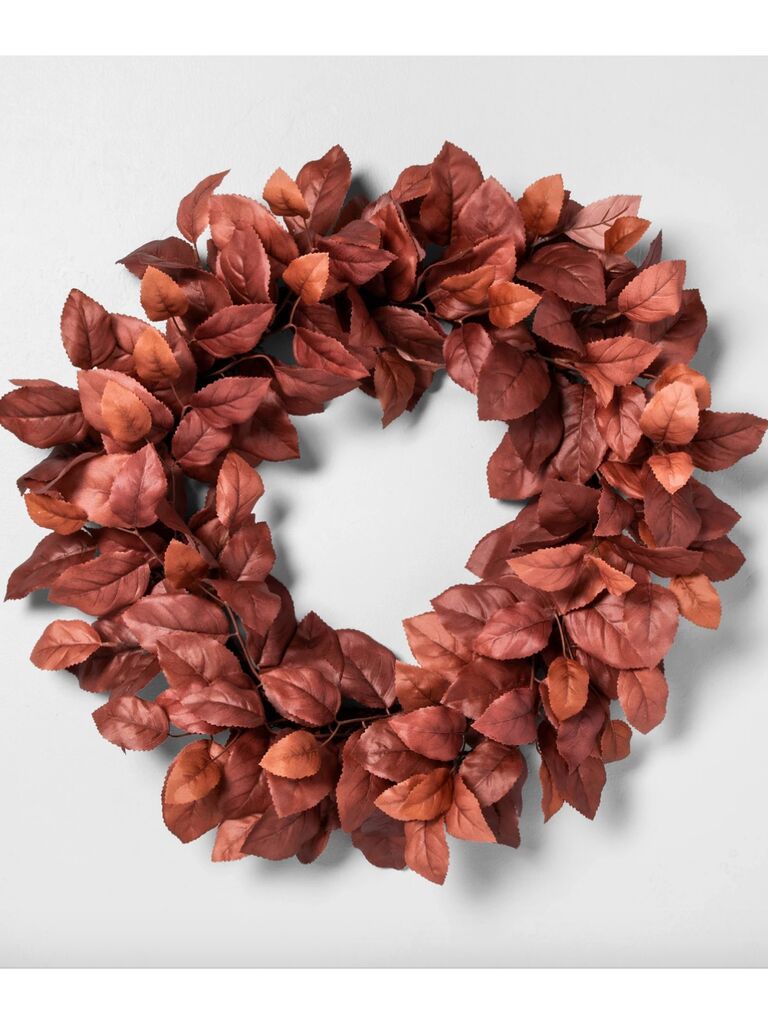 Accent your wooden doors with a pretty wreath. This one is especially perfect for a fall backyard wedding.
Hearth & Hand 24" faux rust Aspen leaves wreath, $35, Target.com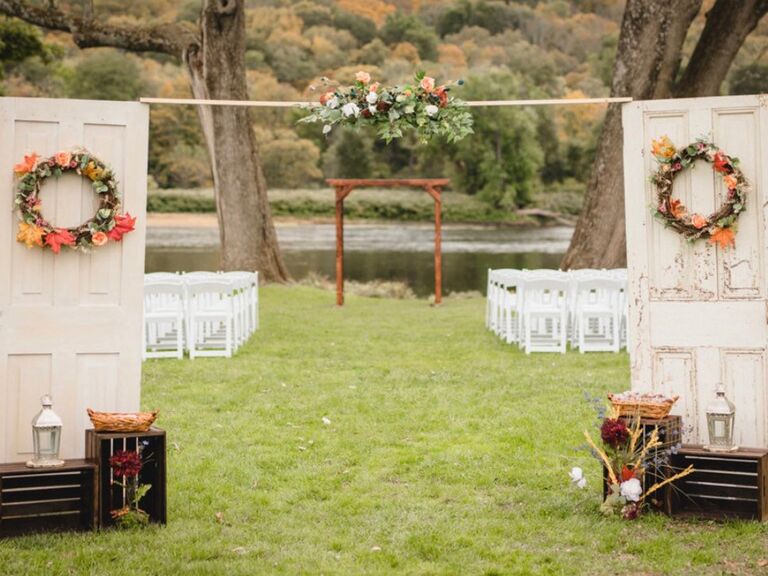 We love these white doors because they'll go with any type of wedding style: rustic, boho, beachy or classic.
Enchanted Tails Co. wedding doorway, $500, Etsy.com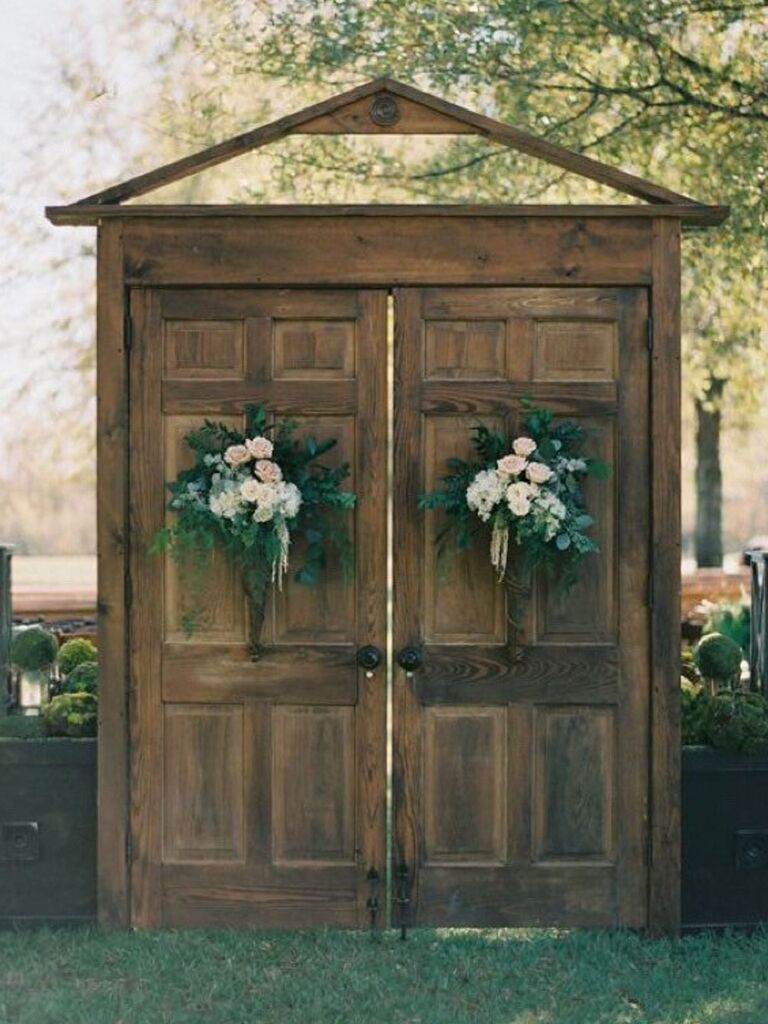 If you're aiming for a minimal or natural look, consider plain wooden doors.
Knotty Wood Craft Shop wedding doors, $2,400, Etsy.com
Macrame Escort Card Display
Natural accents will bring out the beauty of your backyard and macrame is a versatile choice for decor. The escort card display will add texture and dimension to your space in a chic way. You can also pick up macrame table runners or chair decorations to round out the look.
Shop the idea: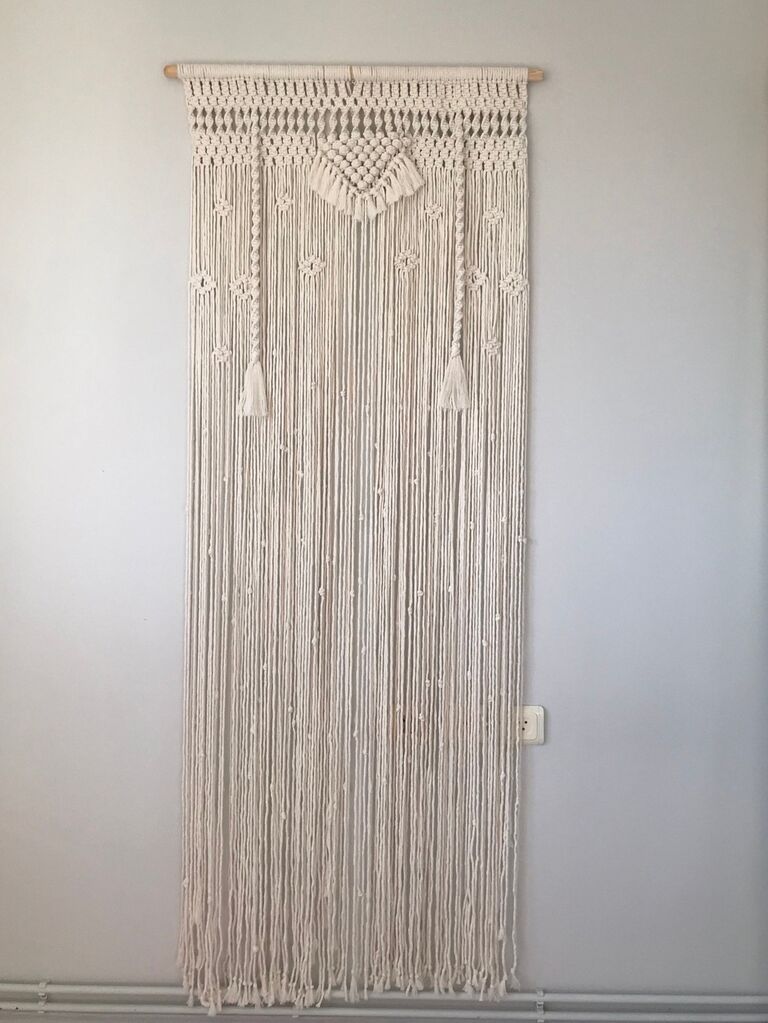 Hang this curtain on a frame for an instantly creative escort card display.
Shateiel Shop macrame curtain, from $44, Etsy.com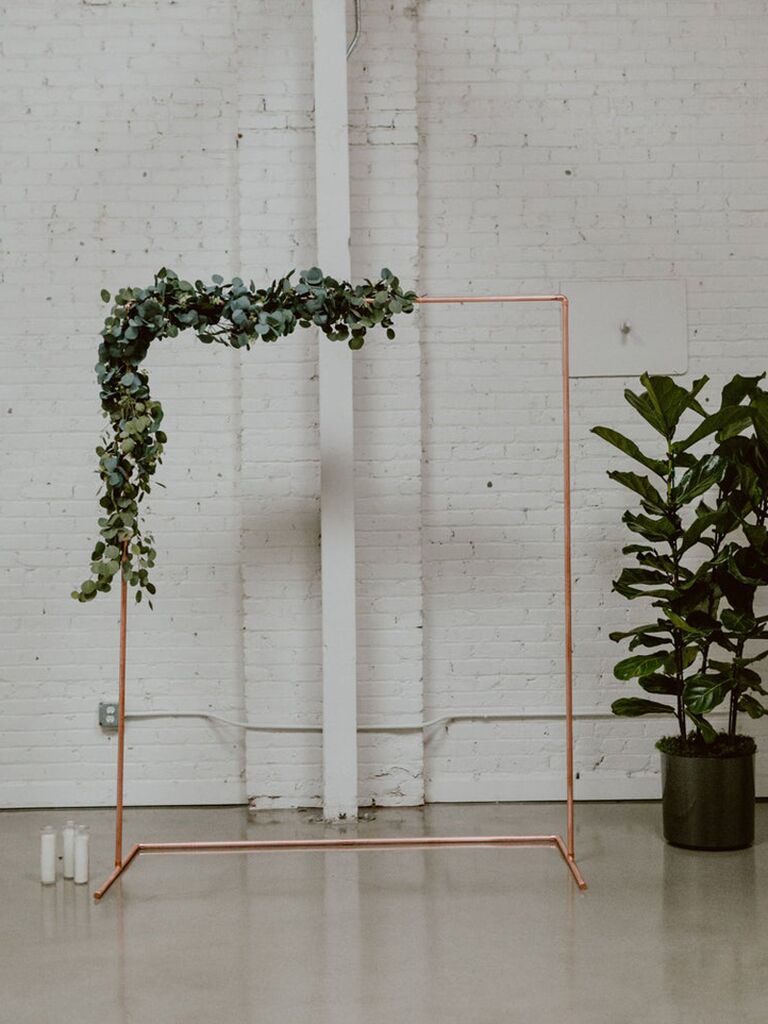 Hang the curtain on a metallic arch. It's a small way to make the escort card display instantly sophisticated.
Blue Lily Bridal copper wedding arch, from $150, Etsy.com
Chandelier in Trees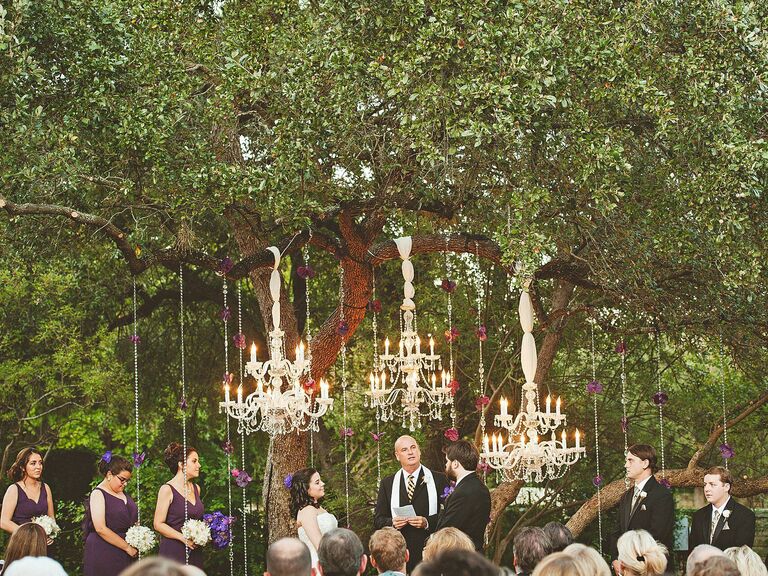 Not every backyard wedding has to be a casual affair. Hang pretty chandeliers in your trees for an ultra-glam aesthetic. Accent the trees with sparkly garland for a magical touch that will make your backyard bash feel just like a fairytale. Contact rental companies to bring this idea to life.
Shop the idea: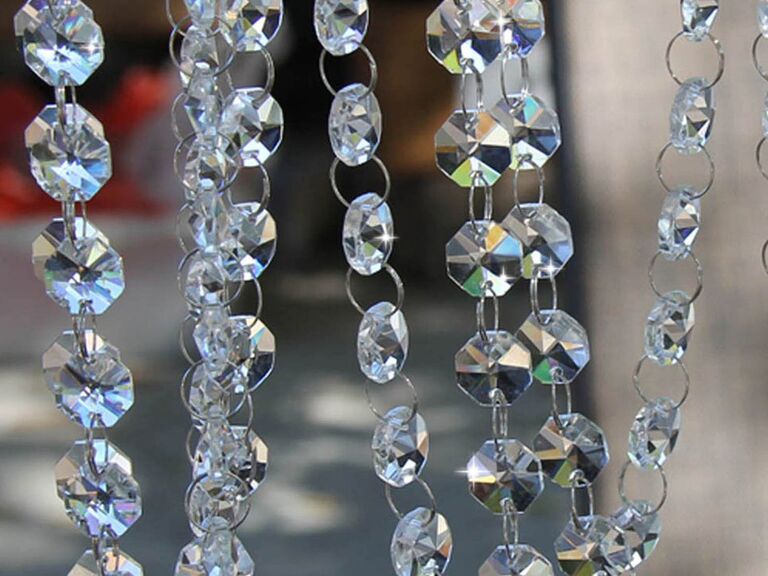 Plain crystal garlands will go with any color scheme or wedding style.
Trendy Gifts Inc 10 ft crystal beads chain, $7, Etsy.com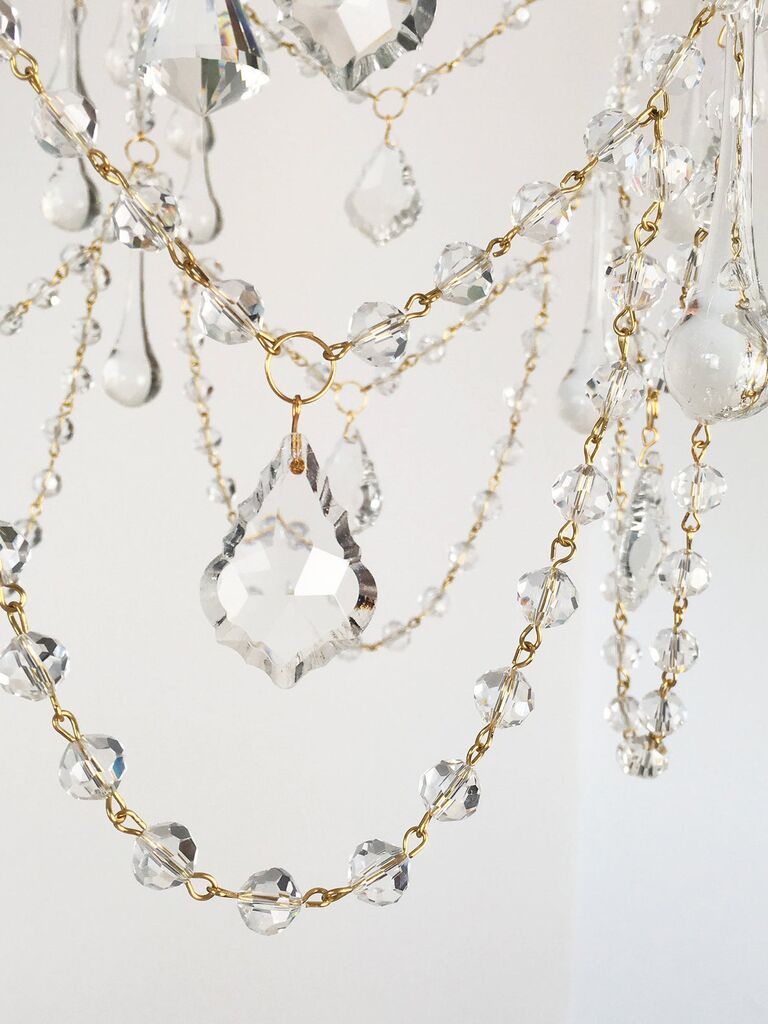 Mix your metallics for a modern, trendy look that will sparkle in your wedding pictures.
Ylle Studio clear crystal beaded chain, $19, Etsy.com
Shot Glass Place Cards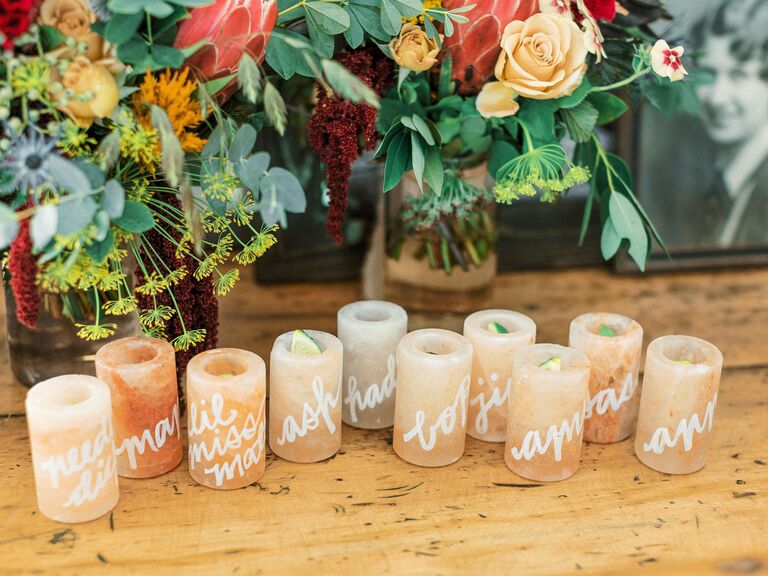 Bring the party to your table setup by switching out traditional place cards for pink Himalayan salt shot glasses. Not only will they add a touch of subtle color to your tablescape, they'll also create an Instagrammable moment for your guests. Plus, they're a unique wedding favor your guests will actually use again. Cheers!
Shop the Look: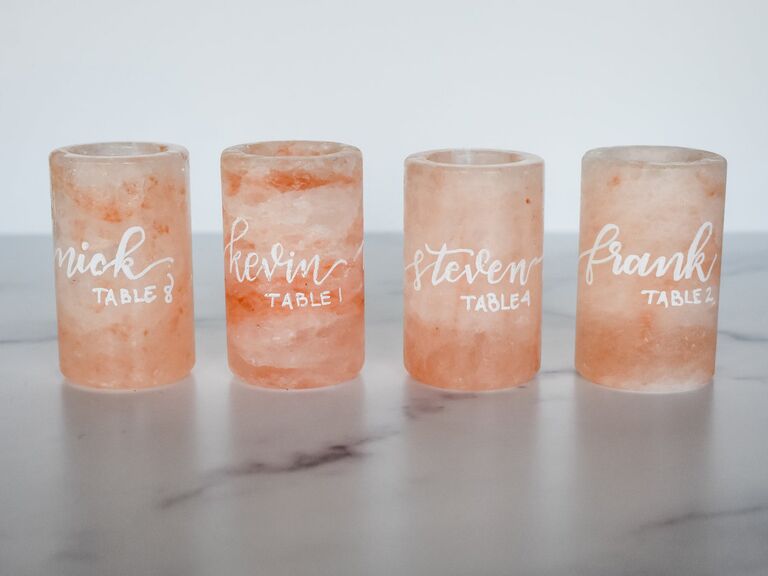 We love these because they include the table number, so your guests can find their assigned spots easily.
CLP Calligraphy place card Himalyan salt shot glasses, from $42, Etsy.com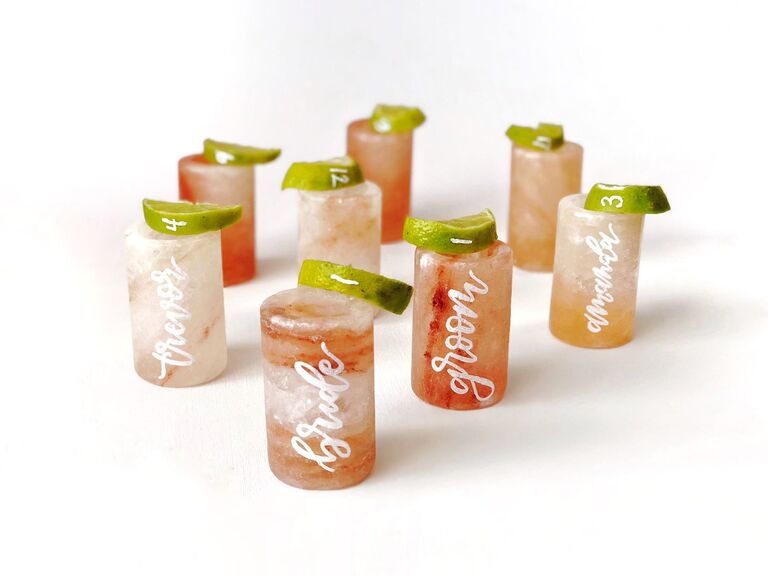 If you'd rather not include the table numbers on the favors, set up these personalized shot glasses according to your seating chart.
XO Art and Design Himalyan pink salt shot glasses, from $6, Etsy.com
Circular Setup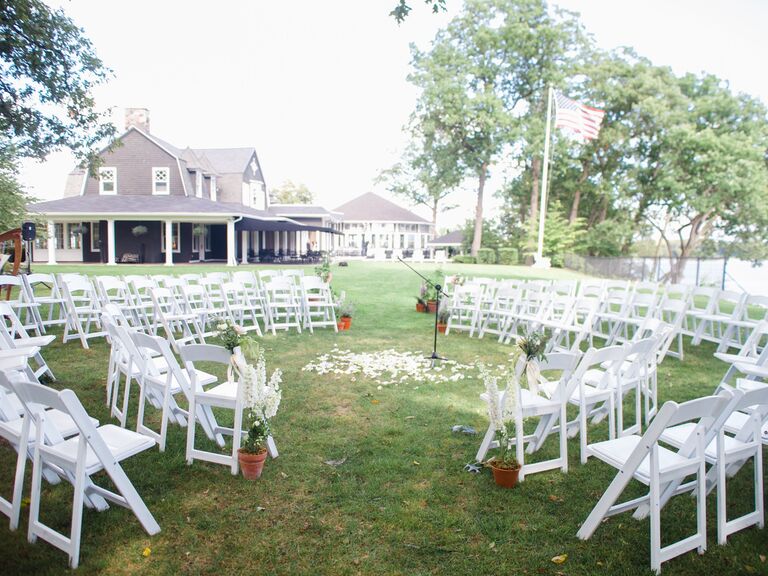 A major pro of exchanging vows in a backyard? You're totally in control of how it goes down. So if an aisle with two sides doesn't sound right for you, consider alternative setups, like a ceremony in the round. You'll be surrounded (literally) by the ones you love. Plus, guests will have a great view of you and your partner as you say "I do." Work with rental companies to select the perfect chairs for the ceremony. We love plain white ones, as they add a light, airy feel to the decor.
Shop the idea: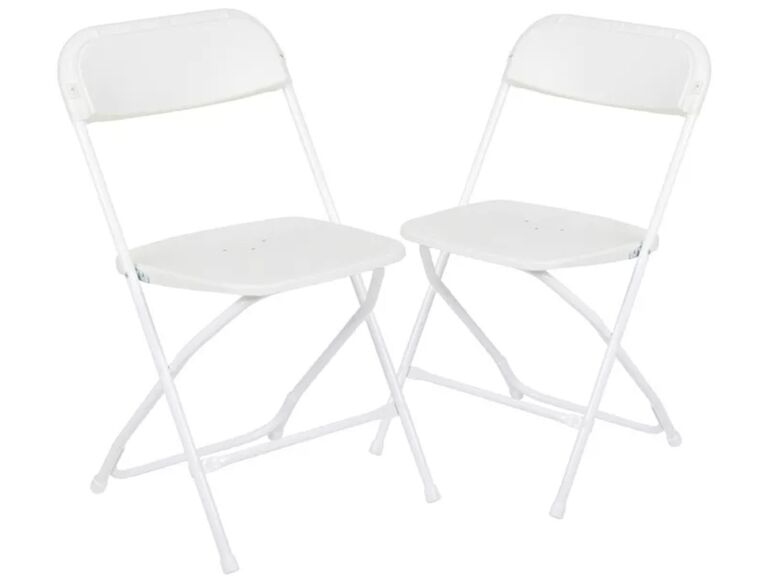 If you're looking to DIY your ceremony completely, pick up these simple white chairs to nail the look.
Flash Furniture plastic folding chairs in White set of 2, $42, Target.com
Unique Dance Floor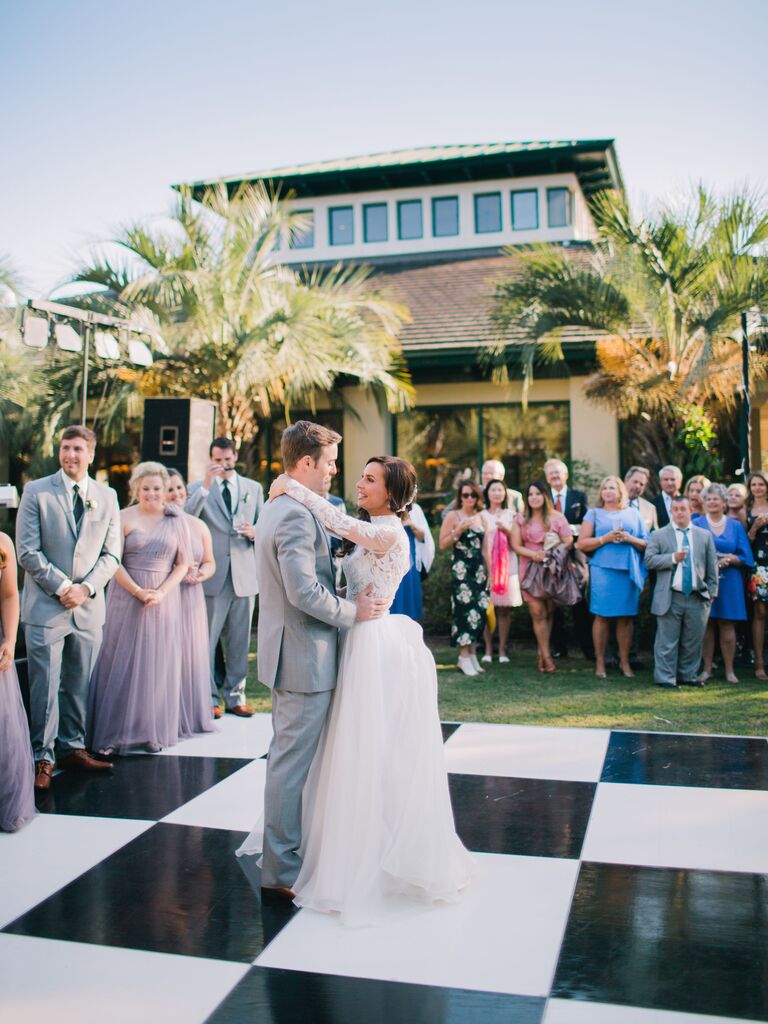 If you have the room to accommodate a full dance floor, make the space pop by incorporating a fun color or pattern. We love this checkerboard design, as it creates an old-school effect that will look stunning in photos. Work with a rental company to create a customized dance floor that will show off your personality to your guests.
S'mores Station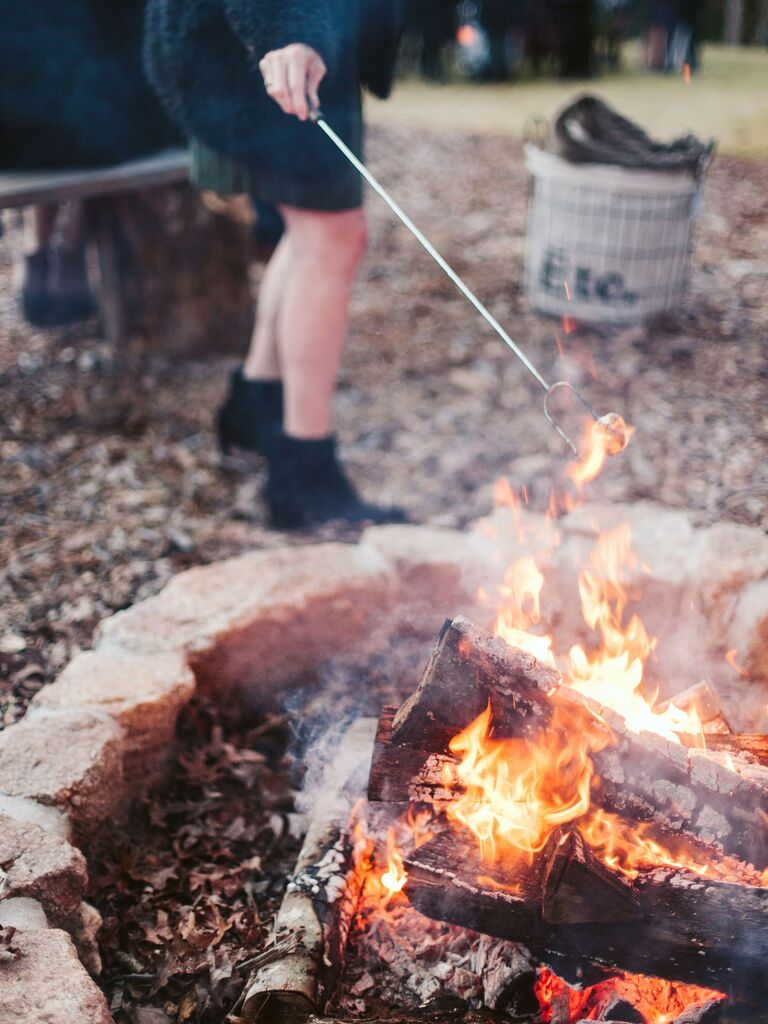 https://www.theknot.com/real-weddings/smores-at-fall-backyard-wedding-in-georgia-photo
Who doesn't love a good old-fashioned s'more? Add a touch of nostalgia to your backyard wedding by setting up a campfire. It will keep your guests warm after the sun goes down, and it'll provide everyone with a sweet treat.
Shop the idea: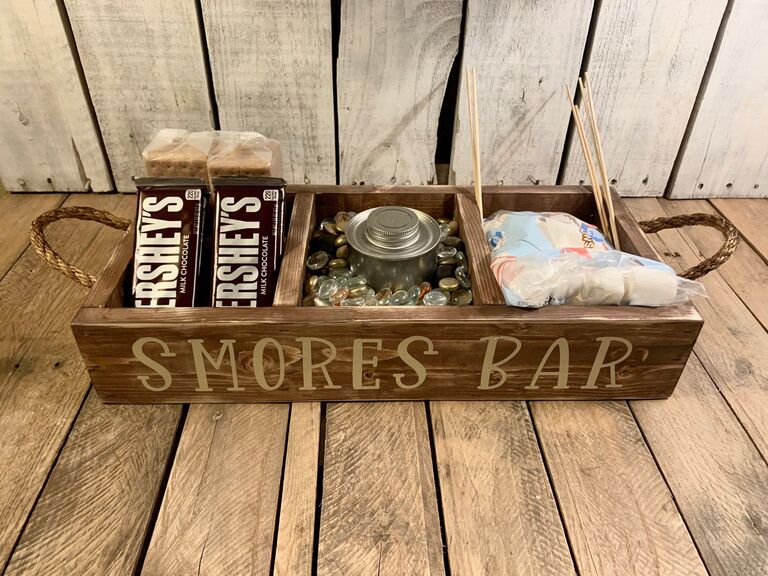 Create a cute setup for your s'mores station with this wooden box. It has sections for everything
Its Your Sign Designs s'mores bar box with handles, $49, Etsy,com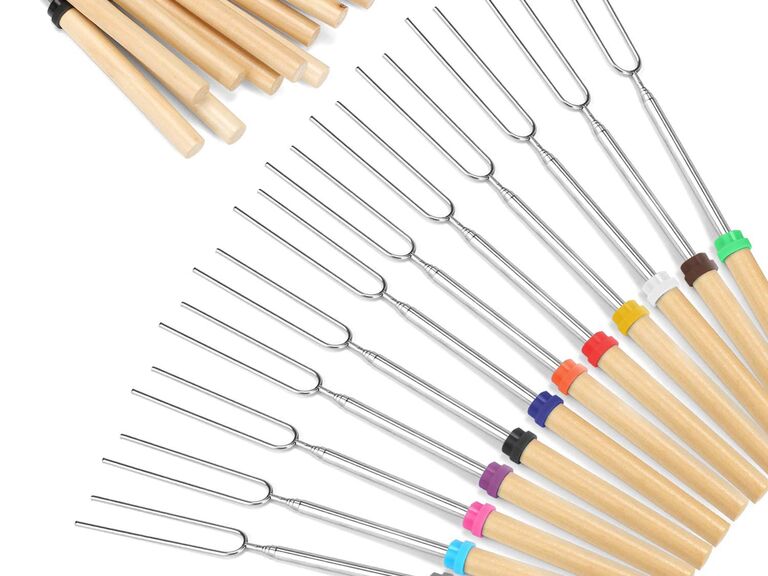 Make sure nobody gets too close to the fire with these extendable marshmallow roasting sticks.
Hadoife marshmallow roasting sticks, $18, Amazon.com
Food Truck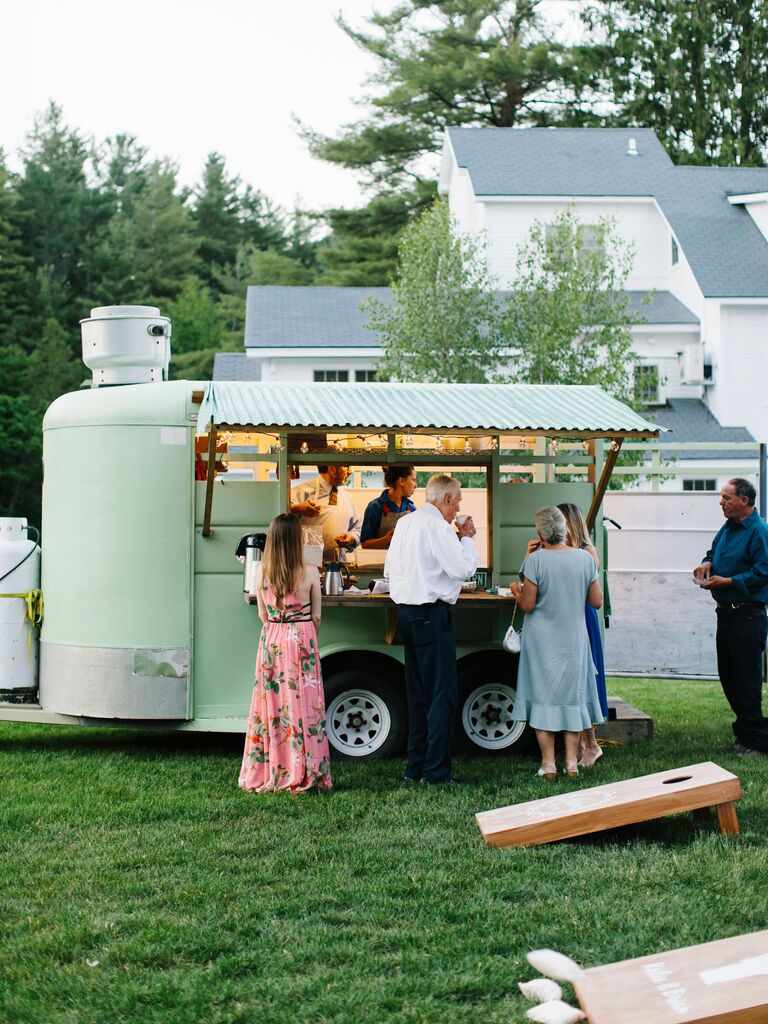 Treat your guests to a yummy late-night snack (and an unforgettable experience) with a food truck. Bring in anything from tacos to ice cream to burgers—whatever you and your boo love to eat! Work with your caterer or support a small local business to bring this idea to life.
Typewriter Guest Book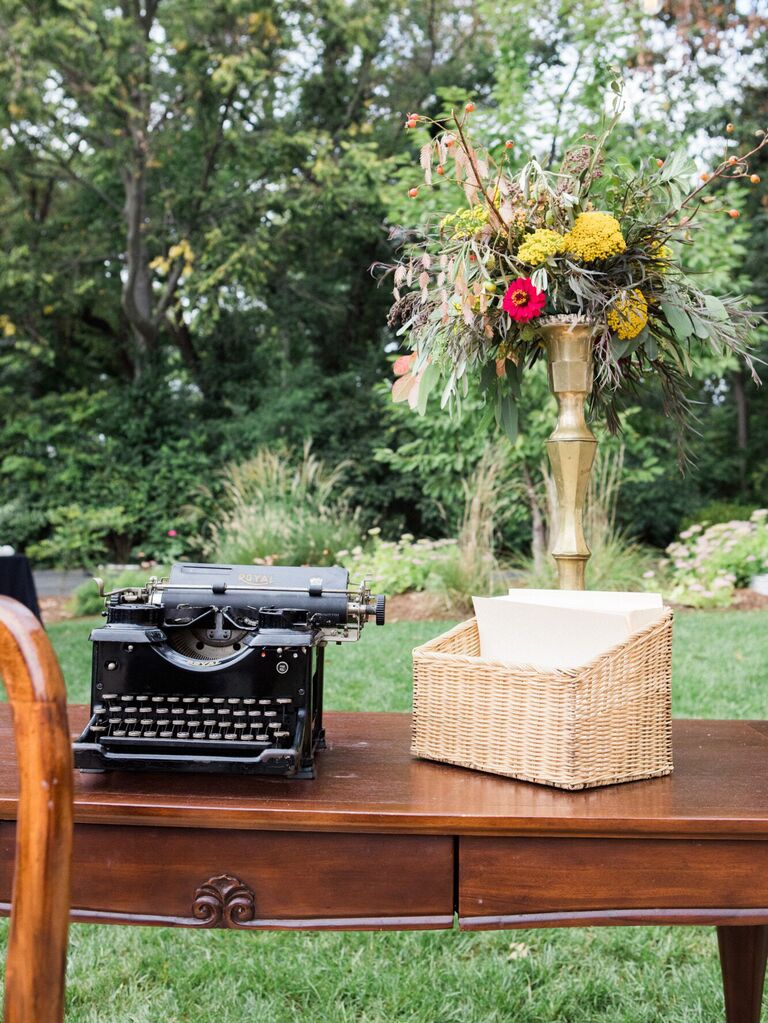 If you're planning a vintage-themed wedding, consider this unique backyard wedding idea. Have your guess type words of wisdom or well wishes with a typewriter. You'll end up with a chic, retro-looking book full of sweet notes. Plus, you can keep the typewriter and use it in your newlywed nest.
Shop the idea: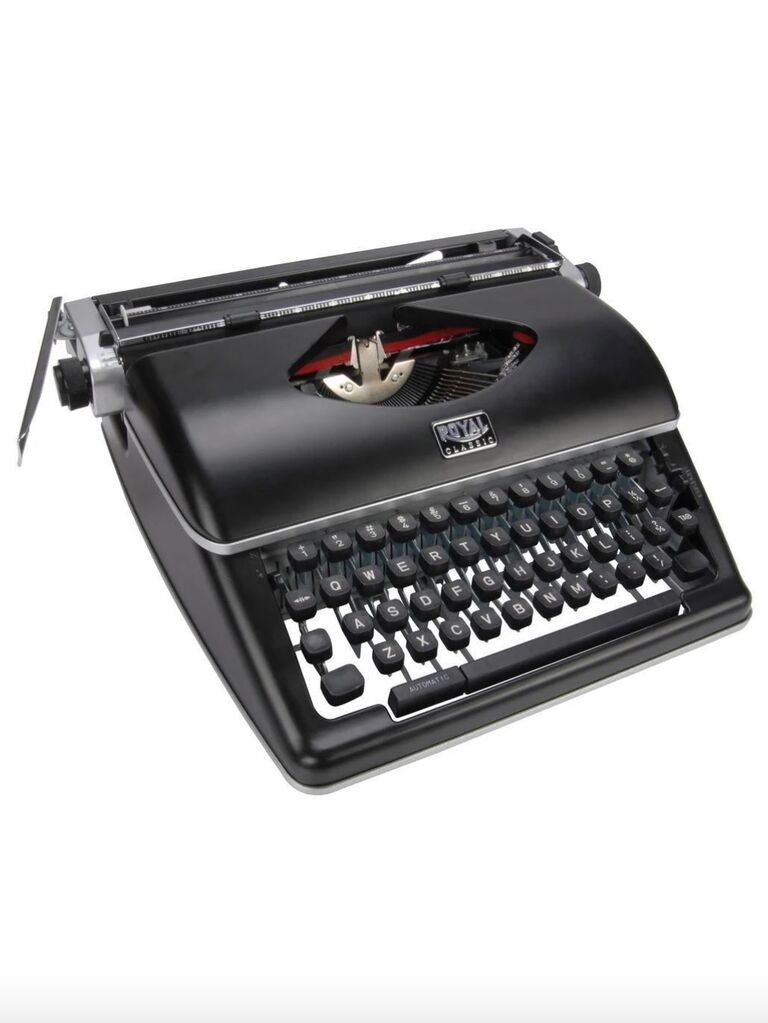 A simple black typewriter will seamlessly blend with any color scheme or wedding season.
Target royal classic manual typewriter, $196, Target.com
Lemonade Stand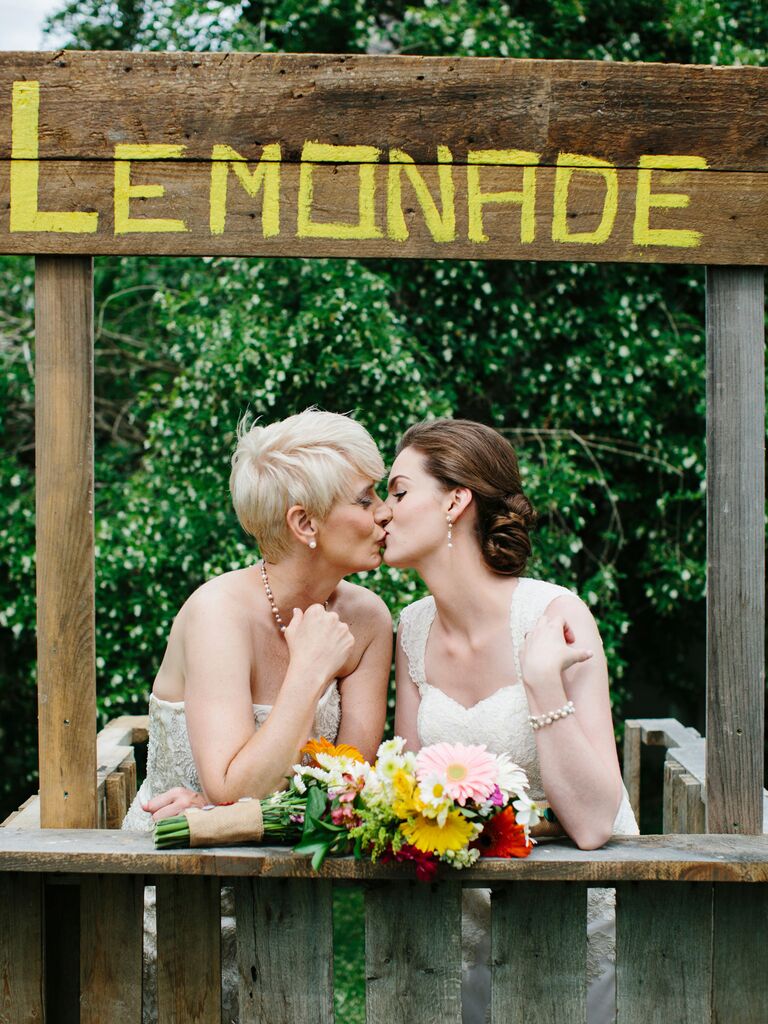 Pay homage to your childhood home by setting up an adorable lemonade stand. Stock it with actual lemonade (or lemonade-inspired cocktails) for your guests to enjoy.
Shop the idea: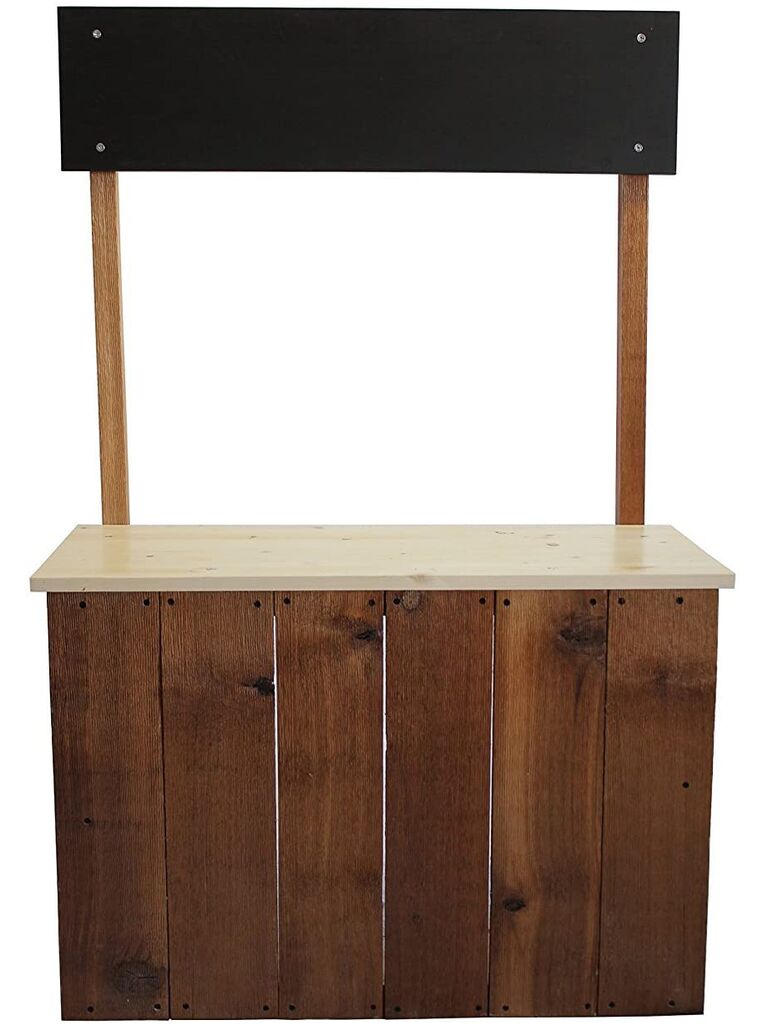 This lemonade stand is easy to assemble and will look positively adorable when adorned with decorations.
JJ Lemon lemonade stand 5-piece kit, $259, Amazon.com
Clear Tent With Lights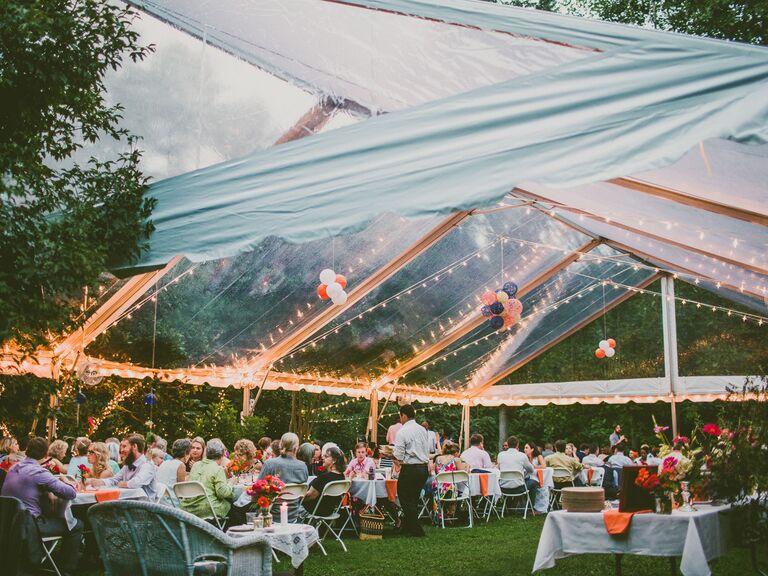 If rain is in the forecast for your wedding day, not to worry. Every outdoor wedding should have a backup plan. We love the idea of a clear tent, as you and your guests can still enjoy the scenic backdrop without getting wet. Add in string lights for a dreamy effect. Work with your wedding planner or rental company to secure a tent in case the weather doesn't cooperate on your day.
Heating Lamps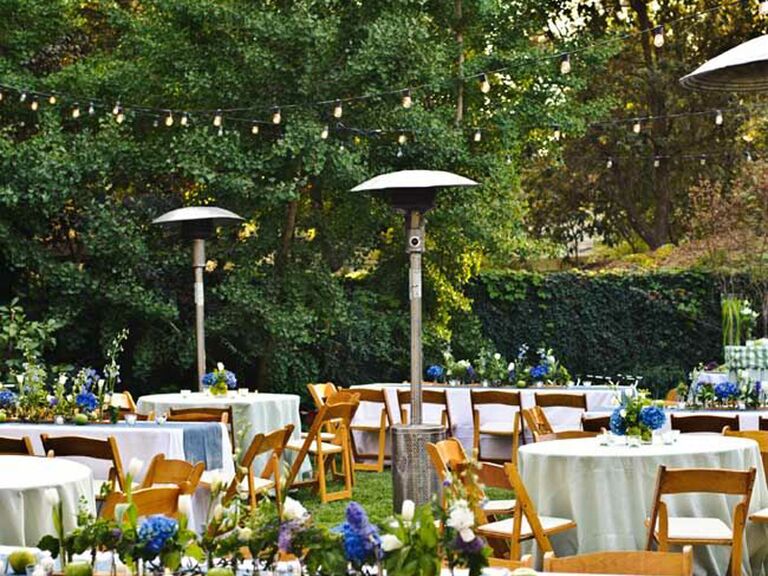 As the sun goes down, the temperature might follow. To help keep your guests comfortable, consider bringing in heating lamps so they can enjoy the celebration long into the night.
Shop the idea: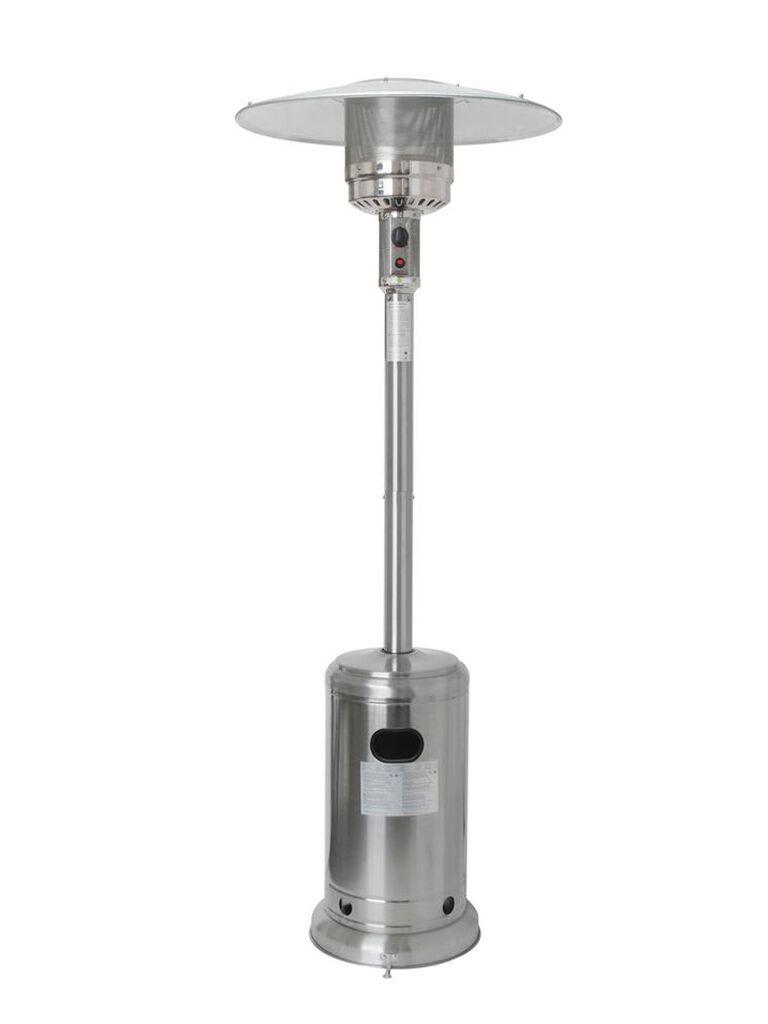 These heating lamps will add a modern touch to your backyard wedding. Plus, they'll come in handy for future use if your newlywed nest has a backyard.
Hampton Bay 48000 BTU stainless steel patio heater, $149, HomeDepot.com
Hang Natural Decorations From Trees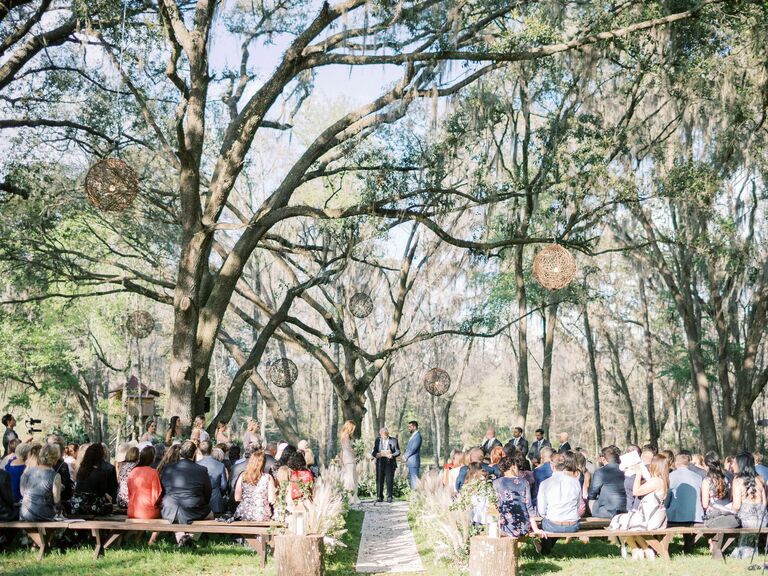 Make use of the tree branches in your backyard by hanging decor from them. These natural orbs create a whimsical, bohemian effect that is absolutely stunning. Just make sure they're tied tightly!
Shop the idea: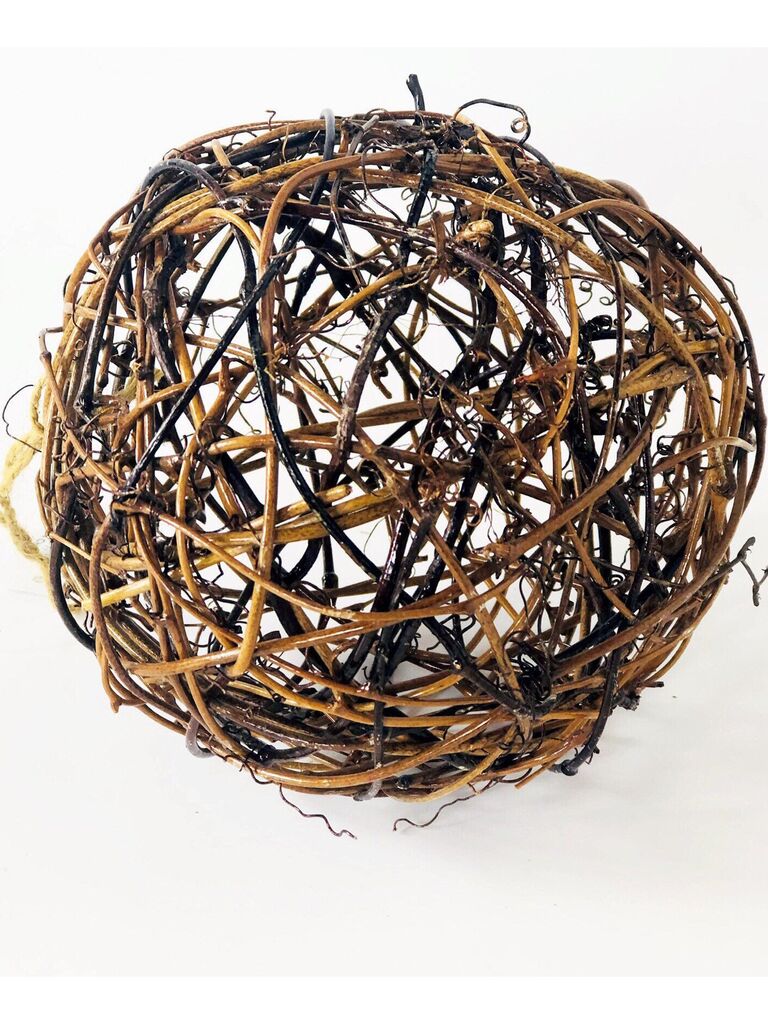 Simply add twine to this grapevine sphere for a free-spirited aesthetic.
Heavenly Wreath Co sphere grapevine 7", $19, Etsy.com
Simple Table
Let the natural beauty of your backyard shine with long, simple tables. We love the tiny white confetti, glass vases and white lanterns on this tablescape, but feel free to add whatever small touches makes you the happiest.
Shop the idea: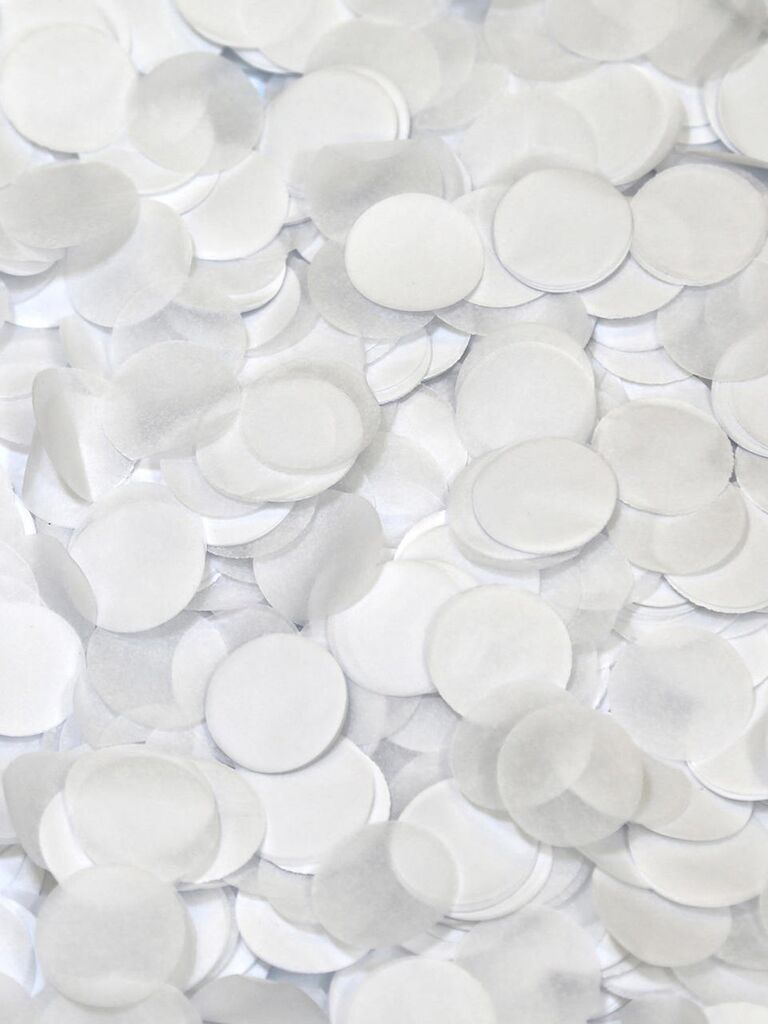 Sprinkle these adorable circles down the length of your table for an extra-festive look.
Ultimate Confetti 1" white tissue circles, $20, Etsy.com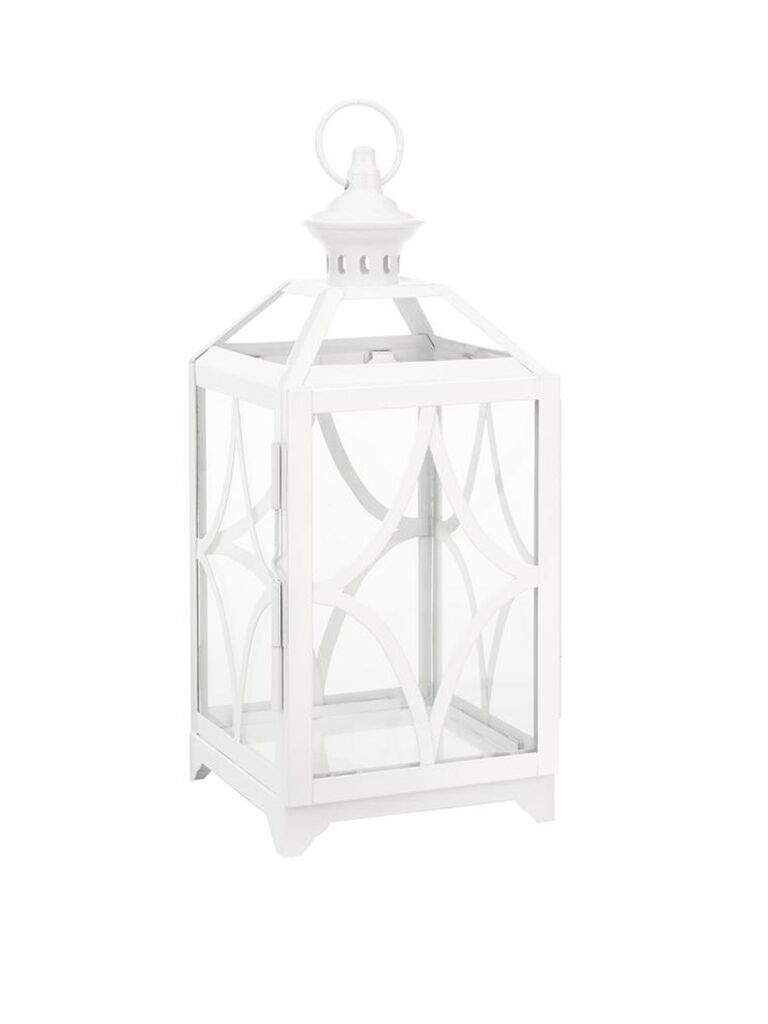 Line your table with lanterns for a lovely candlelit glow.
Hampton Bay 14 in. metal and glass outdoor patio lantern, $29, HomeDepot.com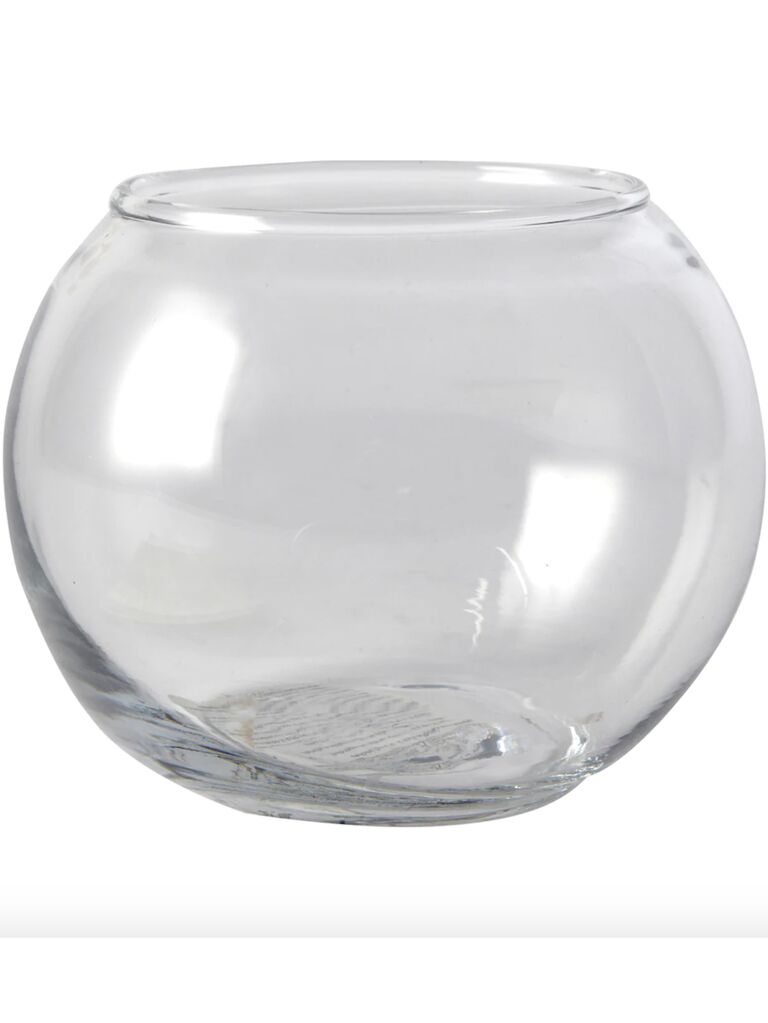 We like clear vases because they don't block anyone or any part of the decor. Fill them with flowers for a low, beautiful centerpiece.
Ashland Rose Bowl, $2, Michaels.com
Sparklers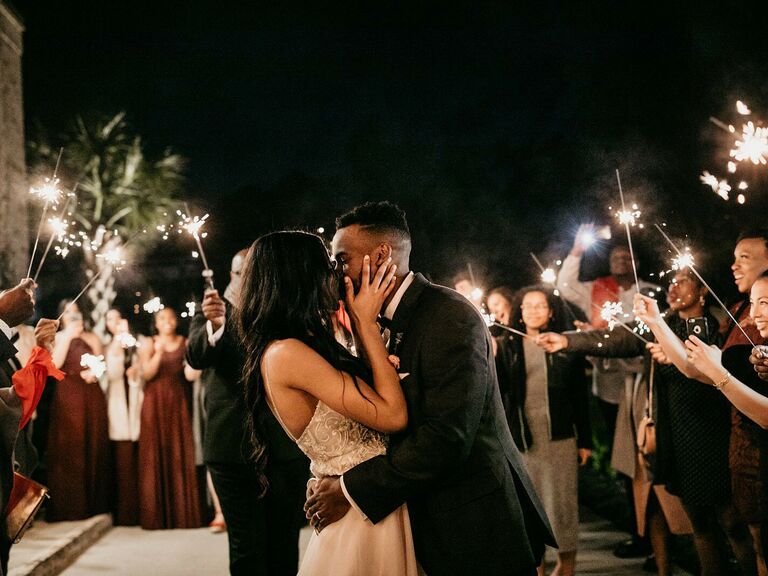 Light up the night with sparklers. Your guests will love them, and they'll also help you score a stunning reception photo. Talk to your venue beforehand about having an open-air space where you can safely light these beautiful photo additions.
Shop the idea: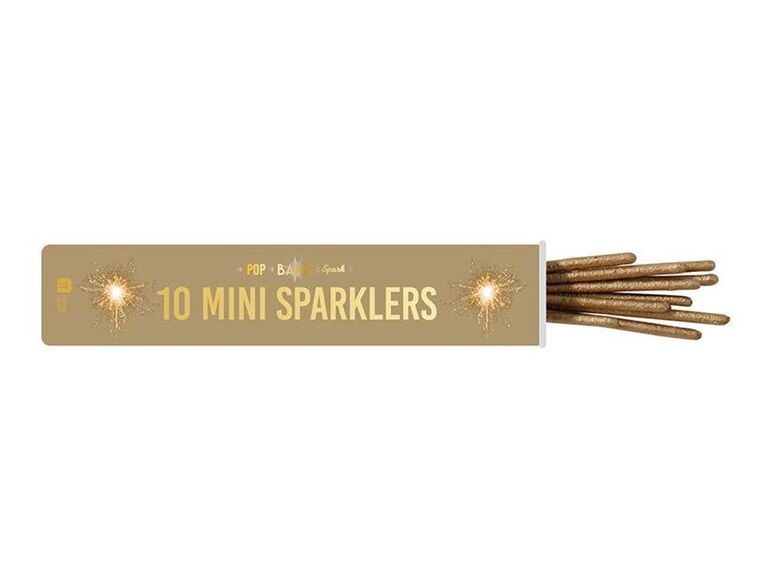 These simple sparklers will light up the night instantly.
Party Pieces Co. tube of gold mini sparklers, $8, Etsy.com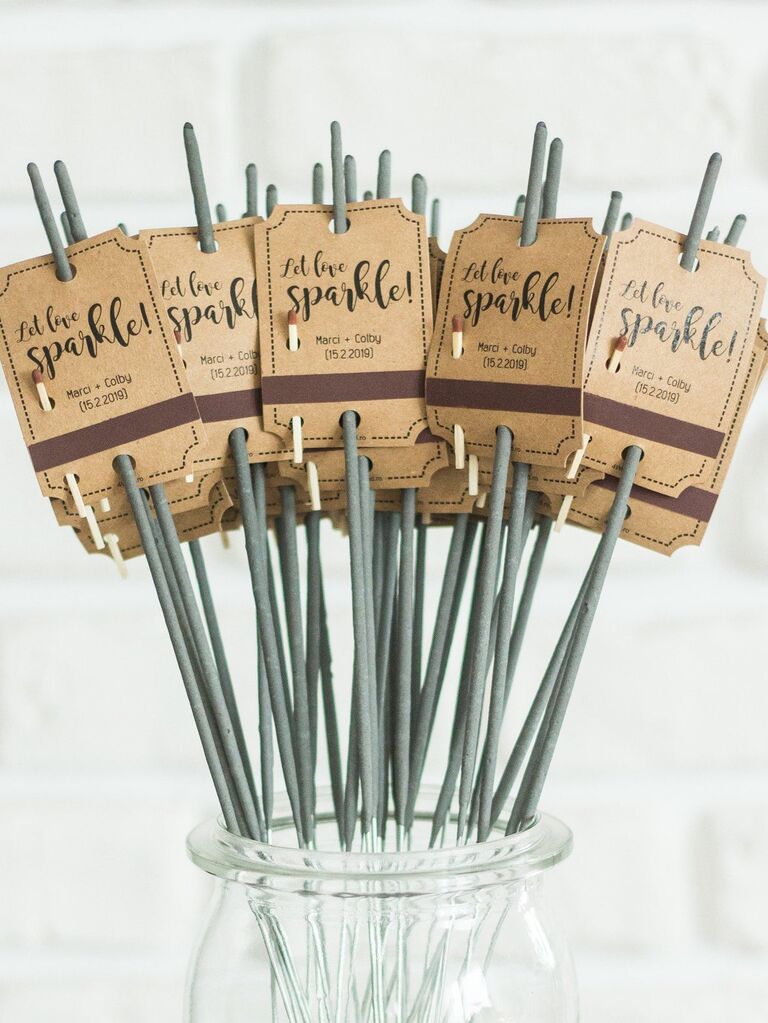 Add a personal touch to your sparkler exit with these cute custom tags.
Gogu Co personalized sparkler tags, from $21, Etsy.com
Disclosure: This post contains affiliate links, some of which may be sponsored by paying vendors.