Light Up Your Big Day With These 36 Wedding Chandelier Ideas
Talk about a lightbulb moment–these ideas are sure to inspire a bright reception design.
When it comes to event design, floral arrangements and curated tablescapes are generally the first elements that come to mind. However, lighting design is a key ingredient to beautiful weddings that can easily go overlooked. Great lighting can be the difference between a beautiful, but one-note design and creating an immersive space filled with inviting ambience. That's where chandeliers come in.
Adding chandeliers into your event design is a great way to up-level your decor and further reinforce the wedding style you're going for. Bringing in chandeliers to an outdoor tented wedding is a given, but even indoor venues that already have some form of overhead lighting can benefit from a well-placed chandelier, as you'll see in the inspiration below. Beyond sourcing the best chandelier inspiration out there, we connected with event pros with years of experience to give you all the tips needed to ensure your event lighting is the best it can be.
Event planner Keith Willard with Keith Willard Events explains the transformative potential of proper lighting design. "Lighting can make the difference between a sad dated looking space to a truly spectacular visual. There is a saying in the event world that 'looks are a light switch away.' Lighting is also a huge component when it comes to photography. If you do too much uplighting, your photos will turn the color of the up light. How many purple people have you seen when looking through someone's wedding photos? Too many! Figuring out a balance will enhance the guest experience and help accentuate your photos and memories." Julia Goss, photographer and owner of Julia Franzosa Photography goes on to explain that "additional lighting can often be overlooked on a wedding day, but it is an important design feature. Lighting can be used to adjust the mood of a venue and add dimension to different spaces."
In This Story:
Wedding Chandelier Frequently Asked Questions
In addition to chandeliers, what other lighting elements should be included in the wedding day?
Beyond chandeliers, it's important to consider event lighting holistically. To help you understand what you'll need to make your wedding day look its best, consider collaborating with your event designer and a lighting designer. While chandeliers will make a statement, lights such as uplights and gobos will help create a solid visual foundation for your event. Additionally, string lights and fairy lights are a fun addition for added ambience. And if your venue will allow for it, candles are a great finishing touch. From votives and tea lights sprinkled around the space to taper candles and pillar candles in on-palette candle holders on the tabletops, candlelit will add a warm glow to the wedding decor.
What is a lighting designer and how can I find one for my wedding?
"A lighting designer is a professional company that specializes in event lighting. They have many options for beautiful lighting to enhance your event, as well as simple options such as uplighting, spotlighting, and gobos," explains Goss. Often your wedding planner is a great place to start. Ask them if they have any referrals of experienced vendors they've worked with in the past. The Knot Marketplace is also a valuable resource for to-be-weds to find lighting vendors that are local to them. Beyond looking up regional lighting companies, consider looking into listings for equipment rentals and DJs as many of those vendors provide lighting services in addition to their main offerings.
What should couples keep in mind when it comes to electrical needs for light fixtures?
In short: Make sure you know how much power your venue can provide and where the necessary outlets are. Goss advises that "it is always best to consult and hire professional lighting companies to know exactly what you will need in terms of electrical needs. You will need to know where outlets are within your venue and/or if you can install additional extension cords so you can have lighting everywhere that you want." Willard also notes that finding a good hang point for your fixture, and determining how to safely run an extension cord over to it, is just as important as ensuring the power exists.
Ceremony Chandeliers
Chandeliers are more commonly seen at receptions, but that doesn't preclude you from adding a great light fixture into your wedding ceremony space. Chandeliers help to anchor a space and highlight the couple-of-honor as they tie the knot. Beyond chandeliers, let these creative ceremony ideas inspire your vow exchange.
1. Beaded Acrylic Crystal Chandeliers With Greenery Accents
This modern vow exchange beautifully paired acrylic chandeliers with acrylic Chiavari chairs.
2. Wood Arch With Beaded Chandelier
If this ceremony arch piques your interest, get inspired by even more wedding arch ideas here.
3. Modern Metal Chandeliers Behind Ceremony Altar
There's so much to love about this altar design: modern chandeliers, elegant draping and plenty of fresh roses.
4. Woven Hanging Chandeliers Above Peacock Chairs and Ceremony Mandap
For this couple's Indian wedding ceremony they included rattan and woven details in their mandap design to create a boho feel. To get inspired by even more mandap wedding ideas, take a peek at these ideas.
5. Teardrop-Shaped Chandeliers With Wood Beads Hanging From Stone Arch
Chandeliers made of wood beads added softness to the stone arch altar at this wedding.
6. Glass Globe Pendant Chandeliers at Wedding Ceremony
Orb chandeliers made of glass pieces dazzled at this wedding ceremony.
7. Modern Silver Chandelier in Hotel Ballroom
You don't have to bring in outside chandeliers in order to have them serve as an integral part of the wedding design. As you tour venues, consider how their existing architecture would work within the wedding decor you're envisioning. This couple chose a hotel venue with modern, sleek decor and then ensured all the elements they added in, like a greenery altar backdrop, complemented the existing space.
Boho Reception Chandeliers
Rattan and wicker details are having their moment in the spotlight (pun intended!), and we are loving the laid-back vibes a bohemian chandelier can bring to wedding event design. Get inspired by even more boho wedding ideas here.
8. Dried Foliage Chandelier With Iridescent Edison Bulbs
Flowers and leaves in warm shades of beige and peach mirrored the hues this chandelier's edison bulbs emitted.
9. Simple Woven Chandeliers Above Wedding Tables
Chandeliers with a loose-weave design brought a light-and-airy feel to this tented wedding reception with wood folding chairs.
10. Cluster of Rattan Chandeliers as Wedding Decorations
If you have a large and spacious reception venue, consider grouping chandeliers together in a few bunches to create a stronger visual effect.
11. Chandeliers Accents With Greenery
Since the chandeliers in this venue were fairly simple, the couple chose to have greenery added to the light fixtures to create more drama and visual interest.
12. Head Table Floral Chandelier With Greenery and Woven Pendants
This chandelier had a little bit of everything: woven pendants, greenery accents and floral garlands.
13. Chandeliers Above Rug-Covered Dance Floor
Chandeliers worked in tandem with boho rugs to demarcate the dance floor at this tented wedding reception.
14. Woven Chandeliers on Wood Riser Above Sweetheart Table
If you're choosing special sweetheart table chairs, as this couple did, consider accenting your newlywed table with chandeliers that complement the design to up-level the entire vignette.
15. Mismatched Chandeliers Decorated With Wedding Flowers
The wires and mechanics needed for chandeliers can sometimes be an eye-sore. To remedy that, this couple had their floral designer weave botanicals around the post from which the light fixtures hung.
Glam and Ornate Chandeliers at Wedding Receptions
Crystal details are timeliness and you absolutely can't go wrong with a romantic crystal chandelier floating above your wedding guests.
16. Chandeliers With Crystal Beads at Loft Wedding Reception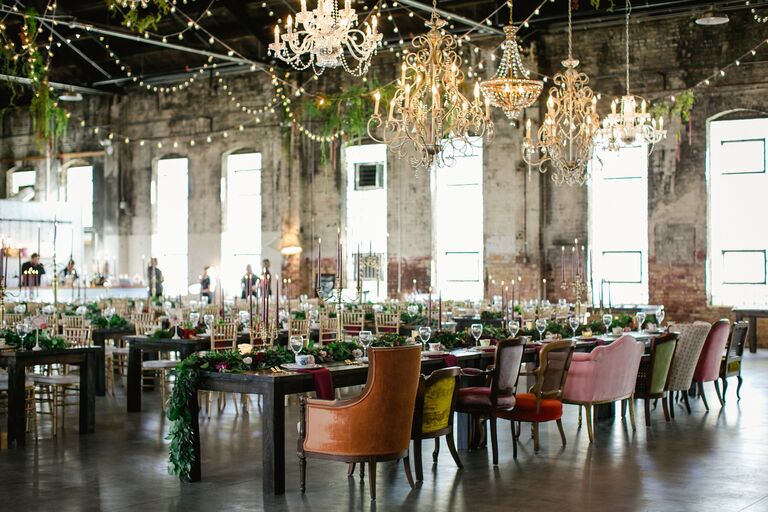 A grouping of chandeliers added warmth to this concrete loft space.
17. Modern Metallic Chandeliers Above All-White Table Decor
Since the frames of these light fixtures were so minimal, fabric draping was added to add fullness to the design that canopied over guest tables.
18. Trees Filled With Chandeliers and Fabric Draping
Chandeliers and draping suspended from trees at this backyard wedding reception gave the space a quaint, shabby-chic feel.
19. Crystal Chandeliers Above Dance Floor and Live Band
While floral arrangements will become less visible as the night goes on, chandeliers only get more beautiful the darker things get.
20. Flower Chandelier With Hot Pink Roses
If it doesn't seem feasible to suspend chandeliers from the ceiling, consider using a special riser like this couple did to hang their bright chandeliers directly above dining tables.
Classic and Romantic Reception Chandeliers
There are some light fixtures, like classic crystal chandeliers, that never go out of style. For couples searching for a timeless look that can withstand ever-changing wedding trends, these ideas are for you.
21. Tent Ceiling Filled With Chandeliers, Draping and Lush Greenery
A more-is-more maximalist mentality guided this couple's tent ceiling design. They included chandeliers, greenery, white flowers and plenty of draping.
22. Gold Chandeliers and Loose Greenery Suspended Above Dining Tables
Greenery layered with chandeliers gave this reception space a secret-garden feel.
23. Ladder Chandelier With Delphinium Blooms and Pendant Lights
Thanks to the addition of pendant lights and delphinium blooms, this plain ladder was transformed into a romantic rectangular chandelier.
24. Tree-Filled Tent With Chandeliers
Chandeliers brought a living room vibe to this reception tent while trees gave the space an outdoorsy feel. The result was a fun juxtaposition of outdoor and indoor.
25. Open-Air Waterfront Tent With Beaded Chandeliers
Chandeliers catching the light glistened alongside the shimmering water at this wedding in Cape Cod.
26. Beaded Glass Chandelier Wrapped With Greenery Vibes
If you're still on the fence about the power of layering textures, this chandelier-and-greenery combo is proof that mixing materials is a great idea.
Modern Wedding Chandeliers for Receptions
One great thing about chandeliers is that, when chosen well, they do an impeccable job of reinforcing the theme and visual aesthetic you're imagining for your big day. If the nuptials of your dreams are sleek and swanky, an angular glass chandelier with silver accents or a spiky Sputnik-inspired pendant light fixture may be the way to go. Get inspired by more modern wedding ideas here.
27. Modern White Flower Chandelier at Loft Wedding
To complement the wedding venue's all-white interior, this couple had their floral designer create a chandelier of neutral blooms.
28. Color-Blocked Lounge Area With Woven Chandelier
This colorful seating area felt like someone's cozy living room, despite being part of a real wedding's decor.
29. Collection of White Paper Lanterns and Marquee Lights
This couple went with a more-is-more approach to their wedding reception lighting. They hung a plethora of white paper lanterns from the ceiling and rented large marquee letters that spelled out 'love.'
30. Moody Black Chandelier
Talk about drama. This black chandelier, made up with lots of thin strands of string, complemented the tablescape's black taper candles.
Tropical Wedding Reception Chandeliers
Chandeliers don't have to be only metal and glass, consider asking your florist to create floral chandeliers that mimic the centerpieces seen on the reception tables to further enhance your wedding day's tropical aesthetic. If you're planning a beach wedding, let these other tropical wedding ideas inspire you as well.
31. Woven Chandeliers Mixed With Edison Bulbs
Seagrass-inspired woven chandeliers, interspersed with minimal edison bulbs, complemented the tropical floral designs seen at this outdoor wedding reception.
32. Tropical Leaf Chandelier With Edison Bulbs
Tropical leaves added drama to this chandelier while warm Edison bulbs brought an inviting, intimate ambience to the reception space.
33. Woven Globe Chandeliers at Beachfront Wedding Reception
Rattan chandeliers complemented the wood farm tables and bamboo folding chairs seen at this wedding reception in Hawaii.
34. Chandeliers Decorated With Dried Tropical Grasses for Oceanfront Wedding
Dramatic chandeliers and mid-century-modern hairpin chairs ensured this oceanside wedding reception was as chic and elegant as possible.
Rustic Chandelier Wedding Reception Ideas
If you're celebrating your reception in the dining room of a mountain lodge or at a rural barn wedding venue, lean into a rustic wedding theme with your light fixtures as well. For even more rustic wedding inspiration, take a peek at these great ideas.
35. Minimal Brown Chandeliers at Mountain Tented Wedding
Chandeliers don't have to be visually overwhelming. These light fixtures were a great reminder that subtle lighting upgrades go a long way in bringing an elegant feel to a wedding reception.
36. Rectangular Wood Chandelier
Although this couple's venue already had the chandelier seen here, their decision to highlight the light fixture in such a central way in their wedding decor is notable.