Beauty Bummers
You've got your prewedding beauty and hair routine perfected, but there are some surprises you can't avoid. We've got the tips on how to solve these unplanned beauty bummers and look totally flawless on your wedding day.
by Heather Hall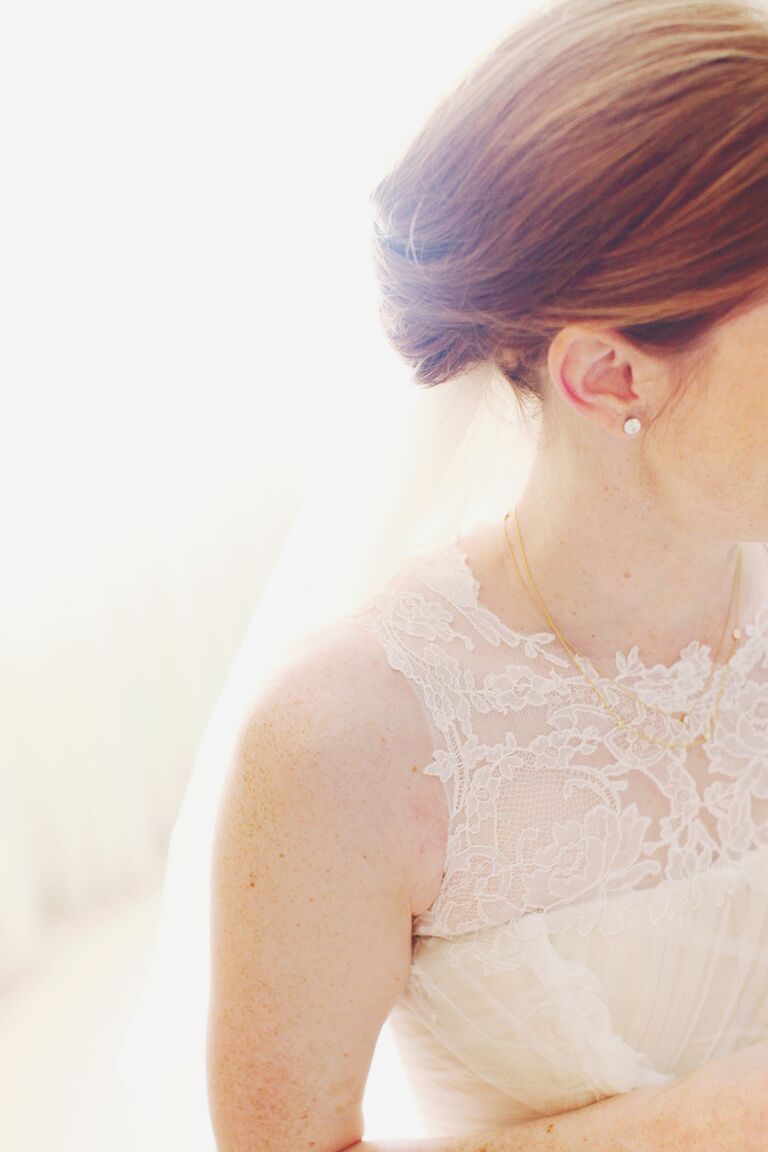 1. You've avoided a haircut because you're growing out your hair for the wedding. Now you have some serious split ends.
Get yourself to a salon for a trim. Trimming off the split ends shouldn't ruin your long locks and will help your hair grow. "For a quick fix, purchase a good shine spray and flatiron your ends with a ceramic flatiron to close the cuticles," suggests beauty expert Tim Wilkins.
Try: Shine spray, $18, ArrojoProduct.com; CHI Air Expert Classic Tourmaline ceramic flatiron, $100, Drugstore.com
2. You're planning to change out of your white ball gown so you can dance the night away in a party dress. But you're concerned that your makeup will rub off during the switch.
"Using a long-wearing foundation will help hold your makeup in place during the switch," says hair and makeup artist Megan Garmers. Most wedding gowns are step-in, but if you're wearing a sheath that requires the dress to go over your head, then use a tissue or a lightweight scarf as a barrier to keep from smearing foundation onto your dress. Don't forget to powder your face before the switch to absorb any extra oil. Powder is much easier to brush off.
Try: Make Up For Ever HD Invisible Cover foundation, $42, Sephora.com; Blended face powder and brush, $22, Clinique.com
3. The extra cups of coffee you've needed to get through the planning phase of the wedding haven't been so kind to your pearly whites.
An at-home whitening kit can get you similar results to a pro session. Use a toothpaste for sensitive teeth two days prior to using the strips in order to reduce sensitivity, and make an appointment to have a professional cleaning before beginning a whitening treatment. It's best to remove all buildup first so that the results are better. "Try to drink dark liquids through a straw up until the big day so that the stains bypass your teeth," says Jennifer Jablow, DDS, creator of IntelliWHiTE.
Try: Crest 3D White 2 Hour Express Whitestrips, $55, Soap.com
4. While perusing the pictures from the wedding shower, you noticed your makeup faded before dessert was even served. You didn't break a sweat at the shower, so how is your makeup ever going to last through your reception dance party?
"Layering products and adding a foundation primer to your makeup routine can extend the wear of your makeup, regardless of skin type," says Garmers. While primping for the ceremony, choose a makeup primer that doesn't include any oil or silicone. It will act as a sponge for your foundation, keeping it in place and preventing it from slipping off your skin. Finish with a loose powder to set and extend the wear of your makeup.
Try: Smashbox Photo Finish foundation primer, $36, Smashbox.com; Youthful Wear Cosmeceutical Youth-Boosting Illuminating face powder, $14, PhysiciansFormula.com
5. All of your hard work exercising has paid off, but the extra sweat has caused you to break out on your back and chest -- areas that will be exposed in your wedding gown.
Use a body wash containing salicylic acid, a proven acne-fighting ingredient, to prevent body breakouts. One of the most common misconceptions about body acne is that you should stop using a moisturizer, which dermatologist Amy Wechsler, MD, strongly advises against. "Even those with oily skin should hydrate using a sunscreen-containing lotion in the morning and then a lightweight moisturizer at night," says Wechsler. Tip: Change your clothes immediately after a workout. The sweat will clog your pores.
Try: Daily Microfoliant, $50, Dermalogica.com; Cetaphil Gentle skin cleanser, $8, Drugstore.com; Healthy Defense daily moisturizer SPF 30, $14, Neutrogena.com
6. You purposely scheduled a trim two weeks before your wedding day so that your hair would have time to regrow in case the "trim" turned into a "hack." Well, it did. Now what?
Temporary clip-in extensions allow you to decide the length and amount of hair you need in order to achieve that "pre-hack" length required for your romantic wedding updo. Garmers advises asking for help when matching the right color to your hair.
Try: Hair Couture Clip & Go Express hair extensions, $175, RickysNYC.com
7. All of those dance lessons you've been taking to prep for your first dance have taken a toll on your feet.
Massage an exfoliating foot scrub onto your feet with pumice to remove dead skin and smooth calluses on your soles and heels; then rinse. After showering, apply a heavy lotion. Slip on thick cotton socks to lock in the moisturizer.
Try: Freeman Bare Foot Creamy Pumice foot scrub, $4, Drugstore.com; Kerasal Exfoliating Moisturizer foot ointment, $10, Walgreens.com
8. Three days out in the sun during your bachelorette weekend at the beach has left you sunburnt with tan lines that will show in your strapless gown.
Debra Jaliman, MD, author of Skin Rules: Trade Secrets from a Top New York Dermatologist, suggests using a cold skim milk compress because the lactic acid in the milk will soothe the burn. Take aspirin to help with the inflammation and use a fragrance-free aloe vera gel to reduce the sting. Then pick up a light-green-tinted moisturizer (the color will neutralize the redness).
Try: Fruit of the Earth aloe vera gel, $6, Drugstore.com; Redness Relief SPF 20, $43, Dermalogica.com
9. That last glass of wine at the rehearsal dinner left your eyes looking tired, red and puffy the next morning.
Eyedrops will help reduce the redness by constricting the blood vessels in your eyes, and eye creams containing caffeine to reduce the puffiness around and under the eye will "divide and conquer the issue," explains Garmers. Dark circles are best covered using a color-correcting product and then your concealer.
Try: Visine eyedrops, $10, Drugstore.com; Fast Response eye cream, $30, MACCosmetics.com; Touche Éclat Radiant Touch, $40, YSLBeautyUS.com
10. It happened: All your anxiety resulted in a zit on your face on your wedding day!
A needle-free approach to zap the zit: Apply an over-the-counter product containing benzoyl peroxide or cortisone to help calm the redness. Once you've done all you can to shrink the pimple, invest in a good concealer. Apply the concealer directly on and around the blemish; then use a makeup brush to gently blend around the pimple, not on it. If you have the time, Wechsler says, "your dermatologist can give you a cortisone injection to soothe the blemish."
Try: SkinClearing blemish concealer, $9, Neutrogena.com
11. Getting ready on your wedding day is no easy task. Make sure you have a good antiperspirant that can keep up.
Clinical-strength antiperspirant actually plugs your sweat glands. Apply it at night on your underarms (or wherever needed) so that it has more time to sink in.
Try: Secret Clinical Strength antiperspirant & deodorant, $12, CVS.com
12. You've finally talked yourself into a bikini wax. However, you're prone to rashes and red bumps when you wax or shave.
Right after waxing or shaving, soften and straighten the hair follicles with a product that will also control excess oil to eliminate clogged pores. Bonus: This will lighten any dark spots you had from previous ingrown hairs.
Try: Ingrown hair serum, $35, PrinceReigns.com
13. You haven't been drinking enough water or getting enough sleep during your crazed prewedding weekend, and your skin is past the point of washed-out.
Mix in a few drops of brightening gel with your foundation for a luminous, subtle glow. Finish off the look by applying a bronzer around your cheekbones, at your hairline, and at the tip of your nose and chin to create the illusion of natural color.
Try: NARS Aqua Gel Hydrator, $76, Nordstrom.com; Bronzing powder, $23, MACCosmetics.com
14. You want to be a blushing bride, but judging by the doll-like blush circles on your cheeks and the caked-on foundation at your chin, you went overboard.
Round makeup sponges even out your skin and ensure that no lines are left behind. Use a shimmer highlighter on the higher planes of your face, like your cheekbones, the top of your nose and at your collarbone, for a natural glow.
Try: Beautyblender, $20, Sephora.com; NARS Illuminator, $30, Sephora.com
15. Your manicure was flawless, but prewedding nail biting chipped the polish the morning before the ceremony.
Have a bridesmaid bring the polish and do a touch-up when you arrive at the ceremony site. Don't even consider opening that bottle in the limo!
Try: Nail color in Ballet Slippers, $8, Essie.com