Engaged Influencers Spill Their Bridal Beauty Secrets
Four beauty tastemakers share their wedding-worthy routines.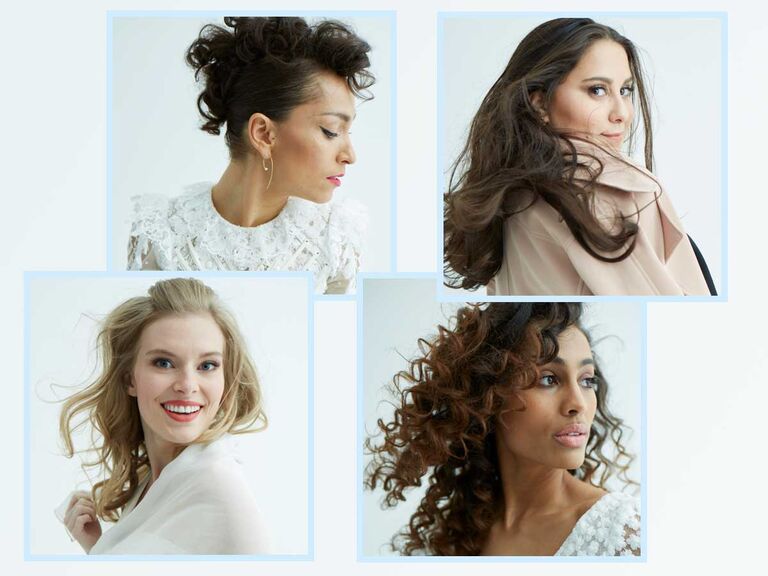 Four tastemakers gave us the scoop on what inspires them and how they're making their bridal hair and makeup their own.
Emily Helm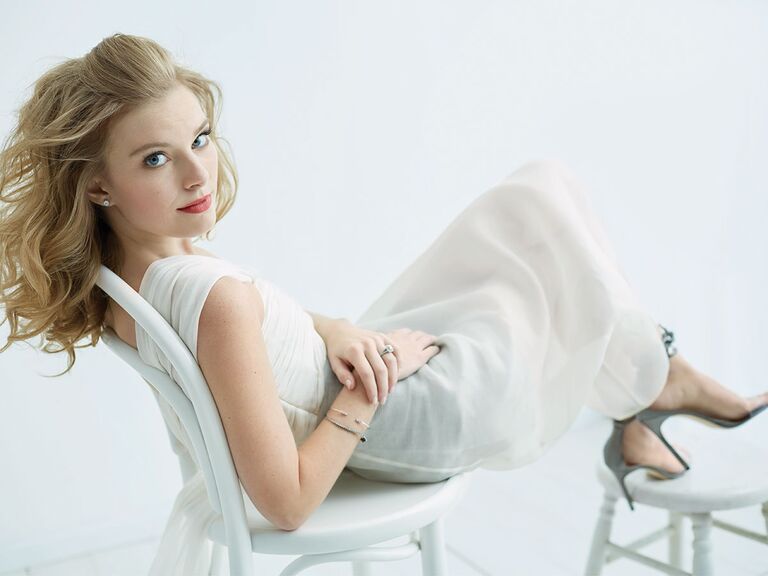 27, Blogger at Life With Emily
Her Take on Beauty: "Feeling beautiful comes from within. When I feel confident, whether it's because I'm wearing my favorite piece of clothing or I've just accomplished a goal, my inner beauty really shines."
Her Beauty Secret: "My lashes are one of my favorite features and I love accentuating them. I swear by mascara primer—it instantly makes your lashes look so much fuller and longer. I can't go without it."
Her Personal Style: "I gravitate toward a classic, neutral palette in all aspects of my life, whether it's fashion or home décor. I love how versatile and timeless neutral pieces are. If I could live my life just wearing cream, navy, gray and black, I totally would."
Her Bridal Beauty Plan: "I want to stay true to myself on my wedding day—I don't want to walk down the aisle looking like a completely different person. I'm going to keep my makeup fresh and simple. Highlighter is an essential part of my everyday routine, and I want to have that same glow on my wedding day. Where hair is concerned, I want a style that's a mix of classic and trendy—nothing too stiff or overdone."
Get the Makeup Look: Use medium-coverage foundation and translucent powder to create a matte complexion. Then, sweep gold eye shadow onto your lids and lower lash line. Finish with a coral-colored lipstick for a pop of color.
Get the Hair Look: Prep your hair with volumizing spray. Then, set your whole head in medium-size Velcro rollers for a least 45 minutes. Remove the rollers and brush out your curls. Finish by pinning back just the top section of your hair.
Robin Arzon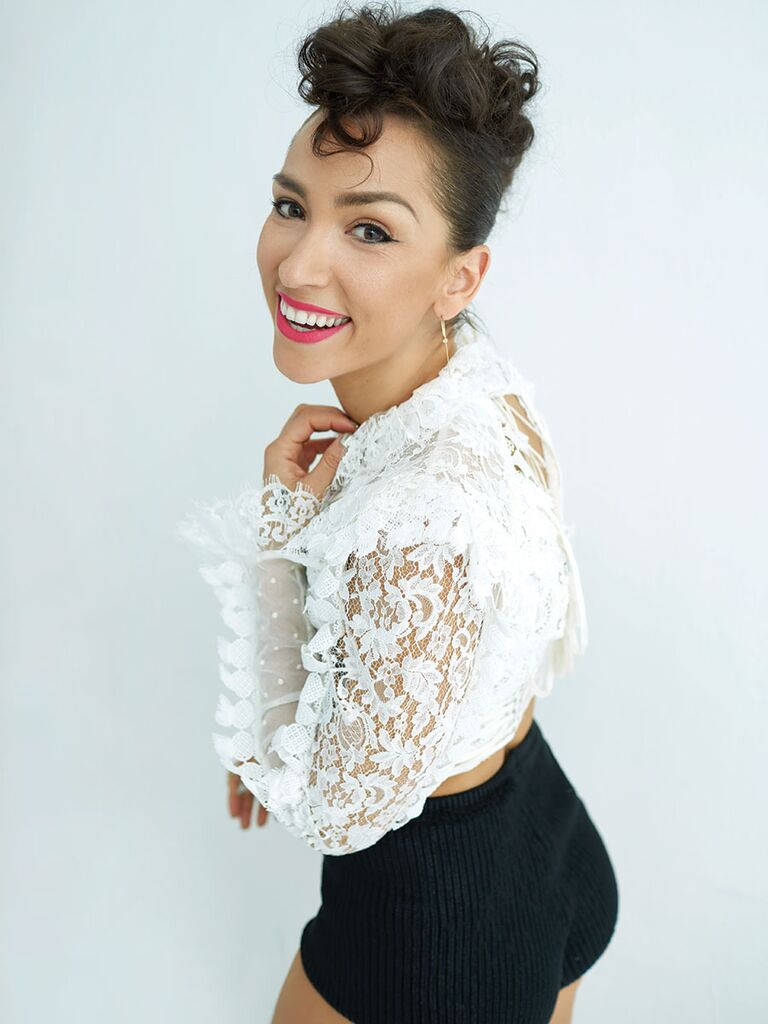 35, athlete and author of Shut Up and Run
Her Take on Beauty: "I feel most beautiful when I'm moving. Movement is my form of expression."
Her Beauty Secret: "Sweat."
Her Personal Style: "My personal style is a little bit hip-hop and a little bit chic, all wrapped into a ball of energy. My fiancé, Drew, says hugging me is like trying to put your hands around a lightning bolt. I have numerous style icons, but if I had to pick just one, it would definitely be Beyoncé. She's my spirit animal."
Her Bridal Beauty Plan: "I want to look badass on my wedding day. It's important to me to be unapologetic about my style because I'm not a traditional bride. I'm drawn to edgy braids, Mohawk updos and bold makeup. The aesthetic I'm trying to create is fierce and off the beaten path."
Get the Makeup Look: For a symmetrical graphic eye, use white pencil or concealer to mark where you want the angle of your winged liner to be. Then, line your top lid. If necessary, clean up your liner using makeup remover or concealer. Next, line your bottom lid, stopping halfway. Add bold color to your lips (we love this matte pink hue) to balance out your look.
Get the Hair Look: Use a half-inch curling iron to create allover small curls. Then, set your curled hair with small hot rollers for at least 30 minutes before removing. Apply a light-hold gel and brush your curls up to the center of your head, twisting them into separate sections. Pin each section into place. Finish by teasing the end of each curl.
Claudia Oshry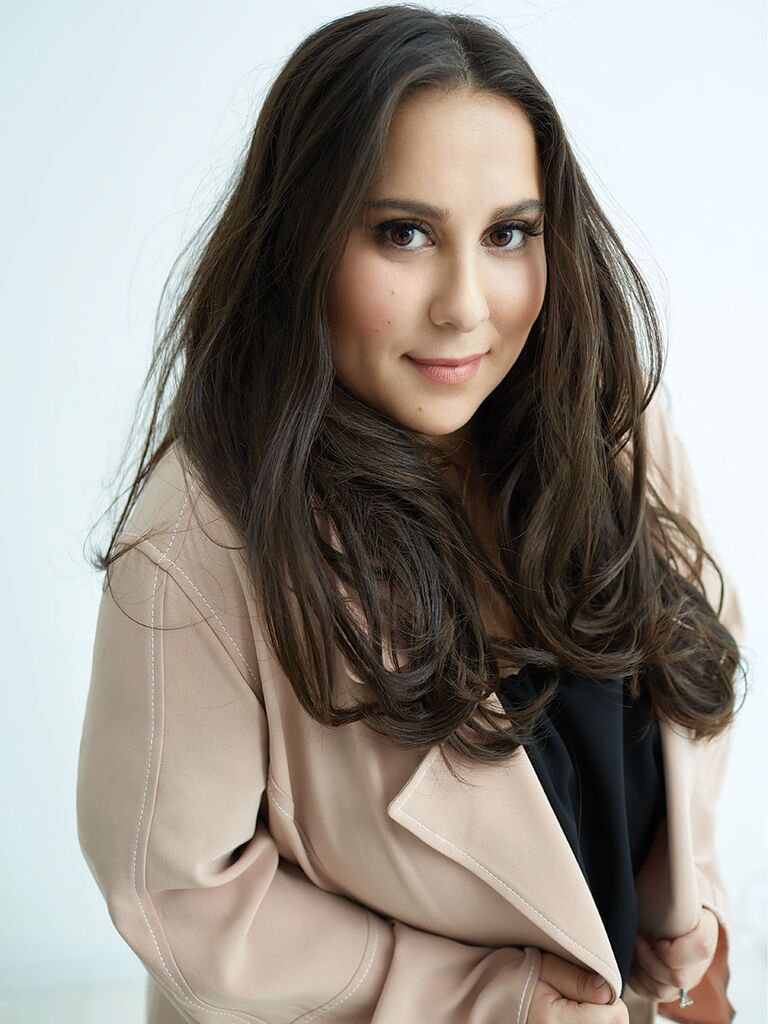 22, blogger at Girl With No Job
Her Take on Beauty: "Comfort is key. If I'm not comfortable, I don't feel pretty."
Her Beauty Secret: "I never leave home without Chapstick. I literally have 30 Chapsticks that circulate in all of my handbags because my worst nightmare is having dry, flaky lips and being stuck somewhere—like on the subway—without it. I must have Chapstick at all times."
Her Personal Style: "It's not so much about how I dress but about how my clothing makes me feel. I could be wearing a couture gown, but if it's heavy and uncomfortable, I won't feel good in it. As long as I'm wearing something that makes me feel physically good, I'll look good on the outside."
Her Bridal Beauty Plan: "My wedding style is really traditional and classic. I'm not trying to reinvent the wheel here. I'm a huge fan of Kim and Kanye's wedding—duh! My bridal hair and makeup is inspired by the Kardashians and Jenners: dramatic lashes, contoured skin, nude lips and luscious, volumized hair."
Get the Makeup Look: Sweep an ashy brown, matte shadow along your crease, lid and lash line. Then, line your top lid in a chocolate-brown liner. Use an angled brush to blend and diffuse your liner, drawing it toward the outer corners of your eyes. Apply false lashes. Lightly contour along your cheekbones, chin and temples.
Get the Hair Look: Prep your hair with a heat protectant. Blow it dry using a round brush and set it with medium-size Velcro rollers. After 20 minutes, remove rollers and brush out curls. Use a smoothing cream to tame flyaways and add a glossy shine.
Skylar Diggins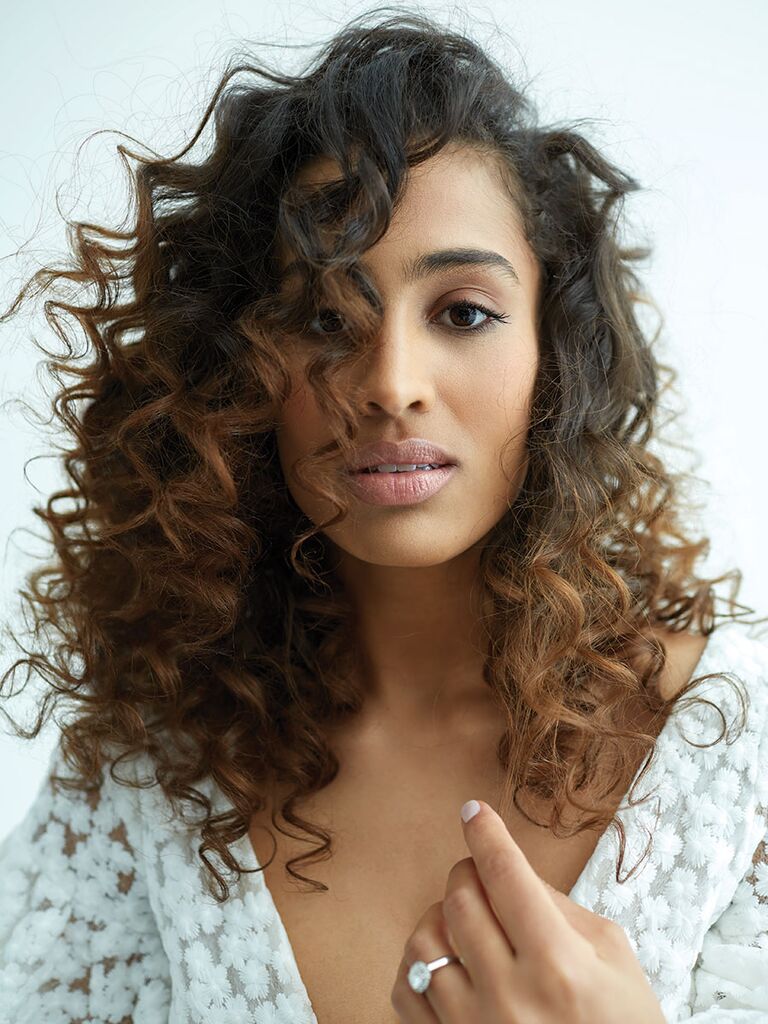 26, point guard for the WNBA Dallas Wings
Her Take on Beauty: "I feel most beautiful when I feel confident. I love the natural glow I get from a workout or after a long shower."
Her Beauty Secret: "A solid skin care routine. Since I'm playing and sweating all the time, taking good care of my skin is so important. I make sure to cleanse and use moisturizer when I wake up and before I go to sleep. I also love coconut oil—I use it for everything."
Her Personal Style: "Tomboy chic. I like to feel sleek, comfortable and sexy. "
Her Bridal Beauty Plan: "I'm not totally sure yet, but I do know I want to go for a more elegant, sophisticated look on my wedding day than I might do in my everyday life. My personal style may be tomboy chic, but for my wedding, I just want to look chic. I love lush lashes, great brows and dramatic eye makeup."
Get the Makeup Look: Create flawless skin with a velvety foundation and a light dusting of loose powder to stave off shine. Then, dab a cream blush on the apples of your cheeks for a natural flush. Apply a neutral shadow all over your lids with a blender brush to soften the color. Using an angle brush, fill in your brows with brow powder. Finish with a sheer lip gloss
Get the Hair Look: Work gel through your hair before blow-drying. Then, divide your hair into even sections, curling each one with a medium-sized curling iron. Lean over and shake your hair while blow-drying it to separate your curls and add extra volume.
Check out more expert tips plus The Knot 2017 Beauty Awards winners here!