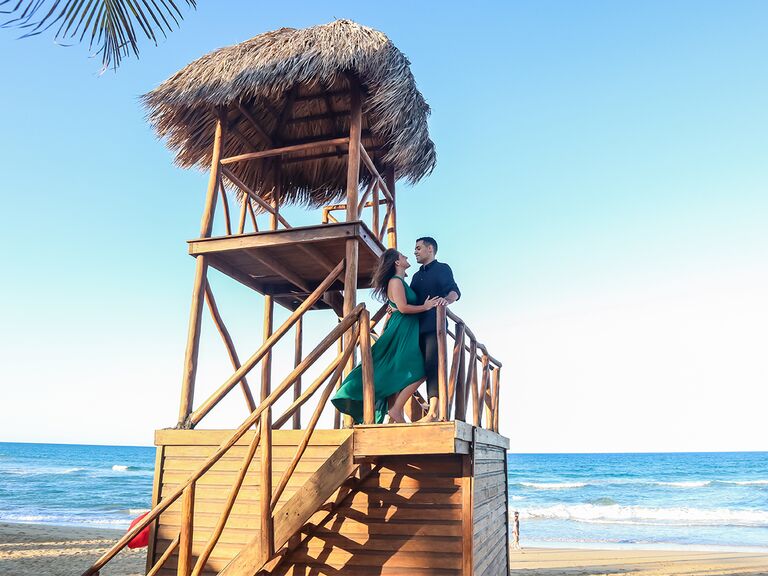 Regan Coule/Excellence Punta Cana
Getting engaged can be an exciting (and nerve-racking) process for any couple. Just like a wedding, there are so many details that go into planning a proposal. You may not even know where to start. For me, it all began with talking to my partner. Knowing for so long that Regan was the woman I wanted to marry, our conversations about approaching life together helped lay the groundwork for what would become our engagement. If you're looking for a little more insight into the process—and a few helpful tips—read on for a behind-the-scenes look at the steps that led to me popping the question.
Step 1: Finding a Ring
I'm no gemologist, and my partner Regan always made it clear that she was particular about her jewelry, so I decided it was best to ask her what she wanted. Turns out, she thought it would be exciting to design the ring herself. I didn't argue because ultimately she'd be doing me a favor. Going this route required a bit of education and research on how to design an engagement ring, but little did we know this would make for a fun couple's activity.
I know what you're thinking: Didn't having her involved take away from the shock value of seeing the ring for the first time? No. We both agreed that the gesture of asking for her hand in marriage was more valuable than any stone I put on her finger. 
Tip: Visit several jewelry shops and speak with experts to ask questions. Not only will you gain a better understanding behind the ring creation process and what the 4 Cs really mean, but they'll also show you examples that you can examine up close—an experience you can't really get from photos on a website.


Step 2: Mapping Out the Proposal 
I've always kept a few proposal ideas stashed away. Then I realized there was more to it than just getting the ambience right and having the ring in hand. I had to consider time, location and (ugh) finances. The clock ticks much faster when you're planning a proposal, so I set a list of goals with deadlines that helped me stick to a timeline for my biggest tasks, from making the final payment and picking up the ring to calling her parents for their blessing. I made it a priority to take care of these tasks a couple weeks before the proposal.
 
When it comes to picking a location, sometimes the best scenarios present themselves at the right time. For me, it was our upcoming vacation to the Dominican Republic, at an all-inclusive resort right on the beach. We had our own private terrace equipped with an outdoor jacuzzi and breathtaking views—I couldn't have asked for a more Instagrammable setting. I also decided to propose during the middle of our vacation, to give me enough time to scope out the resort and look into any special treatment provided for newly engaged couples.  
Tip: Need help coming up with an idea? Browse proposal stories online for inspiration or take How They Asked's proposal idea quiz. Think about what matters most to you and your partner, and start from there.
Step 3: Getting the Ring to Its Proper Destination 
From the moment I walked out of the jewelry store, I was scared about holding onto this big investment until it was safely on Regan's finger. Now imagine the anxiety trying to figure out how to get it from New York City to Punta Cana. Leaving nothing to chance, I kept the ring as close as possible, all the way at the bottom of my overstuffed carry-on bag. Figuring she was already thinking of a tropical engagement, I was also mindful that Regan was examining my facial expressions for a "tell" when going through security. I put on my best poker face and walked through the scanners, praying TSA wouldn't find something to question.
Even after arriving at the resort safely, I still had to keep the ring hidden. I played it smart and moved the ring to different locations around the room, just as a precaution. If it wasn't buried at the bottom of my backpack, it was in a sock stuffed in one of my dress shoes. There are plenty of ways to get creative with your hiding spots.
Tip: Murphy's Law states that what can go wrong, will go wrong. That includes losing jewelry. Investing in jewelry insurance gave me peace of mind knowing that I was protected no matter where I was. Jewelers Mutual Insurance Group offers annual coverage at affordable prices, which will cover you from loss, theft or damage, anywhere in the world.
Step 4: Setting the Scene
Regan never shied away from sharing what she envisioned would be romantic backdrops for a proposal. I took mental notes, which helped a great deal, but it also put more pressure on me to find the perfect setting.
Being at a resort, I already had a few scenic advantages, such as beachfront access and an open terrace with ocean views. I decided to surprise her on our balcony to make the proposal a more private event. At the same time, I had no idea how to romanticize the room without my partner knowing about it. So I used the best resource I had at the resort: the concierge. I spoke with them in private and asked if there was anything special they could do to our room while we spent the morning on the beach. Upon our return, we saw they'd adorned the room with the works: a heart-shaped fruit platter, flower petals, towels shaped like kissing swans, and a nice bottle of sparkling rosé on ice. 
Tip: Don't be afraid to ask others for help. You'll be surprised to see how many close friends and family members offer their services, which helps take the pressure off of you. The concierge at your hotel should be delighted to help you pull off your proposal, and might even go a step further to make it special once you let them in on the secret.
Step 5: The Proposal
It's natural to experience many emotions when preparing to get down on bended knee. To overcome my day-of jitters, I engaged in the most peaceful, relaxing activity there was at the time: taking in some sun at the beach with a cocktail in hand. Not only was this the stress reliever I desperately needed, but it also kept my soon-to-be fiancée occupied while the concierge worked their magic. 
Coming back to our room after lunch, Regan was surprised by the concierge's thoughtful gesture, which I pretended was nothing more than a delayed romantic welcome on behalf of the resort. As she was lying down to sunbathe on our terrace, I grabbed the ring box and came out to surprise her. I called out her name as I got down on one knee. She was absolutely shocked. We both started to tear up after I asked, "will you marry me?" and she gave an emphatic yes! 
Tip: Consider hiring a photographer to snap portraits in the moment or afterward. You can even take it further and check off the next step; we took our engagement photos the following day at the resort—a picture-perfect location to share on our save-the-dates.